As I'm staring out my window, watching the impending storm roll through— I'm daydreaming of another locale with much better weather, and far, far better views.
Where is my mind roaming to today? Grand Velas Riviera Maya Resort & Spa in Playa del Carmen, Mexico.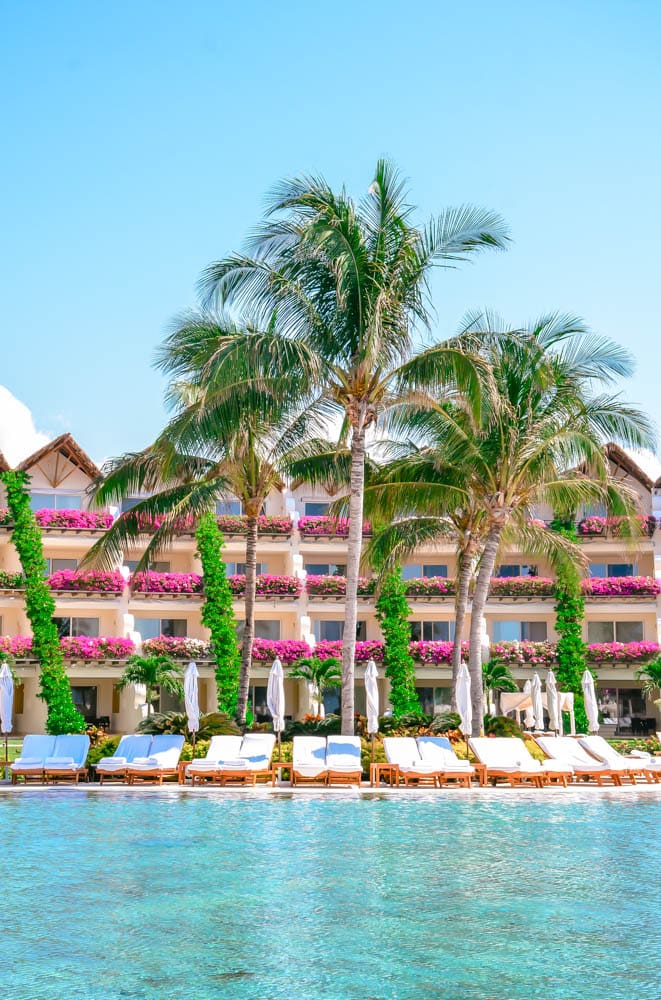 I traveled to this elite resort last year, and it breaks my heart that it has taken me this long to share my experience (I'm putting the blame on a lost SD card!). I love Mexico— especially Riviera Maya — so it doesn't take much to get me south of the border to the motherland of margaritas, homemade tortillas and pico de gallo.
But, Grand Velas was something special. Another whole level of all-inclusive luxury that has spoiled me for trips to come. From the food (OMG!) and drinks to the accommodations (super plush!) and exceptional service, Grand Velas has it all. Paradise is the first word that comes to my mind when I think back to my stay … I mean really — just look at this place!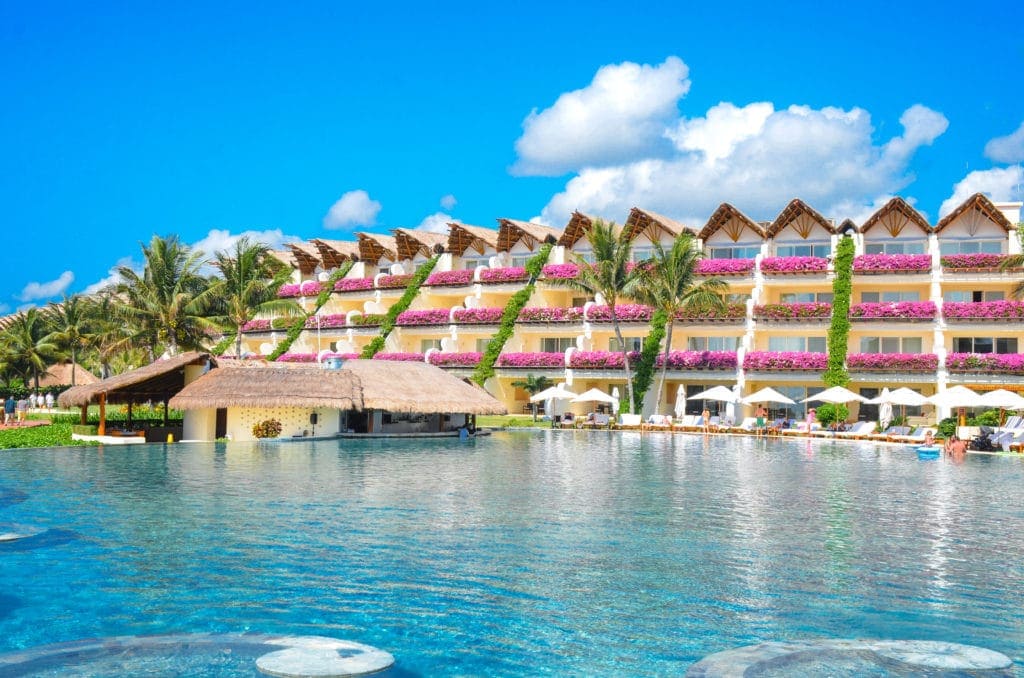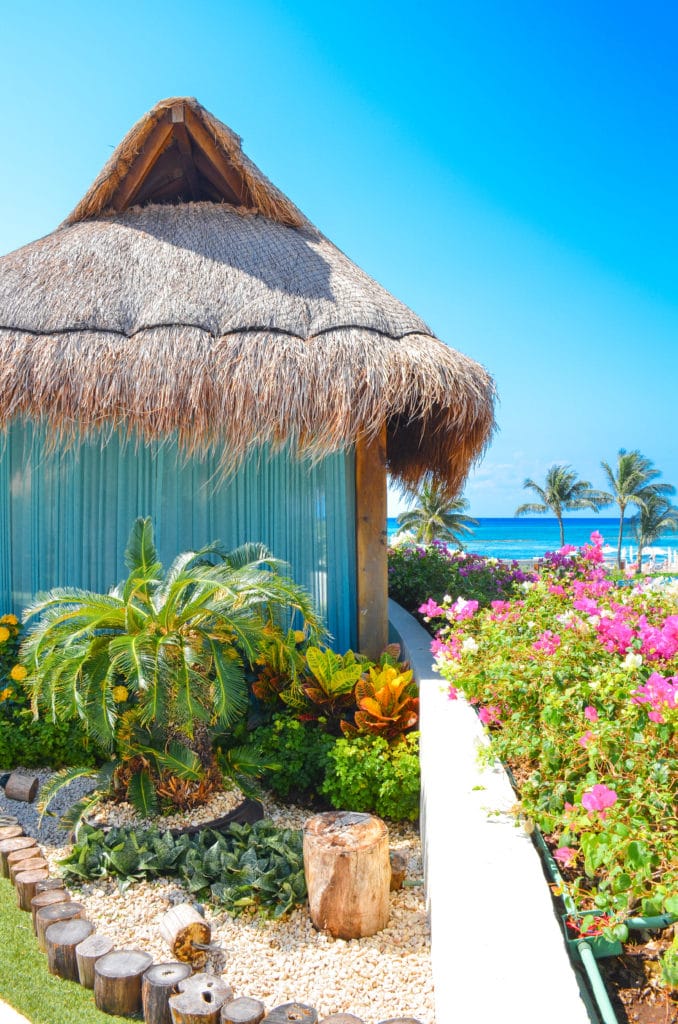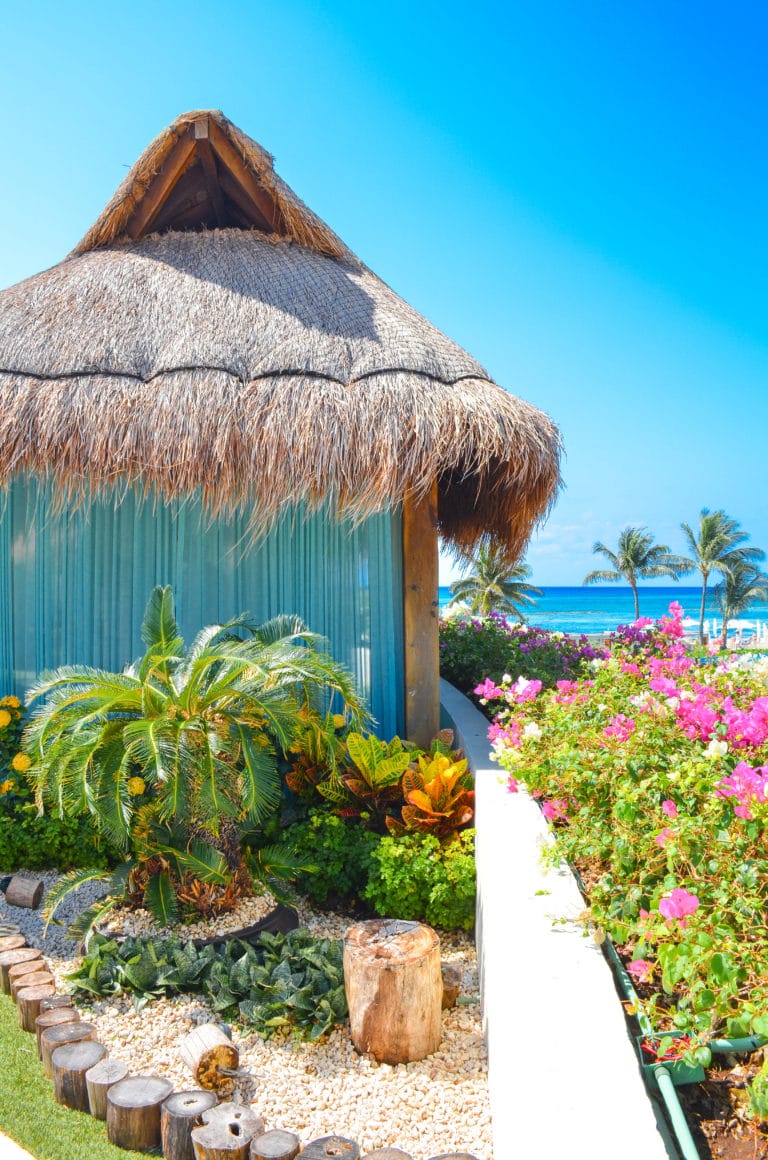 Grand Velas Riviera Maya is heavenly!
Grand Velas Riviera Maya - 3 Luxury Resorts in 1
Grand Velas Riviera Maya is a super large property, with more than 85 acres of lush, manicured landscape and tranquil Caribbean sea views. In total there are 539 luxury suites divided into three sections of accommodations, each catering to a different type of traveler, from couples to families.
The big question is: Which would you choose?
Zen Grand
Zen Grand is the most secluded section of Grand Velas, with a tropical jungle feel complete with private terraces and tranquil koi fish ponds. If you're looking to disconnect on your visit to Mexico, this is the place to do it. While there are 254 suites in the Zen section, everything feels very private and exclusive.
As far as pricing goes, this is the entry level as the rooms are furthest from the beach— but make no mistake, they aren't any less spectacular.
Zen suites average 1,100 square feet of living space and blend in naturally with the lush surroundings.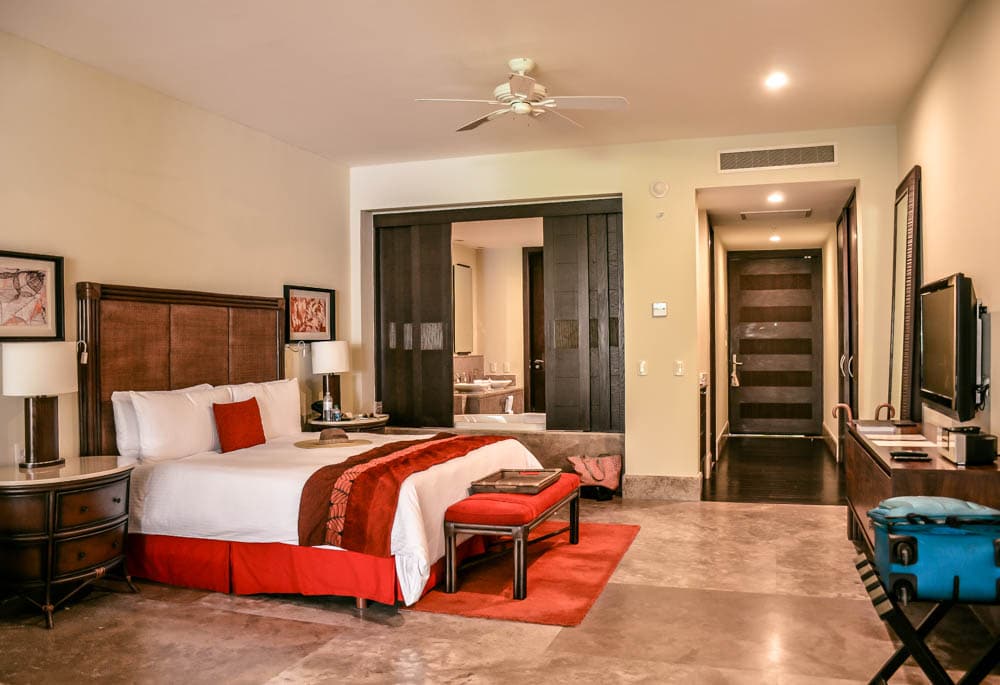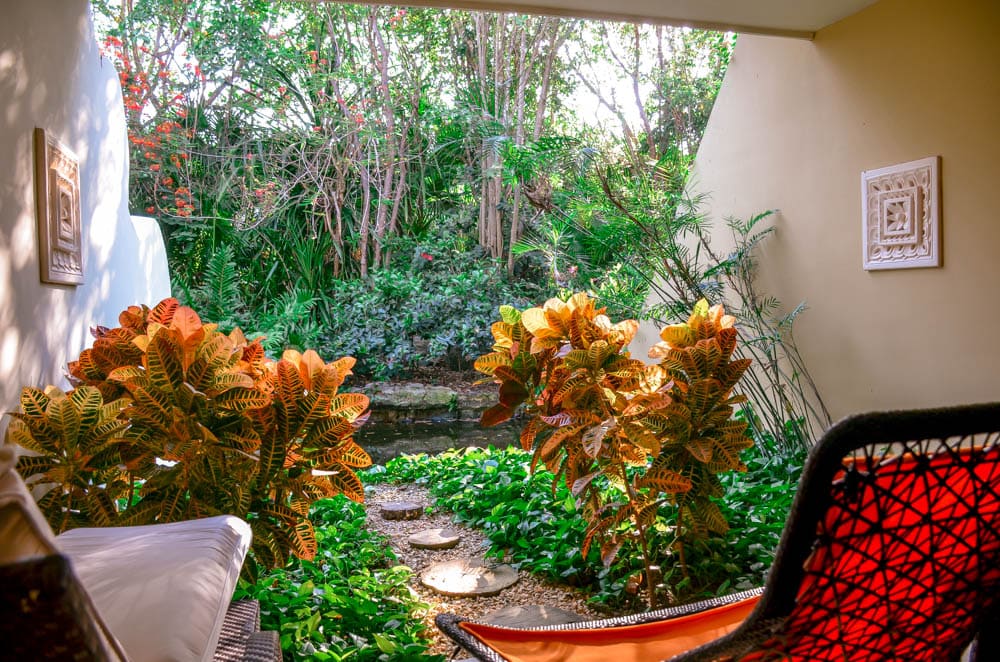 Two restaurants, Chaka and Sen Lin, are on-site, as well as a peaceful pool area and the resort's spa, which was named "Best Spa in the World" by Virtuoso in 2010.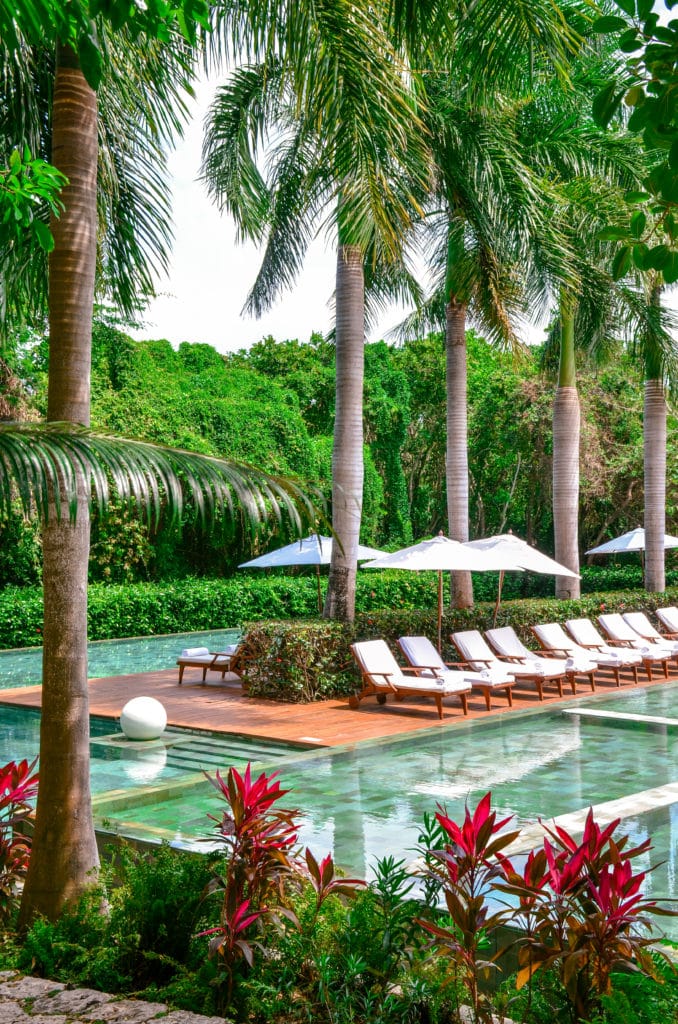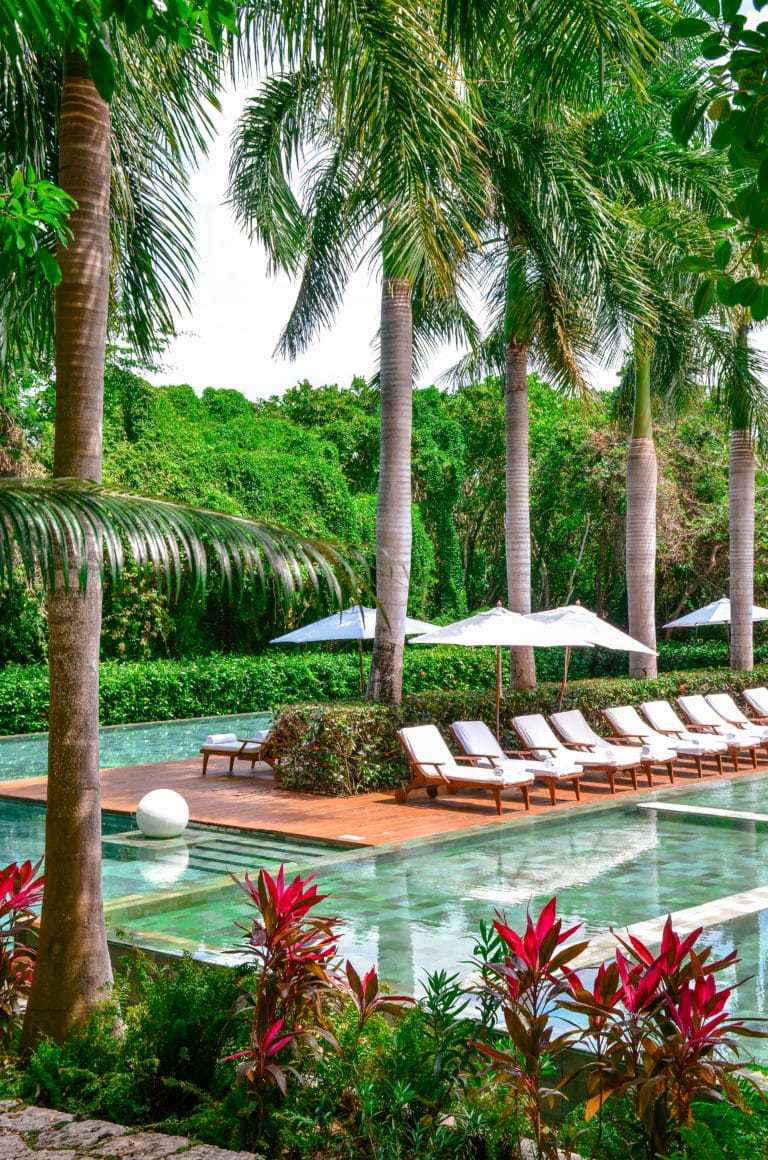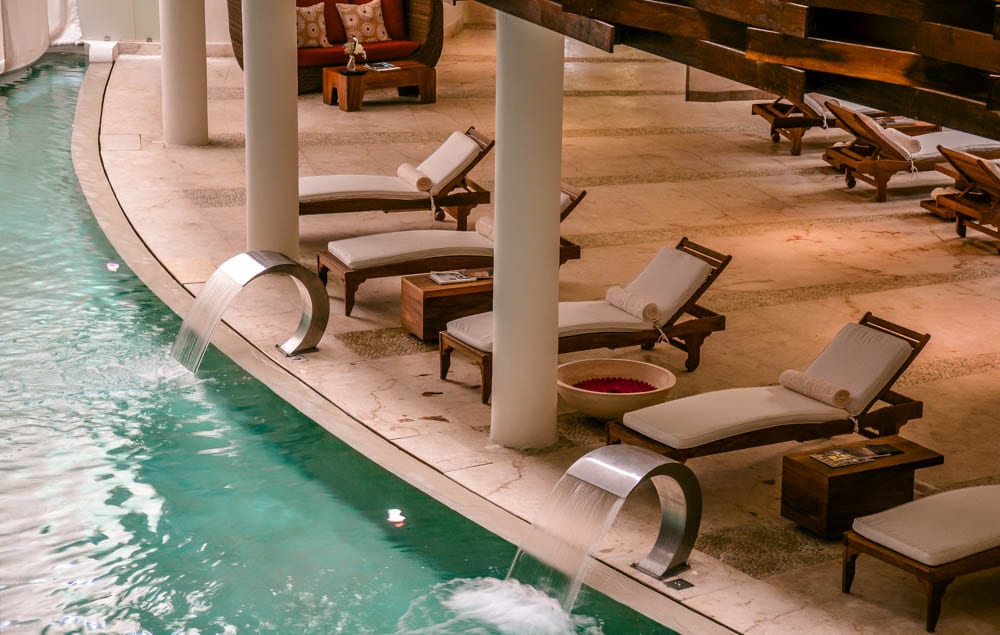 Ambassador
If you want the quintessential Mexican beach vacay, then the Ambassador suites at Grand Velas Riviera Maya are for you.
Ambassador is where you'll find the most families, as access to the beach, main infinity pool, fitness center, Kid's Club and Teen's Club are just footsteps away. You can't get more central to all the action.
Rooms here average 1,270 square feet and come with an abundance of amenities. Families can spread out in these suites, giving everyone the space they need. Each suite has a private terrace, many with ocean views and private plunge pools.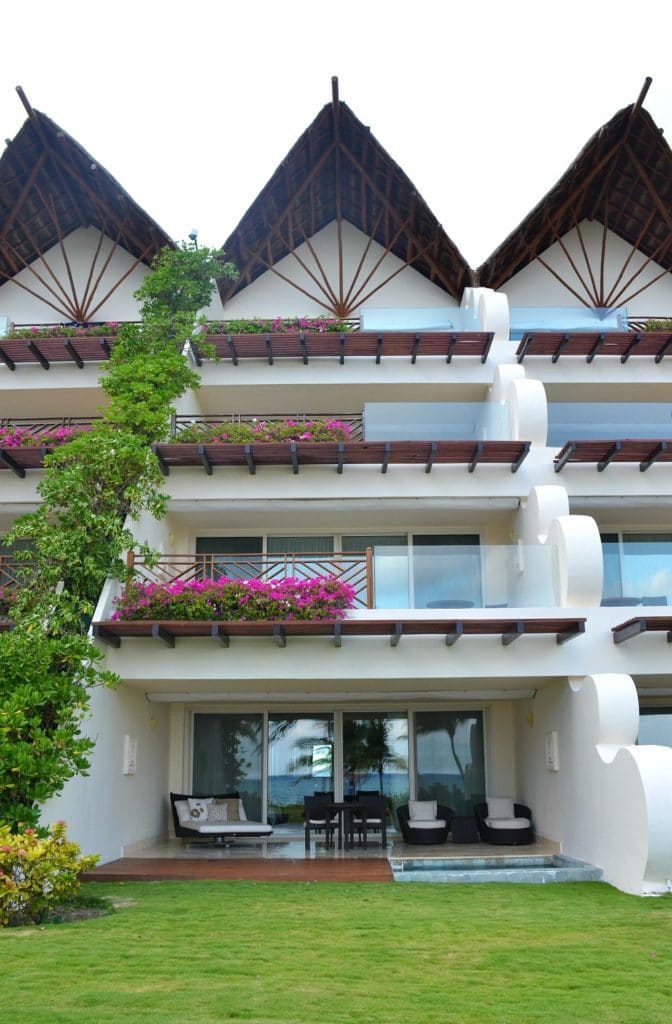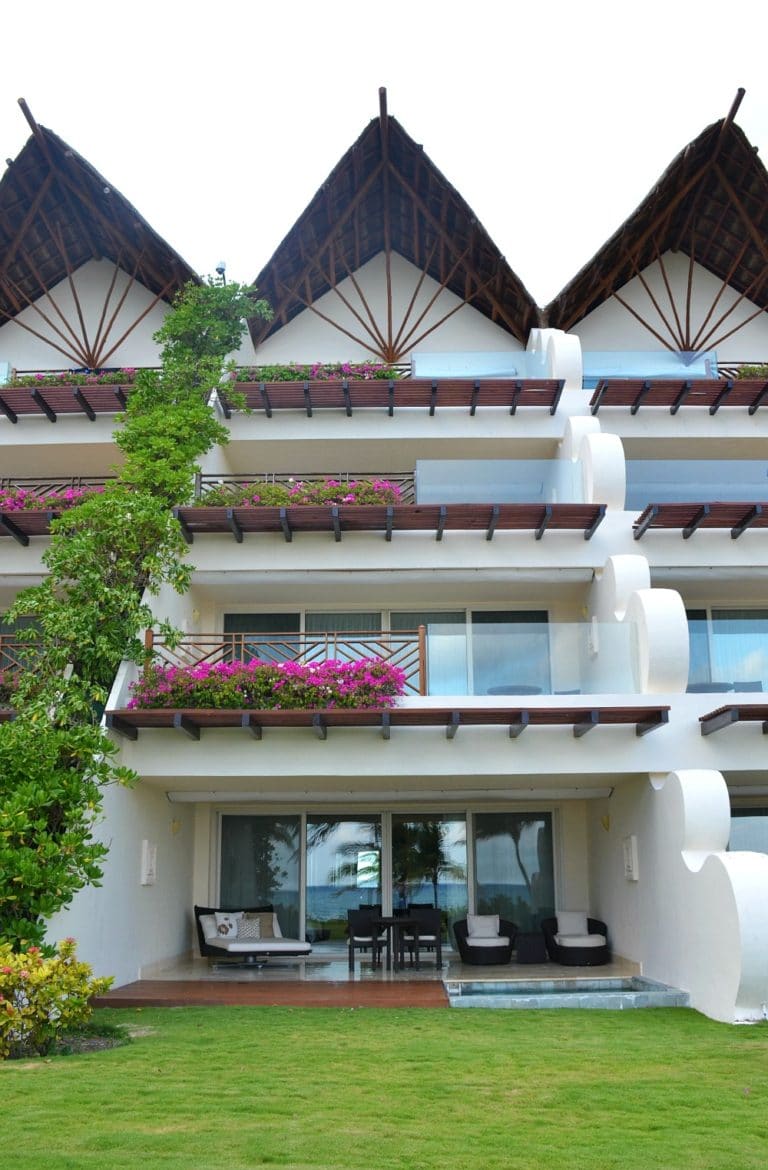 Frida (4 diamonds by AAA), Azul and Lucca restaurants are in the Ambassador section of the resort.
Grand Class
The third and most elite section of Grand Velas Riviera Maya is the Grand Class suites, which are designated for ultimate relaxation for adults and families with teens, with the minimum age being 16+ (as of Jan 1, 2017).
In total, there are 90 Grand Class suites, each overlooking the Caribbean sea with a private plunge pool. This is the best of the best when it comes to service and accommodations in Playa de Carmen, Mexico.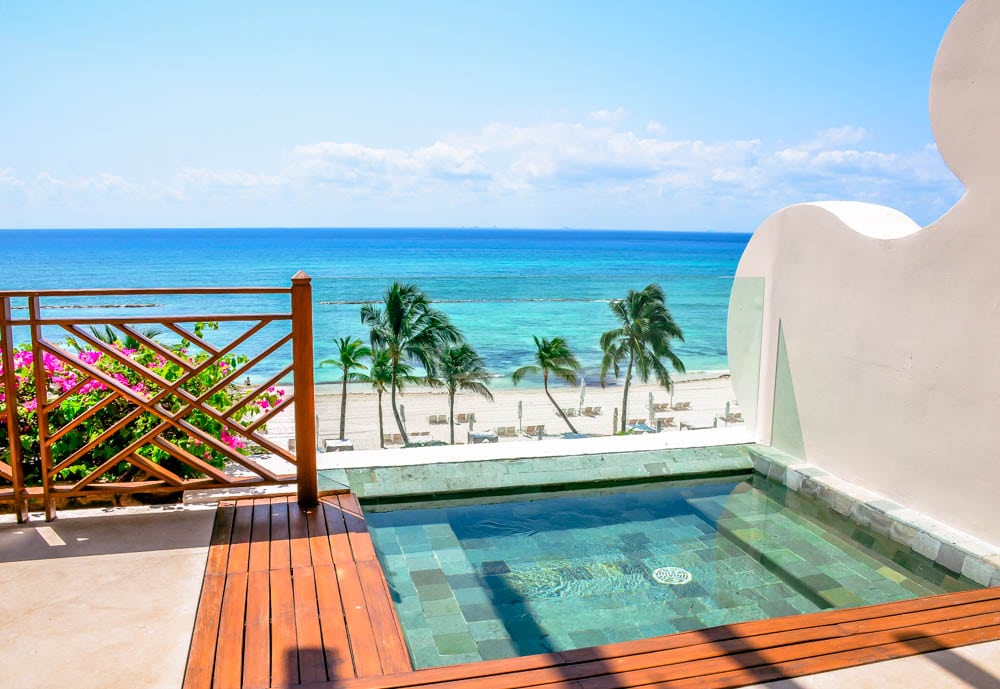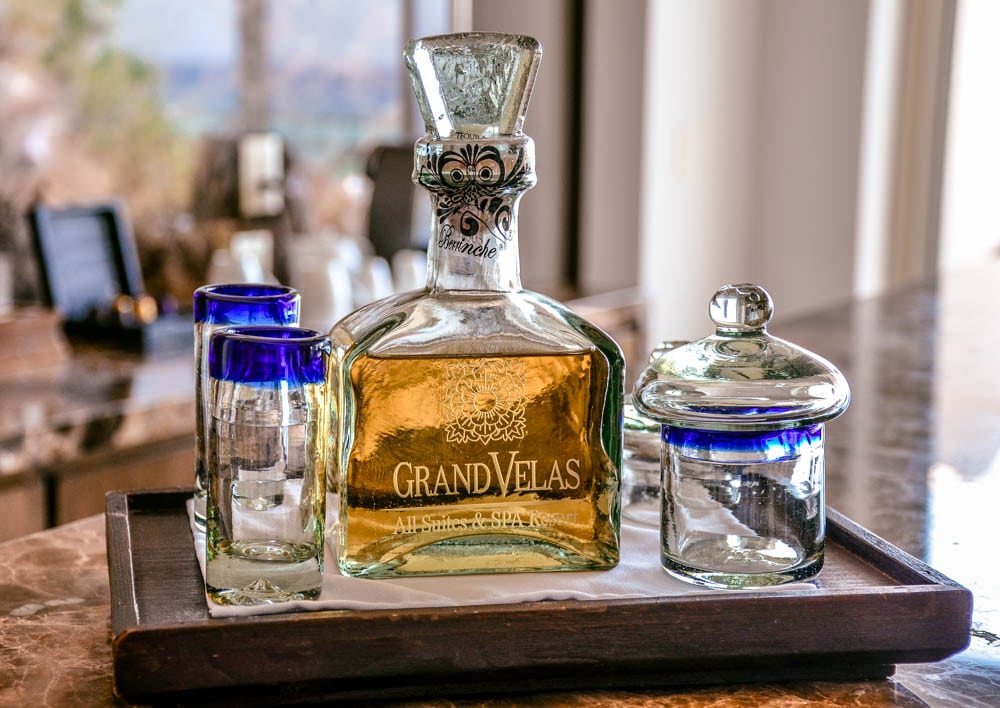 Cocina de Autor (5 diamonds by AAA), Piar (4 diamonds by AAA), and Bistro are in the Grand Class section of the resort.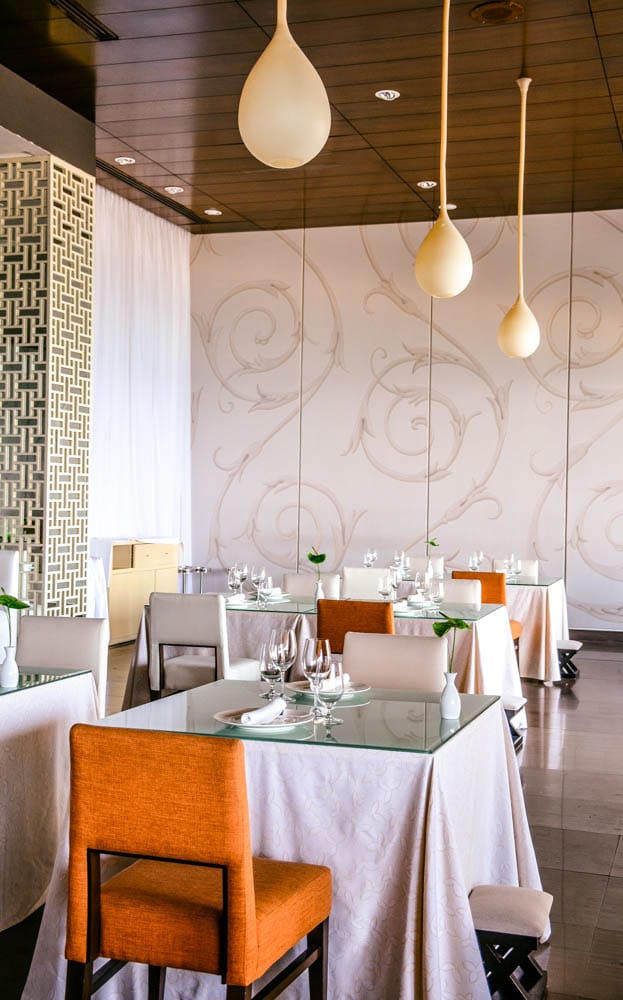 Now that you have a rundown of the accommodations let's get to the really good stuff: the food and drinks!
Let's be honest, the main reason you book an all-inclusive resort is because food and beverages are included. And that's a great thing— when the food is good!
Sadly, I know from experience that this isn't always the case. I have been to some beautiful all-inclusive resorts in the Caribbean that had awful food. But I'm here to tell you that Grand Velas Riviera Maya is not one of them! In fact, the food and beverages at Grand Velas are some of the best, if not the best, that I've had in this region of Mexico. That's saying a lot with so many resorts to choose from in Playa del Carmen.
The great thing about Grand Velas is that you can book any class of accommodations and have access to the entire resort. Zen Grand guests can enjoy the pool, beach, and restaurants on the Ambassador side of the resort and vice versa. However, it should be noted that guests need to be 16+ to dine at Cocina de Autor, Piar and Bistro in the Grand Class Section.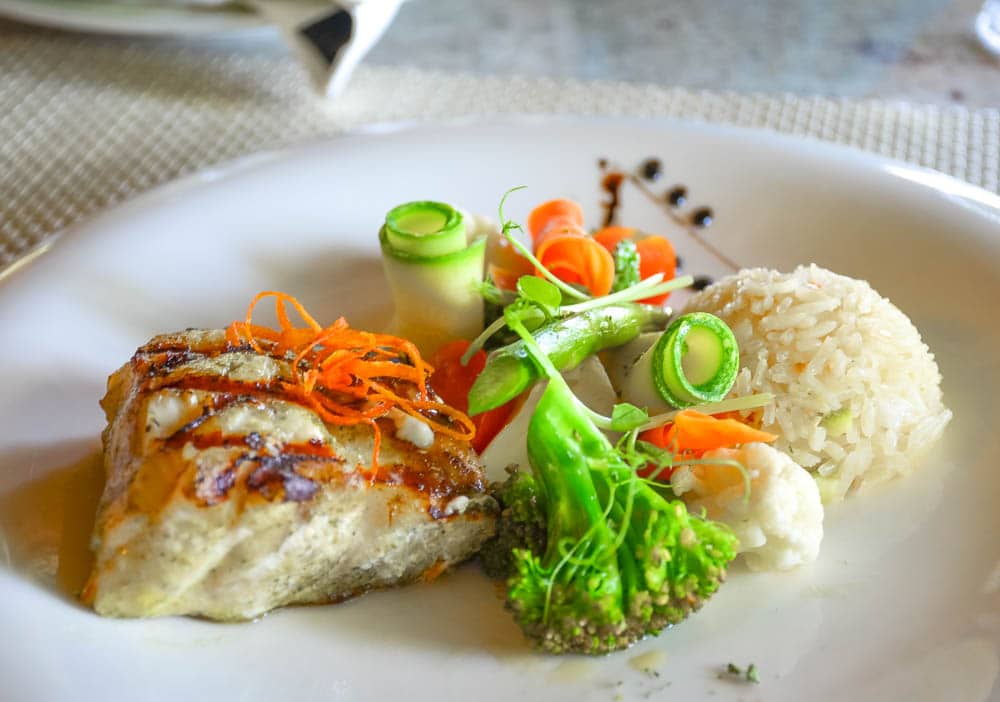 In all, you have eight restaurants to choose from at the resort, each with a different type of cuisine, as well as 24-hour room service. Oh, and each room has a stocked mini bar that's replenished daily, so you'll never run out of cold beers or snacks!
Every single bite of food I had was magnificent, and that even goes for the buffet selections at breakfast and casual dining at lunch. One of the biggest perks for guests who enjoy adult beverages is the use of premium liquor. You really can't go to Mexico and not have a margarita!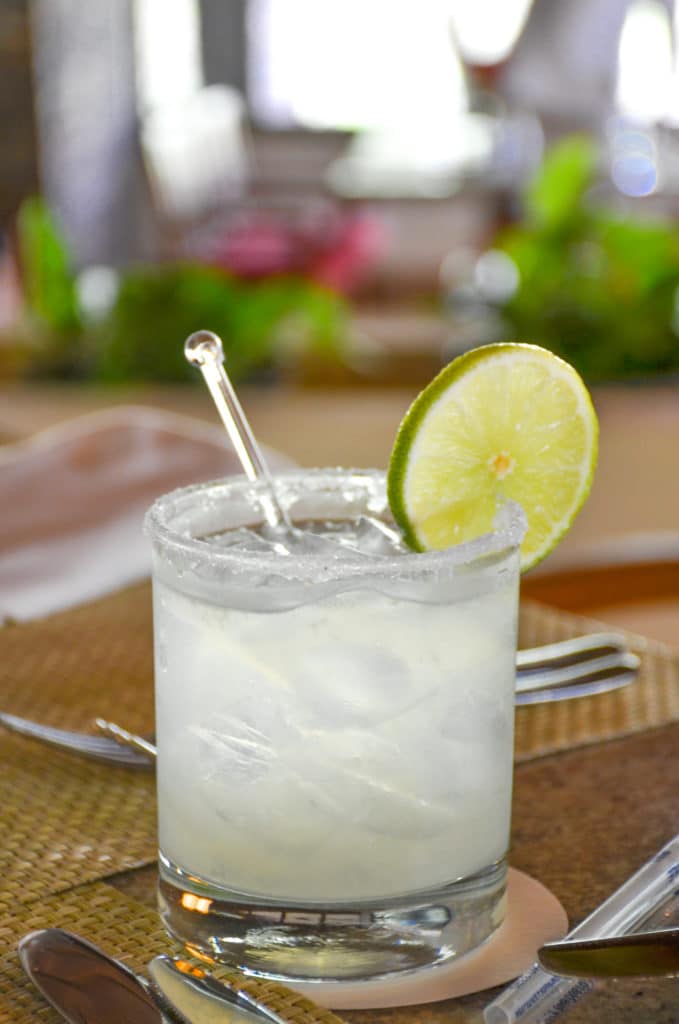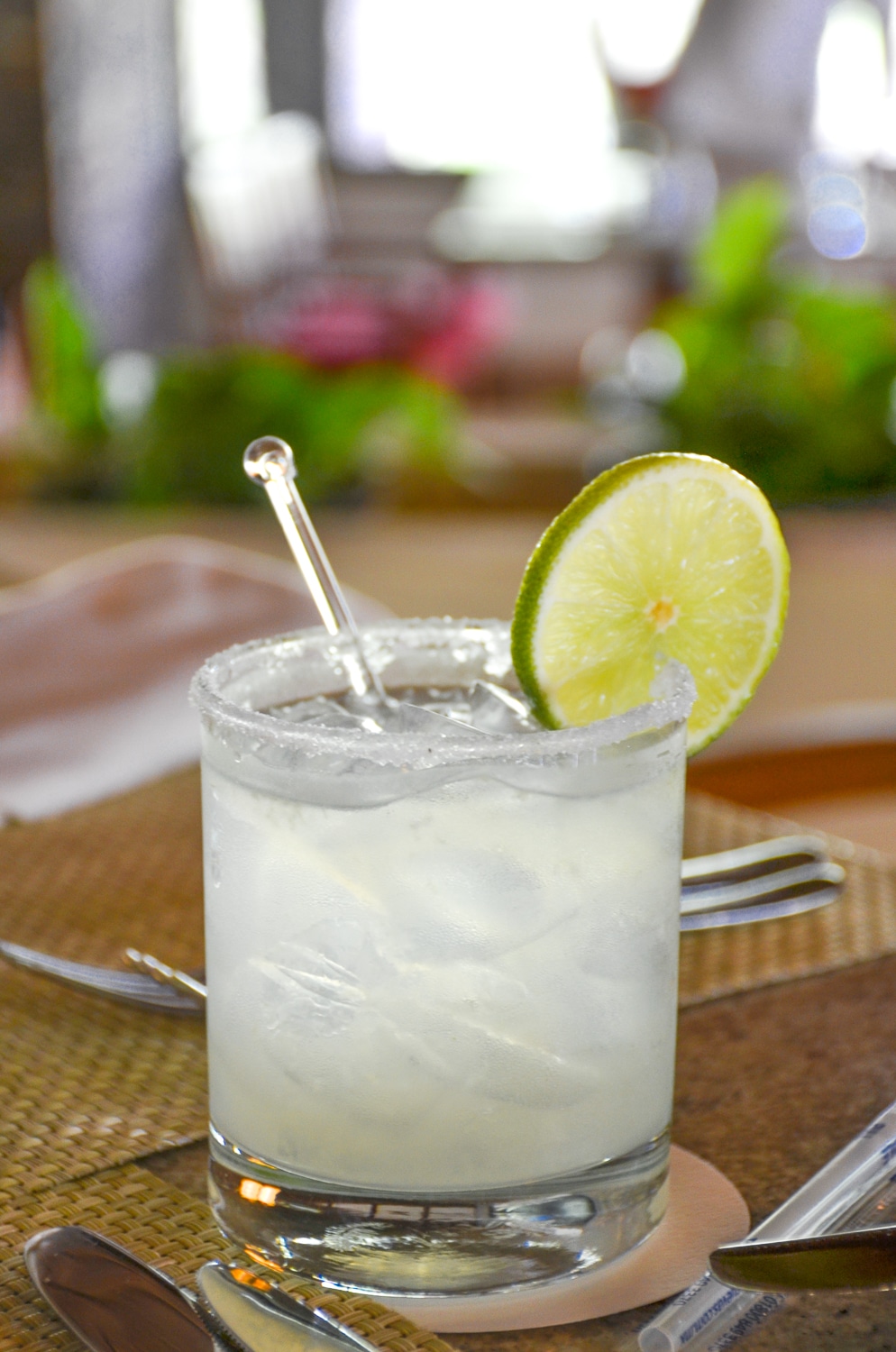 Activities, such as kayaking, snorkeling and bicycle tours, are also included with your stay, and that applies to the Grand Kid's Club, too. The Grand Velas Kid's Club is open every day from 9:00 am to 10:45 pm for children 5-12. Service after 11:05 PM is charged as babysitting. For kids 13-18, the Teen's Club is open from 11 am-12:00 pm daily.
I really could go on and on about Grand Velas Riviera Maya, but I encourage you to check out their website and see everything included for yourself. Grand Velas Riviera Maya is a real luxury all-inclusive with impeccable service, spectacular food, and comfy accommodations in an utterly gorgeous setting.... all-inclusive vacations don't get much better than this!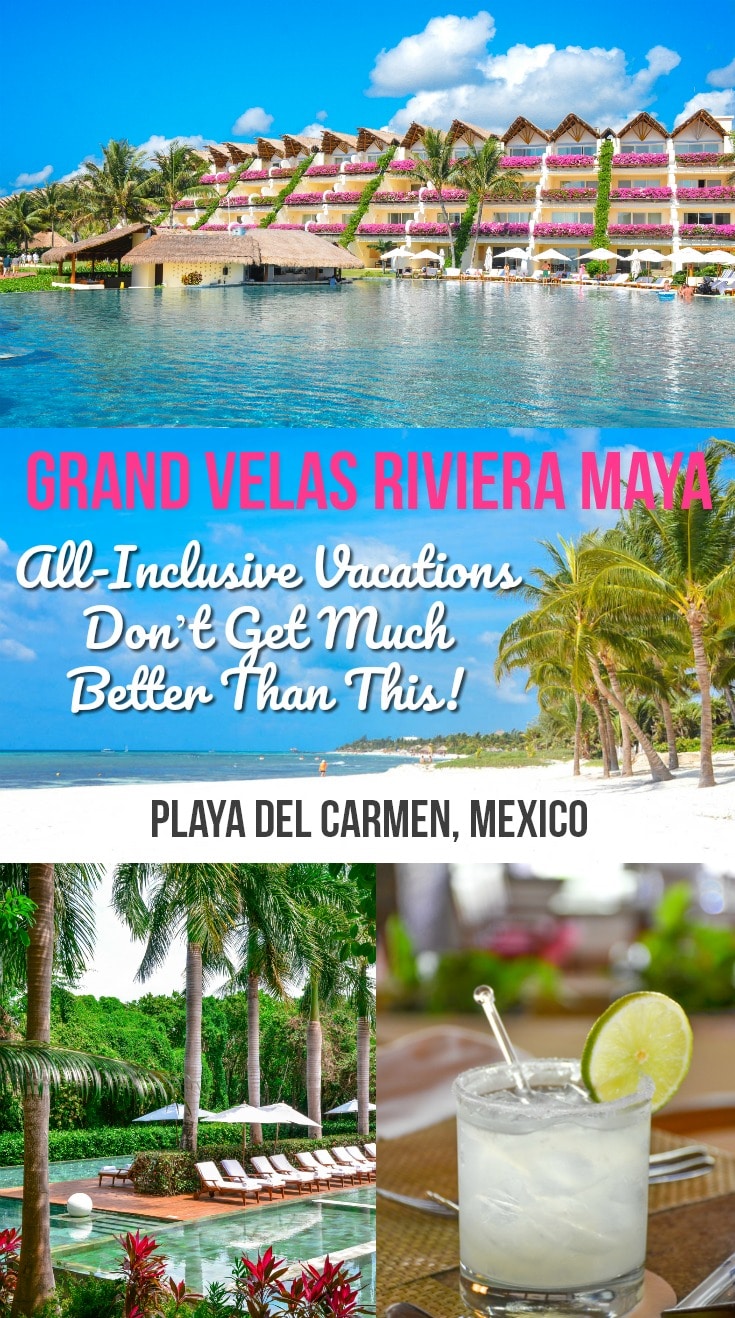 Special thanks to Grand Velas Riviera Maya for hosting my stay. All opinions are my own.