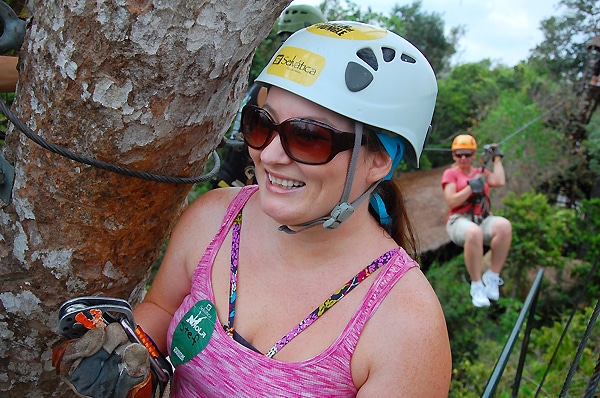 Ziplining through the jungle has always been an activity that I wanted to try. I got a taste of the zip line in Quebec City, during the Winter Carnival; however, it in no way prepared me for the fun I would have at Selvatica Adventure Kingdom in Cancun, Mexico.
Selvatica has an extreme canopy adventure, with 12 of the longest and fastest zip lines in North America.
Yes, I was scared.
I probably shouldn't have been, as Selvatica is ranked the #1 attraction in Cancun by TripAdvisor.

As we climbed higher and higher into the canopy, my palms began to sweat. I am by no means afraid of heights-- it's falling that I'm scared of! 😉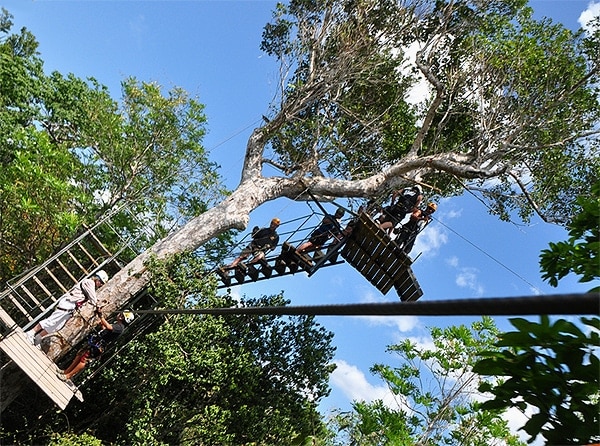 There are a few rules that must be followed to avoid injury. The number one rule is not to put your hands in front of you while moving on the zipline. Makes perfect sense, right?

My first line out, what do you think I did? Yeah. Totally broke rule #1. My hand wasn't there long enough to cause a problem, but it took me a few lines to get the hang of it. Braking was a whole other issue. Our guide rode with me on the next line to make sure I didn't grab it again.
I learned my lesson after he spun me around in circles. 🙂
By the sixth line I considered myself a pro.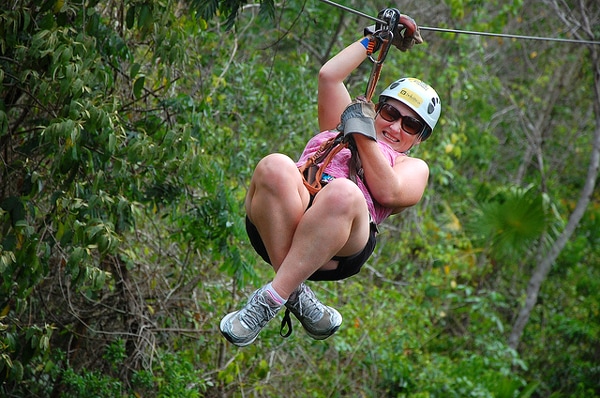 I had a blast on my first "real" ziplining experience. All the fears I had at the beginning of the day were for nothing. By the end of it, I was enjoying every run and actually remembered to look around, taking in the beauty of being up in the treetops.
The staff at Selvatica are true professionals. I was nervous, but they guided me through the course with encouragement. Admittedly, my fears lingered until I saw a family with two young girls (probably 5 and 7 years old) doing the zip line course. Then it was on.
Children as young as 3 years old can zip line tethered to one of the guides. Kids 8 and up can go alone.
By the end of the course I was hot, tired and thirsty. I was surprised how much energy zipping through the trees took out of me!
We removed our zipling gear and had a short water break before we boarded an army truck and headed to a cenote.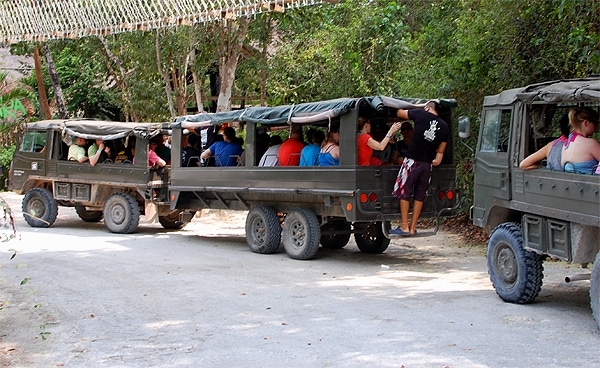 A cenote is an underground sinkhole, primarily found in the Yucatán Peninsula.
Selvatica's Extreme Canopy Adventure includes a swim in the cenote. Believe me, after an hour of ziplining, the water of the cenote will be calling your name-- it's very refreshing!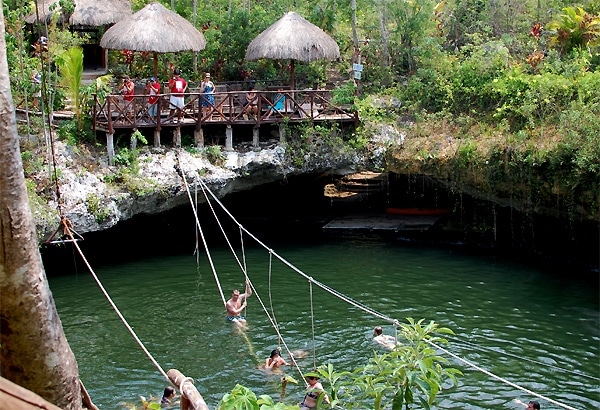 There's even a little zipline to drop you in the water.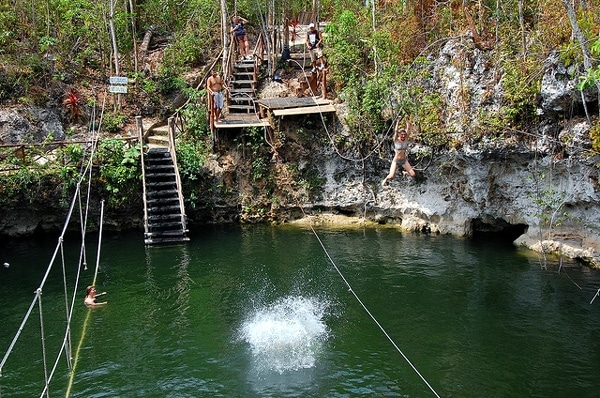 We had about an hour to cool off at the cenote before it was back to Selvatica for lunch.
For lunch we had fajita chicken, rice, and the most delicious refried beans I think I have ever tasted; as well as a choice of soft drink, beer or bottled water. A vegetarian option was also available.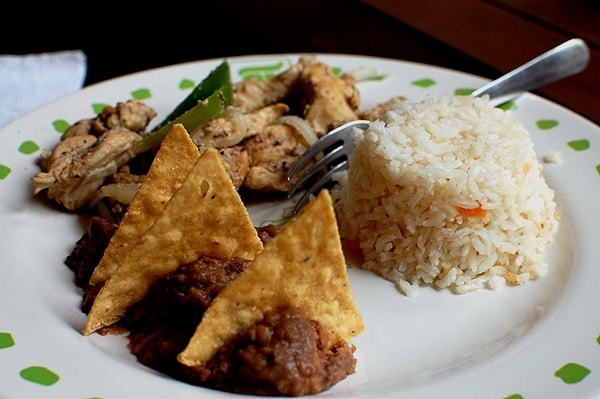 I had an EXTREME-ly fun morning at Selvatica, and I highly recommend the extreme canopy adventure to anyone looking for an adrenaline-filled activity in Cancun.
Now that I have experienced it, there is nothing like soaring through the treetops of Mexico!
Cost
As of this posting, Selvatica's Extreme Canopy Adventure is $99 for adults, and $49 for children 5-12; children ages 3-4 are free. This price includes round-trip transportation from area hotels.
Tips for Selvatica's Extreme Canopy Adventure

-Wear comfortable clothing. For females, yoga pants (or capris) and a tank top is ideal. Wear sneakers— there is a lot of climbing.
-Don't be afraid to book this experience with children. My daughter is seven, and I think she would of had a blast, even with being tethered to a guide. As I said before, these guys are professionals; safety is their number one priority.
-Don't forget your towel and swimsuit! Lockers are available (with a deposit) to hold your stuff while you're on the ziplines.
Special thanks to Selvatica, the Cancun CVB and the Mexico Tourism Board for providing this experience and hosting my stay in Mexico. Some photos were provided by Selvatica.