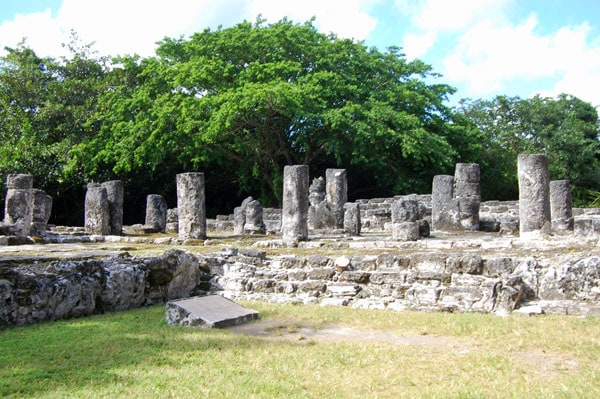 Cozumel, Mexico was the first stop on our 7-day Western Caribbean cruise aboard Carnival Liberty. Initially, my daughter and I had planned a catamaran trip to Passion Island, but at the last minute she decided she wanted to see Mayan ruins. Since our excursion was booked through Carnival, we were able to make the change (since there was availability) without charge or hassle.
Carnival Cruise Lines owns their own pier in Cozumel, so getting off the ship is extremely easy. Once we made it through the duty free shopping area, we immediately spotted the the sign for the San Gervasio Ruins and Beach Break excursion. A little after 9:0o a.m. we were led as a group to the motor coach for the start of our tour.
I knew going into this excursion that San Gervasio was a very small ruins site. Chichen Itza it is not. This was, however, my daughter's first Mayan ruin experience and I wanted to see what she thought of it before I booked something with more travel time. San Gervasio is only about 15-20 minutes from the cruise terminal, making it a good choice for families or those with limited mobility.
San Gervasio Ruins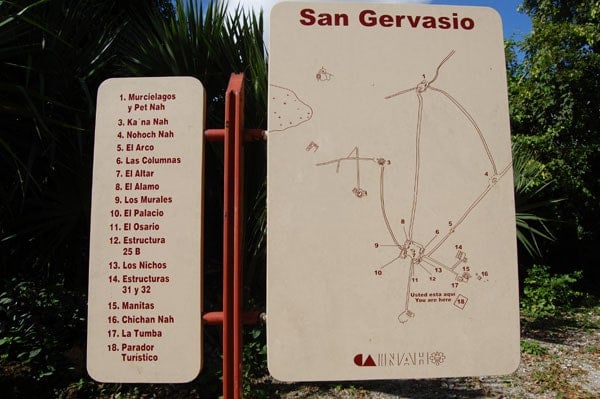 As part of the excursion, a very informative guide led us around the San Gervasio archaeological site. I didn't do any research about the types of ruins prior to the excursion, so I was surprised to learn that San Gervasio was once a site of worship to Ixchel-- the goddess of women, childbirth, the moon and medicine.
This was the temple Mayan woman would pilgrimage to seek fertility blessings. If you look closely you can see little red hand prints on the wall.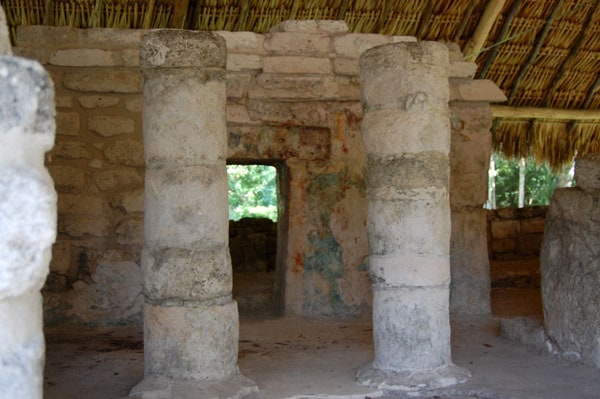 My daughter was more interested in the iguanas!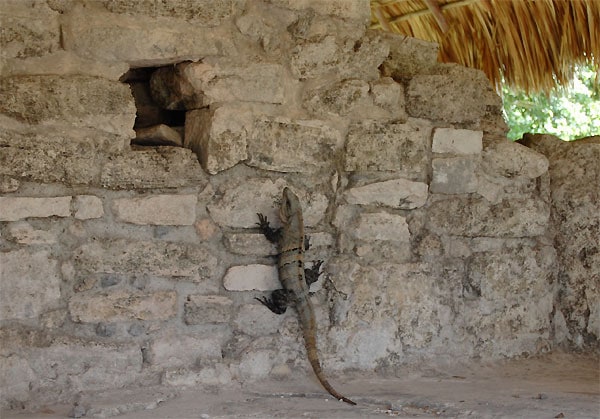 Some structures had signs for no climbing, while others did not. Here are a few more photos from around the archaeological site: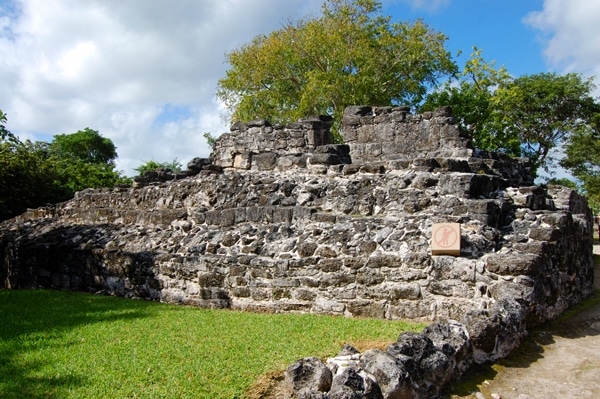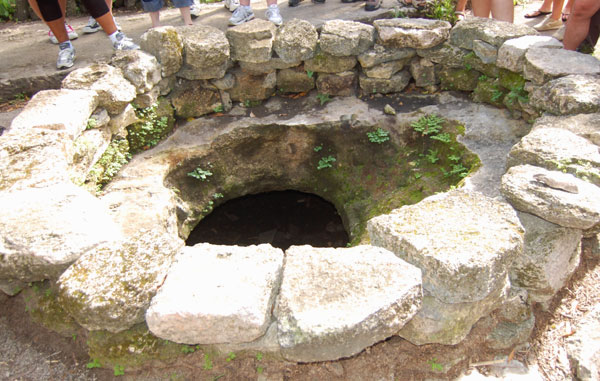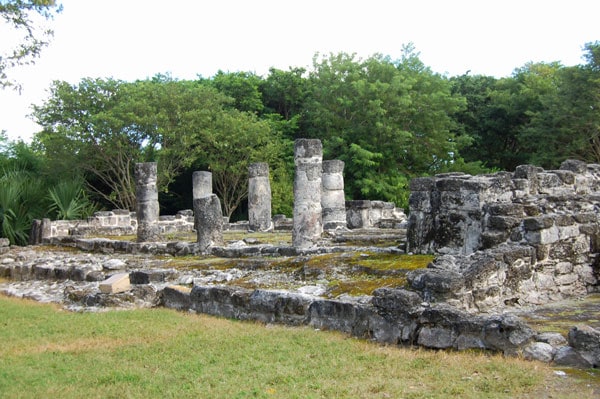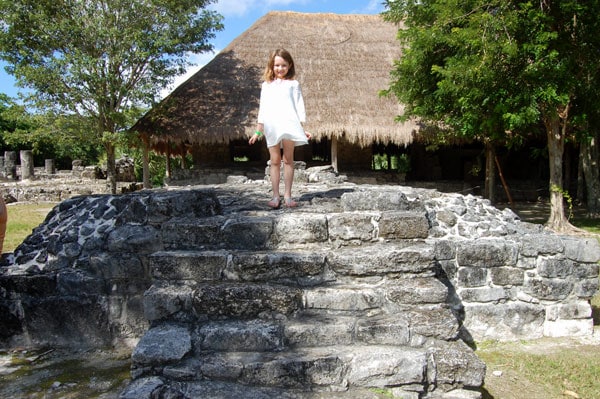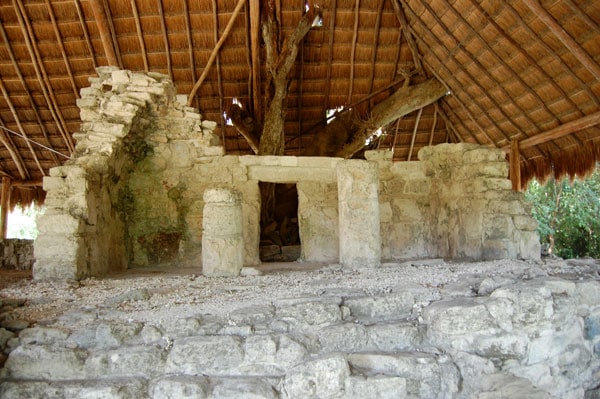 As you can see, most of the buildings are crumbled. I still think San Gervasio is worth a visit if you have a stop in Cozumel. In total we spent around 45 minutes at the site, which is not an unrealistic amount of time. I asked my daughter if she enjoyed the ruins at the end, and she said she did-- I'm sure the iguanas had something to do with it 🙂
Playa Azul Beach Break
The second half of the excursion was a beach break at Playa Azul beach club. We were really looking forward to this because the water in Cozumel is crystal clear.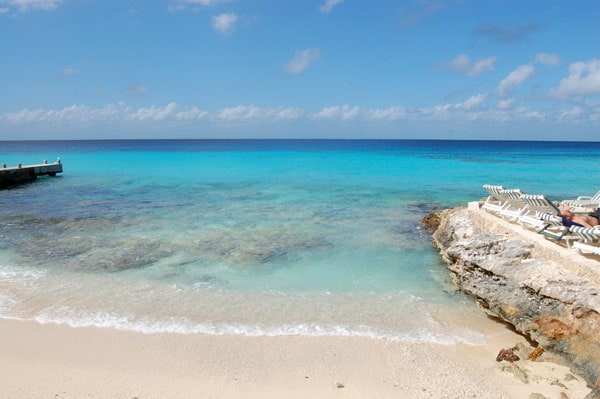 Unfortunately, the area was a little too rocky for swimming and the current was very strong;  it was a red flag beach day.
Beautiful nonetheless.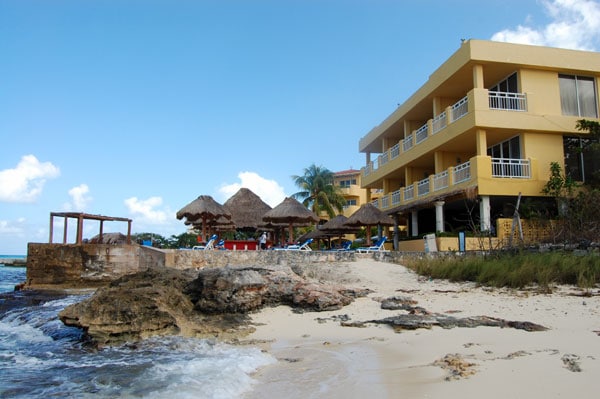 Playa Azul had beach chairs and a swimming pool, which we could use for free. There was also a little bar and restaurant where food and drinks could be purchased. We were the only tour group in the area, so it was very quiet. I believe we spent about an hour and a half at the beach before returning to the ship.
Overall, I think we both enjoyed the excursion. It was very relaxed without a lot of activity and I would recommend it for those wanting to see ruins with a minimal commitment to walking and travel time.  The San Gervasio Ruins and Beach Break excursion from Carnival is 4 hours in length, allowing plenty of time for shopping at the pier once you return.
Special thanks to Carnival Cruise Lines for providing me with 2 complimentary excursion tickets. All opinions are my own.