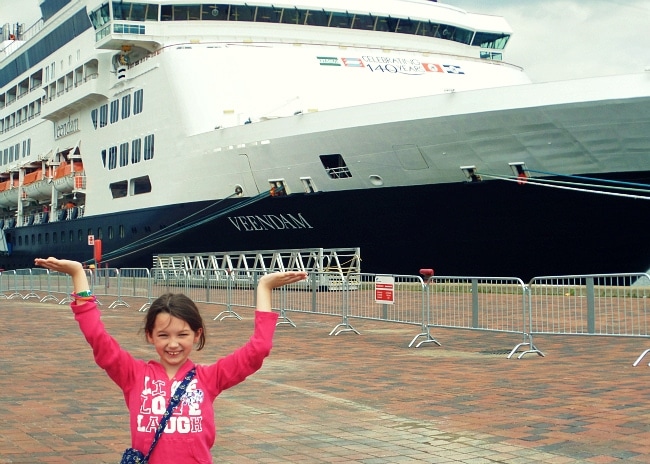 A little over three years ago I took my first press trip abroad as a travel blogger to Quebec City. It was an amazing experience that left me wanting more.  The beauty and charm of Old Quebec is hard to let go of —the cobblestone streets … the pastry shops with macaroons … the French-speaking storekeepers who welcome you with Bonjour!— it's simply hard to believe that you're in North America rather than France.
When I was given the opportunity to travel back to Quebec City with Holland America on their Canada/New England Discovery cruise, I was giddy with excitement to return with my nine-year-old daughter. This was partly due to sailing with HAL for the first time, and partly due to the ports, with Quebec City being a major draw. When you sail Holland America's southbound 7-day Canada/New England Discovery cruise, you start your trip with an overnight in Quebec City. This means the ship stays in port for a full day before leaving for the next port of call—you can go on and off the ship as you please throughout the day and night.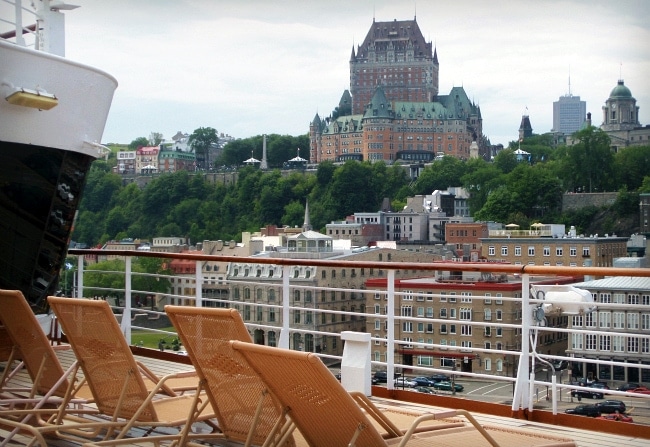 My daughter and I arrived in Quebec City the day before the official start of the cruise because the flight times worked better for us. We stayed at the same hotel as my last visit – Hilton Quebec – which is one of two partner hotels with Holland America. The other hotel is the iconic Chateau Frontenac. By staying at either of these hotels pre-cruise, you can work with Holland America to arrange ground transportation from the airport to hotel, and then from the hotel to the ship.  It worked out really well for us and made traveling in the day before perfectly seamless (plus it gave us an extra half-day to enjoy the city!).
The night before the cruise I took my daughter, Miss P, to Chez Ashton for a QC staple – poutine!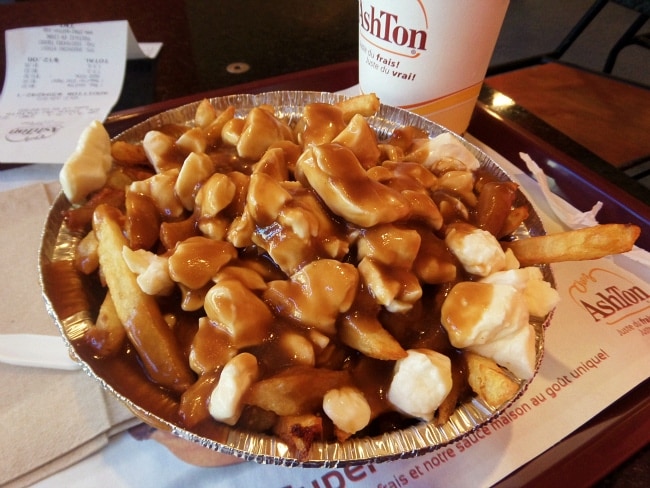 Poutine is a dish that must be experienced to be understood-- it's a delectable combination of French fries, gravy and cheese curds. The poutine is especially delicious at Chez Ashton, which is actually a fast food restaurant rather than fine dining, because they make their cheese curds fresh everyday (so the squeak in your mouth!). A large poutine for the two of us was around $10 and it was more than enough to feed us for dinner. It was just as good as I remember, and my daughter agreed that it was delicious.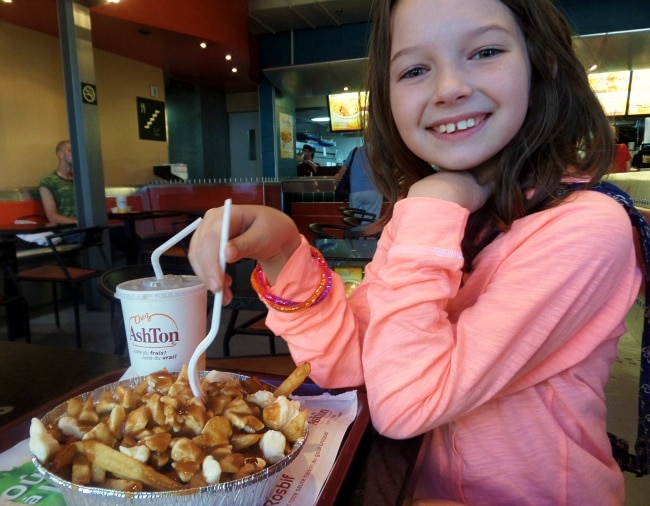 Embarkation
Since we were staying at the Hilton Quebec for 1-night pre-cruise, we were one of the first groups to board the Veendam on embarkation day. The shuttle dropped us off at the cruise terminal around 11:30am-- once the porters took our bags, we made are way into the terminal where we checked in. It could not have been smoother! I'd say we were on the ship within 20 minutes of arriving at the pier.
As soon as we boarded the Veendam, we were directed to our stateroom -- which was wonderful! I loved having immediate access to our cabin. The size was about what we expected; we had an ocean view room with two twin beds. I was pleasantly surprised to see a bathtub/shower combo in the bathroom. --stay tuned for more Veendam ship photos --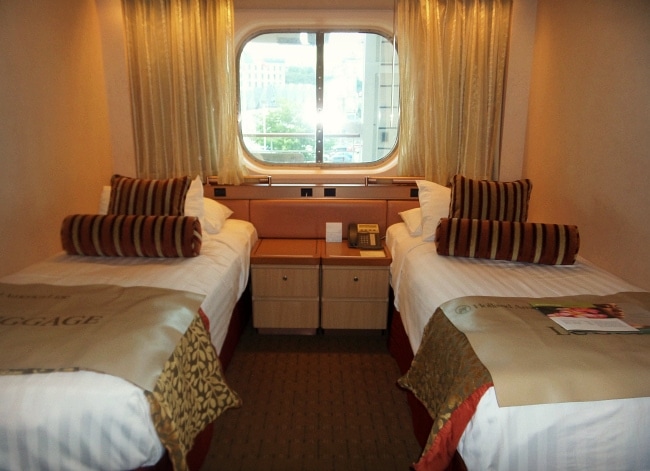 We didn't spent much time in our stateroom because we were ready to explore. Quebec City Tourism offered my daughter and I a press passport with complimentary admission to various attractions in the city. Here are a few of the highlights:
Museum of Civilization (Musée de la Civilisation)
The most popular museum in Quebec City, the Museum of Civilization takes a fresh look at local culture and other societies with more than 10 exhibitions. Current exhibits include Paris on Stage 1889-1914 (until Feb. 23, 2014) and Game Story (permanent), an interactive look at the history of video games.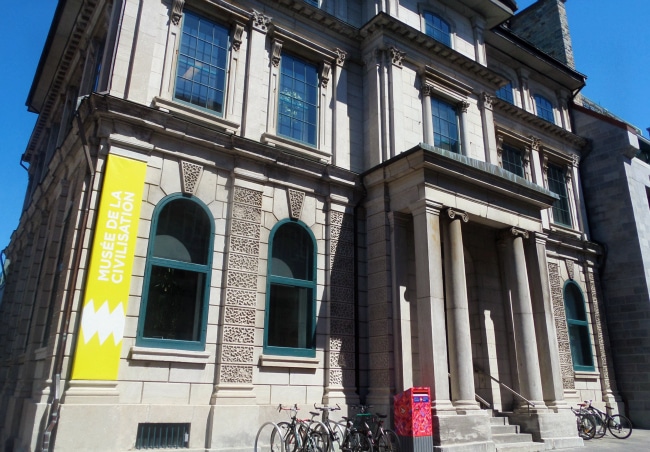 Quebec City Funicular
The Quebec City Funicular is the only funicular of its kind in America. Separating the upper and lower towns of Quebec City, a ride takes just a minute-- the panoramic views of the St. Lawrence at the top are worth the price of admission ($2.25CAN each way).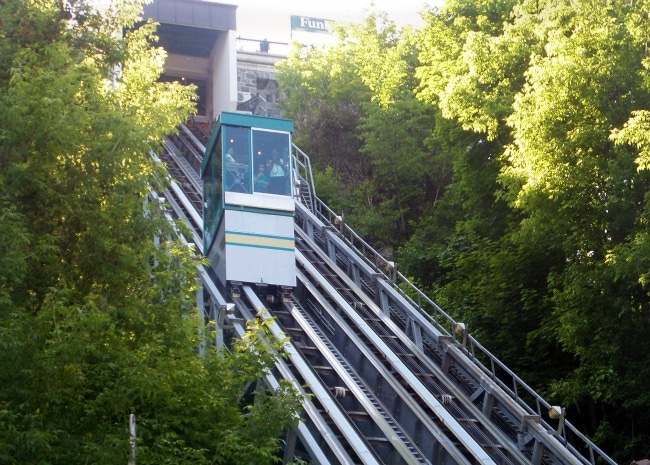 Place-Royale (Musée de la place Royale)
Located on the site where Samuel de Champlain founded the first permanent French settlement in North America in 1608, Place Royale is a historic area that's recognized as a UNESCO World Heritage Site. Exhibitions include a huge scale model of Quebec City in 1635, artifacts from three centuries of trade, and a hands-on exhibit where children (and adults!) can dress up in period costumes from the 1800's.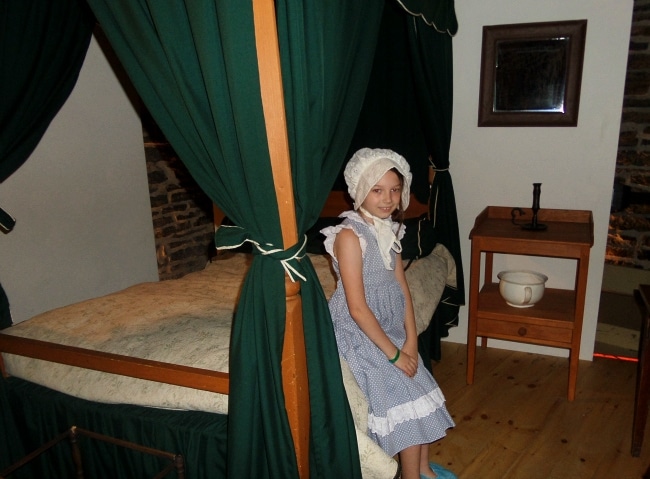 One of the things that I love about Quebec City as a port is how easy it is to get on and off the ship. We decided to board the Veendam once again for dinner and it didn't take but a few minutes since we had already checked in. I'm sooo happy that I made the call to eat on the ship that night because I had an amazing entree -- Barramundi with Coconut-Lemongrass Reduction from Chef Jonnie Boer. Unfortunately, I have no picture to share, but I assure you it was divine. For the duration of the cruise I ordered my entree from the Culinary Council menu (complementary in the dining room).
After dinner we went back to our cabin to get a good night's rest-- upon entering, my daughter was happy to find a towel animal in the shape of a lobster. It was a great beginning to an amazing cruise!