Oh, dear readers, I have officially, OFFICIALLY, jumped on the bandwagon— making not one, but TWO, DIY projects with essential oils. Both were ridiculously easy, cheap to make and work exceptionally well considering I just grabbed a few ingredients I already had around the house, with the exception of the paper towels used in these homemade cleaning wipes (I have another post coming with my "recipe" for homemade makeup remover pads!).
The main component in these DIY Cleaning Wipes is quality paper towels. You really can't skip on this because no matter how good the cleaning solution is, you want something that's going to hold up to the dirt and grime you're trying to clean. I went to Walmart and picked up a couple of rolls of Viva Vantage with V-Flex Weave. I chose this brand specifically because the paper towels have stretch and scrubbing power to clean major messes. This isn't a sponsored post, so feel free to use any brand of paper towels you'd like.
The paper towels were around $2 a roll, making each batch of homemade cleaning wipes about $1.25. This, of course, depends on the cost of the other ingredients you need and what you have on hand already. I had all the other components at home, so it was much cheaper to make these cleaning wipes than to buy a new tub, which would have been at least $2.50 ... and that's not even considering the fact that these wipes are natural and safe to use around kids and pets.
How to Make Homemade Cleaning Wipes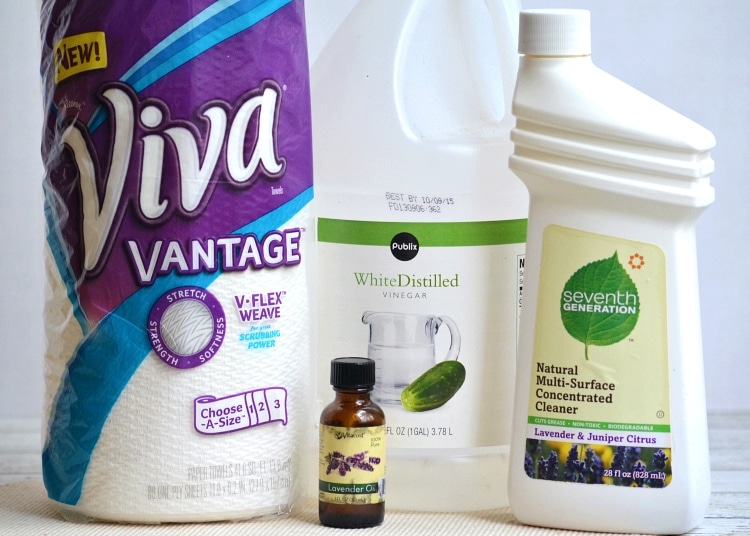 What You'll Need:
1 roll paper towels
1 cup distilled water
1 cup distilled white vinegar
½ capful natural cleaner or dish soap
a few drops essential oil (optional - for added fragrance)
1 large container with lid
Directions:
With a serrated knife, cut the roll of paper towels in half. Remove cardboard center from one of the halves. Store second half to use at later time.
Make sure your storage container is big enough to fit half roll of paper towels. Add distilled water to container and microwave for 1 minute.
Add vinegar, cleaner, and drops of essential oil. Stir to combine.
Place ½ roll of paper towels in the container and seal with lid. Turn container upside down until liquid is evenly distributed.
When ready to use wipes, simply grab from the center and tear.
I tested my first batch of homemade cleaning wipes on the dirtiest surface I could think of-- our glass patio table. We don't use this table every day, so the dirt accumulates from being outside. Because of the large size, I pulled out two wipes from the center of the container and got to scrubbing. I was simply amazed at how well these wipes held up to this grimy surface, and the combination of natural ingredients really did the trick on picking up the dirt.
My DIY home cleaning experiment really paid off and I see myself making batches of homemade cleaning wipes on a regular basis. Hooray for DIY!