Since experiencing Mardi Gras in New Orleans last year, I am all about the Carnival Season. I suppose there's a chance I will return this year, but the next best thing has got to be Mardi Gras at Universal Orlando. I have yet to make it to this annual event at Universal Studios, but this might be the year. Laissez les bon temps rouler...
Mardi Gras at Universal Orlando runs from February 12 through April 23, 2011.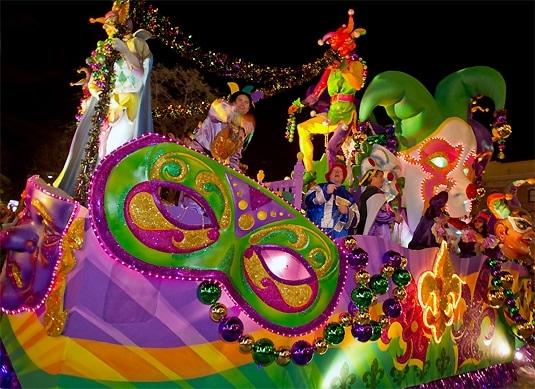 Nationally renowned musical acts combine with an authentic Mardi Gras parade, dozens of colorfully costumed performers, authentic Cajun cooking, and hand-picked New Orleans bands to capture the look, feel and fun of New Orleans – all inside Universal Studios Florida.

Universal Orlando has been creating its special Mardi Gras celebration for more than 15 years – bringing the perfect combination of the Big Easy and spectacular theme park entertainment to its guests all for the price of regular admission.

"If you can't be in New Orleans or if you can't get enough of Mardi Gras, then Universal Orlando is the place to be," said Jim Timon, senior vice president of entertainment for Universal Orlando Resort. "We bring all of what makes Mardi Gras great together with national-level musical artists to create a family-friendly celebration that fills the entire theme park."
This year's special Mardi Gras concert line-up features some of the biggest names in Rock, Country, Pop and R&B.
Here's the concert schedule:
Saturday, February 12      Frankie Valli & The Four Seasons;  Big Al & The Heavyweights
Saturday, February 19      The B-52s;  Lil Malcolm & the House Rockers
Sunday, February 20      KC & The Sunshine Band;  Lil Malcolm & the House Rockers
Saturday, February 26      Pitbull John;  Lisi & Delta Funk
Saturday, March 5      Lynyrd Skynyrd;  Grady Champion
Saturday, March 12      Foreigner;  Honey Island Swamp Band
Friday, March 18      Neon Trees;  J.J. Caillier & The Zydeco Knockouts
Saturday, March 19      The Roots;
Friday, March 25      OneRepublic;  Soul Project
Saturday, March 26      Blake Shelton;  Soul Project
Friday, April 1       Sean Kingston;  Lil Brian & The Zydeco Travelers
Saturday, April 2      Ne-Yo;  Lil Brian & The Zydeco Travelers
Saturday, April 9      Lifehouse;  Rockin' Jake
Saturday, April 16      The Beach Boys;  Beth McKee & the Sliders
Saturday, April 23      Thirty Seconds To Mars;
Along with top-name talent comes the world-famous parade - straight from the streets of New Orleans.  One-dozen elaborate, hand-crafted floats designed and built by Blaine Kern Artists – the same company that creates floats for New Orleans Mardi Gras – will make their way through the streets of Universal Studios along with dozens of colorfully costumed performers and hundreds of float riders – all of whom throw beads to eager guests.   The parade, with its Fire, Air, Water, Earth theme, also features music and a nightly King and Queen of Mardi Gras.

Nearby, in the Universal Studios "French Quarter Courtyard," the celebration continues.  This area will feature New Orleans-inspired food creations by Universal's chefs – including jambalaya, Po Boy sandwiches and more.  And nearly one-dozen hand-picked, authentic New Orleans bands will perform the best of The Big Easy's Blues, Jazz and Zydeco.
Mardi Gras is included as part of regular admission to Universal Studios.
For more information or to purchase tickets, visit www.universalorlando.com/mardigras.