My daughter is a chocolate milk addict. At one point, that was the only way she would drink milk. I eventually came to dread buying chocolate syrup as I didn't see any nutritional value in it-- it was just added sugar. This was about the time Ovaltine came into our lives, and we've been hooked ever since.
Now there's a new reason to make the switch to Ovaltine-- The new and improved recipe has 12 vitamins and minerals and no artificial flavors and colors only from natural sources.
This is big news for us as I am slowly weeding out products with artificial ingredients.
My daughter and I tried all three flavors --rich chocolate, classic malt and chocolate malt-- and we love them all. My favorite is the malt and my daughter's is chocolate malt. I have yet to do a taste test with the old Ovaltine recipe, but it seems similar.
To celebrate new and improved Ovaltine, I am giving away a fun Ovaltine prize pack to two lucky readers.
The giveaway package includes: three canisters of new recipe OVALTINE (one of each flavor), a recipe booklet, a countertop straw dispenser, and a $25 Visa gift card.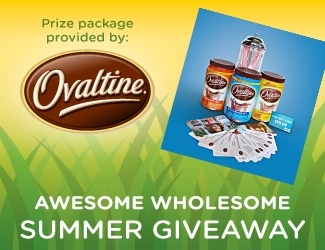 WIN IT!
To enter, leave a comment with your favorite healthy summer snack or a favorite summer childhood memory. (required)
Bonus Entries:
1. Subscribe to my feed (1 entry)
2. Follow me on twitter @MommyMusings (1 entry)
3. Tweet about the contest (just click on the twitter bird below this post- May be done 1x daily)
4. Post contest on facebook (just click on the facebook symbol below this post, 1 entry)
5. Stumble any other post (1 entry per stumble)
6. Blog about the contest, leave comment with a link to your post. (10 extra entries)
7. Add my button (can be found at right —>) to your blog sidebar or blogroll. Leave a comment with your website. You may also add just a text link if you do not want to add the button. (10 extra entries)
Contest ends Saturday, July 16, 2011. Two (2) winners will be chosen at random.
**Valid comments will be rescued from SPAM** US only please.
I am participating in a paid blogger campaign sponsored by Ovaltine. This giveaway is in conjunction with an Awesome Wholesome Backyard Party that I will be hosting soon. All opinions are my own.