We got an early start to day 3 of our vacation in NOLA by taking advantage of the complimentary continental breakfast that's served weekdays in the concierge lounge at the JW Marriott New Orleans. The lounge is available to guests on the concierge level, which we were fortunate enough to have access to throughout our stay. In addition to breakfast, hors d'oeuvres and desserts are also served on weekdays -- we loved popping in after a day of sightseeing for a soda or a snack.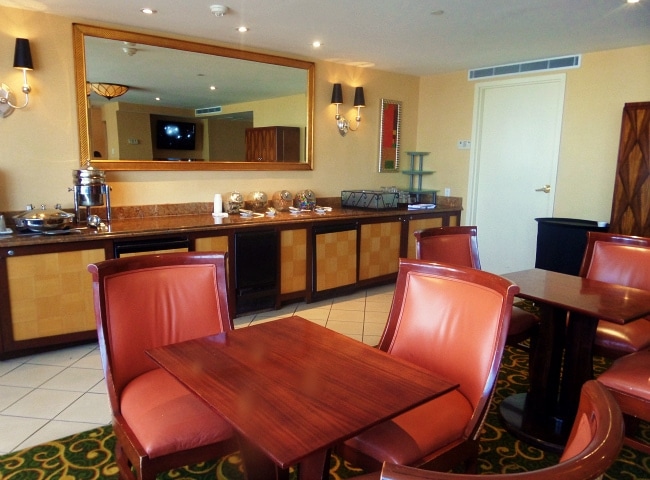 Since we didn't have time for the Aquarium the day before, we decided that would be our first stop. The Aquarium of Americas is located at the very end of Canal Street on the waterfront, within walking distance from the hotel. I can't tell you how awesome it is to have everything so close -- there's really no reason for a car! Admission to the aquarium is $22.50/adults and $16.00/children (2-12). If you're planning a visit to both the aquarium and zoo, there's a combo ticket available at a discount. The best deal is the Audubon Experience Package, which includes access to the Aquarium, Zoo, Insectarium and the IMAX theater for only $44.50/adults and $27.50/children (2-12) -- it's an awesome value if you can make all of the main attractions, like we did.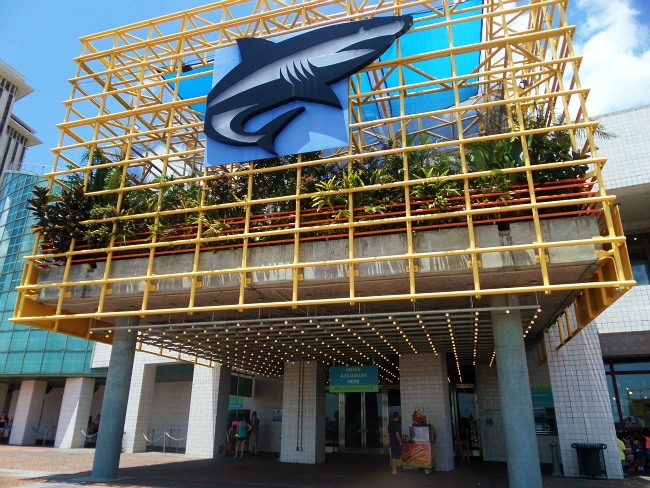 The Aquarium of Americas is absolutely one of the best aquariums that we have been to.  The exhibits are state of the art, and everything looks as if it's brand new. Our favorite attraction, hands down, was the penguin exhibit. For some reason the penguins in the tank were drawn to my daughter's fan (the one she purchased the day before at the French Market). She would hold up the fan and all of the little penguins would follow it around the tank. It was truly adorable!  
Other great exhibits were the Amazon Rain Forest, where you can climb up in the treetops to get a birds-eye view of the flora and fauna below, the Caribbean Reef, where you're surrounded by sea life as you walk through an underwater tunnel, and the Deep Grotto, which puts you face-to-face with a moray eel.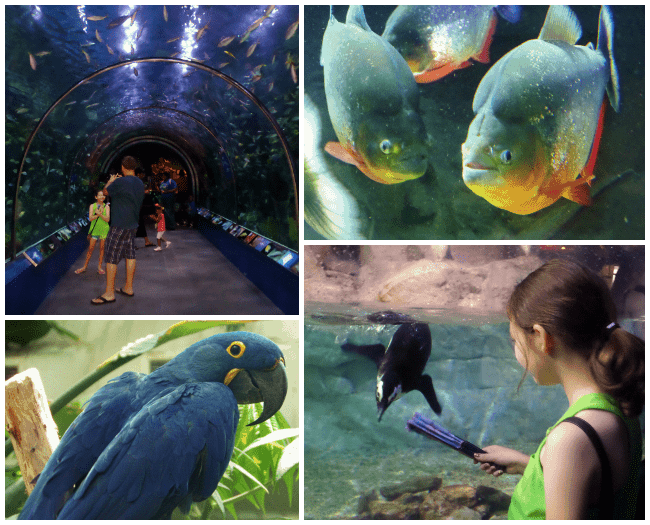 After a few hours we left the aquarium to catch the 11 (Magazine) bus to the Audubon Zoo. While we could have easily taken a cab to the zoo, the most economical way to get to areas outside the French Quarter is by bus or streetcar. The most direct route to the Audubon Zoo from Canal Street is the 11 bus, which takes you down Magazine Street and drops you right in front of the zoo for only $1.25 p/p each way. Because we planned to stop for lunch on the way back, we purchased three 1-day Jazzy passes for $3 each ($9 total), which allowed for unlimited rides on the buses/streetcars for the day.
We knew going to the zoo that we didn't have a lot of time to spend there. For one, it was HOT -- almost unbearable so. If I could redo our day knowing what I do now, we would have went to the zoo in the morning and saved the (air conditioned) aquarium for the afternoon. The heat immediately hit us when we walked into the zoo and came across a large fountain -- at that moment I would have given anything to jump right into it.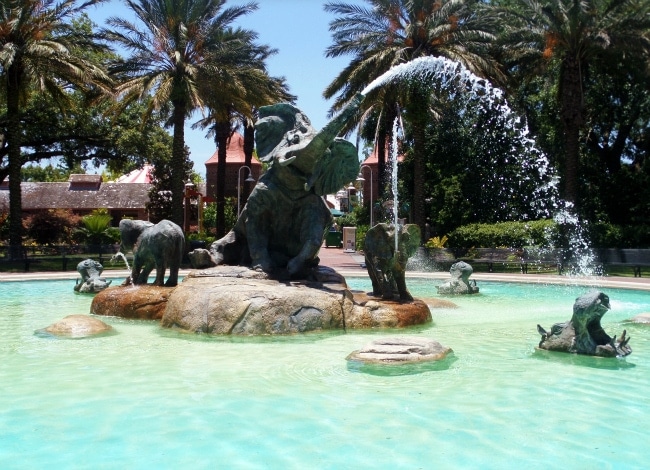 What made matters worse was that there is a separate area of the zoo called "Cool Zoo", which is basically a splash park with water spouts and sprayers. If I had only brought our swimsuits we could have cooled off right then and there! Totally a missed opportunity.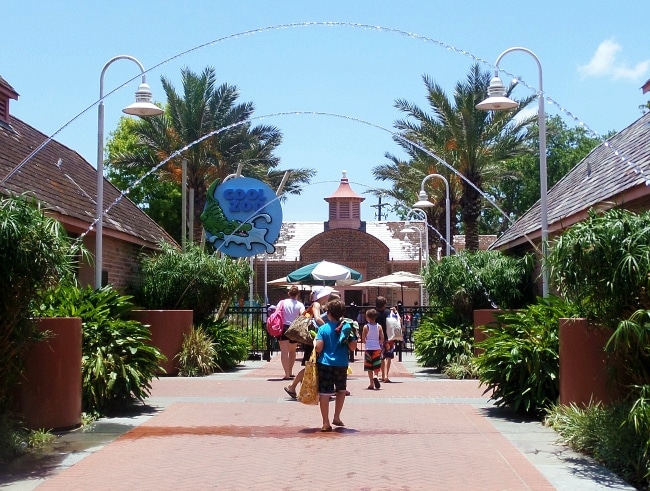 Even with the heat, our zoo experience was awesome. I wish I had more pictures to share with you, but unfortunately my camera died. The last thing I captured was this beautiful peacock--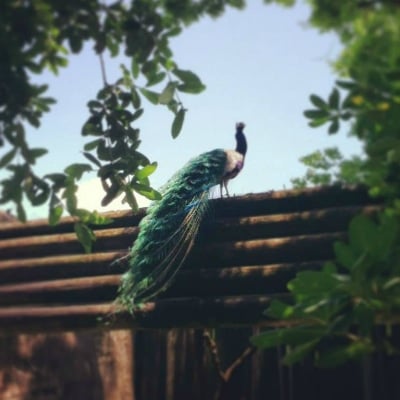 The Audubon Zoo was much larger than we expected. There are over 20 exhibits and attractions making the zoo a multi-day experience if you want to see everything. I think our favorite exhibit was the Louisiana Swamp because it really felt like we were down in the bayou -- the zoo did a fabulous job of highlighting the Cajun culture of Louisiana in addition to showcasing its wildlife.
After the zoo we took the 11 bus to Magazine Street for lunch at Dat Dog. Dat Dog is a really cool eatery that serves all kinds of "dogs" -- hot dogs, duck dogs, alligator dogs, sea dogs, Guinness dogs, turducken dogs ... you name it! From there, you can customize your toppings or go with the "Chef's Choice", like I did. I started with a regular all beef hot dog and the chef added cheese, guacamole, sour cream, jalapenos, tomatoes, onions, chili, french fries and chives. I know it sounds gross, but it was DELICIOUS!! Seriously, go with Chef's Choice -- Dat Dog is not to be missed!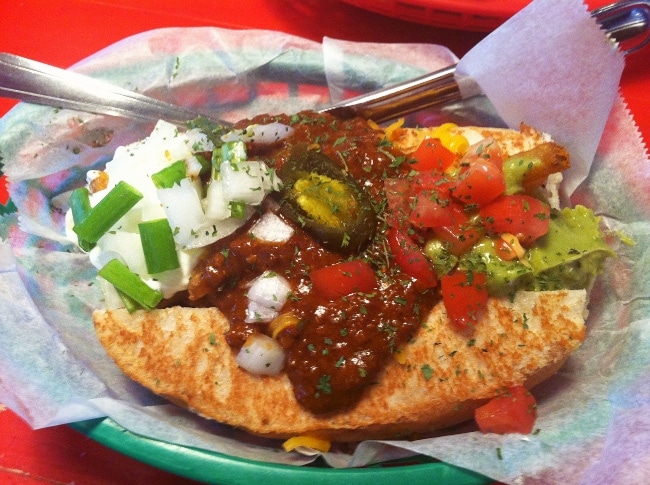 My husband loved Dat Dog so much that he wrote his own blog post about it 🙂
Stuffed, we left Dat Dog to do a little shopping along Magazine Street. The area is very up and coming with boutique shops and cafes. One of my favorite stores was Fleurty Girl, which sells New Orleans-inspired shirts, jewelry and home decor. I seriously wanted to buy everything!
A little further down was one of my "must-stops" -- Sucre. Before our first visit to New Orleans, three years ago, we were sent a King Cake from Sucre and I've been hooked ever since. Their macaroons are simply to die for and I couldn't not stop in for a sweet treat. Both my husband and daughter ordered brown butter and pecan gelato and I ordered a slice of strawberry creme cake with toasted almond gelato -- heavenly!!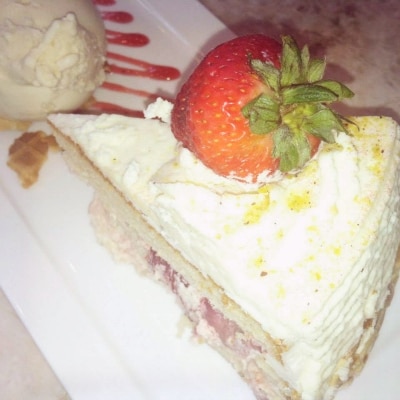 By this time we were EXHAUSTED! Once again, we hopped on the 11 bus and rode it back to Canal Street where we started. Too full from our late lunch & dessert, we took a rest at the hotel and then opted for a late dinner at The Camellia Grill on Chartres and Toulouse. The restaurant, which reminds me of a diner, was recommend to us as one of the "cheap eats" in NOLA.  My husband and I both enjoyed a cheeseburger and my daughter had fried catfish. The food was excellent for the price and the waiters couldn't have been more friendly.. we would definitely return!
See: New Orleans Day 2 and New Orleans Day 4 (Coming soon!)