Our first full day in New Orleans was a big one -- it was my daughter's 9th birthday! Before the trip I let her plan out her ideal day, and for the most part, we stuck to it. The first thing on her list was breakfast at Cafe du Monde. If you've never been to NOLA, beignets at Cafe du Monde is a quintessential experience -- you just can't miss it! One bite into one of their frieddough squares covered in powered sugar and you'll be hooked for life. I know we are.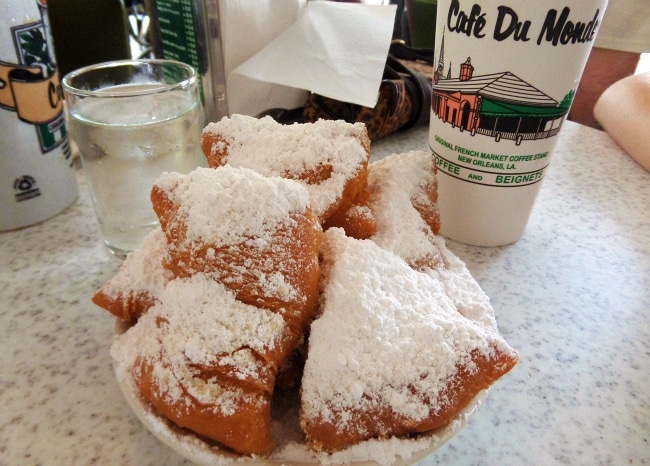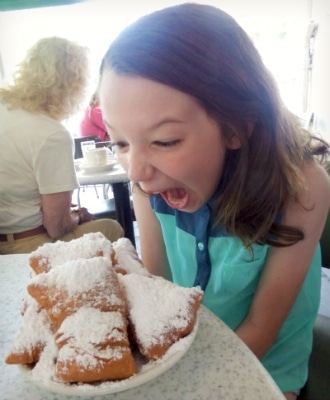 Cafe du Monde is always busy even though it's open 24 hours-- though luck was on our side this day and we walked right in and found an open table without waiting. And here's a tip for you: Even though you may see a line, there's isn't a hostess that seats you. Tables are first come, first served ... so if see something open, you're free to grab it! Once you're seated a waitress will come over almost immediately to take your order. The only decisions you have to make are how many beignets you want (they come in an order of 3 for $2.42) and what you want to drink. In my opinion, unless you're a child, your only two choices for a beverage should be Cafe Au Lait or Frozen Cafe Au Lait. I chose the latter on this trip because it was so hot, and I'm glad I did -- the Frozen Cafe Au Lait is Out. Of. This. World!
We took our time with breakfast and started to chat with the couple next to us. Come to find out, they were celebrating a birthday, too. It was refreshing to have a simple conversation with some friendly people -- we experienced genuine hospitality everywhere in NOLA.
I wish I would have noted the daytime temperatures during our visit because on this day it was sweltering. Being from Florida you would think that we'd be used to the heat, but New Orleans is on another level with the additional humidity. Once I un-stuck myself from the seat at Cafe du Monde (not a pretty picture, I know), we decided to make a little detour at the French Market, which is right down the street, before heading to the Audubon Insectarium.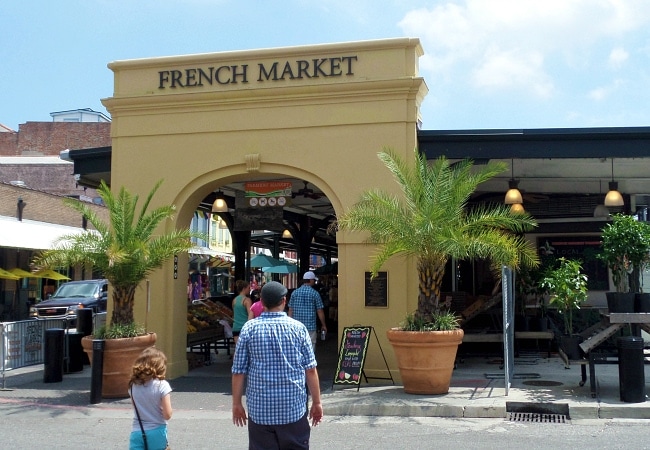 The birthday girl received some money from her grandparents before our trip and she was ready to spend. The French Market has everything from trinkets and tchotchkes to handmade jewelry and art ...plus everything in between. If you want a Mardi Gras mask, beads, or a pair of cheap sunglasses, you'll absolutely find it in the market. Because of the heat, my daughter was set on a hand fan for $2.00. I kind of brushed off her small purchase, but she was the one laughing at the end of the week when I tried to borrow the fan. Smart kid.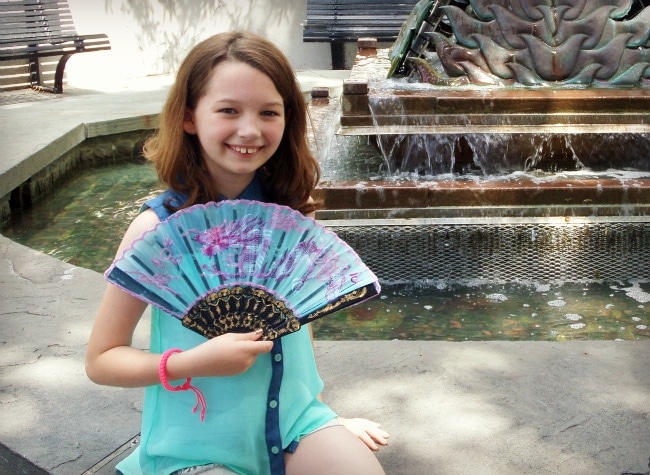 We each purchased a little something. Miss P (that's my girl) got the fan and a bracelet, my husband couldn't resist the Chicago Bears Mardi Gras beads (he's a die-hard fan), and I had to have a pair of fleur-de-lis stud earrings (only $10!). For once, we all walked away happy without spending a ton of cash!
The main attraction for today was the Audubon Insectarium. I didn't realize how much my daughter was into bugs until she urged us to visit there as her main birthday attraction. Originally we had planned both the Insectarium and the Aquarium for the same day, but we realized quickly that wasn't going to happen. The Audubon Insectarium is located right on Canal Street, just a short walk from our hotel.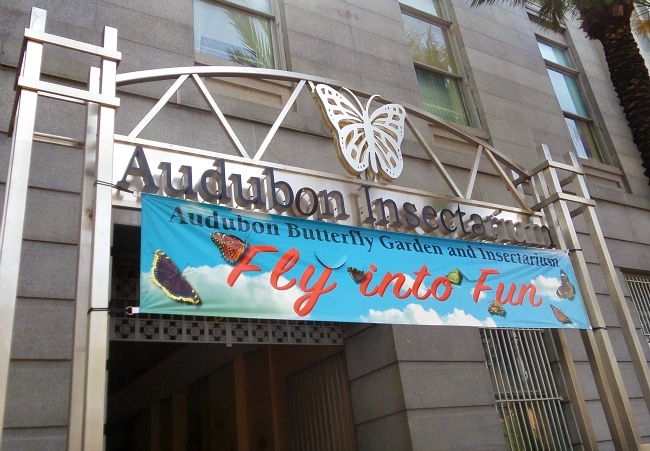 The timing of our visit couldn't have been more perfect -- it was hot, and we needed air conditioning! The Insectarium isn't huge, but there's a ton to see ... there's even an indoor butterfly garden. I have a whole post planned with photos throughout the exhibit, including our mid-day snack of crispy cajun crickets and southwest waxworms at the Bug Buffet.
Yeah, I'm not kidding.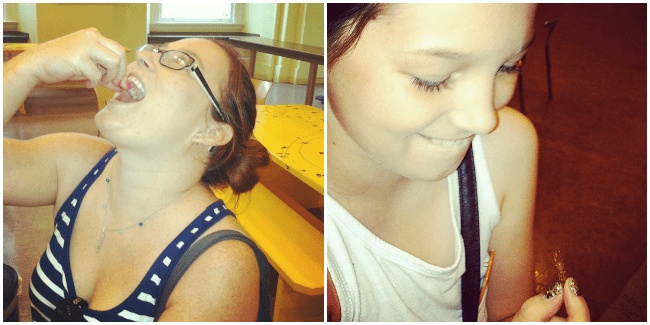 The bugs weren't enough to tide us over until dinner and we were famished. I took the liberty of suggesting Mother's, a little restaurant on the corner of Poydras and Tchoupitoulas that serves one of the best Po' Boys you'll ever eat -- Roast Beef with Debris. We dined at Mother's on our first visit to New Orleans three years earlier and never forgot how mouth watering it was. The second time around was just as good, if not better. Mother's, like Cafe Du Monde, is a place we will dine every time we visit the Big Easy.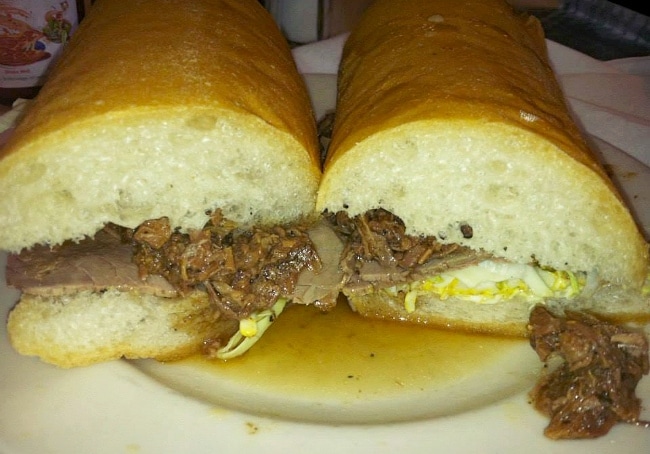 My daughter had a wonderful surprise waiting for her back at the hotel. The amazing kitchen staff at the JW Marriott New Orleans made a special birthday cake just for her. It was completely unexpected and totally appreciated -- her reaction was priceless, it absolutely made her day!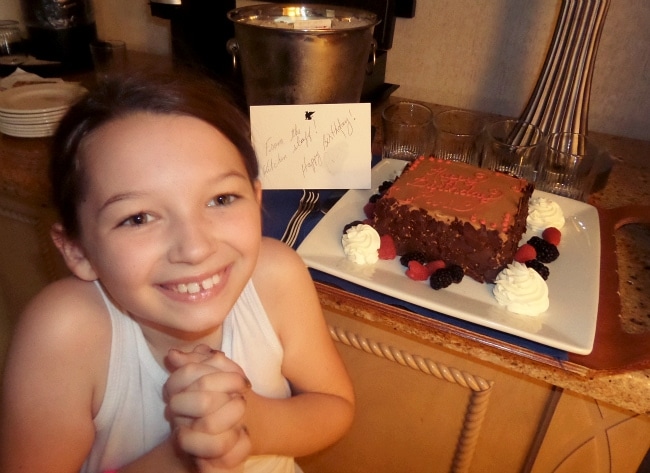 A reoccurring theme throughout our trip was food (lots of it!) and naps (much needed!). After noshing on the cake, we each fell into one of the super comfy beds. Since we dined at Acme Oyster House the previous night, which was originally scheduled for this evening, we needed to make other plans. Once again my daughter requested crawfish, so I did a little Google search and found Deanie's French Quarter -- which was conveniently located on Iberville, just a block off Bourbon Street.
For some reason I totally neglected to take photos of our meal, but we ordered three pounds of crawfish and an order of New Orleans-style Barbecue Shrimp to share. We agreed that the crawfish were larger at Deanie's but they had a better flavor at Acme. For reference, the crawish were $9.99 a pound at both Acme Oyster House and Deanie's. The meal was still very enjoyable.
On our way back to the hotel we passed Bourbon Street, and rather than go down it, my husband stopped at one of the bars on the corner to grab me a frozen drink. While my daughter and I waited on the sidewalk, my husband went in to pay for The Jester -- the "world's strongest drink". It's completely legal to consume alcohol on the street in New Orleans so I sipped on The Jester all the way back to the JW Marriott 😉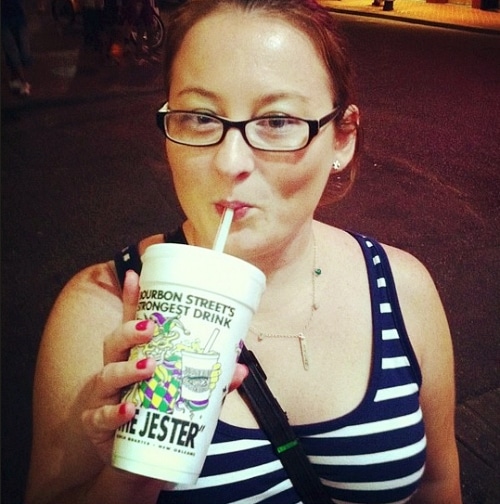 Once back, we crashed for the night in preparation for another fun-filled day in New Orleans.
See: New Orleans Day 1, New Orleans Day 3, New Orleans Day 4 and New Orleans Day 5.