Our last day in New Orleans was bittersweet -- it was relaxing in that we didn't exert ourselves into much more than a walking tour of the Garden District and an early dinner at John Besh's Luke, but it also marked the culmination of one of the best family vacations we've ever had. None of us were ready to leave, and for a few minutes we even contemplated extending our stay.
The morning started off with breakfast at the JW Marriott NOLA -- a routine at this point -- followed by our first ride on a NOLA streetcar. There are three different streetcar lines in New Orleans, each visiting a different part of the city. Another convenient thing about staying on Canal Street is that you have easy access to all of the lines.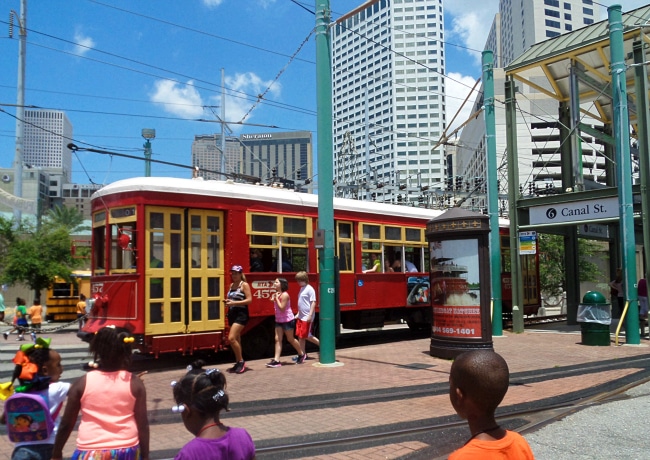 Since we were going to the Garden District we picked up the St. Charles Line (green streetcar) and took it to the stop at Washington and Prytania. The St. Charles Line is the oldest continuously operating streetcar in the world -- a great experience for only $1.25 per ride.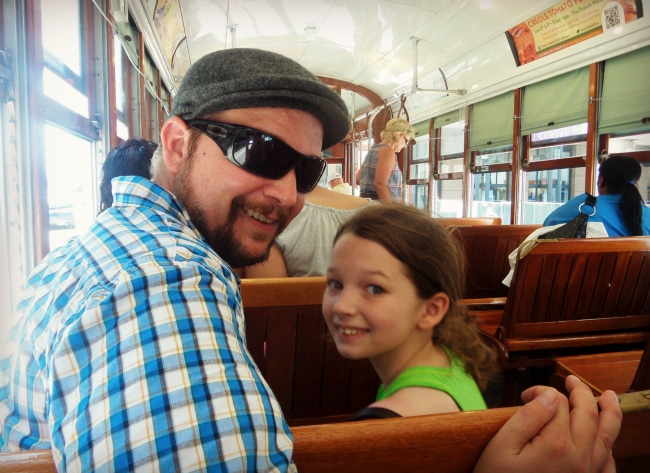 From Washington and Prytania it was just a short walk to Lafayette Cemetery No. 1-- the meeting point for our tour from Free Tours by Foot New Orleans. One of the reasons I went with this tour (besides being free!) was that it included a stop at one of NOLA's unique cemeteries, also known as "Cities of the Dead" -- I find them to be remarkably beautiful.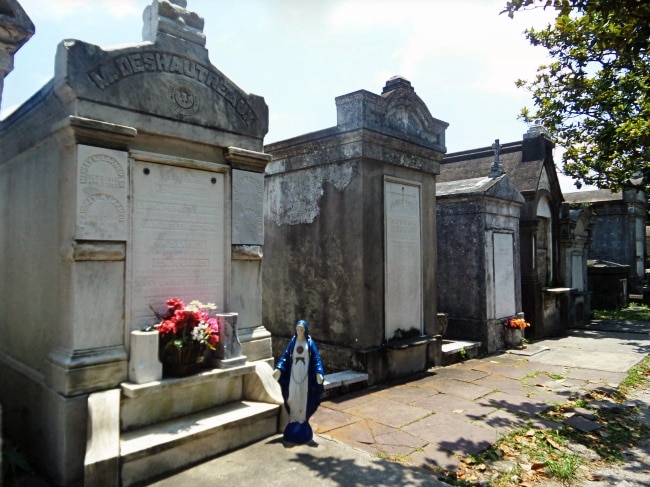 For the life of me I can't remember our tour guides name, but she was very informative. We learned about the history of Lafayette Cemetery No. 1, the different types of crypts found there, and why many of the tombs in NOLA are above ground (it has to do with the city's high water table).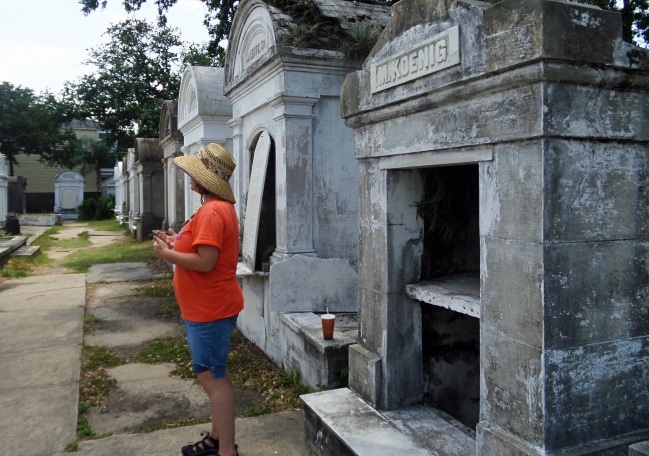 This was the tomb used by the Vampire Lestat in the movie Interview With the Vampire.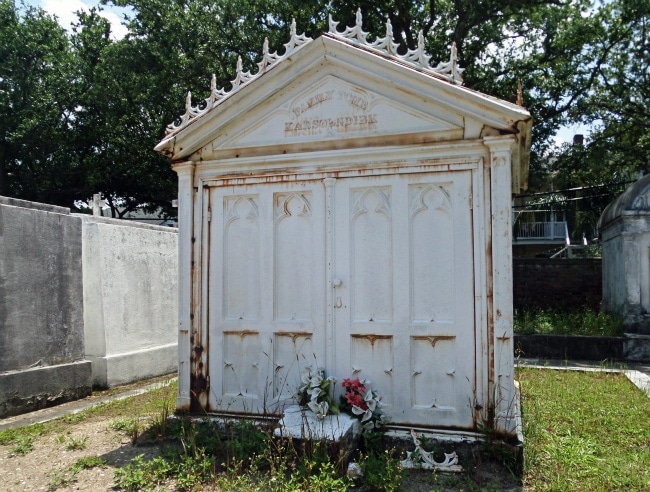 The second part of the tour included a walk around some of the mansions in the Garden District. I knew many celebrities had homes in New Orleans, but I didn't realize how many. We past homes owned by Sandra Bullock, John Goodman, Nicolas Cage, Anne Rice and Peyton Manning. Brad & Angelina also purchased a home but it's in the French Quarter.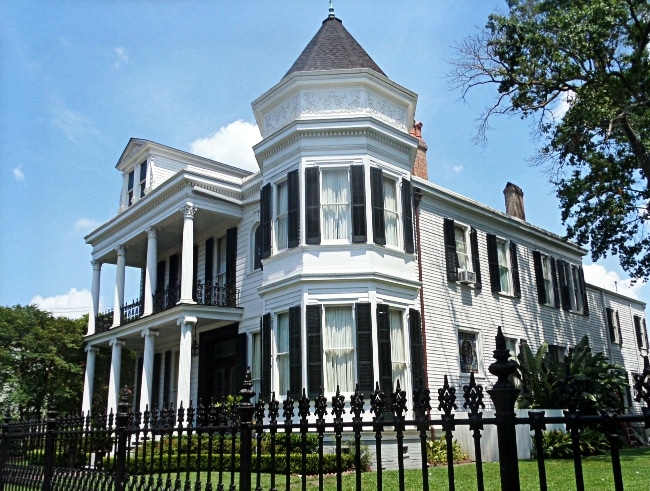 This mansion was my favorite -- it was the this house that inspired Walt Disney to build the "Haunted Mansion" attraction at Disneyland.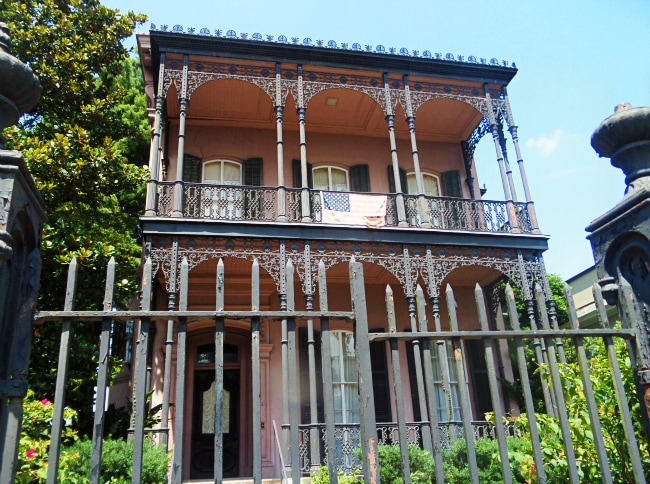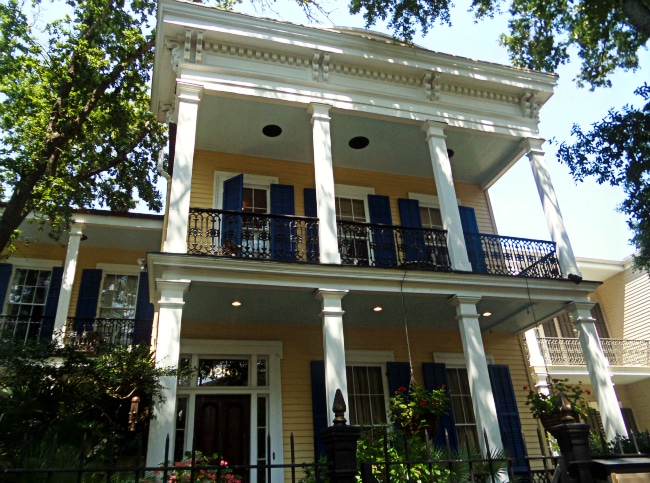 I can't recommend Free Tours by Foot in New Orleans enough. We will absolutely use them again the next time we visit. I should add, the tours are free, but it's customary to tip your guide at the end 😉
-----
I had arranged it so that our last meal in NOLA would be at John Besh's Lüke. There's a bit of a back story to this: a few years ago I met Chef John Besh at the opening of Luke San Antonio. It was there that I had one of the best meals of my life (See: The Best Thing I Ever Ate: Chef John Besh's Gnocchi with Jumbo Lump Crab Meat and Truffle). I promised myself that I would eat at the original Luke (the restaurant is named after his son) on my next visit to NOLA... and let me tell you, it did not disappoint!!
All of the walking from the tour left us famished. We decided on a early dinner to take advantage of their happy hour special -- half price drinks and 50 cent oysters.
I started my meal with a French 75, and it was DELIGHTFUL ... one of the best cocktails that I've ever had. Luke is known for making an excellent version of the classic drink -- here's the recipe:
1 ½ oz cognac
1 oz triple sec
1 oz fresh lemon juice
1 teaspoon egg white.

Shake hard and strain to glass, top w/2 oz champagne
Garnish: Brandied cherry
You can't beat fresh oysters at 50 cents each, so we ordered a dozen. Delish!
Finally, I had heard how good the burger was at Luke, so my husband and I each ordered one, sharing with our daughter (who also had a cup of crab bisque).
It was everything you could want in a burger-- Allan Benton's bacon, caramelized onions, tomatoes, and Swiss cheese served with house-made fries.
Our meal at Luke was an awesome ending to a perfect family vacation in New Orleans -- I don't think we would change a thing about our experience. The thing I love about NOLA is that there's always something new to discover. Our first visit introduced us to Mardi Gras, this trip focused on family friendly attractions, and who knows what will be in store for us next!
-- Are you ready to Follow Your NOLA?