Days 1-3 of our New Orleans vacation were super busy. We had packed all of our must-dos into those first days and purposely planned a little R&R for the afternoon of day 4. The day started with a late wake-up call and breakfast in the concierge lounge at the JW Marriott New Orleans. We took our time getting ready and didn't leave the hotel until late in the morning, where our plan was to wander the streets of the French Quarter. Part of the charm of NOLA is being about to explore on your own without having an agenda. We felt perfectly safe in the FQ both day and night and no one ever bothered us.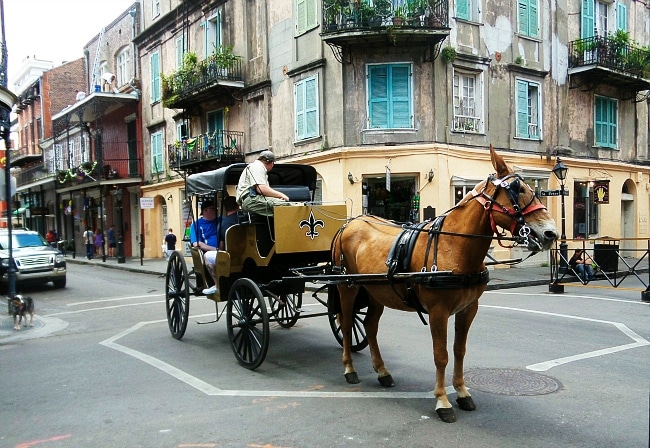 We started our walk down Royal Street, stopping at little shops along the way. In one of the stores I picked up a fleur-de-lis Christmas ornament as a keepsake for our vacation. I knew I had to have it as soon as I saw it -- It's purple, green and gold and screams NOLA!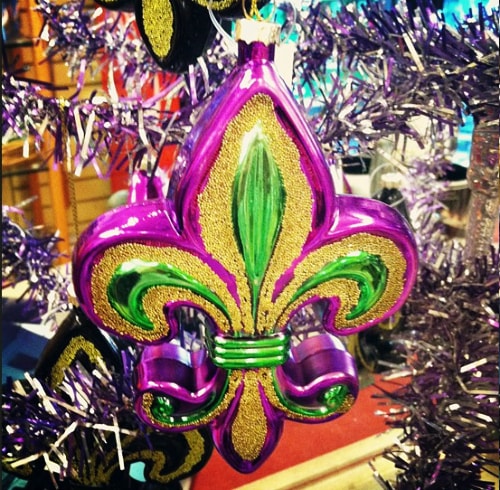 A little farther along we took a detour down one of the side streets and came across a sign for Haunted History Tours. My husband mentioned that he had always wanted to go on a ghost tour in New Orleans, so we decided to go inside Rev. Zombie's Voodoo Shop to get details and make reservations. We chose the standard 'New Orleans Ghost Tour' for 6:00pm that evening. The man at the counter assured us that the tour was family friendly – we figured it couldn't be too scary if it was still light out! Tickets were $20/adults and $10/kids for a 2-hour walking tour.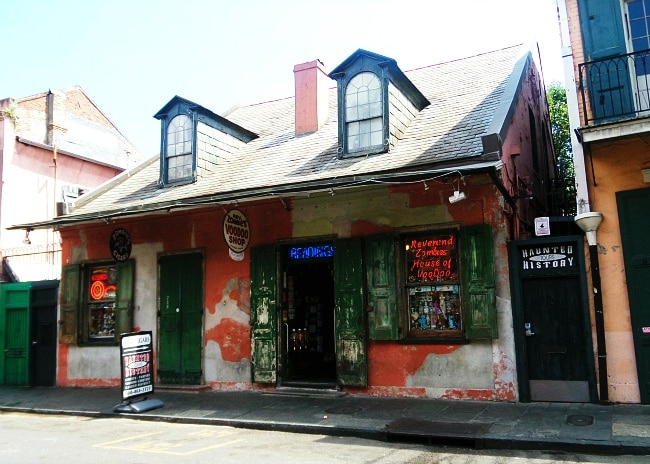 With our reservation in order for that evening, we continued our stroll up and down the streets of the French Quarter...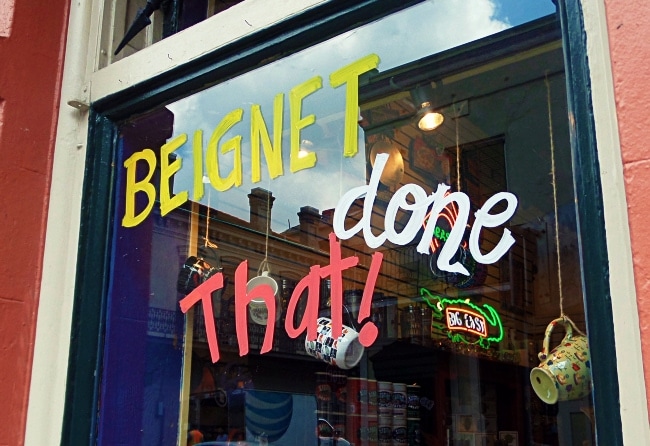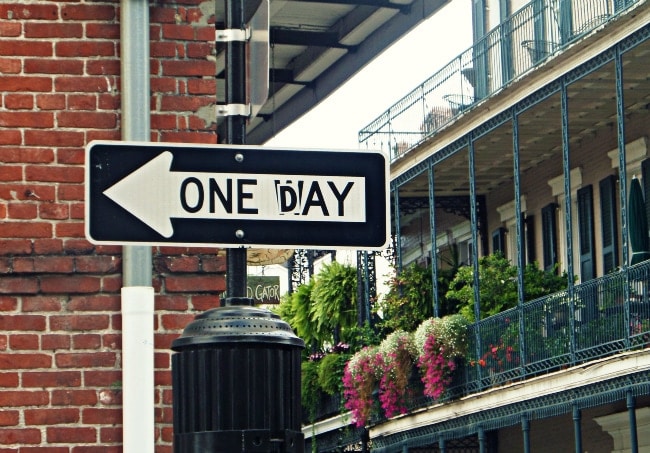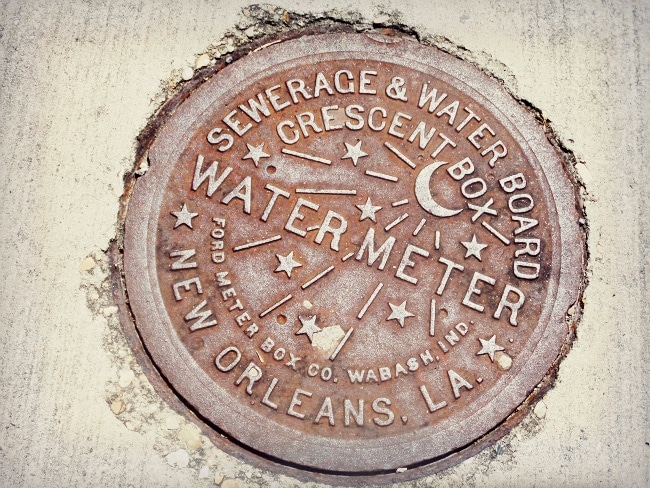 All of that wandering left us pretty hungry, so we we stopped at Central Grocery for one of their famous Muffulettas.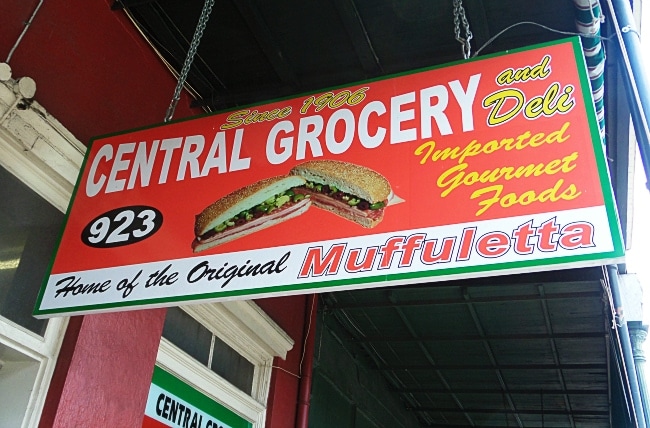 The place was packed, but it didn't take long to order a whole Muffuletta ($14.50 -- a steal!) and some Zapp's potato chip (Hotter 'N Hot Jalapeno were my fave!) to-go. The whole way back to the JW Marriott New Orleans I was craving the sandwich, which includes layers of salami, ham, mortadella, mozzarella, provolone and olive salad on a special type of Italian bread.
Needless to say, I attacked that muffuletta when we were back in the room!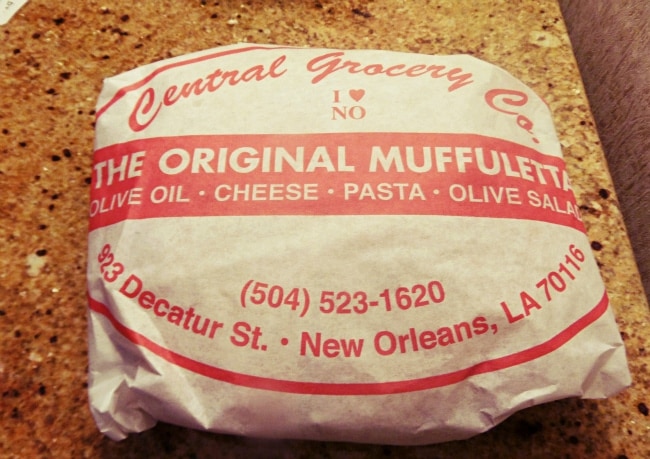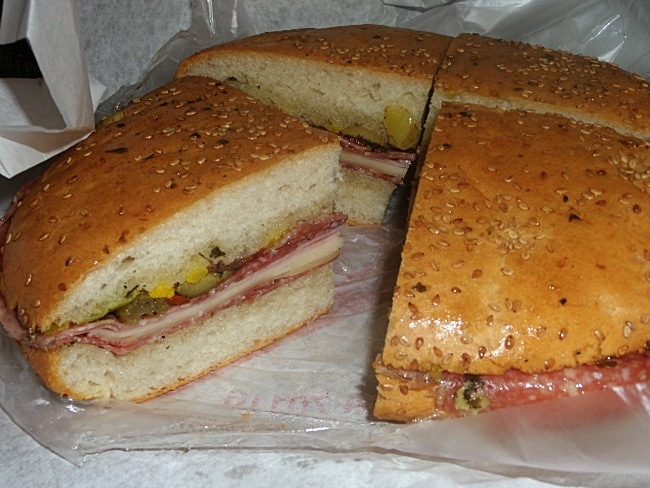 I'm not sure there are words to describe how good this sandwich is. All the hype is true. I'll even go as far to say that the Muffuletta from Central Grocery is one of the best sandwiches that I've ever ate. Now, no trip to NOLA would be complete without one! Nommmm....
-----
At 5:00pm we headed out for our 6:00pm ghost tour with Haunted History Tours. The extra time allowed us to check in with the group and order a pre-tour hurricane from Pat O'Brien's, which was conveniently located across the street from our meeting place.
The hurricane was pretty good; much sweeter than I expected.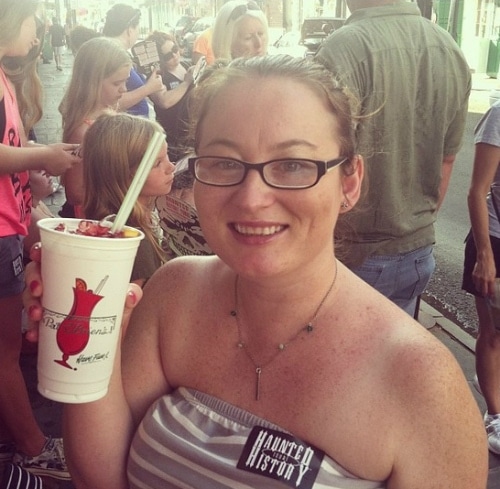 My nine-year-old daughter was delighted to see other kids on our tour.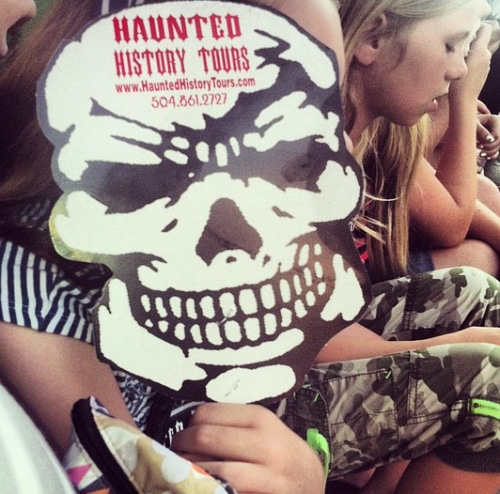 Our tour guide, Johnathon, got things going promptly at 6:00pm.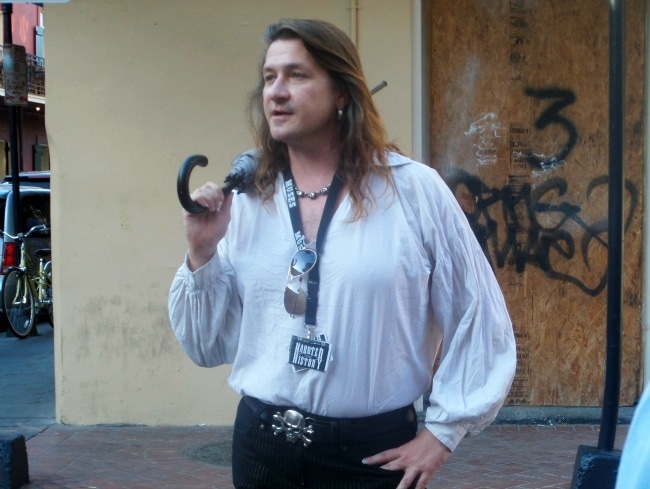 I can't remember anything specific about the ghost stories that Johnathon told (I know quite a few of them involved fires), but they were all very interesting and not too scary for children. I have a feeling the 6:00pm tour is a little tamer than the 8:oopm tour as there are different routes the guides can take you. We did not go by the LaLaurie House, which I've heard has quite a story. I took as many photos as I could, but unfortunately didn't capture any ghosts 🙁
Do you see any!?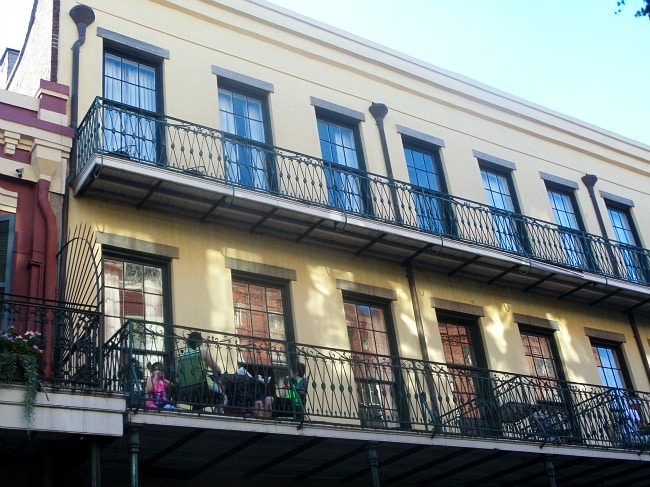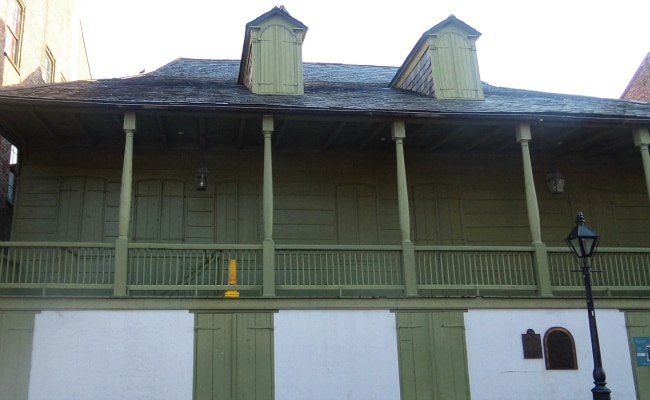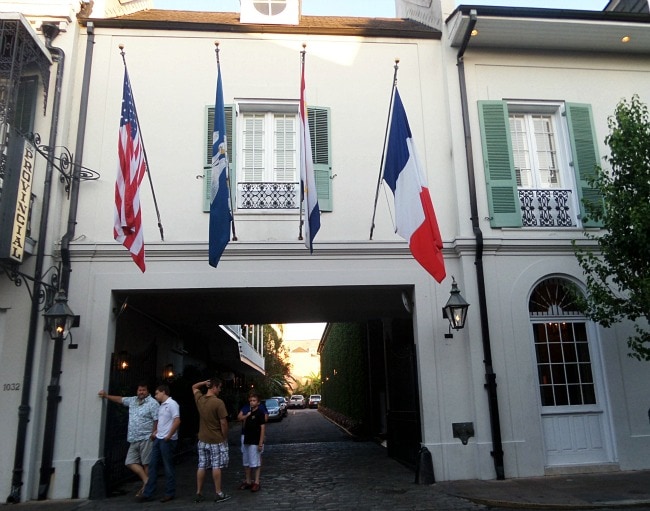 Halfway though the tour everyone stopped for a drink at Lafitte's Blacksmith Shop -- the oldest bar in America.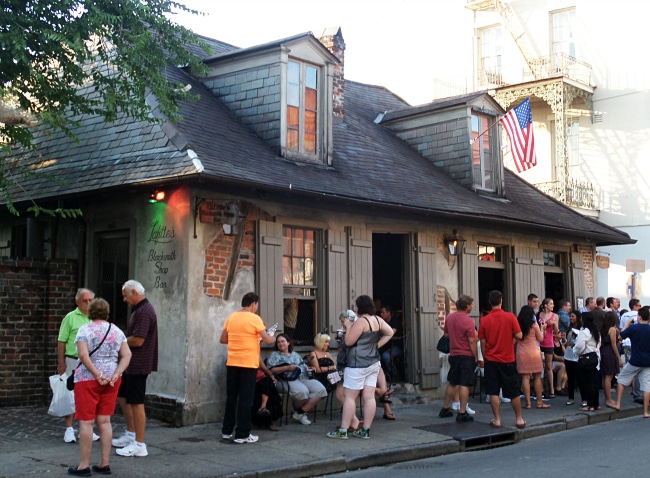 This was where my husband and I had our favorite frozen drink in NOLA -- the Voodoo Daiquiri!
If you're ever in NOLA, you need to check out this bar -- there's no electricity, and at night it's lit up by candlelight!!
By the end of the Haunted History Tour we were famished. Before leaving for New Orleans I had put together a list of restaurants that I really wanted to try. Knowing that would would have our fill of fried seafood and po-boys, I added two of Chef John Besh's restaurants: Domenica and Luke. I was saving Luke for our farewell dinner the next evening, so we made our way to Domenica, which means Sunday in Italian, for some wood-fired pizza.
You might not associate New Orleans with pizza, but Domenica serves some seriously good pies -- the pizza was some of the best I've had outside of Naples, Italy. I chose the prosciutto pizza with tomatoes, bufala mozzarella & arugula and it was DIVINE!! I devoured every bite. My husband and daughter split half Quattro Formaggi (four cheese) and half Spicy Lamb Meatball, which they thoroughly enjoyed. At $13 a pizza, we thought this to be a good value for a Besh restaurant (he's one of my favorite chefs) ... if we had gone during happy hour, when pizzas are half hour, it would have been one of the cheapest eats in New Orleans -- truly an incredible deal which we will take advantage on our next visit! 🙂
See: New Orleans Day 1, New Orleans Day 2, New Orleans Day 3 and New Orleans Day 5.