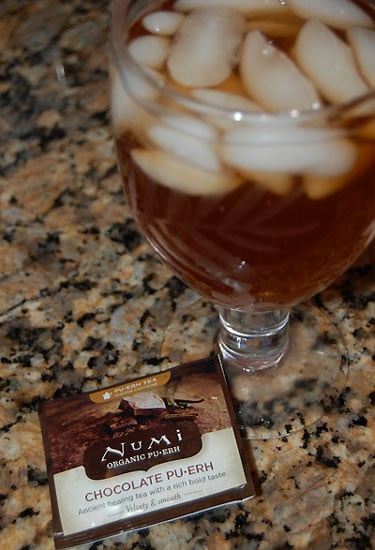 I love tea. I drink it almost exclusively. I start every morning with a glass of iced green tea. Then, throughout the day I vary it up with different flavors of green, black and red teas--all iced. Before bed, I drink hot herbal and red tea. It's a routine that only changes when I'm traveling.
When you drink a lot of tea, you're constantly on the lookout for new and exciting flavors. For the longest time I searched for a good chocolate tea. I tried a few different brands, but most of them were a blend with hazelnut or another flavor that just didn't work for me.
Then, I came across Numi Chocolate Puerh.
Numi Chocolate Puerch is just one of the flavors in the Numi Puerh line of teas. Puerh is an ancient healing tea picked from 500 year old organic wild tea trees in the majestic mountains of Yunnan, China. Numi Chocolate Puerh is a blend of organic black Puerh tea with organic cocoa powder, organic vanilla beans, organic Rooibos, organic cinnamon, organic orange peel and organic nutmeg.
I'm not usually a fan of cinnamon, orange peel or nutmeg in my tea, but it works perfectly in this blend with the dominant flavor being CHOCOLATE.
One would think a chocolate tea should be served hot, but since Puerh has a higher level of caffeine, I only drink it in the daytime when I put my tea on ice. And it totally works!
If you are an iced coffee drinker, chocolate iced tea is on the same level-- except there is no added sugar or calories! It is really delicious, and surprisingly refreshing. I usually do not add sugar to my tea, but sometimes, to enhance the chocolate flavor I add a little Stevia in the Raw.
To make a single glass of Numi Pierh Chocolate Iced Tea, steep 1-2 tea bags in hot water for 3-5 minutes, then let cool. I usually place the tea in the freezer for a few minutes, then pour over ice. Add sweetener if desired.
I started drinking tea because I wanted an alternative to drinking soda. It didn't take long before I was hooked on tea and its health benefits. Puerh offers tea drinkers a little something extra. Studies in China and France show that puerh teas pack in more antioxidants than other teas, can reduce cholesterol, improve digestion and metabolism, and may aid and support healthy weight loss.
Numi Pierch Chocolate Tea can be purchased online at NumiTea.com and Amazon.com
I received samples of Numi Tea for the purpose of review. All opinions are my own.