Valentine's Day is just around the corner and now is the time to start thinking about what to give that special someone. While jewelry and chocolates are always appreciated, I love receiving gift that are a little more creative ...But, I would never turn down a new bracelet or ring!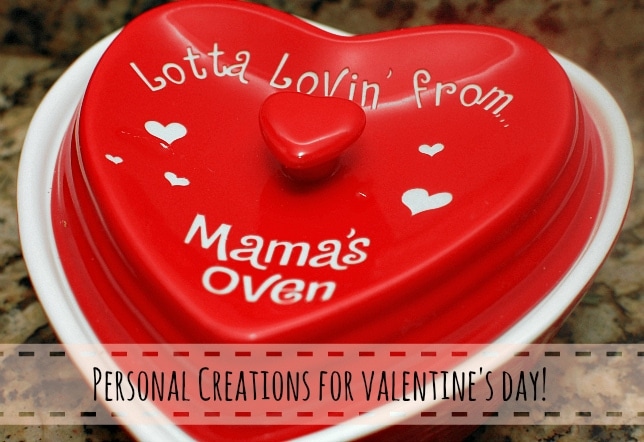 This year I had a little fun exploring some of the Valentine's Day gifts at Personal Creations. I've shopped PersonalCreations.com in the past for personalized gifts for the holidays, but I really wasn't aware of how much they offered for V-Day. I decided to buy myself a gift, which I would turn around and use to make a gift for my family... are you following me here? 🙂
I picked up this adorable Heart Shaped Casserole Dish for myself, and I plan on using it to make my husband and daughter a special chocolate cake to share this Valentine's Day. I was able to personalize it with three lines of my choice, but went ahead with "Lotta Lovin' from Mama's Oven". My name was too long for the second line, and "Mama" seemed to really flow with the phrase. The casserole is only 1-quart, but that's plenty for a personal cake for 1-2 people. I also think it would be cute to make little chicken pot pies in!
I'm really pleased with the personalization because it's actually etched into the lid, rather than being just a sticker. The dish is dishwasher, microwave and oven safe, too! At only $16.99, it's a bargain for a unique item for the home cook.
In addition to Valentine's Day gifts for the home, Personal Creations has a nice selection of gifts for Him, Her and Babies & Kids. Everything on PersonalCreations.com can be personalized, so the recipient knows that it came from the heart. ❤❤❤
I received a sample for review. All opinions are my own.