Often, the best gifts are personalized ones. When I went out to find my mother and sister (who is new mom) gifts for Mother's Day, I really had to rack my brain. I wanted something special, but I couldn't pin point what. I browsed Personal Creations for awhile --there is just so much to choose from!-- before coming across the personalized Mothers Day gifts -- and then I knew instantly what I was going to get them for Mother's Day.
Personalized Christmas Ornaments!
I decided to get each of us ... yes, they were so cute I had to get my own ... an ornament with our family names. Since we live in Florida, the Beach Chair Ornament was the perfect fit. I was able to specify from 3-6  beach chairs and add each of our names on the back of the chairs, along with our family name at the bottom. The ornaments were very reasonably priced at only $14.99 each, which included personalization.
When my order arrived, I was super pleased. The personalization looks like it was added on with a sharpie, but it was done EXTREMELY well. The ornaments actually came out better than I had hoped, and they even included a little red velvet bag for storage.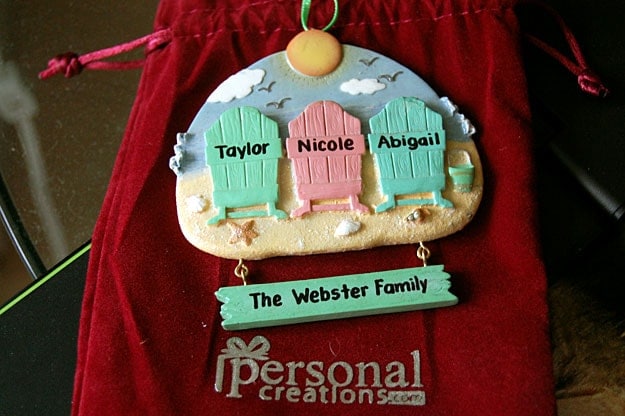 I was so excited with my purchases, that I couldn't wait until Mother's Day and gave them their gifts early. My sister loved her ornament-- which turned out to be the perfect gift for her first holiday as a mom.
My mom, of course, loves everything I give her 🙂
I received a gift card from Personal Creations to assist with this review. All opinions are my own.