Don't be surprised if this is the first time you've heard of the Quebec City Winter Carnival. Most Americans aren't aware of this hidden gem of a festival that celebrates winter in Quebec City, Canada.
Background
The Quebec City Winter Carnival started way back in 1894 as a celebration to provide relief from Quebec's cold winter season. It wasn't until 1955 that it became an annual Carnival to stimulate the economy during the winter months.
It's now the biggest Winter Festival in the World!
This year, the Quebec Winter Carnival celebrated it's 56th edition with the theme, "The Carnival Makes You Dance".
I attended the opening weekend and I did A LOT of dancing, singing and playing in the snow.  It was an experience I will never forget.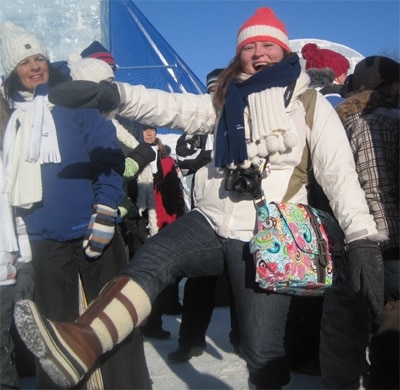 Meet Bonhomme
Bonhomme Carnaval is the official ambassador of the Quebec City Winter Carnival. He's a REALLY big deal.  Just the sight of Bonhomme brings a frenzy of cheers from the crowd.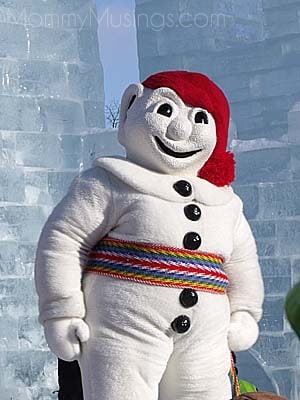 Bonhomme lives in the Ice Palace that is constructed for him each year. At night, the Ice Palace lights up and different colors shine through the shimmering walls of ice. There is a small tour inside that displays the history of the Carnival.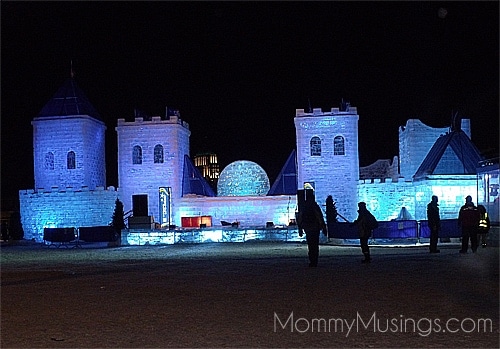 What You'll Need

To participate in Carnival activities you will need an Effigy. This is one of the best deals around. For only $12 (CAN) you have access to Carnival activities on two sites for the 17 days of the Winter Carnival. It also makes a great keepsake- I'm using mine as a Christmas ornament next year.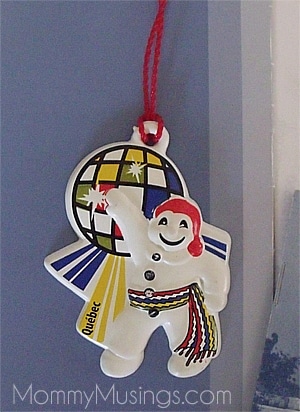 Carnival Activities
The Winter Carnival has a wide range of activities. Some vary by weekend, others are there for the length of the 17 day festival.
I loved how the Winter Carnival was completely family-friendly. The Plains of Abraham literally turn into a family playground with games, sports, food, events and activities- there really is something for everyone.
Below are just a few of the activities you will find at the Quebec Winter Carnival.

- Desjardins Snow Slides

An activity the whole family will love... SNOW TUBING! I mentioned earlier that this was my first time seeing snow and of course, playing in it! Who knew snow could be so much fun? This activity is included with the Effigy.
- WestJet Zipline
Located on the Plains of Abraham, this 500 foot zipline is one of the busiest spots at Carnival. Get here early to avoid long lines.

This was my first time on a zipline and it was a blast! I was very nervous about being so high up and screamed the whole time. What they don't tell you is when you hit the net on the other side you bounce back on the zipline and have to "reel" your way in. An experience to remember for sure. Included with Effigy.
- Dogsled Racing

The snowy streets of Old Quebec become a Nordic trail for the La Grande Virée, a dogsled race. Effigy is not required.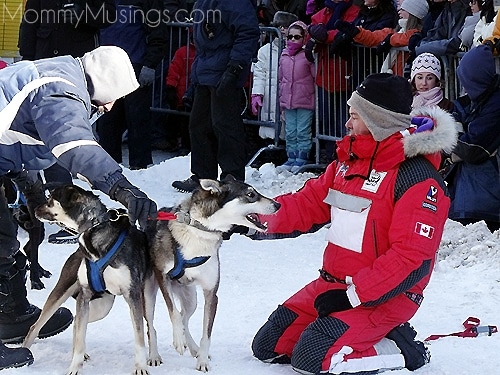 I don't think it gets more picturesque than this-
- Snow Sculptures
The talent these artists possess is amazing! Sculptors from all over the world come to compete in the TELUS International snow sculpture event. Effigy required to view the sculptures.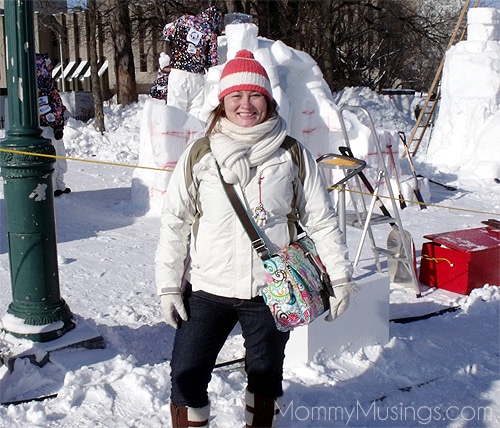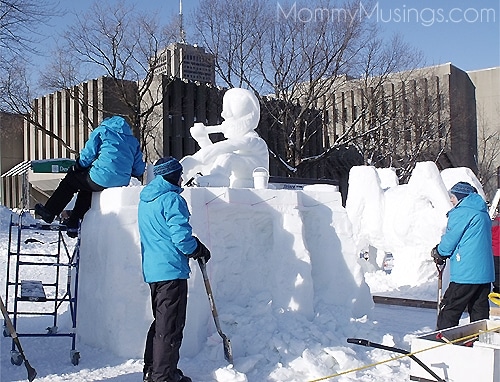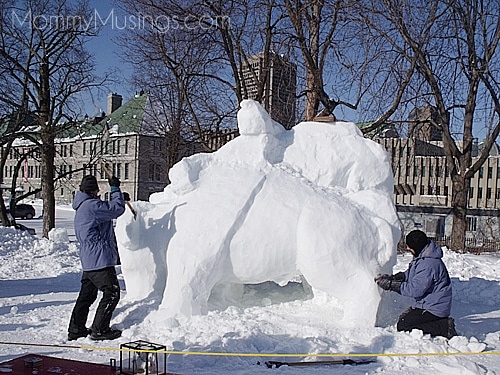 - Village Arctic Spas
One thing I never considered bringing with me to Quebec City was a swimsuit. Even if I had thought to bring one I'm not sure I'd want to get into one of these Arctic Spas. Can you imagine getting out? It gives me chills just thinking about it. If you are brave enough, a dip in one of the Arctic Spas is included with the effigy.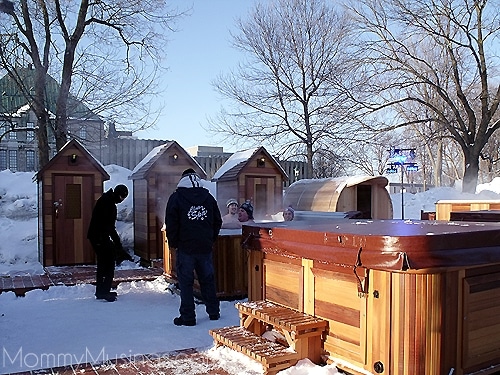 Natrel's Great Ice Slide
This spectacular 400 foot ice slide lights up the Plains of Abraham at night. Included with Effigy.
Things to Note about the Quebec City Winter Carnival:
- Don't Wear a Red Jacket
...Unless you know the Carnival really well.

Red is the official color of the Carnival Guides. If you need directions or any assistance just look for the red jackets and the funny hats.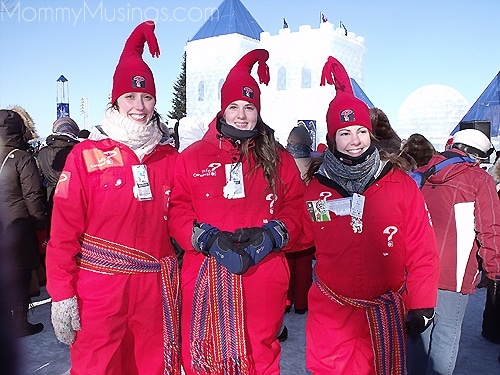 - Take Cash
Food/beverage vendors on site at the Carnival only take cash. Please exchange your American dollars for Canadian. If you are in a bind they will take American dollars, but only make it a last resort if you can't get to an ATM.
- Stay Warm
Be prepared and dress in layers. Snow boots and snow pants are a must! Bring gloves AND mittens. The only thing that can spoil the fun of Carnival is being unprepared for the cold.
- Plan Ahead
Next year's Winter Carnival is January 28th-February 13th, 2011...Don't miss it!
Many thanks to Quebec City Tourism & Carnaval de Quebec for hosting my visit.