I'm sure most of use have found our version of the "World's Best Ice Cream". I know that I've had some really good cones in my life. But none have been better — or even come close — to the ice cream I had at Cows in Charlottetown, Prince Edward Island.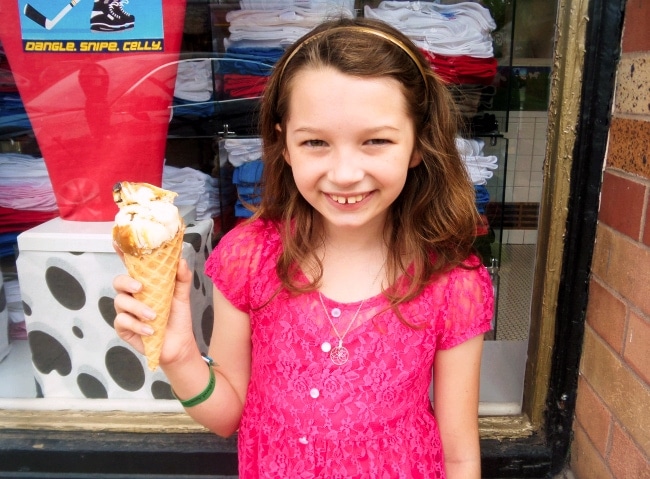 My daughter and I stumbled upon Cows on our walk back from the Brighton Beach Lighthouse in Charlottetown. We were headed towards the port and had planned on grabbing a bite to eat at the Water Prince Corner Shop before getting back on the Veendam. A stop for ice cream was not on the agenda, especially before lunch, but really ... how could I say no to the world's best ice cream?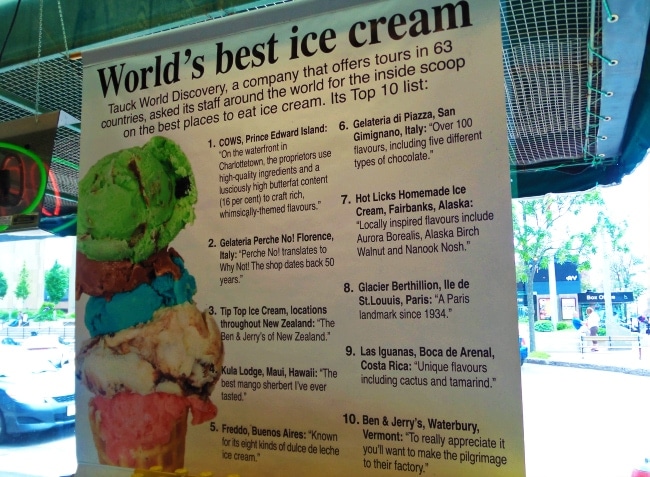 In addition to winning the award for Canada's Best Ice Cream, Cows was also named the World's Best Ice Cream by Tauck World Discovery.
My daughter quickly ordered one of Cows' signature flavors, Gooey Mooey, which is a blend of caramel ice cream with toffee, caramel cups, chocolate bits and a thick caramel swirl for good measure.
I couldn't resist PEI Blueberry, made with fresh Prince Edward Island berries.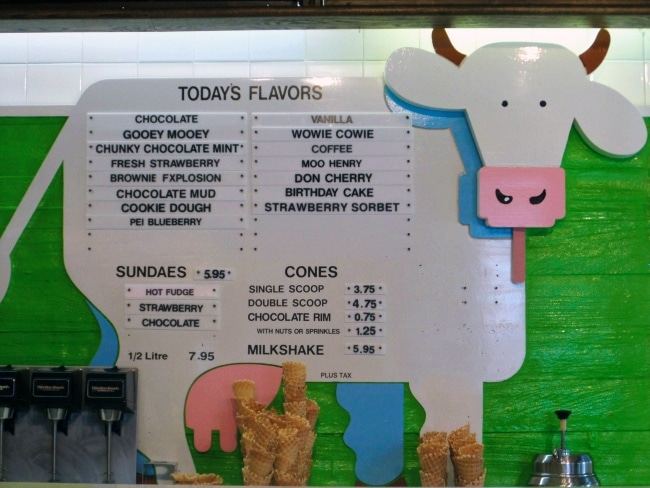 My daughter devoured her cone, but not before I snagged a taste. Gooey Mooey was rich and decadent. The caramel ribbon really made the ice cream something special. It was made of good caramel, the kind that's soft, sweet and buttery. Caramel aficionados know what I'm talking about!
For me, though, the ice cream flavor that took the prize for the BEST IN THE WORLD was PEI Blueberry.
The thing about blueberries is that I like them enough. Blueberry ice cream is not a flavor that I would normally even order, but as they say— when in Rome... Prince Edward Island is known for their wild blueberries.
The blueberry ice cream had the perfect amount of sweetness— not too much, with just the right amount frozen fruit in each bite. What made the ice cream especially notable was the way it felt in my mouth. It seems totally weird, but Cows ice cream melts differently. It's a slow melt that allows you to fully experience the flavor. I've never experienced another ice cream like it!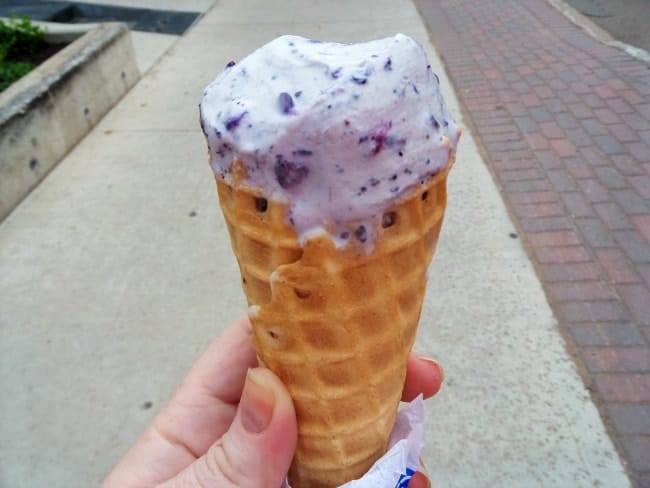 Upon returning home I made a note to look up what makes Cows ice cream so different. Cows states on their website that their ice cream is made of all-natural ingredients, including real eggs, sugar, pure natural vanilla, and fresh cream that has a super high 16% butterfat. The ice cream is then churned very slowly, so that only a small amount of air is added in. Minimum air creates a dense, rich, slow melting ice cream. Now you know.
If you ever find yourself in Charlottetown, Prince Edward Island, I encourage you to make a pitstop at Cows on Queen Street for a delicious cup or cone.
...Then come back and tell me if it's not the best ice cream you've ever had! 
COWS - Queen Street
150 Queen Street
Charlottetown, PE
C1A 4B5