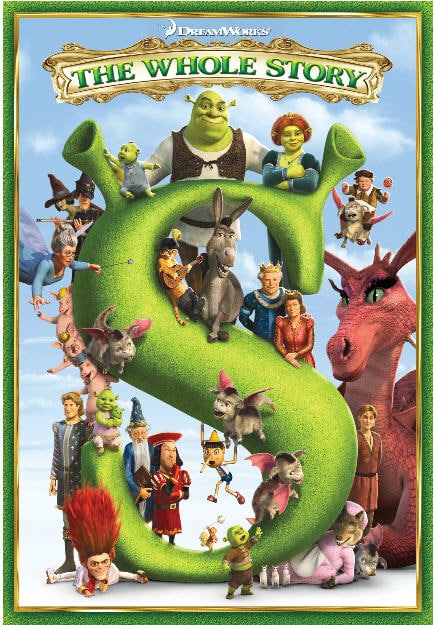 Can you believe the Shrek franchise has been around for almost 10 years? I remember seeing the first Shrek and instantly knowing it was going to be a hit. It's hard to imagine that the first movie came out before my daughter was born, but somehow she's caught up and is a fan of the series as well.
The thing about sequels and thirds and fourths is you buy one and then forget about the next, or disks get scratched or lost, and then some are DVD and others are Blu-ray.  Keeping everything neat and together doesn't always work when you buy a series that spans years- which is why I love boxed sets!
For all you Shrek, Fiona and Donkey fans- the wait is Ogre! Shrek: The Whole Story Boxed Set is now available on DVD and Blu-ray.
We received Shrek: The Whole Story before the holidays, and with so much going on, we had to wait until now to dig in. My daughter and I refreshed our memory and started at the beginning with the original, and then watched every movie, ending with Shrek Forever After.
The box set is great because all the disks fit neatly inside, and though we had copies of the previous movies, both the first and second were scratched up. This was our first time seeing Shrek Forever After and we loved it.
The best part is the value. I have seen the DVD set in stores for $34.99 and it is currently $29.99 on Amazon. That's for 4 disks plus 4 ½ hours of special features, including Donkey's Christmas Shrektacular.
If you're a Shrek fan like us, you'll definitely want to pick up Shrek: The Whole Story to complete your DVD/Blu-ray collection.
A sample was provided for the purpose of review, all opinions are my own.