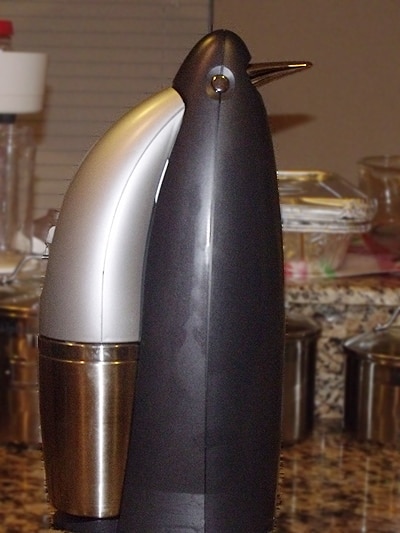 I love, love, love carbonated drinks. I used to be a diet soda addict, but I'm slowly phasing out of that for more natural options. One of my new favorites is sparkling water with lemon. There's no calories or anything artificial and I still get the fizz that I love. There are two disadvantages though- the expense, and the excess trash. The sparkling water I used to buy only came in 1-liter plastic bottles and I went through a lot of them.
My husband is still a soda drinker and between the two of us, it seemed we were spending a ton of money on beverages every single week.
That's until the Sodastream came into our life.
I received a Sodastream Penguin Starter Kit to review and it truly has changed the way we buy and drink carbonated beverages.
Here's the deal. With the Sodastream Penguin, you can make your own sparkling soda and water from home for pennies (after the initial investment of the unit).  There's no excess trash because you use (and reuse) glass carafes that keep your soda fizzy. There's no mess or any clean up, and the unit fits nicely on your counter.
Plus, if you have someone in your home who drinks regular, and another who drinks diet, it's easy to mix something up for everyone. You make beverages one carafe at a time.
Sodastream has over 40 flavors to add to your carbonated water. I was immediately drawn to the line of Sparkling Naturals.  Sparkling Naturals contain no artificial flavors, colors, sweeteners or preservatives.
Along with my kit, I was sent a bottle each of the Sparkling Naturals. The flavors are pink grapefruit, lemon lime, apple mango and orange pineapple. Every flavor was excellent, but the unanimous favorite was pink grapefruit. I love how I could control the amount of syrup I added to my water, making it as sweet as I liked. Each full sized bottle of Sparkling Naturals makes at least 6 liters of all natural soda.
When I'm not in the mood for flavor, I just add a little fresh squeezed lemon or lemon concentrate. I love knowing exactly what is going in my water. I also found that I have been drinking a lot more water now that I have access to carbonated water on a daily basis.
The Sodastream Penguin is very easy to use.
1. Open the Penguin and remove the glass carafe. Fill the carafe with cold water up to the fill line.

2. Place the carafe into the stainless steel flask.

3. Pull the horn downward until it meets tightly with the flask. Then, using the locking lever, turn the flask clockwise until the horn is locked with the flask.

4. Push the carbonating lever downward several times in firm, short bursts. The water is carbonated when you hear the Penguin's signature whistling "chirp" sound. One chirp means the water is lightly carbonated; five chirps will make super-fizzy seltzer.

5. Press the pressure release button, open the flask by turning it counter-clockwise and remove the carafe from the Penguin.

6. Add soda flavor or enjoy plain.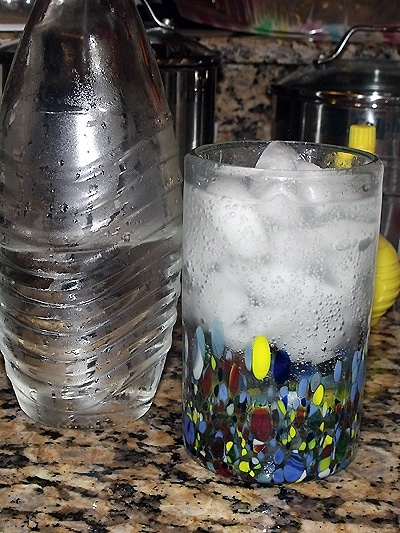 Check out Sodastream.com for the full line of Sodastream soda makers and soda flavors.
BUY IT!

I received a product sample for the purpose of review, all opinions are my own.