Let's talk Starbucks...ice cream! Yes, that's right-- Starbucks has their own line of frozen coffee (and non-coffee) confections right in your grocers freezer. If you weren't a hardcore ice cream addict, or Starbucks lover, than you might not notice these cute little pints tucked away in the freezer section.
And if you haven't tried it, then you are really missing out on something good.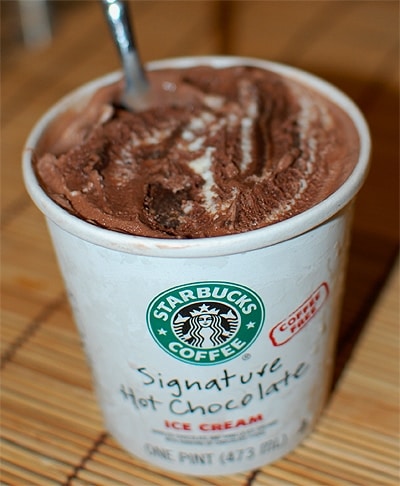 Coffee lover or not, Starbucks Ice Cream has a flavor for everyone-- 8 of them actually. Three of which are coffee-free.
Included in the lineup: Mocha Frappuccino, Signature Hot Chocolate, Strawberries & Creme Frappuccino, Java Chip Frappuccino, Vanilla Bean Frappuccino, Coffee and Caramel Macchiato.

My favorite is Signature Hot Chocolate. As much as I love coffee, this flavor is really something special. It's tastes exactly like frozen hot chocolate, and the only thing missing is the mini marshmallows! I also tried Mocha Frappuccino and Coffee-- both were excellent. The coffee ice cream in each of them is velvety smooth. It's kind of hard to stop at just one scoop!
I ate my Starbucks Ice Cream straight out of the pint, but it can also be used to make some quick and yummy desserts.
Java Chip Ice Cream Sandwiches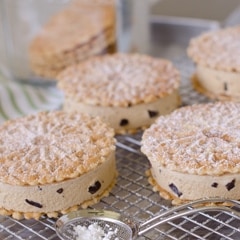 1 pint Starbucks Java Chip Frappuccino Ice Cream

8 pizzelle cookies

Remove lid from Starbucks Java Chip Frappuccino Ice Cream. Carefully cut through carton, with a serrated knife, to make 4 even slices; peel off carton.

Arrange 4 cookies on platter, layer each with an Ice Cream slice, then top with remaining cookies. Sprinkle, if desired, with confectioners sugar.
For more recipes, or locations where you can buy Starbucks ice cream, visit StarbucksIceCream.com.
I wrote this review while participating in a campaign by Mom Central Consulting on behalf of Starbucks and received coupons and a promotional item to thank me for taking the time to participate.