Disney's The Little Mermaid first debuted in theaters when I was seven years old. I still remember how memorized I was by the concept of mermaids —especially ones that could sing— and completely fell for Ariel and her friends under the sea.
Ariel (voiced by Jodi Benson), is a free-spirited mermaid, who is off on the adventure of a lifetime with her best friend, the adorable Flounder (voiced by Jason Marin), and the reggae-singing Caribbean crab Sebastian (voiced by Samuel E. Wright) at her side. But it will take all of her courage and determination to make her dreams come true—and save her father's beloved kingdom from the sneaky sea witch Ursula (voiced by Pat Carroll).
Twenty-four years later (!!!), I've passed on my love for The Little Mermaid to my daughter, who trumps even me as the ultimate Ariel fan. Needless to say, we were both ecstatic when it was announced that The Little Mermaid was going to be re-released on Blu-Ray Combo Pack and Digital HD this year.
And that day has finally come: The Little Mermaid Diamond Edition was released today, October 1, with more than 3 hours of bonus features!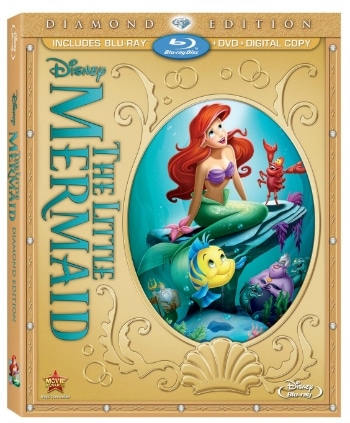 We were lucky enough to get an advanced copy to review, and let me tell you— this one will really take you back to your childhood (if you're a kid of the 80's/90's). For a film that's over twenty years old, the digital restoration was done well; the colors are vivid, but they're not over-saturated. The music is as wonderful as I remember, and I was surprised at just how many lyrics I knew to each of the songs (I still know every single word to "Part Of Your World"!).
The most exciting thing for me were the bonus features, and like I mentioned above, there's over three hours of them. The bonuses that stood out for me were Herman the Merman, the never-before-seen deleted character, Part Of Her World: Jodi Benson's Voyage to New Fantasyland and @DisneyAnimation, a behind the scenes look at today's top Disney animators. The latter was particularly interesting because I met a few of the animators in the segment when I visited Disney Animation Studios last year.
Here's a peek at what you can expect from the bonus features — fascinating stuff!
My daughter absolutely loved every minute of the film and the bonuses, especially the Crab-E-OKE sing along and the music video with Carly Rae Jepsen singing "Part Of Your World". Since I'm being honest here, the cover by Carly Rae is not my favorite— I think she's cute, but it just doesn't compare to the original. 
I consider The Little Mermaid Diamond Edition to be a must-buy since it's only available for a limited time. For more information visit Disney.com/TheLittleMermaid or purchase the combo pack at online at Amazon.com.
**If need to make room for all the new Disney movie releases that are coming out, consider selling your old DVD's, Blu-Rays and video games to Music Magpie.
A copy of The Little Mermaid Diamond Edition was provided for review. All opinions are my own.