There are moments in your life that are so surreal, you'd swear they were a dream. That's the only way I can describe an afternoon I had this past March, when I was on the sandy shores of Mexico. It was middle school spring break for my daughter, and while relaxing in the sun with her, my cell phone rang. I don't usually take calls when I'm on vacation, but something told me I should answer this one.
In a whirlwind of information gathering, I was invited by Kia Motors America to experience the all-new K900 luxury sedan in the birthplace of Kia, Seoul, South Korea.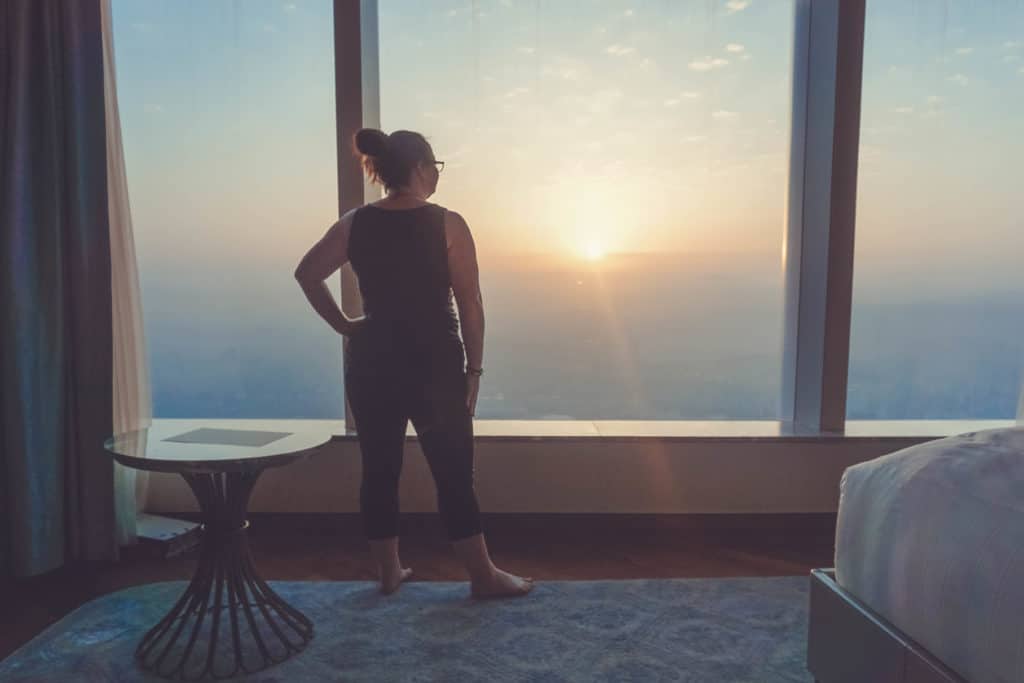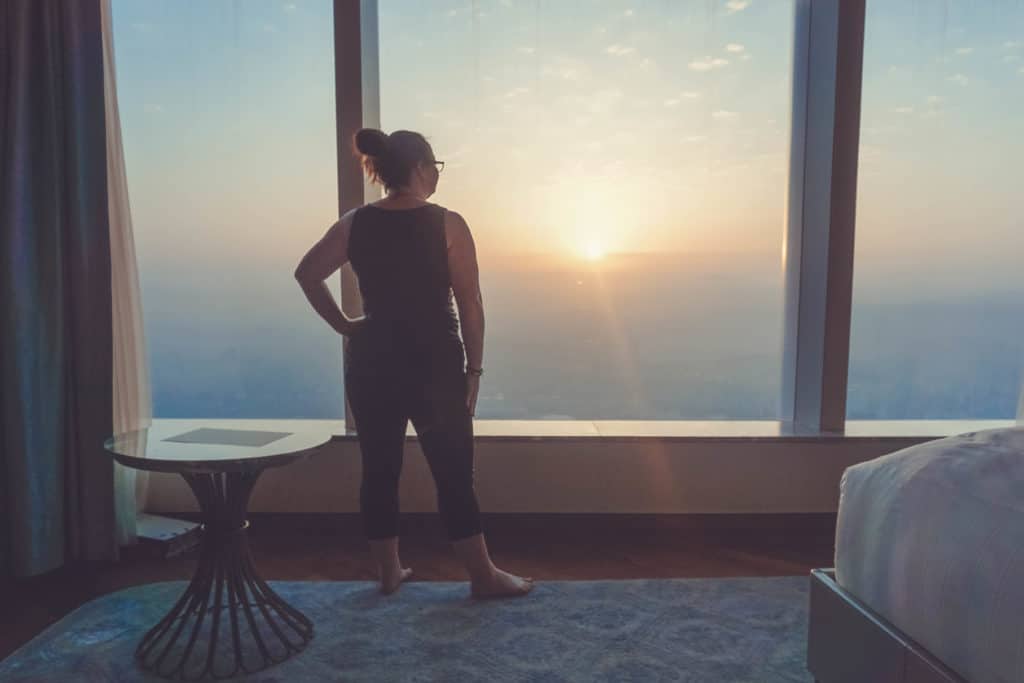 There are a few things you should know about me: First, I have an affinity for Asia. I really can't pinpoint how it began or why, but Eastern cultures speak to me. I also have an affinity for Kia, so traveling to the place where it all began was an experience I couldn't pass up.
I'm going to be honest, before this trip, I really didn't know much about the Kia K900. Of course, I did my due diligence and researched everything I could about the luxury vehicle, ultimately learning that the car wasn't a huge hit in America when it was initially introduced in 2015. While media feedback was positive, sales were extremely underwhelming. Perhaps much of that was due to Kia being known as, primarily, a value brand of cars and SUVs. A full-sized luxury sedan with a higher price point seemed a bit outside of the brand's commonly assumed narrative.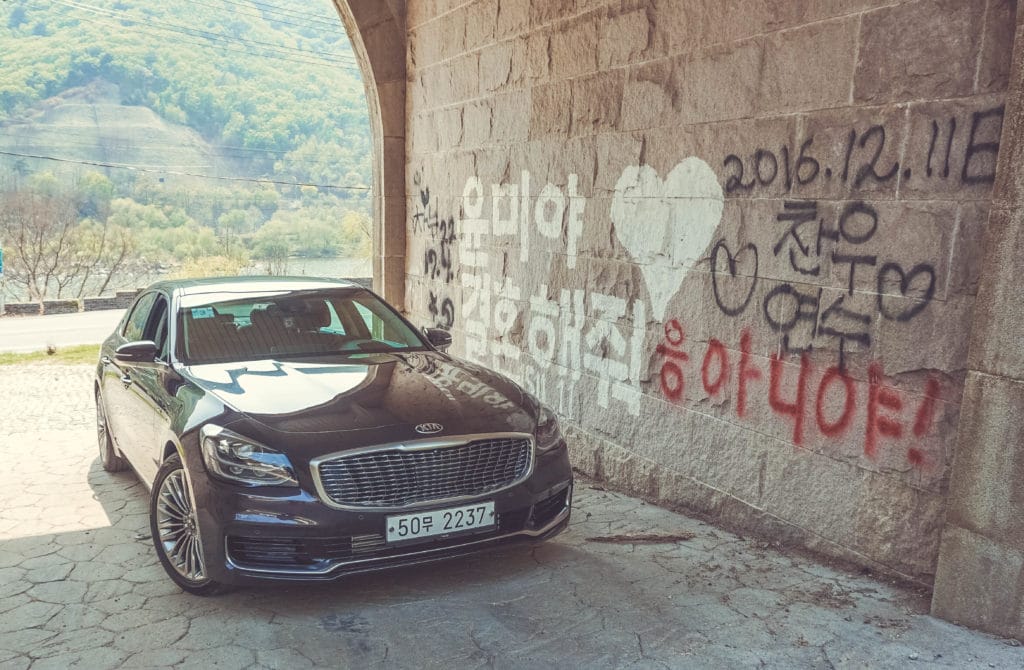 Before I left for Korea, I didn't quite understand why Kia would be putting time and effort back into a vehicle that didn't sell well in the U.S. But, if you've been following Kia for some time, like I have, Kia has the power to surprise and the product to back it up—Stinger, anyone?
Experiencing the All-New Kia K900 in Korea
I was running on pure adrenaline after the 20 or so hours it took me to get from my home in Florida to Seoul--the itinerary was packed from practically the moment I arrived. In three days, we visited the Kia Design Center and R&D Center in Namyang; Kia Beat360, a unique brand experience center unlike anything I have ever seen; and test drove the all-new K900 from Seoul to Gapyeong. Somehow, we even fit in a fascinating tour of the DMZ (Korean Demilitarized Zone).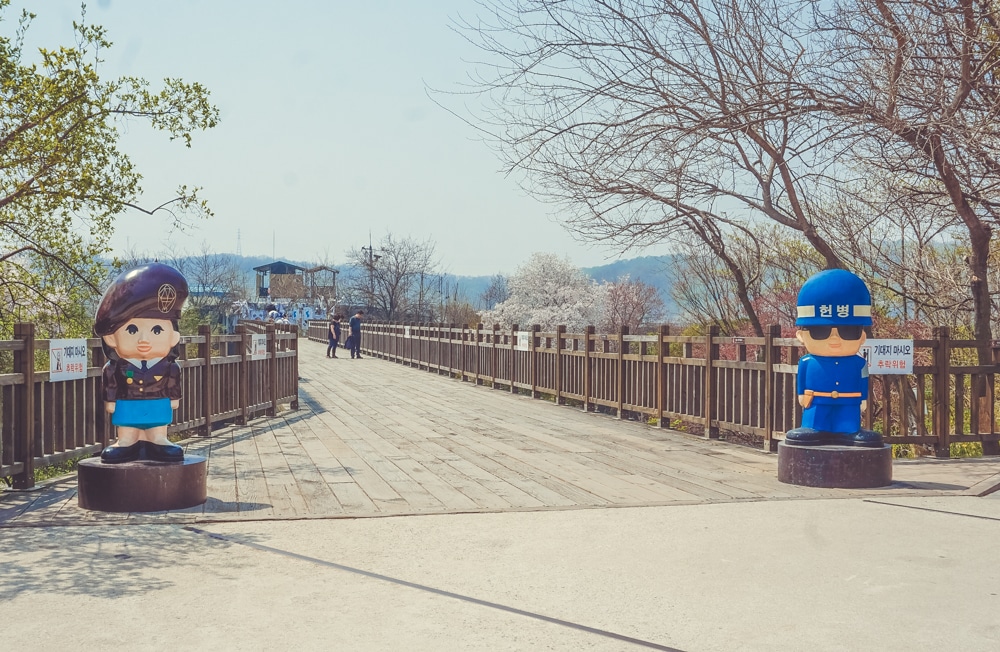 It wasn't until I listened to the lead designer of the second-generation K900 speak, during a Q&A session at the Kia Design Center at Namyang, that I fully understood the passion the people of Kia have for their brand. If you remember, it was only 10 years ago that Kia was at the bottom the J.D. Power Initial Quality Study (IQS)— they jokingly use the phrase "from worst to first," but you have to give Kia some major props for persevering and becoming the respected car brand they are today.
When the new K900 was unveiled for us at the Kia Design Center, everyone oohed and ahhed...the car is gorgeous! The previous styling of the K900 is what I'd consider to be "older luxury" — something you'd expect your parents to be driving after retirement. The new K900, though, is sportier and displays boldness and prestige without being bulky. It's a car my family would be proud to own.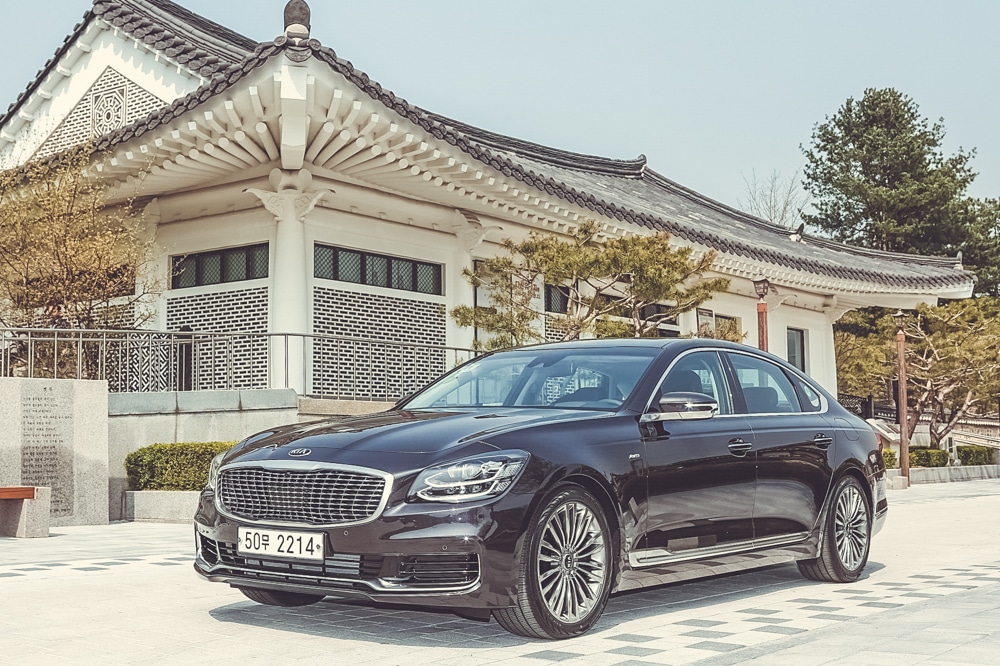 The Power to Impress
The details of what's under the hood of the new K900 are impressive. However, what you really need to know is that this car is pure luxury at a competitive price point for its size and quality of materials, both inside and out.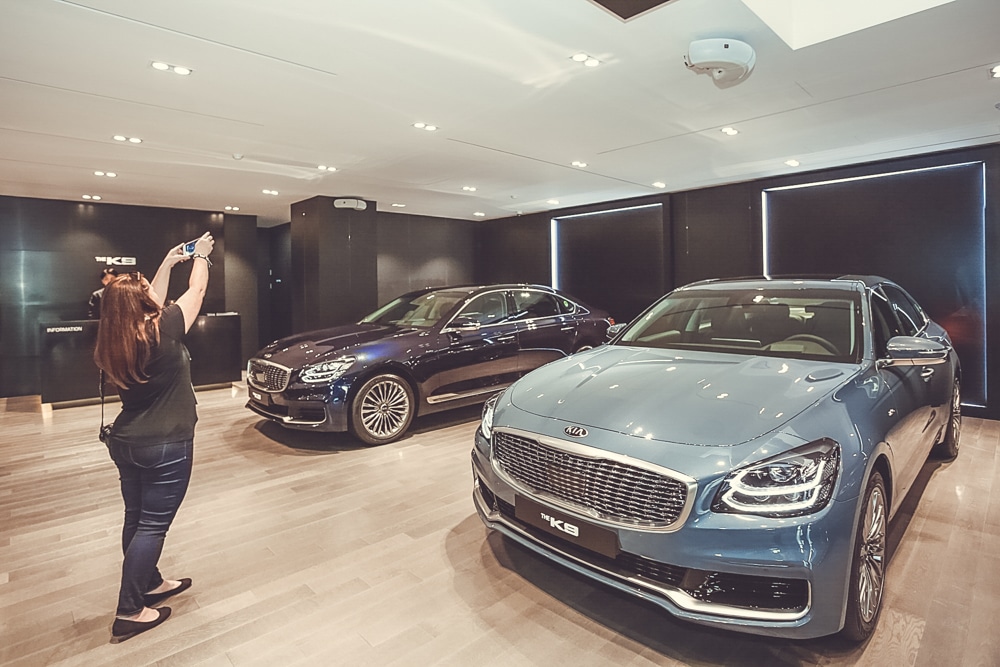 The all-new K900 represents what Kia does best: craftsmanship. The second generation was developed on a new platform and is improved in almost every way possible from the previous model. It's got more interior space, legroom, and a sleeker silhouette that's minimalistic but elegant.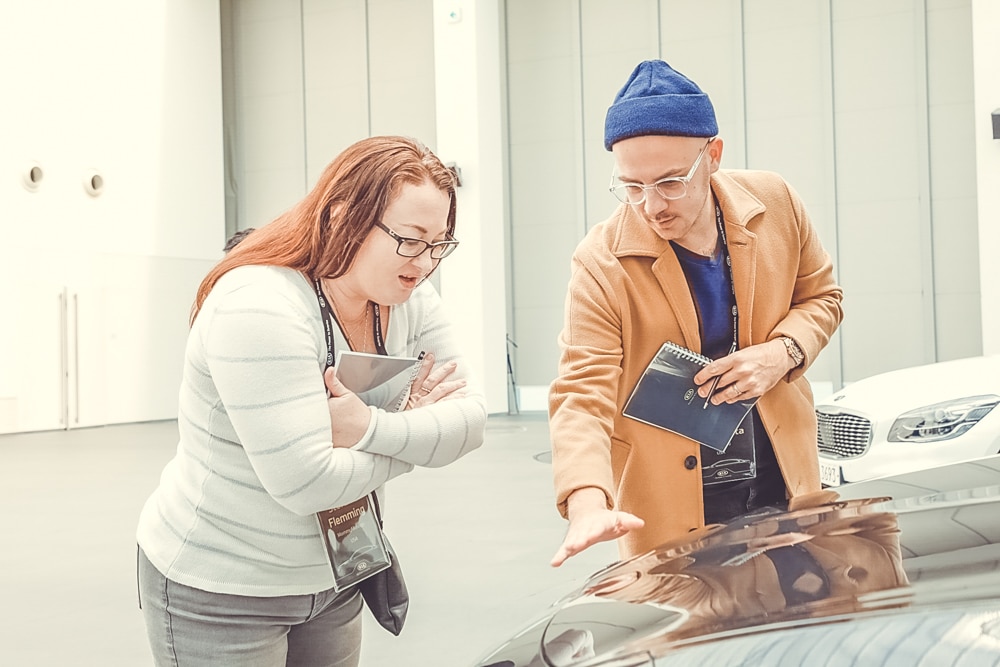 While the vehicle represents success from nose to rear, the interior fit and finish in the new Kia K900 is what really stood out for me. I hate to use a Danish word to describe a Korean car, but hygge instantly comes to mind when you're behind the wheel of this masterclass in design. It's a cozy luxury that makes you feel like the car was custom made just for you.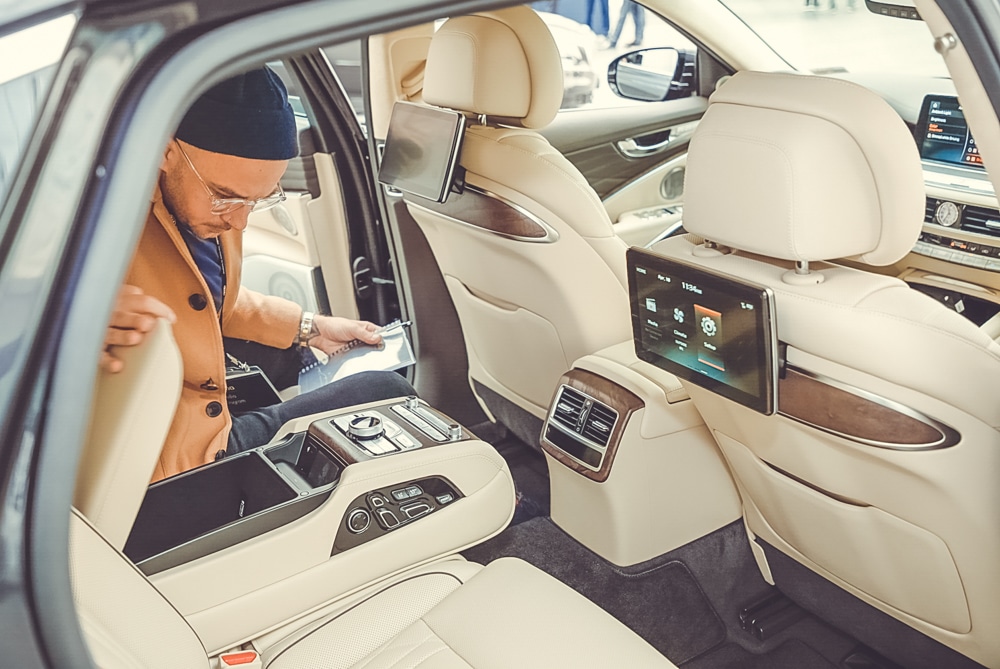 The high-end appointments, from the soft leather seating, matte wood dash and 12.3-inch center console touchscreen, to the exclusive Maurice Lacroix analog clock and Pantone Color Institute-developed advanced mood lighting, make the K900 a premium vehicle that you'll want to experience over long drives. The full-sized sedan is outfitted so that it's almost an extension of your home--a zen-like atmosphere in which you feel calm, relaxed, and I dare say, inspired. The ambient lighting system, based on the colors of nature, really drive this point home.
When I finally had the chance to drive the new K900, I felt supremely confident behind the wheel, despite some new-to-me driving conditions. Driving in Seoul can be intimidating, and this was only my second time driving outside the United States. I had no issues with handling and felt in control of this large vehicle during the entire drive. The drive over four hours included jam-packed freeways, winding rural roads, epically long tunnels and an interesting detour, which resulted from a wrong turn, not the vehicle's excellent navigation system.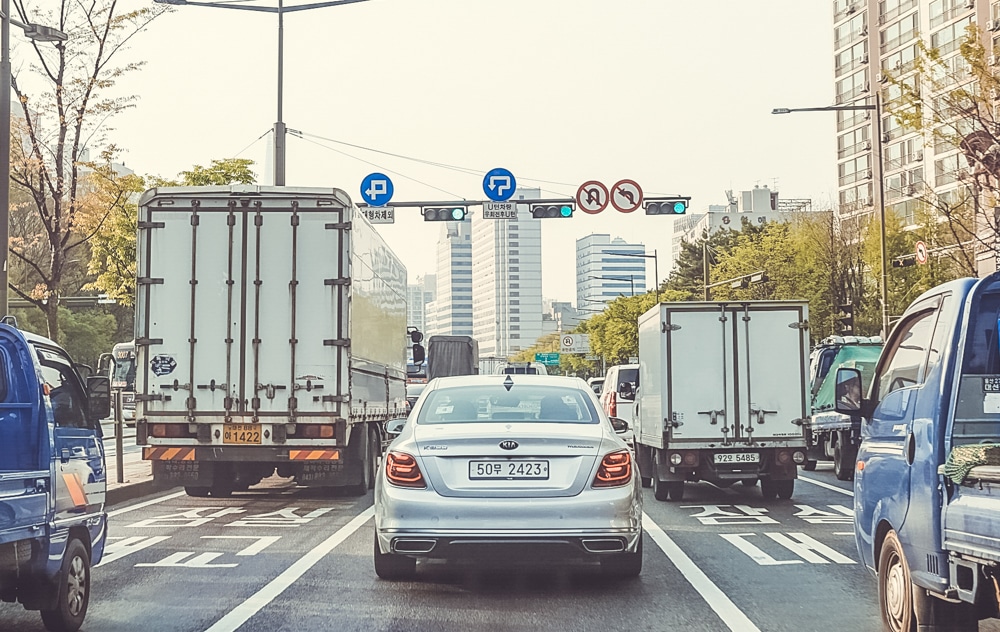 The fact that Kia invited social media influencers, not just traditional car journalists, to Korea to see and drive the new K900  says a lot about the brand and the confidence they have in their vehicles. I'm not sure if I mentioned it, but this was the first showing of the K900 outside of its debut at the 2018 New York International Auto show. This was also the first drive for any kind by media, which is an incredible honor.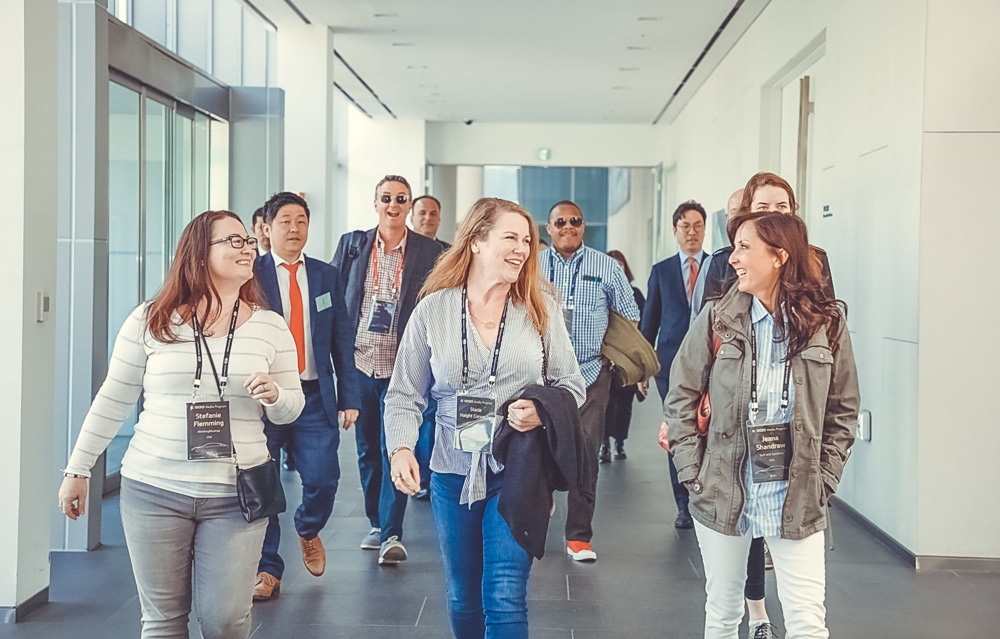 So who is the customer for the all-new Kia K900? In my opinion, the new K900 is just as much for younger, established families as it is for middle-aged professionals and baby boomers.
For a family of three like mine, the new K900 is an attainable luxury vehicle. It has all the comfort and space we need, with the advanced tech and safety features you generally find in more expensive vehicles. Why pay for a badge when you can get everything you want from a trusted, reliable brand. If you don't believe me, check with Consumer Reports, who ranked Kia as the third-most reliable brand in the automotive industry.
As the most expensive car in the Kia lineup, the K900 isn't for everyone, but if you're looking for a premium car at a competitive price, you'll want to see it for yourself when it arrives in the U.S. this fall.