Bermuda may not be the culinary capital of the world, but it does have two great things going for it -- seafood and rum! On my recent trip there, I set out to find what the must-haves were for eating and drinking, and what goodies were not to be missed to take back to loved ones at home.
What to Eat in Bermuda
Fish Chowder
Fish chowder is the national dish of Bermuda, so you can't visit without trying it at least once. Practically every restaurant in Bermuda serves their own version of the soup, but the basic ingredients include fish stock, fish fillets, and tomato puree with spices. What makes Bermuda's fish chowder uniquely Bermudian is the addition of Outerbridge's Original Sherry Peppers Sauce and Gosling's Black Seal Rum -- which are served on the side as condiments.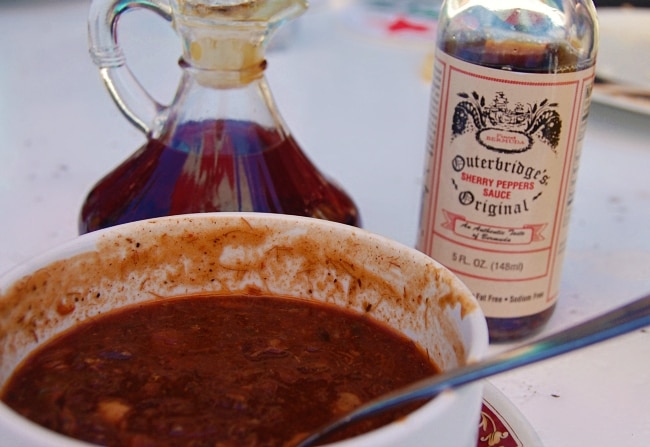 Bermuda Rockfish
Ask any local what the best fish to eat in Bermuda is and they will all tell you rockfish. Prior to arriving I had never heard of this fish, however I did a little research and found that it's part of the grouper family. Rockfish is on the pricier side compared to other fish dishes on the island but it's totally worth the splurge. The one bite I had -- which wasn't enough -- melted in my mouth. Traditionally, rockfish is pan-fried and served with almonds and bananas. Nom!
What to Drink in Bermuda
Dark 'n Stormy
If you're like me, then you love a good cocktail -- even more so when you can enjoy it straight from the source! The Dark 'n Stormy is Gosling's signature drink made with Gosling's Black Seal Rum and ginger beer, served over ice with a lime wedge. The finished product is supposed to resemble a storm cloud; hence the name, Dark 'n Stormy. I personally love rum and ginger beer, so it was no surprise that this was my go-to beverage in Bermuda.
Fun Fact: The Dark 'n Stormy was the first cocktail inducted into the Institute of Cocktail Excellence-- Cocktail Hall of Fame, Modern Classics category.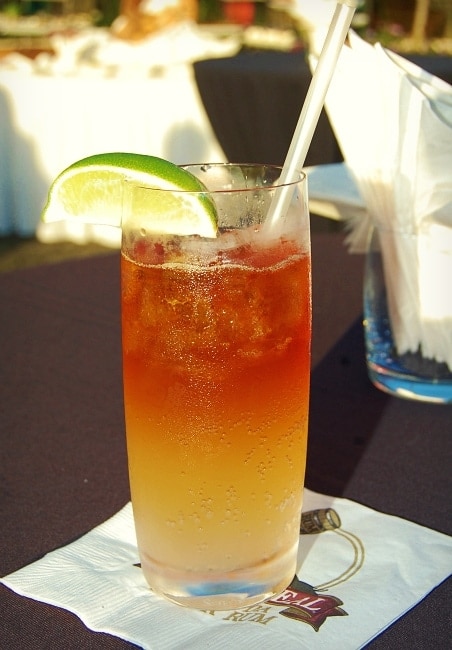 Rum Swizzle
To go along with Bermuda's national dish is Bermuda's national drink -- the Rum Swizzle. This alcoholic beverage is on the sweet side, more in line of what you'd expect to find at a tropical beach destination. The Rum Swizzle is made with -- you guessed it -- Gosling's Black Seal Rum, Gosling's Gold Bermuda Rum, orange juice, pineapple juice, and a dash each of grenadine and angostura bitters. The Rum Swizzle got it's name from the "swizzle" stick that's used to froth the drink until foamy.
Hot Tip: I imbibed in Rum Swizzles all over Bermuda-- the best one was at the Swizzle Inn (near the airport).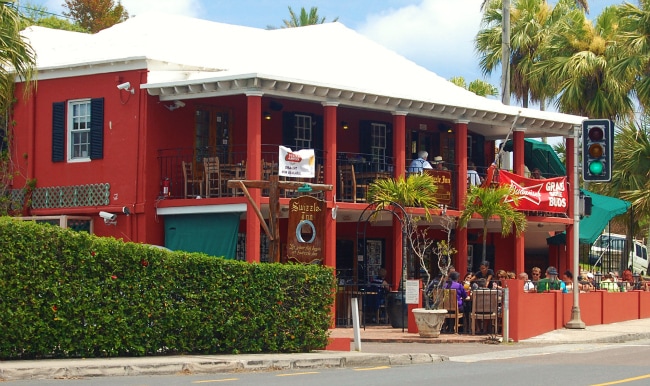 Ginger Beer
If you're not a drinker, or you're traveling with kids who want something fizzy and sweet, Barritts Ginger Beer is the soft drink of choice in Bermuda. Ginger Beer has more of a gingery kick than ginger ale, but the sweetness balances out the zestiness. Barritts Ginger Beer is family owned and operated in Bermuda, making it a local specialty.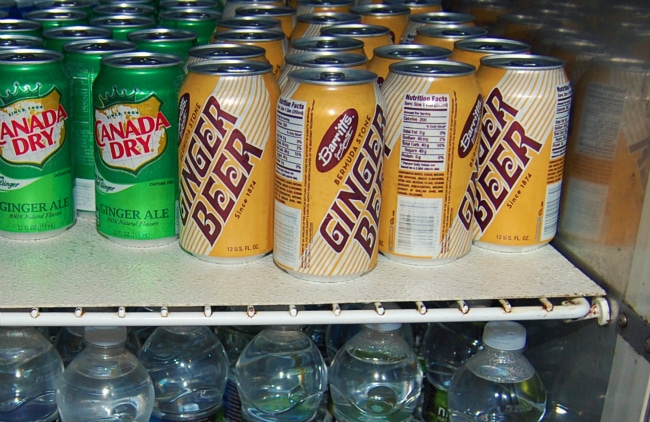 f
What to Buy in Bermuda
Bermuda Rum Cake
Who doesn't love a good rum cake? It's the only thing my mom asks me to bring back home when I visit any of the Caribbean islands. The only place to get rum cake that's made in Bermuda is at the Bermuda Rum Cake Company in the Royal Naval Dockyard. Cakes are made fresh on-site in a variety of flavors including traditional, rum swizzle, ginger, chocolate and loquat. Part of the fun of visiting the rum cake factory -- which is really more of a warehouse -- is getting to sample the flavors before you buy. My favorite Bermuda rum cake flavor was ginger, followed closely by chocolate.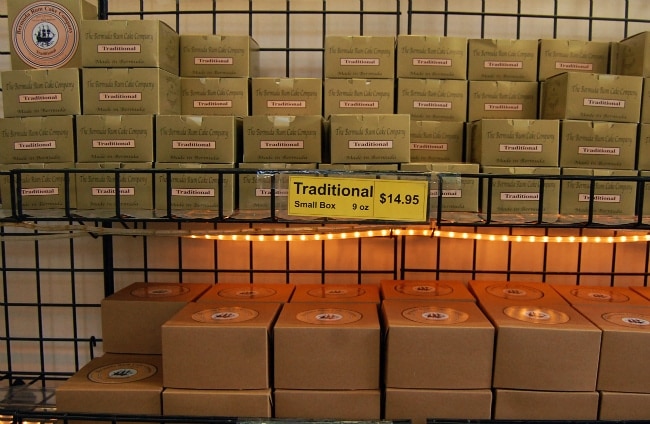 Gombey Pepper Jam
Immediately upon arriving at my hotel, The Fairmont Southampton, I noticed that the Gold lounge was setting up for afternoon tea. I'm not one to pass up a plate of full of scones and tea cakes, so I happily dropped everything I was doing to have a cuppa. While getting a dollop of butter and cream for my scones (I like both, don't judge!), I saw a variety of pepper jams on display that were calling my name. Gombey Pepper Jam comes in a variety of sweet and spicy flavors made with chili peppers of varying heat. I personally enjoyed the "Hurricane Force" blend with scotch bonnets-- it was a delightful mix of sweet heat and I couldn't resist taking a jar back  home. Gombey Hot Pepper Jam can be purchased locally in Bermuda at more that 15 locations.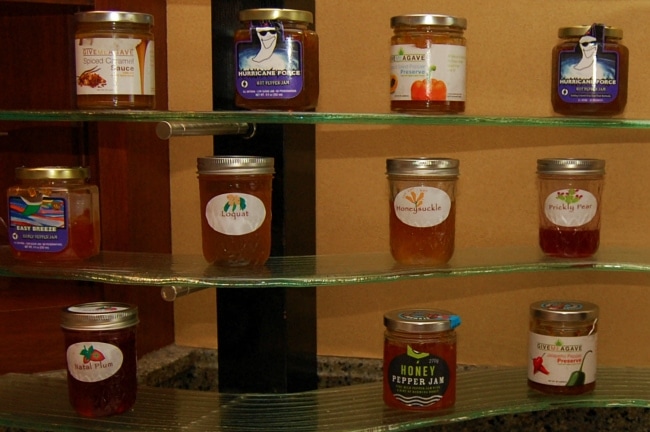 Gosling's Bermuda Gold & Old Rum
If you didn't have enough of Gosling's Rum on your visit to Bermuda, there are two bottles that I recommend taking back home because they're not exported from the country: Gosling's Bermuda Gold Liqueur and Gosling's Old Rum.
Gosling's Bermuda Gold is made from the loquat, which is found all over Bermuda. This small, round fruit is from the plum family, however it tastes more like citrus. Bermuda Gold is a liquor so it's very sweet with a high alcohol content. I was told that it's best sipped over ice, mixed with coffee, or used as a topping for ice cream.
Gosling's Old Rum is aged for a minimum of 16 years in once used oak bourbon barrels. The length of aging along with the char of the barrels give the Old Rum (also known as Gosling's Family Reserve) a complex flavor that's best sipped. Each bottle is hand labeled, numbered and sealed with black wax. Gosling's Old Rum is only bottled once a year.
U.S. residents are allowed to take one liter (33.8 fl. oz.) of alcohol back home duty-free 🙂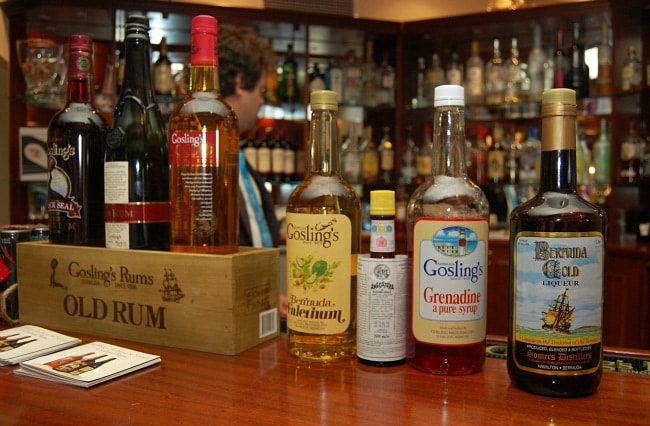 Special thanks to the Bermuda Department of Tourism for hosting my visit to Bermuda. All opinions are my own.