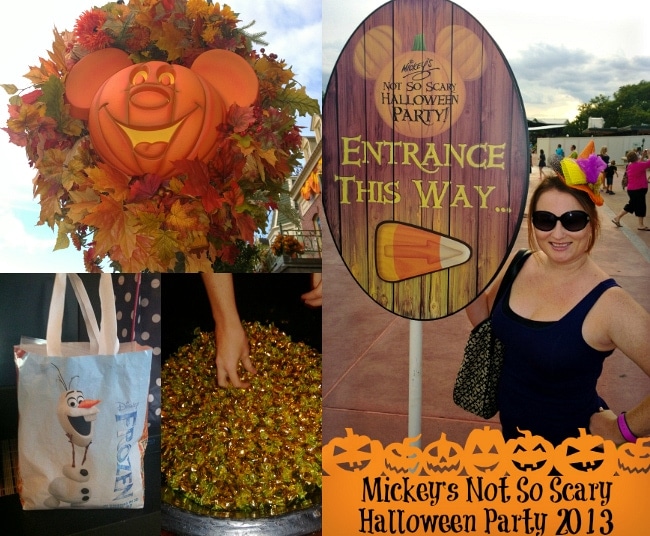 Just a few weeks ago I was sharing dates and details for Mickey's Not-So-Scary Halloween Party 2013, and now I'm back with an official review from the September 13 party (Yep, it was Friday the 13th!).
My family is no stranger to this special event held at the Magic Kingdom in Walt Disney World; we've attended yearly since my daughter was two. We always have an incredible time, and this year was no exception.
So what's new at Mickey's Not-So-Scary Halloween Party for 2013?
One of the most exciting additions to the party, for us, was the character meet and greet with Jack and Sally from The Nightmare Before Christmas.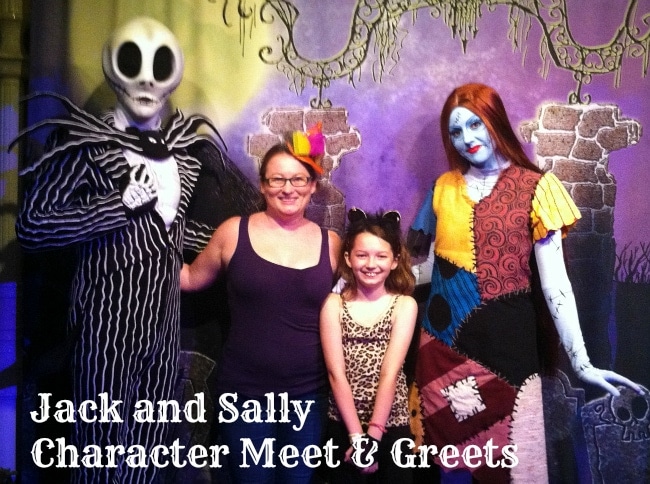 To my knowledge, neither of these characters have been seen before at Walt Disney World. Both Jack and Sally lived up to our expectations in appearance and manner. My daughter especially enjoyed her interaction with Sally, who told her that she was going to name the graveyard cat after her (my daughter dressed up as a kitty this year).
Tip: Jack and Sally are located to the left of the main entrance in the Main Street courtyard. Get your visit in early as most guests stop on the way out of the park.
Another new feature is the Monstrous Scream-O-Ween Ball hosted by Mike and Sulley. Unfortunately when we went to check out the dance party in Tomorrowland, it wasn't running yet — I believe we were there before the official start of the party.
Tip: Make sure to check out the MNSSHP 2013 map in advance to plan out your evening. Party entertainment is happening throughout the night at different hours. You don't want to miss Mickey's "Boo to You" Halloween Parade (8:15 & 10:3pm), Happy Hallowishes fireworks (9:30pm), or Disney Villains' Dance Mix and Mingle (7:45pm, 8:50, 10:05 & 11:15pm).
What about candy?
Everyone is given a trick or treat bag as they enter the Magic Kingdom for MNSSHP. This year's treat bags feature the new Disney Princess movie FROZEN (opening in theaters Nov 27) and MUPPETS MOST WANTED (in theaters March 21).
Trick or treat locations are scattered throughout the Magic Kingdom, with dedicated stops in Adventureland (now inside the Enchanted Tiki Room!), Liberty Square, Fantasyland and Tomorrowland. There are also two treat trails: one is in Frontierland near Splash Mountain and the other is at the entrance of Space Mountain in Tomorrowland. The candy is a mix of premium chocolate (Reese's, Snickers, 3 Musketeers, etc.) and hard candies (lollipops, Lemon-heads, Starburst, Skittles, candy corn, etc.).
My favorite treat stop is Pinocchio Village Haus where Werther's Caramel Apple candies are given (truly the best Halloween candy!). Also, the Enchanted Tiki Room passes out Craisins in addition to candy, and mini green Peeps are handed out as you leave the park.
Tip:  If you or a loved one has certain dietary or allergy restrictions, candy can be swapped out City Hall for sugar and nut-free treats. 
 And Rides?
Besides all the characters, entertainment, candy and decorations, all of rides are open in the Magic Kingdom during MNSSHP. This translates to walking on to Big Thunder Mountain, Splash Mountain, Space Mountain and just about every other attraction WITHOUT A WAIT. No fastpasses are distributed during the party because there's no need for one. No lines truly make for a magical experience!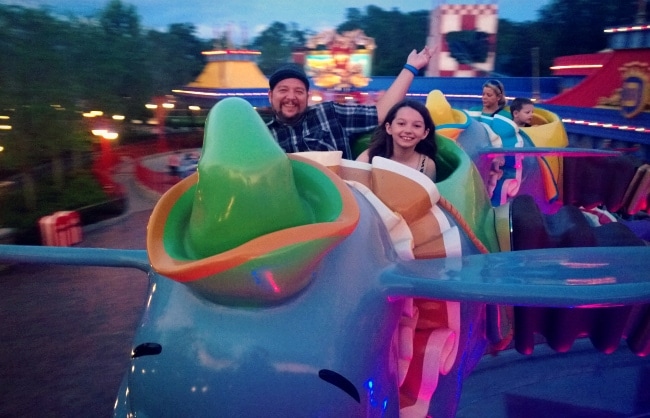 Additional Tips & Treats:
Mickey's Not So Scary Halloween Party officially starts at 7:00pm, however guests with party tickets can get in as early as 4:00pm.
A special-edition Sorcerers of the Magic Kingdom card featuring the Hitchhiking Ghosts from the Haunted Mansion is available during MNSSHP. Guests with wristbands can pick up the card at either the Magic Kingdom Firehouse or the Sorcerers of the Magic Kingdom location behind Ye Olde Christmas Shoppe.
Special snacks are available during the party for purchase including candy corn flavored soft serve at Storybook Treats, a Spiced Pumpkin Waffle Sundae at Sleepy Hollow Refreshments, and various Halloween-themed cupcakes on Main Street. I came thisclose to buying a popcorn bucket featuring Mickey as a Hitchhiking Ghost!
Florida is still pretty hot during this time of year so make sure costumes aren't bulky, or bring a pair of shorts and tank/short sleeved shirt as backup. I opted for a witch's headband instead of a costume and my daughter donned a tank top with her cat ear's and tail. My husband went costume-less.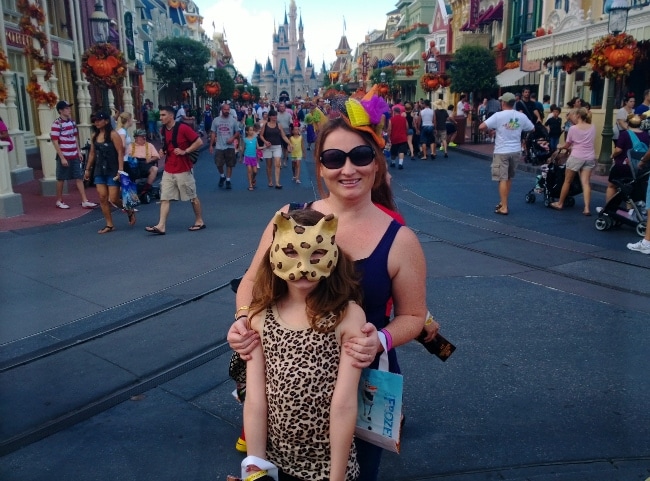 2013 Mickey's Not-So-Scary Halloween Party Dates & Ticket Prices
September: 10, 13, 17, 20, 24, 27, and 29;
October: 3, 4, 6, 10, 11, 14, 17, 18, 20, 22, 24, 25, 27, 29, and 31;
November: 1.
Tickets start at $59 and can be purchased in advance at disneyworld.com/halloween.
Special thanks to Walt Disney World for providing my family with media tickets to MNSSHP. All opinions are my own.