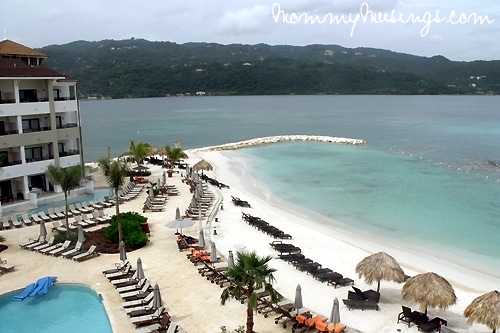 Many elements have to come together to create a perfect family holiday. From resorts with a wide variety of activities, friendly locals and unique culture, Jamaican vacations set the perfect stage for loved ones to create memories.
Montego Bay, Ocho Rios and Negril are favorite destinations for traveling families. Each is replete with kid-friendly attractions and activities, most notably Dunn's River Falls (outside Ocho Rios), Kool Runnings Water Park (Negril), Aquasol Theme Park (Montego Bay) and horseback riding (offered in all three). Resorts cater to both parents and children and have an impressive range of amenities for kids; most offer free accommodations or reduced rates for young children in their parents' room and many provide a babysitter/nanny by advance request.
Jamaica is renowned for its family hotels and resorts that cater to travelers of every taste and budget. Within these properties are some of the Caribbean's best kids' programs, entertainment and family-friendly activities, each offering an unforgettable, one-of-a-kind experience.
Here's a list of great family-friendly resorts in Jamaica:
If you need help finding the best travel deal -- check out fromatob,  a trip planning and booking search engine.
Holiday Inn Sunspree Resort (Montego Bay): Enjoy a vacation where the kids stay, eat and play for free! The resort offers "KidSuites," a unique room within a room where kids get their own space and parents get some breathing room. Each KidSuite features a partially separated in-room sleep and play area with bunk beds, colour cable TV and a play table or kid's desk. The KidSpree Vacation Club is available to children ages six months to 12 years and offers a playground, games and plenty of indoor/outdoor activities. Older kids can enjoy everything from pool tables to volleyball and a nine-hole miniature golf course.
Sunset Resorts (Montego Bay, Ocho Rios and Negril): With three resorts on the island, Sunset Resorts offers three distinct alternatives for families. Sunset Beach & Spa Resort in Montego Bay boasts a full-scale pirate-themed water park for kids and a full-service spa for parents while Sunset Jamaica Grande Resort & Spa in Ocho Rios features five pools set in an exciting beach complex, dotted with waterfalls, plunge pools and a lighthouse waterslide. In Negril, Sunset at the Palms is a lush escape set in a ten-acre tropical garden with 85 "treehouse-style" guestrooms on offer.
Beaches Resorts (Ocho Rios and Negril): With two properties in Negril and one in Ocho Rios, Beaches Resorts are renowned for family fun with everything from their Kids Camp to Sesame Street entertainment that features weekly character parades and stage shows. Older kids can engage in the "Trench Town" game room or play in the Xbox Game Garage. In addition, Beaches Resorts also offer savings for single parents with "Single Parent Fun" months (available various months throughout 2012).
Round Hill Hotel & Villas (Montego Bay): Round Hill Hotel & Villas is an experience to write home about. A former 100-acre pineapple, allspice and coconut plantation, the resort offers some of the finest accommodations on the island. The Pineapple Kids' Club is free to guests and provides children's activities like crafts, outdoor adventure, dancing, drama and cultural exchange. While children participate in the club, parents can enjoy the Round Hill spa, tennis courts or nearby golf.
Half Moon, A RockResort (Montego Bay): Half Moon sits on two crescent-shaped beaches and is one of the region's top properties. For families with children, the resort offers the Anancy Children's Village, inspired by Jamaica's fabled children's character "Anancy the Spider". Little ones can create puppet shows, get creative or listen to stories, with each activity supervised by a well-trained coordinator. Older kids can swim with dolphins in the private Dolphin Lagoon or escape to the "Hype Zone" (which includes tennis clinics, volleyball, nature walks, golf, squash, horseback riding and water sports).
Hilton Rose Hall Resort & Spa (Montego Bay): The resort spans 400 acres across the beach, with 1,000 square-feet of private beach reserved for resort guests. With its own private water park, including a 280-foot slide, a Kids Retreat and Teen Zone, kids of any age can find something to entertain.
The Ritz-Carlton Golf & Spa Resort, Rose Hall (Montego Bay): This beachfront resort offers Ritz-Carlton's Ritz Kids program for children five through 12. Children spend time on the beach, participate in crafts, and see Jamaica's flora and fauna on outdoor adventures. The resort also provides a nanny service.