This post is continued from Disney Mom Blogger Mixer.
Have you ever wanted to ride in a hot air balloon but where too scared? Disney takes some of that fear and sets it aside with Characters in Flight at Downtown Disney.
I was so excited when I found out Disney was bringing over the popular attraction from Disneyland Paris (this is a similar set up). I am not scared of heights, but I have the irrational fear (or maybe it is rational?) that if I ever went into a hot air balloon it would somehow get lost in the air...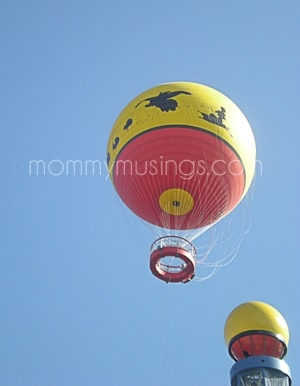 With Characters in Flight you get the experience of being up in the clouds, but are safely anchored to the ground. The view over Downtown Disney is amazing and you can see for miles!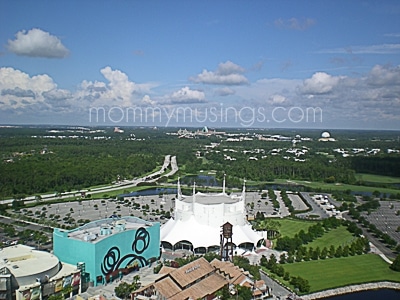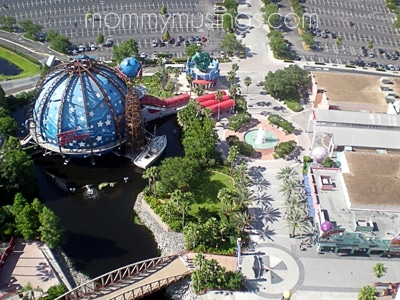 On the day we went it was rather windy. Disney does take safety precautions and does not fly in the rain. The attraction frequently closes due to wind speed. Even though the balloon is tethered, the wind we had made it for a bumpy (but fun) ride. For this reason Characters in Flight is open as weather permits for the safety of the guests.
Currently prices are $16 for an adult, and $10 for a child. Each ride lasts about 10 minutes and rises up to 400 ft in the air!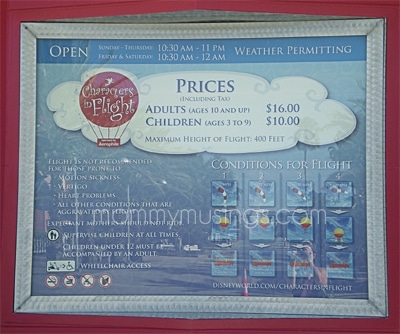 The actual "cage" where you stand, can accommodate up to 30 people at a time (again, depending on wind speed).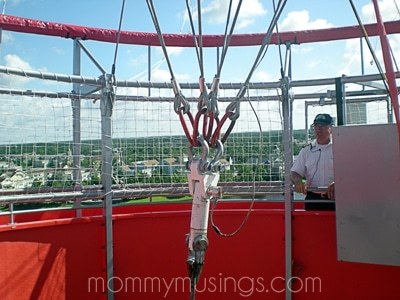 The view from above, looking down at where you board. The black part is water.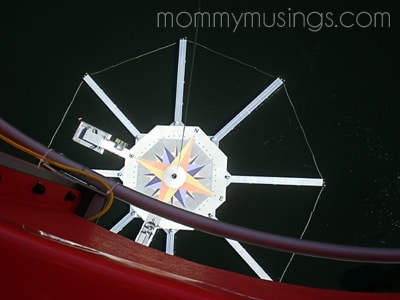 I highly recommend this attraction when you are visiting Downtown Disney at Disney World. I heard the view at nighttime is spectacular!