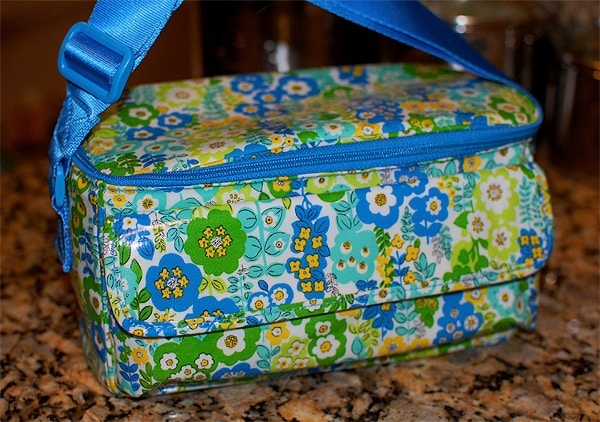 There are a ton of uses for the Vera Bradley Cooler, besides the obvious use of toting cans of soda around. Vera Bradley has become increasingly popular at my daughter's school and this year she requested the use of my English Meadow Cooler for her school lunch box.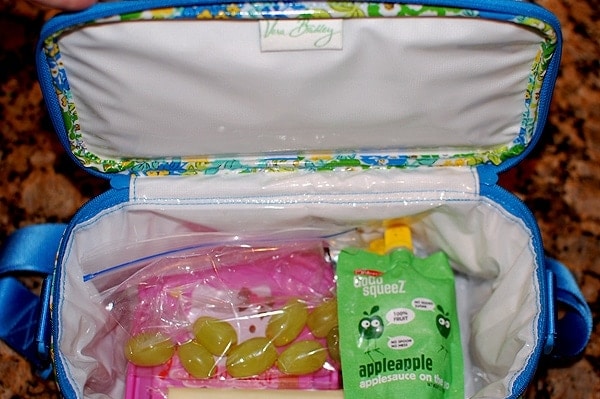 The cooler is the perfect size for a school lunch with a couple of ice packs thrown in (we're all about food safety). I can get her sandwich keeper in there with a juice box, some fruit and a few snacks--with room to spare. It has a nice long strap that can be adjusted, which she throws over her shoulder. I love that the whole thing is laminated with a vinyl interior. This keeps food cold and it's EASY TO CLEAN. The little pocket in the front is great for utensils, napkins or love notes from mom.
Before she claimed the cooler, I used it for sodas and juice boxes on car and beach trips. I think the Vera Bradley Cooler would also be great for a new mom toting pre-made bottles around.
Like I said above, besides the obvious uses, the cooler would make a great camera bag for traveling with a DSLR. I tried it out and it fit my Nikon D40 with 2 lenses. It would keep the camera secure with the padding from the insulation. The front pocket easily fits and extra battery or memory cards.
I've also heard of the cooler being used as a cosmetic or makeup case. If you travel with a lot of these items the cooler would work great because it is roomy and easy to clean.
Overall, I love the Vera Bradley Cooler and its many uses. Since I let me daughter have the English Meadow pattern for school, I think I may have to get another for myself as a camera bag-- it's a great deal for Vera Bradley at $28.
I received a sample cooler from Vera Bradley for the purpose of review. All opinions are my own.