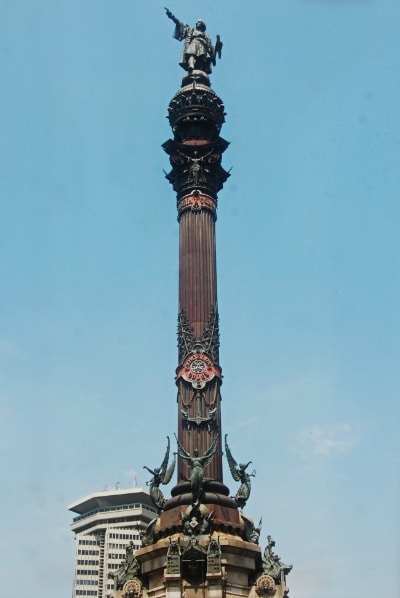 When you only have a few hours to explore Barcelona before the start of your cruise, you have to make the most of it! That's exactly what we did last month before setting sail on the Carnival Sunshine for a 9-day cruise through the Mediterranean.
Immediately off our 9 hour flight, which landed at 9:30am, my husband, daughter and I collected our bags and took the first shuttle to the port of Barcelona (arranged by Carnival). By noon, we had checked in for the cruise, dropped our carry-on's in our cabin, changed clothes, and made it on the port shuttle bus, located right outside the cruise terminal. For 3.50 Euro return p/p (at the time of posting), the port shuttle drops you right next to the the Columbus Monument, which is just a few steps away from the lower end of La Rambla (Las Ramblas) — the most famous walking district in Barcelona with street performers, kiosks, cafes and shops.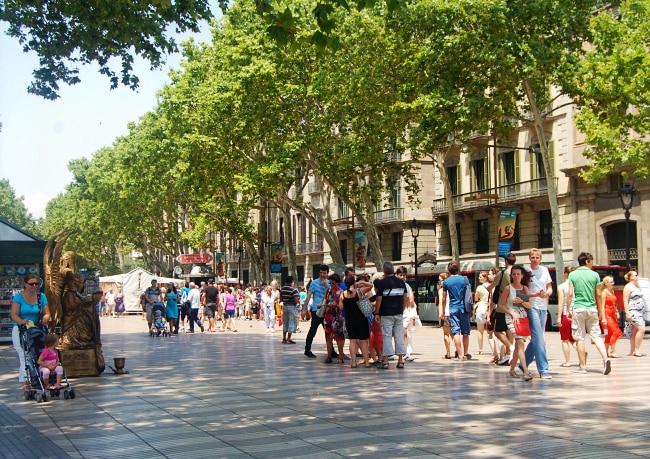 La Boqueria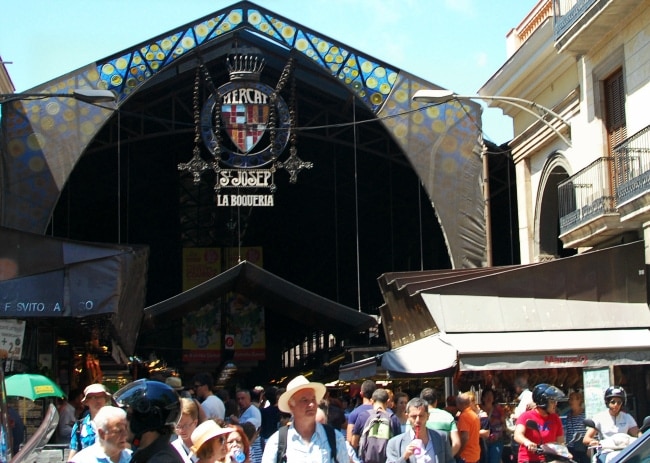 Our first stop was for lunch at La Boqueria, a popular indoor food market located about a half mile from the end of La Rambla. My daughter and I visited La Boqueria last year and she asked to return -- all over the market vendors sell fresh fruits and juices and she was particularly fond of the coconut "zumo" she had.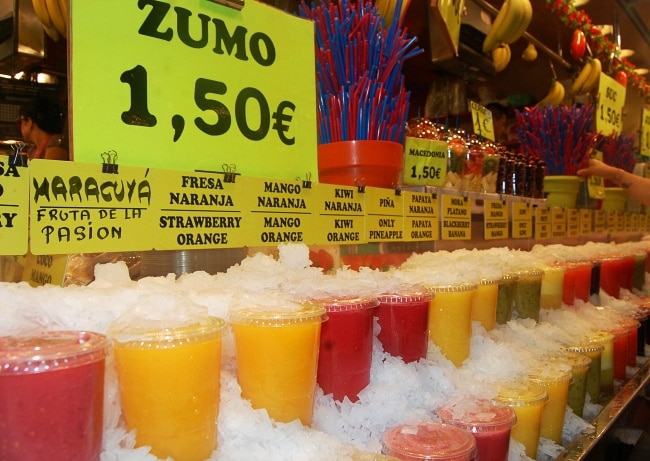 Other inexpensive treats include a sampling of meats on a stick for 1 Euro.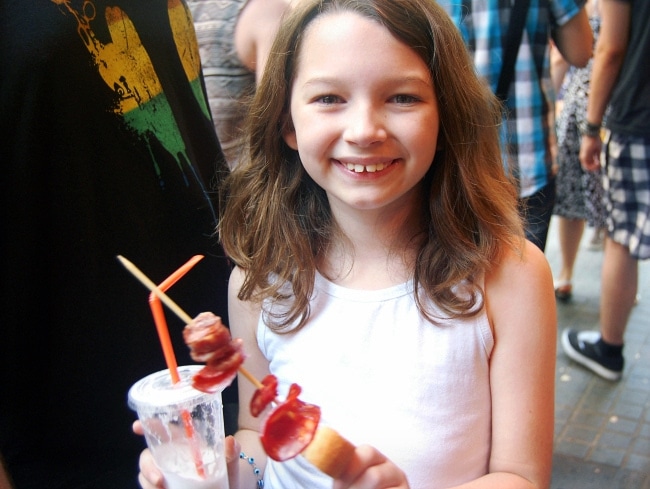 My husband and I had our eyes set on a Jamon Iberico sandwich -- Jamon Iberico is type of cured ham made from pigs who were fed a special diet of acorns and olives.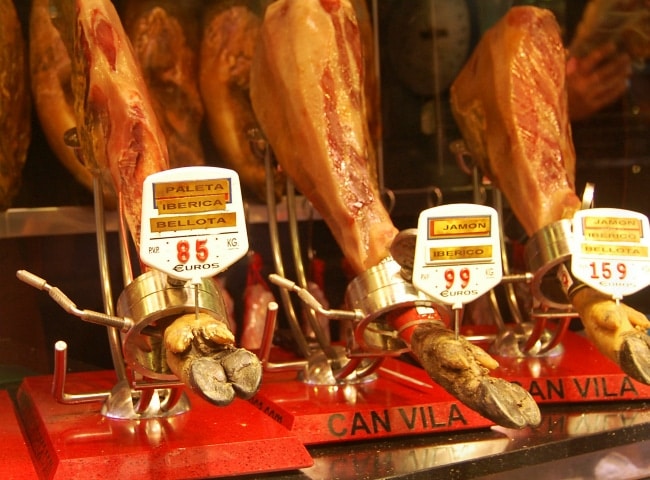 We sped through the market because it was super busy-- it was too busy to stop and browse, or even to take pictures. My daughter bought her coconut zumo (the prices go down the farther you go into the market) and her meat on a stick, and my husband and I split a ham sandwich. You really can't go wrong with any of the food at La Boqueria. One day, when we have more time, I want to sit and have tapas at one of the bars inside.
Barcelona Metro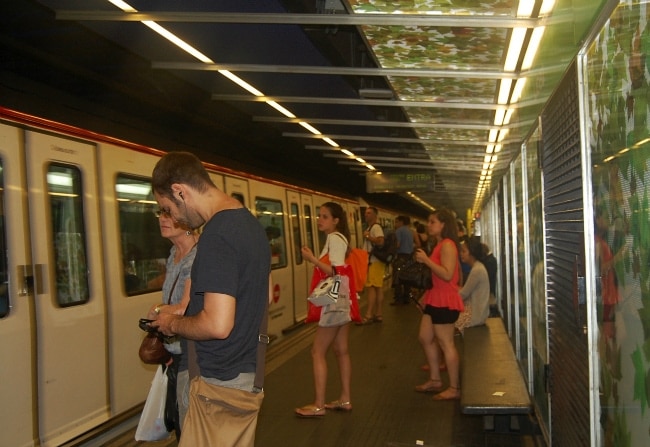 Being that this was somewhat of a budget trip for us, I decided pre-cruise that we would take public transportation as much as possible. I read horror stories about how unsafe Barcelona was as far as scams and pickpockets, but I personally didn't feel threatened in any way on my first visit (when it was just my daughter and me), so I thought we would venture out a little more on this visit by taking the metro. I should add the my experience on the metro in Barcelona was my first ever ride on any type of subway. Considering this, if I can brave it -- anyone can! The metro in Barcelona is super easy.
Right near La Boqueria on Las Ramblas is the metro stop Liceu -- we took this line (green) going towards Trinitat Nova , stopping to switch lines at Diagonal. From there we took the blue line towards Vall d'Hebron, getting off at Sagrada Familia. It was a painless (and fun!) experience costing us only €9.80 with the T10 Travel Card (which my family shared).
La Sagrada Familia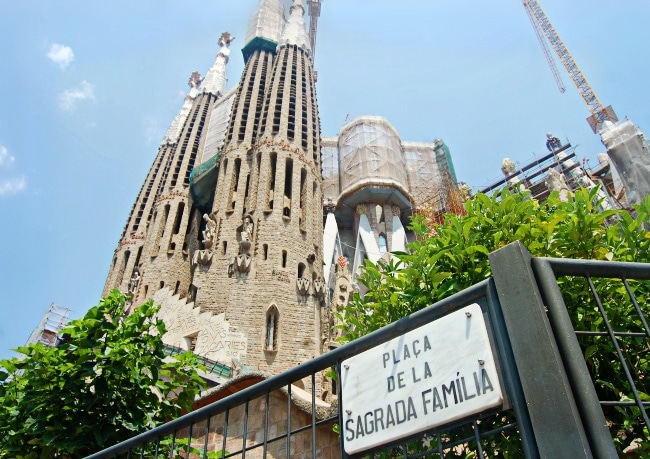 I don't think anyone should visit Barcelona without admiring at least a tiny bit of the works of Antoni Gaudí. Arguably the most famous piece, although unfinished, is La Sagrada Familia -- the church Gaudi spent the remainder of his life designing and building. La Sagrada Familila has been under construction for 130 years and is set to be completed in 2026, a hundred years after Gaudi's death.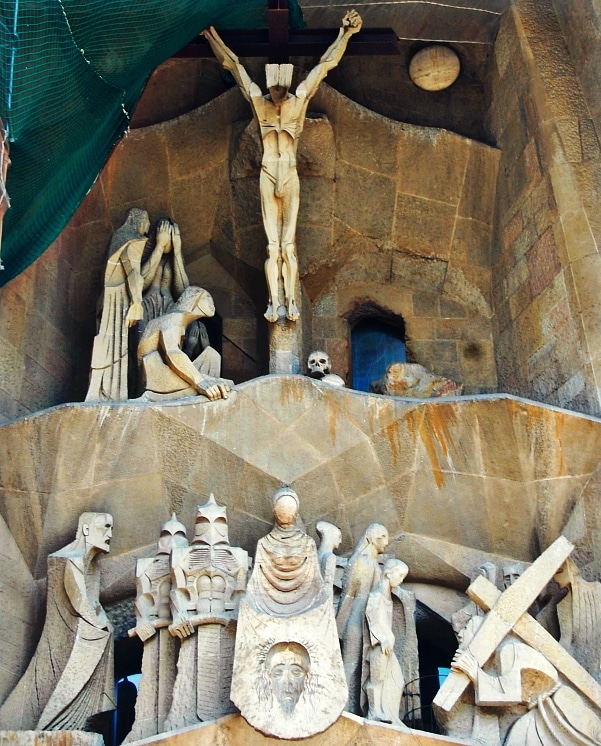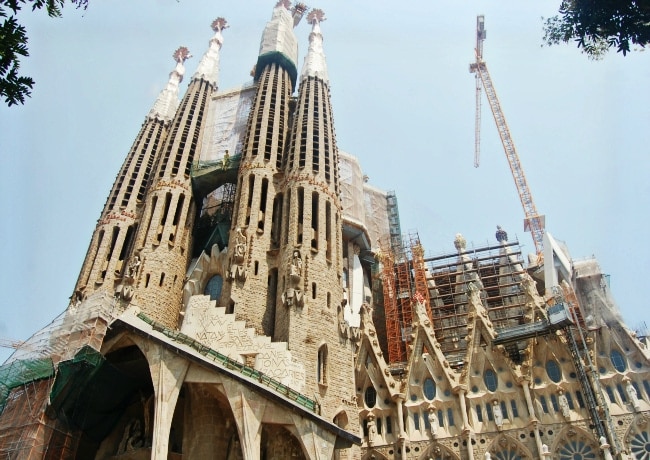 We didn't have enough time to go inside the church (there was quite a long line for tickets), though just walking around was stimulating enough. It's really hard to process that much detail -- La Sagrada Familia is a stunning work of art.
The metro stop is literally right outside the church, so we hopped back on using the same lines just in reverse. Since we had to be back on the ship by 4:00pm, we got off at Drassanes, the closest metro stop to the Columbus Monument, and took the port shuttle back to the Carnival Sunshine. Total transportation cost for the day was 20.30€ ($27) for our family of three -- pretty good for seeing a bit of Barcelona on our own 🙂
Tips for Seeing Barcelona Pre-Cruise (Embarkation Day)
There is a shuttle that runs outside the terminal non-stop during embarkation day. Currently it's €3.50 per person (no discounts for children) for a return trip. We had no problem getting on the bus when we needed it. Alternatively you could catch a cab outside the terminal.
The Barcelona metro is extremely straightforward and easy to use. Before your trip, check out a map of the metro and write down the lines you need to take and the direction you need going each way. If you're traveling with multiple people, the T10 card is a great value as you can share rides. One card is good for 10 rides.
Try to have exact change when you purchase your tickets for the metro. The machine wouldn't take my credit card and it was being fidgety with a 20 Euro bill.
If you want to go inside La Sagrada Familia, it's best to pre-purchase tickets from the website to avoid waiting in line. The best deal for families is to "Become a Friend" of the church for 38.00€ -- this allows 2 adults and 2 children front of the line access inside the Basilica, with free access to the towers, for a year. A basic ticket to go inside at the gate is 14,80€ (adult).