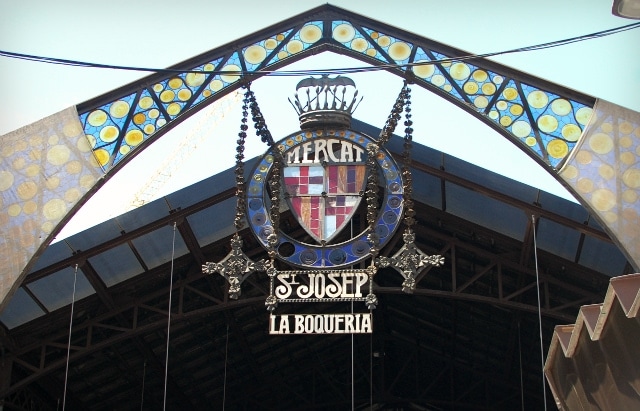 It should be no surprise that one of my favorite Travel Channel shows, besides No Reservations, is Bizarre Foods with Andrew Zimmern. Earlier this year, my daughter and I had a week-long Bizarre Foods marathon on Netflix, where we discovered our most favorite episode: Spain. -- I'm still bummed that they have since removed the show from their catalog.
In that episode, Andrew visits La Boqueria — the largest food market in Barcelona. For a foodie, this place is heaven.
A couple of months later, I found out I would be flying into Barcelona with my daughter, where we would embark on the Carnival Breeze for a 12-day Mediterranean cruise. Since we only had a few hours from the time our plane landed to when the ship set sail, our sightseeing was limited. I couldn't bear the thought of missing out on Barcelona all together, and La Boqueria was within a few miles of the cruise terminal off Las Ramblas-- we just had to see it!
And see it we did 🙂
We used Carnival's transfer service from the airport to the cruise terminal, which I was very thankful for after a 9-hour flight. The terminal looks brand new, and it's extremely easy to navigate. Once we checked-in and dropped off our luggage in the cabin, we got off the ship and took advantage of the port shuttle bus, which was €3 per person, round-trip. The shuttle bus dropped us off at the Columbus Monument, just a short distance from the beginning of Las Ramblas.
Las Ramblas is the main drag in Barcelona, with lots of shopping and restaurants. You'll also see some interesting characters, including human statues.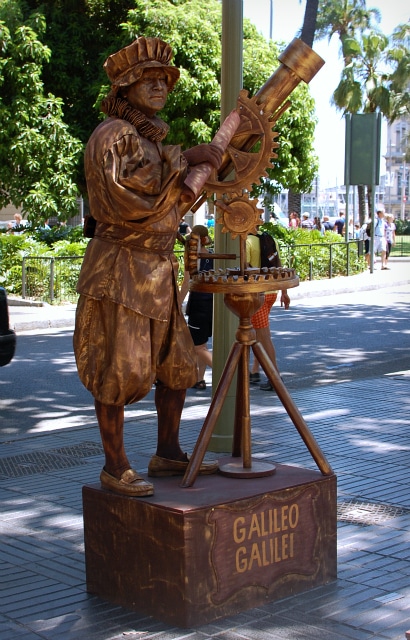 It's just a little more than a half mile walk from the Columbus Statue to La Boqueria via Las Ramblas. Along the way we found various street vendors selling everything from scarfs to live turtles...
Hungry-- we focused on the task at hand.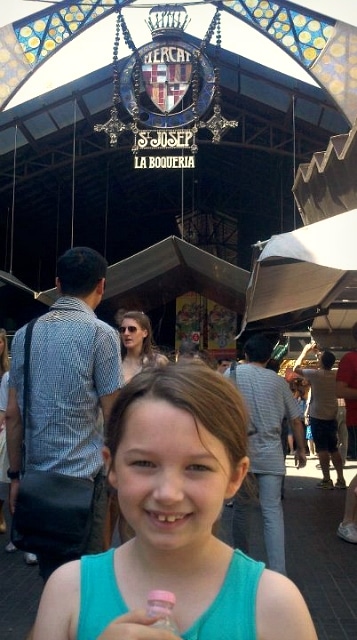 La Boqueria was everything we hoped it would be. The market is very busy, and at every turn there was a new culinary delight.
Our mission was to try Jamón Ibérico, a cured ham produced in a specific region of Spain -- it's pricey, but the flavor payoff is worth it!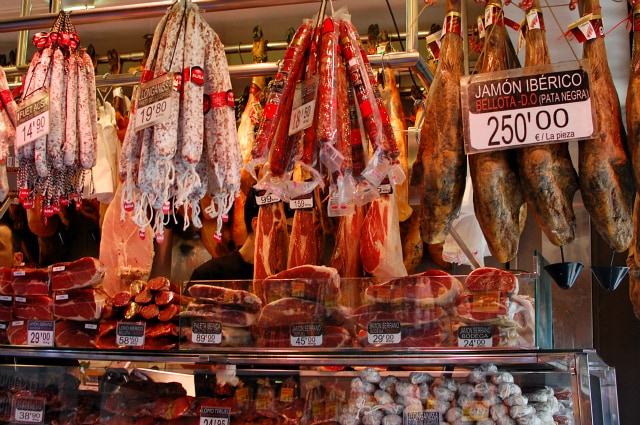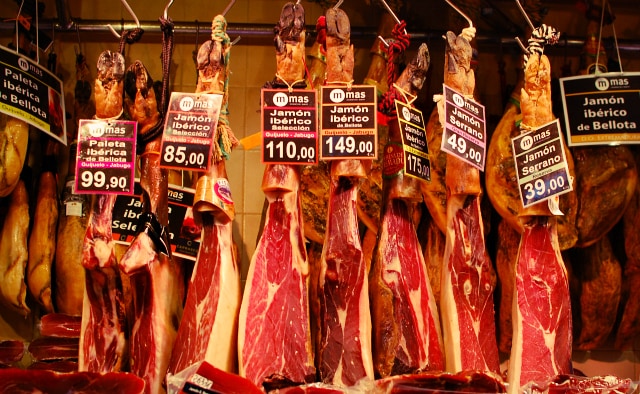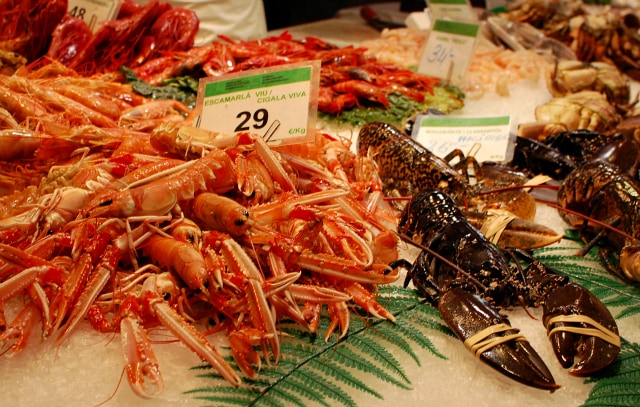 My daughter wanted to try the coconut juice, which can be found for only a couple of euros. We paid €1.50, but saw other stalls for 2/€2 -- as you headed deeper into the market, the prices go down.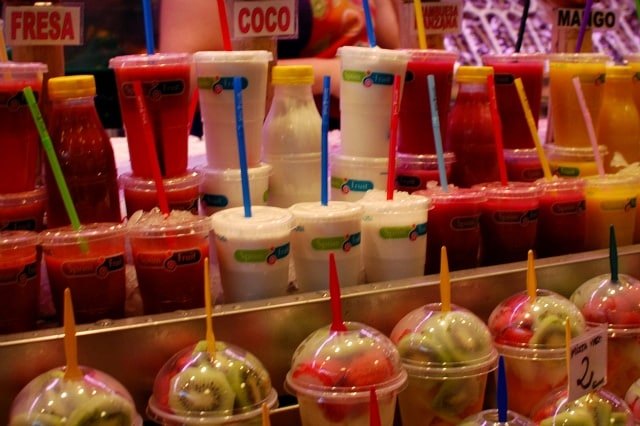 The juice was a bargain considering it was one of the most delicious drinks we've ever had -- everything in the market was fresh. I'm not sure there is anything like this in the United States.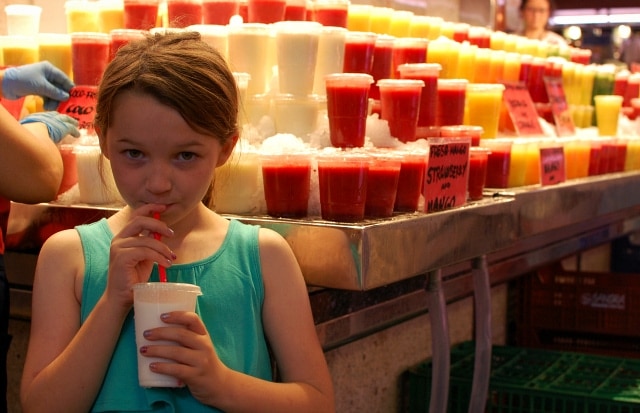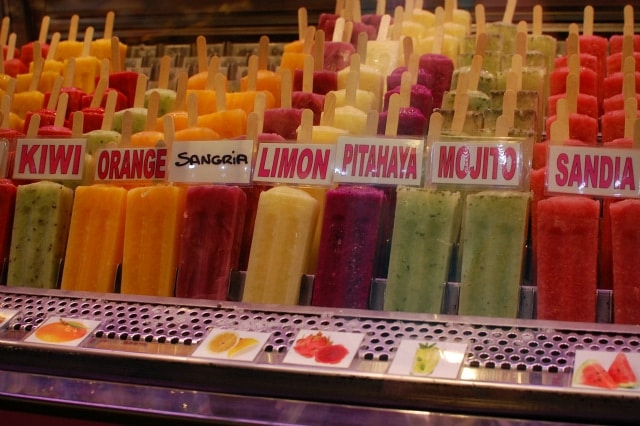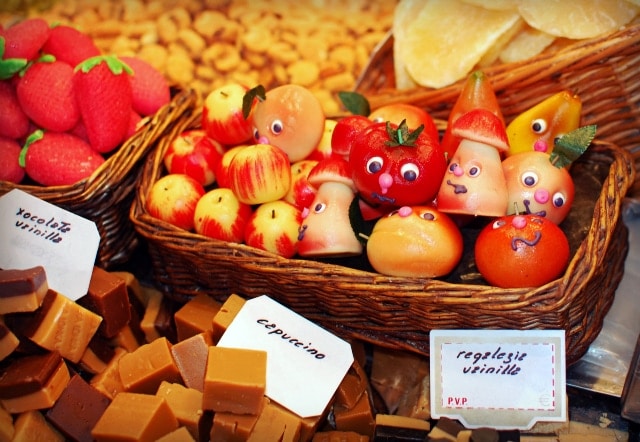 We wandered around for a bit, buying more juice and sampling homemade candies, before we had lunch around the corner at Café Viena for the so-called "best sandwich in the world" ... review pending.
Even with jet-lag, we pulled through and had an amazing day in Barcelona before setting sail on the Carnival Breeze towards our first port: Marseille, France. If you haven't been, Barcelona, is at the top of the list for great European vacations.
I was invited as media on the Carnival Breeze. All opinions are my own.