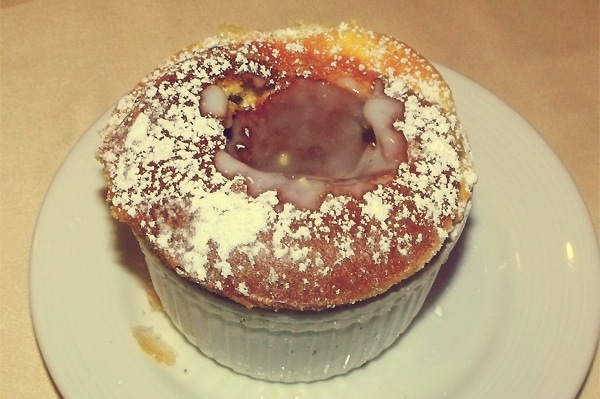 Every cruise line has one specialty dessert that seems to have a cult following. For Carnival Cruise Lines, that dessert is the Warm Chocolate Melting Cake. While I agree the cake is good, there is another dessert that is even better-- The Grand Marnier Souffle served with orange vanilla sauce.
Just thinking about this dessert makes my mouth water. It's one of the few desserts I look forward to anywhere. If you're cruising on Carnival soon, make sure to order it. If it happens to be on the menu the same night as the chocolate melting cake, order both!
I searched high and low for the official recipe from Carnival to no avail. I found this substitute online that looks pretty close.
Carnival Grand Marnier Souffle Recipe
Souffle ingredients:
1-¼ cup milk
½ cup sugar + ¼ cup sugar
5 Tablespoons unsalted butter
½ cup all-purpose flour, sifted
6 egg yolks
Zest of half an orange
2 Tablespoons Grand Marnier
8 egg whites
1 pinch salt
Creme Sauce ingredients:
6 egg yolks
½ cup sugar
2-½ cup milk
1 vanilla bean, split lengthwise OR 1t vanilla extract
Garnish:
¼ cup powdered sugar
Directions:
Preheat oven to 375F
Butter souffle dishes or ramekins and dust with a little sugar. Tilt and tap out excess.
In a medium saucepan, combine milk and ½ cup sugar and bring to a boil
In a small saucepan, over medium heat, melt butter and slowly mix in flour. Then stir in milk mixture. Slowly cook over low temperature, until mixture pulls from the saucepan, about 10 minutes. Do not boil. Remove from heat and slowly add egg yolks, one at a time, then orange zest and Grand Marnier. This cream can be made in advance and refrigerated.
In a mixing bowl, beat egg whites and pinch of salt with an electric mixer on medium speed until eggs are fothy. Increase speed to hide and gradually add sugar, beating egg whites until they form soft peaks.
Spoon one-third of egg whites into Grand Marnier mixture and gently mix until the batter is lightened. Fold in remaining egg whites, taking care not to deflate them. Divide the mixture into the souffle dishes.
Bake for about 20 minutes or until the souffles have doubled in size and are nicely browned.
Prepare creme sauce by creaming egg yolks with sugar. Bring milk and pre-cut vanilla bean to a boil, then slowly stir into egg mixture. Gently simmer for about 10 minutes or until cream coats the back of a wooden spoon. Do not allow sauce to boil. Take out vanilla bean. Remove from heat, pour into a bowl, and stir for a minute or two to cool.
Dust the souffles with powdered sugar and serve immediately with creme anglaise.
Have you tried Carnival's Grand Marnier Souffle?