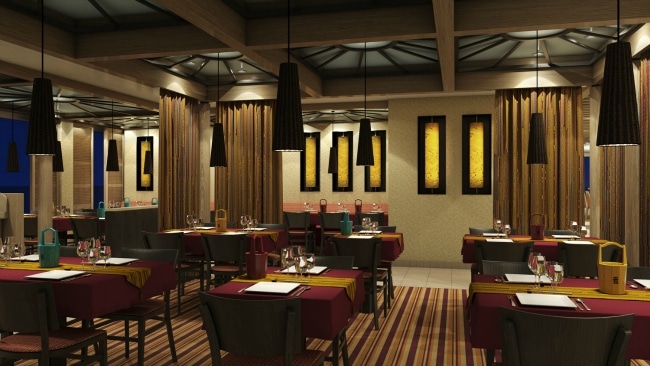 The debut of the Carnival Sunshine is just around the corner (May 5 to be exact!), and details of Ji Ji Asian Kitchen -- the brand spanking new full-service eatery -- are finally coming in...
And the menu look fabulous!!! Who is ready to Eat!?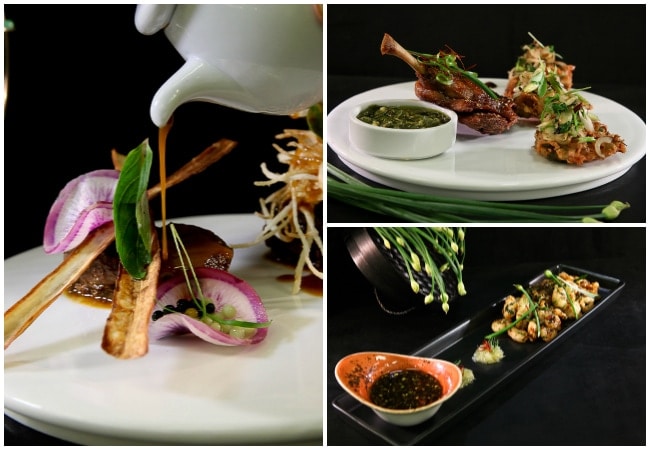 Located aft on Lido Deck, Ji Ji Asian Kitchen will offer mouth-watering creations inspired by regional cuisines from China, Mongolia, the Philippines, Indonesia, Singapore and Vietnam.  Items are listed with a corresponding number indicating the region where the cuisine originates.
The menu includes seven different appetizers, including Nanjing-style duck, whose origin dates back 1,400 years, along with slow-braised pork belly and soups such as Tamarind & Shrimp and Chicken & Cilantro Root. Even favorites like spring rolls get an interesting twist with lemon marmalade, curry leaves, pink grapefruit and cilantro pearls.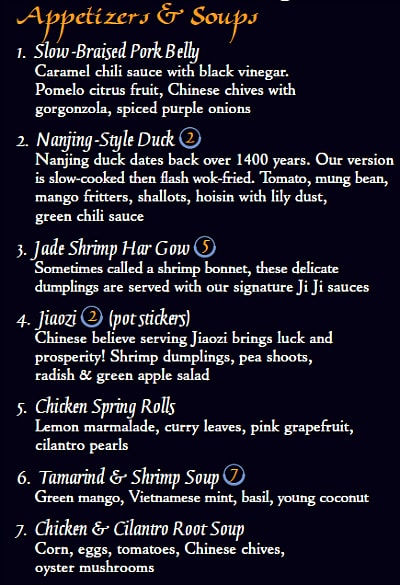 Entrees are just as varied with seven different choices, including slow-braised Wagyu beef short rib with watermelon radish, burdock root, wasabi pearl and crisp potatoes, as well as stewed pork served in a clay pot with wok-fried scallions, sesame, fresh spinach, pea shoots, and snap peas, and Singapore chili shrimp, inspired by local street vendors and featuring a sweet and spicy chili sauce.  Rounding out the menu are various sides, noodles and rice dishes, along with Asian-themed desserts like rose crème brulee with ginger cream.  Kirin and Kirin Light and full bar service are available, as well.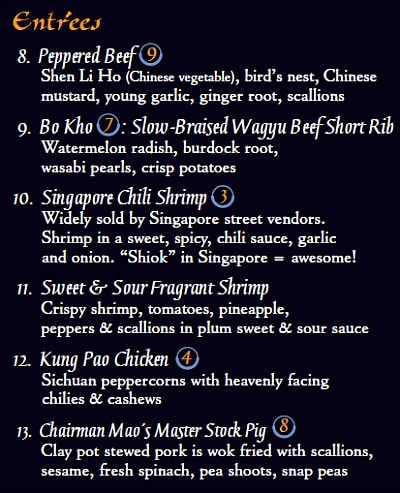 Click here to open the PDF version of the full menu

Ji Ji Asian Kitchen carries a $12 per person charge for adults, $5 for children 11 and under.  At lunch, the restaurant will offer complimentary custom-made noodle dishes where guests can select their choice of noodles, vegetables, spices and meats.
Ji Ji Asian Kitchen is one of a seemingly endless array of culinary choices on Carnival Sunshine which will also include Guy's Burger Joint developed in tandem with Food Network personality Guy Fieri, BlueIguana Cantina, Fahrenheit 555 steakhouse, Cucina del Capitano family-style Italian restaurant, and the 24-hour Pizzeria del Capitano, complementing the expansive Lido Marketplace poolside eatery and two main dining rooms.