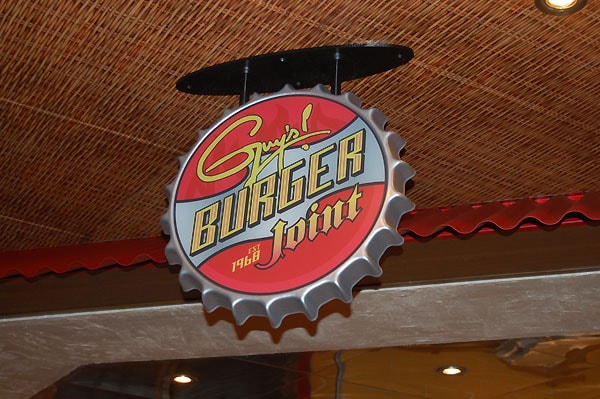 When the Carnival Fun Ship 2.0 Initiative was announced back in October the first thing that piqued my interest was Guy's Burger Joint.
As a burger lover and a fan of the Food Network, Carnival's partnership with Guy Fieri was a match made in --cheeseburger-- heaven for me. So naturally, it was my first stop after boarding Carnival Liberty!
The vibe at Guy's is very fun and casual, similar to a burger joint you may find along the Pacific Coast Highway. The Fun Ship 2.0 enhancements on Carnival Liberty really focused on bringing personality to the new dining spaces. For Guy's Burger Joint, the cook's wear logo mechanic-style shirts and hats, surfboards line the walls, and there are flat screens with Guy Fieri introducing his signature 80/20 all-beef patties (as well as a little intro to how they are made).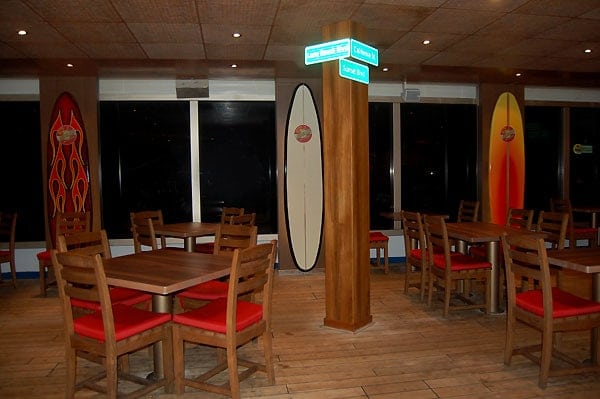 As for the burger-- it's awesome! I had high expectations and Guy (and Carnival) certainly delivered. The beef is juicy, the cheese is melty and the bun is super soft. Add that to the endless amount of topping combinations at the condiments bar and you've got the best burger at sea.
The best part? It's all free!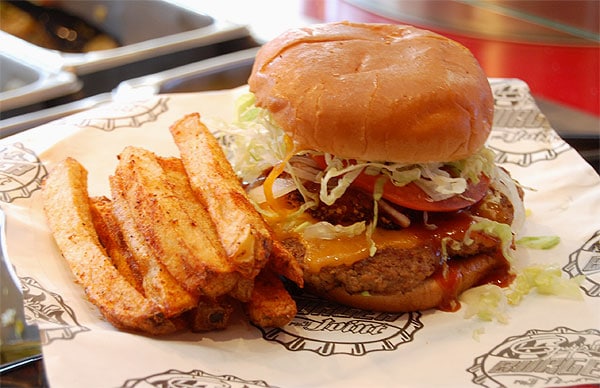 There are 5 signature burgers: Plain Jane, Chilius Maximus, Straight Up, Pig Patty and The Ringer.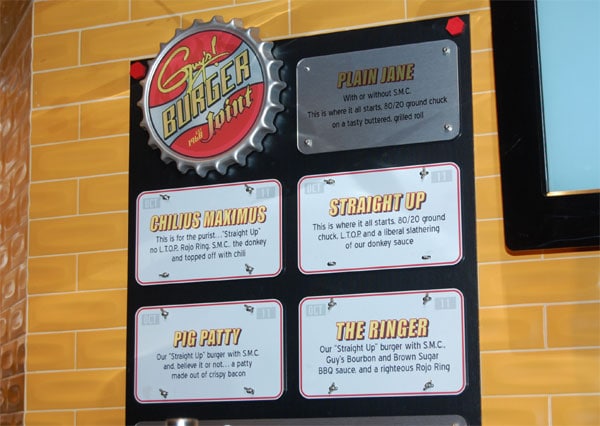 I'm almost embarrassed to say that I have tried 4 out of the 5 this week and each was as delicious as the next. You really can't go wrong with any of them, but if you're feeling adventurous the condiments bar has 6 additional suggestions for making the ultimate burger, or you can create your own with the endless supply of sautéed mushrooms, onions, bacon bits, lettuce, tomato, pickles, jalapenos and sauces, including a killer Chipotle Mayo and Guy's own "Knuckle Sandwich" BBQ.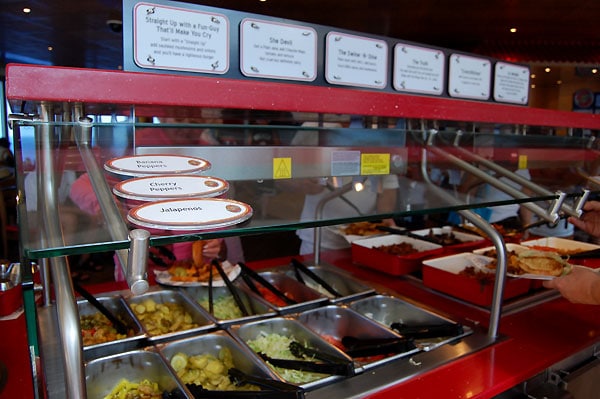 As much as I am in love with the new burgers, I'm equally in love with the new fries--  each is hand-cut and coated in Guy's signature seasonings, which have a kick of spice, but are by no means spicy. They are seriously awesome when dipped in a mixture of Chipotle Mayo and Ketchup! Just sayin'.
What really makes Guy's Burger Joint a home run is the efficiency of the men behind the counter. Even with Guy's being one of the most popular dining options, there is virtually no line with the new ordering system (order burger, burger prepared with fries behind counter and handed to you). You can be sure that each of the more than 1,100 burgers served daily on Carnival Liberty is fresh and delicious!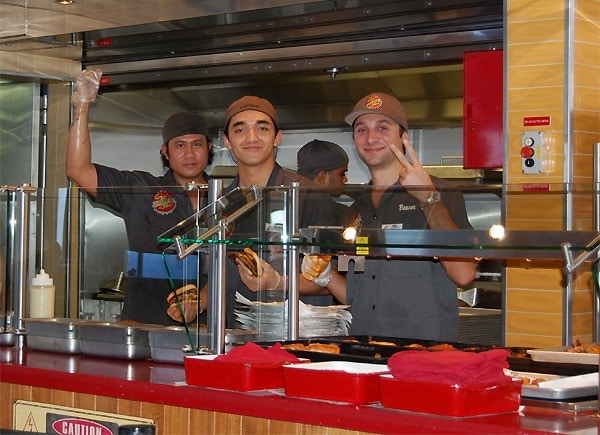 Special thanks to Carnival Cruise Lines for hosting me on Carnival Liberty. All opinions are my own.