Lucky Lucky -- that's what we felt like after dining at Ji Ji Asian Kitchen.
The new full-service restaurant on board Carnival Sunshine features regional cuisines (with a twist!) from China, Mongolia, the Philippines, Indonesia, Singapore and Vietnam. So what makes Ji Ji so lucky? Besides the name, which translates to lucky lucky in Mandarin, the whole dining experience exuded good fortune, giving us one of the best meals that we've had anywhere ... on land or at sea!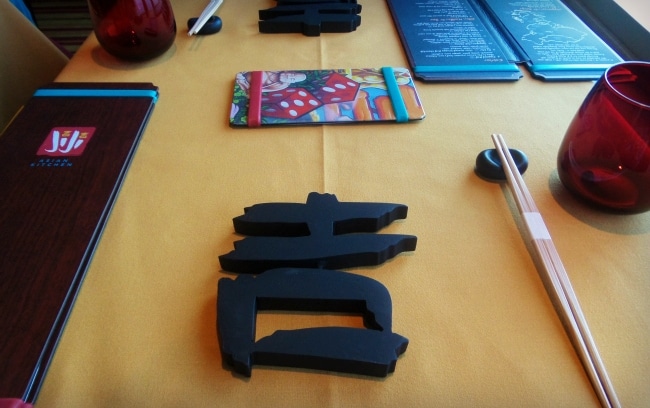 As with all of Carnival's staff, the hostess and servers at Ji Ji couldn't have been more warm and engaging. Once greeted, we were handed a menu which guided us along our culinary tour of Asia. Appetizers and entrees are served family style, meaning each person is encouraged to order something different. There are no set rules on how much you can order, but between my husband, daughter and I, we ordered three appetizers, two entrees, three sides, and three desserts -- it was more than enough food!
Before our appetizers arrived, we were given a variety of rice chips and sauces by the chef to enjoy while we drank our beverages. We each ordered a drink off the specialty menu: my daughter and I both had the non-alcoholic Thai Iced Tea (so delicious!) and my husband, Rick, had the Sake Sangria (he loved it!).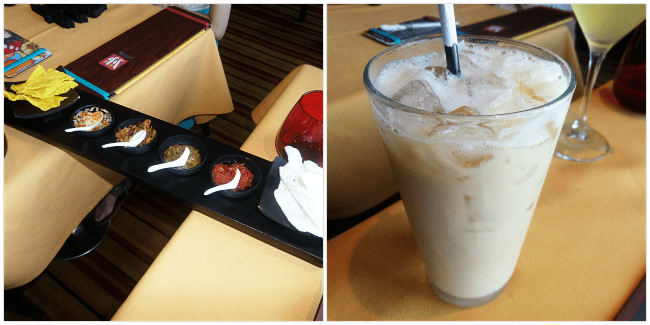 Appetizers quickly followed, and this was when Rick and I had one of the single best bites of food that we've had anywhere --  Slow-Braised Pork Belly. Brushed with a combination of caramel chili sauce and black vinegar, each bite literally melts in your mouth.
This, my friends, is a little slice of heaven on a plate!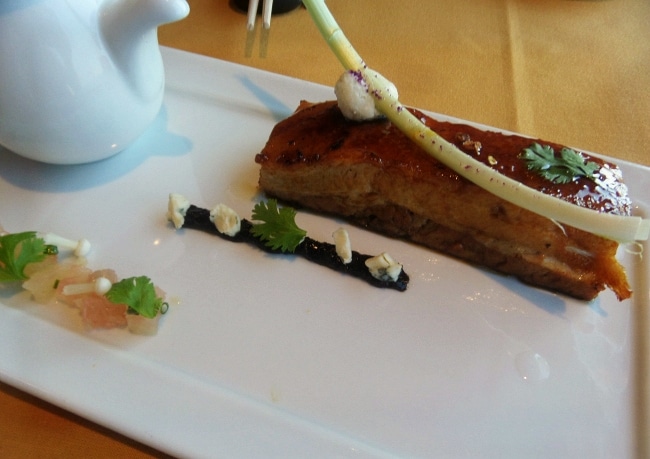 We would have been satisfied with just the pork belly, but the apps just kept coming...
The Jade Shrimp Har Gow were beautifully delicate shrimp dumplings served with a sampling of Ji Ji sauces.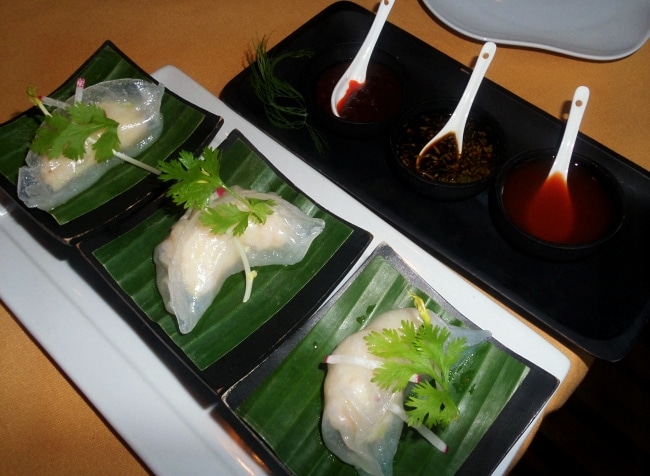 And the Jiaozi Pot Stickers, which looked more like little dumpling purses, were bursting with flavor.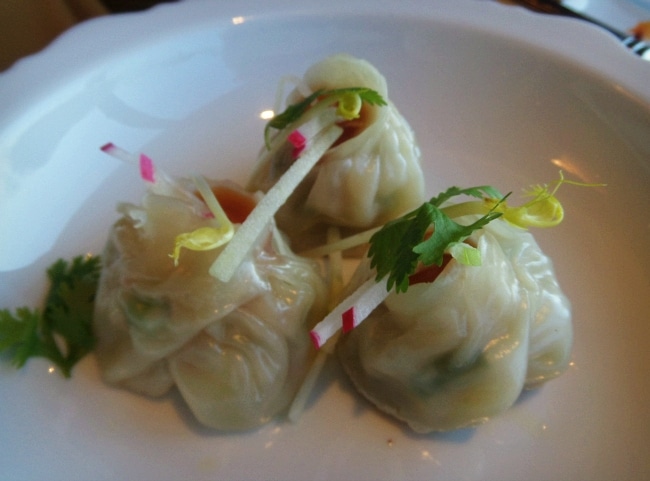 Just when we thought it couldn't get any better -- it did!
The second best bite of the evening was the Singapore Chili Shrimp.
The sauce on the shrimp was out of this world -- I would've licked the bowl clean if we weren't in public 😉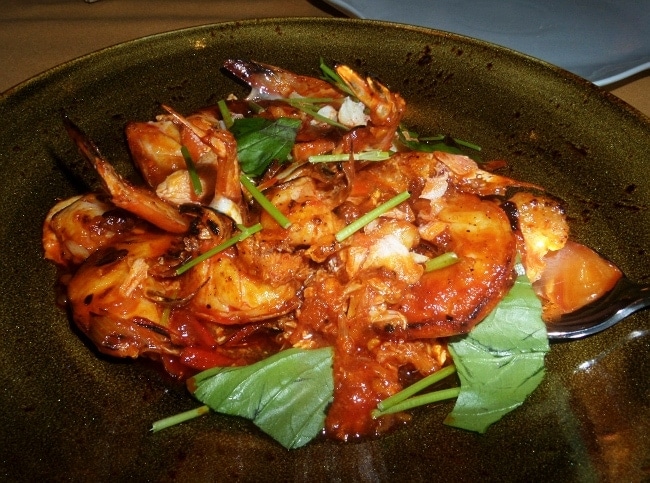 Equally as delicious, but not nearly as spicy, was the Slow-braised Wagyu Short Rib -- this was another melt in your mouth dish that rivaled something you'd find in a five-star restaurant on land.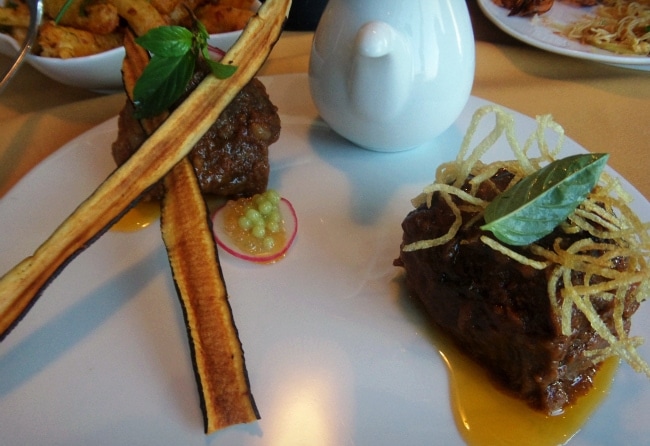 We were too full to really enjoy dessert, but between the Rose Creme Brulee, the Caramelized Crepes, and the Fried Wonton, I enjoyed the Creme Brulee the best. The rose flavor was mild and brought a unique flavor to the classic dessert.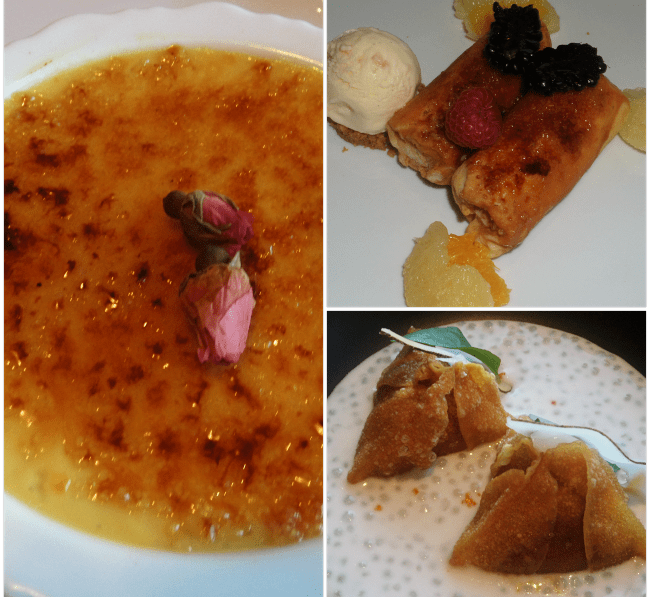 Of course, every meal at Ji Ji ends with a fortune cookie...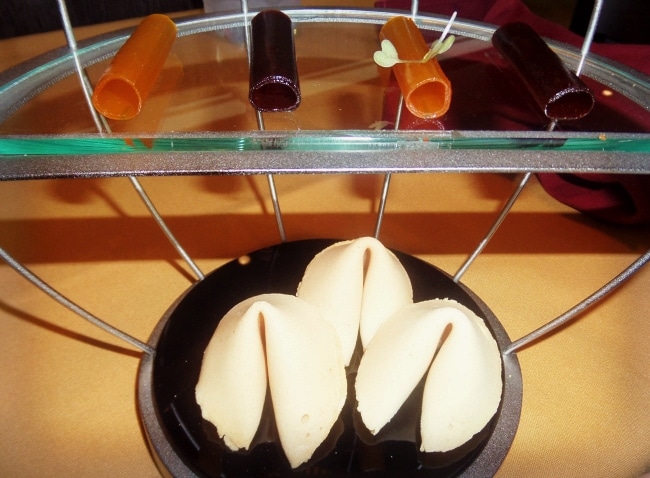 The best part of Ji Ji Asian Kitchen? Get ready -- this fabulous dining experience is only $12 per adult ($5 per child) on Carnival Sunshine. I think you'd be hard-pressed to find a better $12 meal on or off a cruise ship. I think Micky Arison, Chairman of Carnival Corp & PLC, said it best on Twitter -- Ji Ji is "Every bit as good as any pan-Asian restaurant in London or Miami".
My tip? Dine at Ji Ji Asian Kitchen early in your cruise ... I bet you'll be back for more!