It's just about time to start carving those pumpkins for Halloween! Every year my family carves a different Disney character on our pumpkin. We usually choose the design based on what's popular in theaters. For example, last year we attempted both Pirates of the Caribbean and The Muppets. Our carving skillz aren't so hot, which is why we ended up with two pumpkins 😉
This year, there was no question about what we wanted our pumpkin to look like. After seeing Frankenweenie, Sparky became the obvious choice ... thankfully, there's a template for that!
Frankenweenie "Sparky" Pumpkin Template
Click on the link below to download and print the Sparky pumpkin template, along with three bonus templates.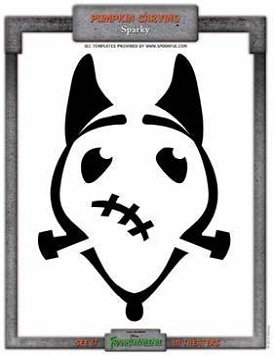 Frankenweenie "Sparky" Pumpkin Carving Template
Want more free Disney themed templates for Halloween? Disney Pumpkin Carving Templates