Looking for a Disney Pumpkin Stencil? Then you've come to the right place! We have over 100 Free Printable Disney Carving Templates for the Halloween season.
True Disney fans know that the only way to celebrate Halloween is with a Disney Pumpkin! Carving your favorite Disney character is super easy with one of these free Disney Pumpkin Stencils! Whether you're into Disney Princesses, Pixar, Marvel or Stars Wars, there's a Disney Pumpkin Stencil for you in this ultimate list of Disney Pumpkin Carving Patterns!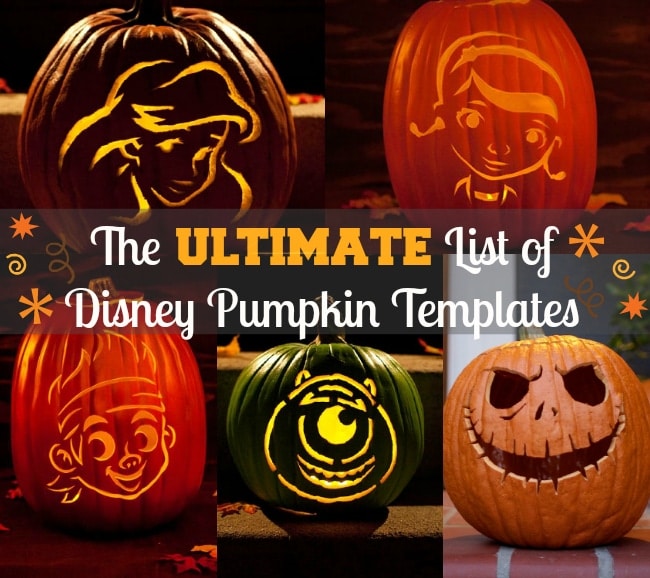 Disney Pumpkin Stencil
With Halloween quickly approaching, it's about time for us to head out to the pumpkin patch to pick out our pumpkins. We alternate from year to year on which designs we carve, which range from the classic jack-o-lantern to more complicated characters— but we always seem to sneak in at least one (if not two or three!) Disney-themed pumpkins into the mix.
This year my daughter chose a Beauty and the Beast pumpkin stencil for her main design and I'm totally digging Jack and Sally pumpkin patterns, as well one of the Disney Princess pumpkin stencils … I have a feeling my husband will go with a Marvel or Star Wars pumpkin stencil!
Tip: Keep your Disney pumpkins year after year by carving an artificial pumpkin! 
Here's the ULTIMATE list of FREE Disney pumpkin carving templates for inspiration. Happy Carving!
Disney Pumpkin Carving Templates
Classic Disney Pumpkin Stencils
Disney Princess Pumpkin Stencils
Disney-Pixar Pumpkin Stencils
Disney Channel & Disney Junior Pumpkin Stencils
Disney Villains Pumpkin Stencils
Disney Movie Pumpkin Stencils
The Muppets Pumpkin Stencils
Disney Parks Pumpkin Stencils
Star Wars Pumpkin Stencils
Marvel Pumpkin Stencils
Must-Have Tools for Professional-Looking Pumpkin Carvings:
Ray Villafane Pumpkin Carving Tools
1 X Brass and Walnut Pro Pumpkin Carving Tool Kit by Warren Cutlery
Pumpkin Carving Tools- Halloween Sculpting Kit with 11 Double Sided Pieces
Grampa Bardeen's Family Pumpkin Carving Set
Which Disney Pumpkin Stencils are you using to carve your Halloween pumpkins?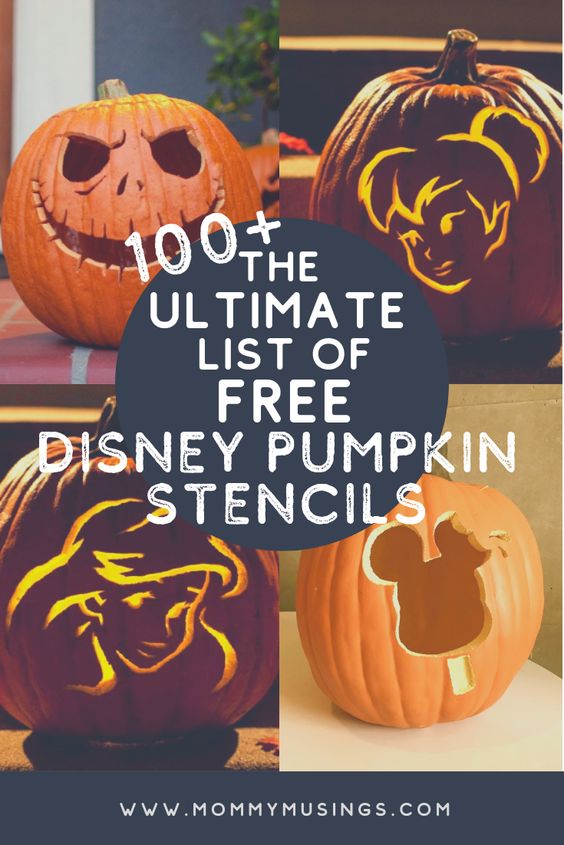 Other Halloween Posts You Might Like: