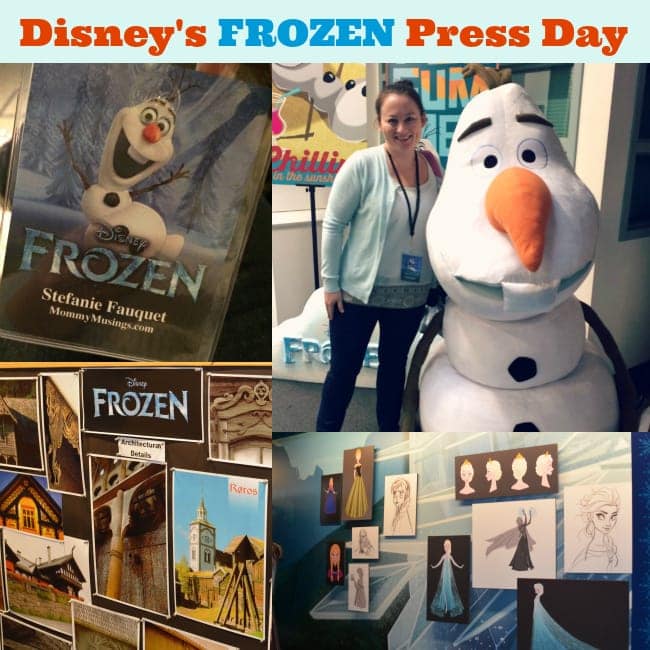 Can I just tell you that being able to visit Walt Disney Studios in Burbank, California not once, but twice, has been a dream come true for this Disney fan. When it comes to Disney animation, this is where the magic happens!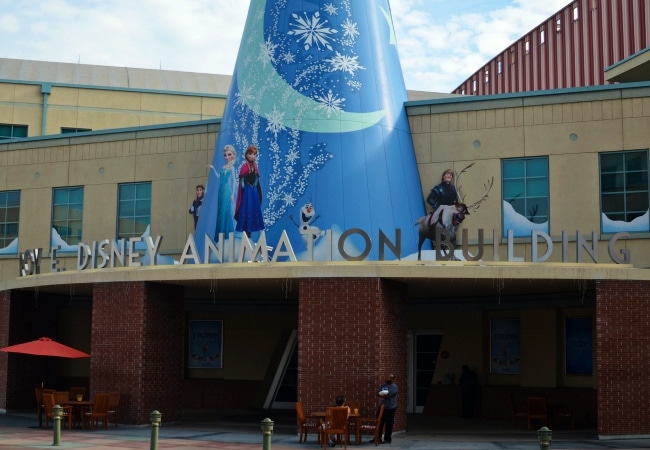 My most recent visit was for the FROZEN press day; where I was invited, along with 24 other bloggers, to get a behind the scenes look at the making of Disney's newest animated feature.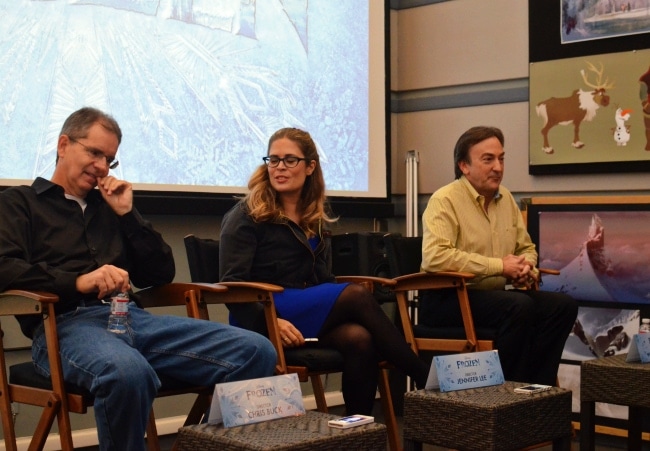 The day started with an interview with FROZEN directors Chris Buck & Jennifer Lee and producer Peter Del Vecho. Since I first learned about the concept for the movie, inspired Hans Christian Andersen "The Snow Queen", I have been very interested in the research that went into making the film. Chris, Jennifer and Peter really shed some light on the filmmaking process, including some of the destinations that inspired elements of the film. Here's a peek at the interview.
How many years have you been working on FROZEN?

Chris Buck: I pitched it five years ago ... but when it came down to production probably about two and a half years, all together.

Jennifer Lee: It's usually three to four years ... a combination of developing the story but also, every single piece of what we do has to be built from scratch.

What made you decide to make it sisters with love instead of evil?

Jennifer Lee: Yeah it was really interesting, because the original story she is a villain, she's just pure evil. And you don't know anything about her. That was really hard for us but I think that's what's made that such a challenging story to tell.

And Chris had pitched a wonderful concept of looking at love that could— an act of true love could be a different thing. And, one day we were all in the story room together and none of us remember who it was... And someone said, what if they were just connected more, connected to Anna, what if they're sisters. And that was it. We all of a sudden the whole thing ... we all emotionally felt it.

What type of research did you do for the movie?

Christ Buck: The ice was was hard because, with a computer, the computer does everything perfectly. And so the first kind of ice that we saw, that the guys were doing, looked more like glass or plastic. And so we realized the glass- or ice has imperfections in it, it has flaws, and so we had to put those imperfections in. And, and then it started to look, it looked really good, but before that we did research. We went to an ice hotel in Quebec City ... We saw how the sunlight would come through the ice and how beautiful the different rooms were. But that was one good place for the ice and the snow.

Jennifer Lee: We had a crew go to Cheyenne, Wyoming and we got all our animators and they wore big skirts with corsets, both the men and the women, to walk through deep snow and understand what that means. What was important in this film and is, is that we didn't want the characters just walking on top of snow. We wanted the integration. And doing integration with snow, we had to completely build programs to do that.

What was the inspiration for the ice castle?

Jennifer Lee: That was Norway.

Chris Buck: That was our trip to Norway ... we did tons of boards. Our art director and his team went on a beautiful trip to Norway. They brought it back, you know, all of the architecture and the locations.

Jennifer Lee:  And what we loved is it's very warm, very inviting, very intimate kind of, and then against these giant fjords, it's real ... just such a huge landscape. So it was a perfect balance ... like you've got the cold and the warmth and the intimacy. It's always good to root it in something real and then go off of that.
For the second half of our day, we broke into groups (team Olaf!) and participated in a few interactive experiences that were part of FROZEN's animation process.
Acting Through Animation
First we met with Frozen's Head of Animation, Lino DiSalvo and Animation Supervisors Wayne Unten (Elsa) and Becky Bresee (Anna), who demonstrated how they brought the characters of FROZEN to life.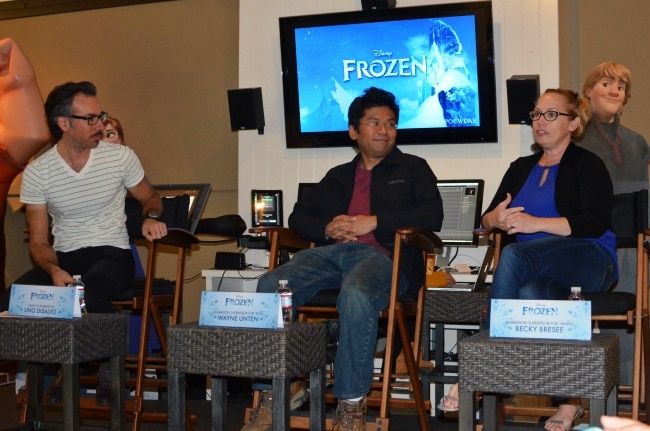 Rigging Lab
Then we checked out the Rigging Lab, where animated characters come to life with human expression. We were able to test out the program used by the rigging team to move Olaf the snowman. I thought this was a lot of fun!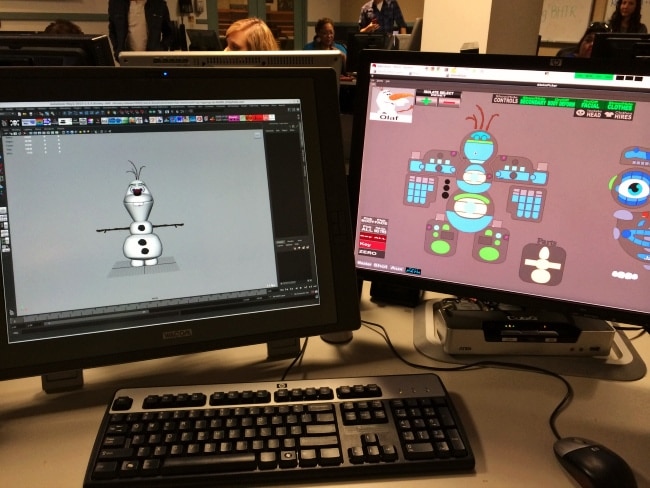 Voice Recording
Finally we did a little voiceover for Olaf the snowman. This is my second time doing voice recording for a movie and I think it went slightly better than the first... If nothing else, I had a ton of fun and I have an embarrassing video of me singing.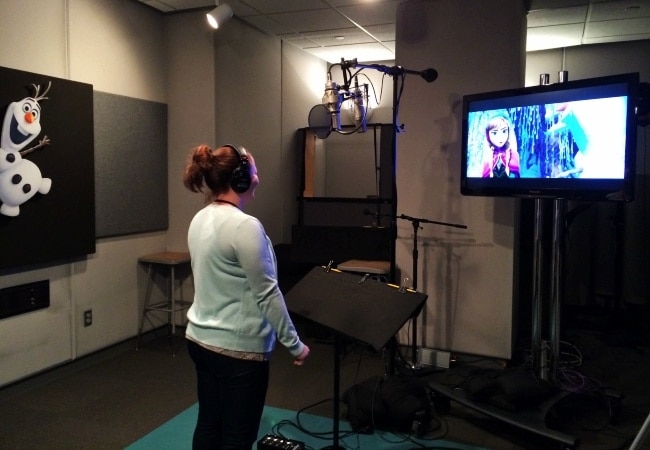 Seriously, I had the BEST time and it was amazing to be able to get a behind the scenes look with the directors, producer and animators of FROZEN.
FROZEN opens in theaters November 27, 2013.
Special thanks to Disney Pictures for inviting me to attend the Disney Frozen Event. Most expenses will be covered. All opinions are my own.