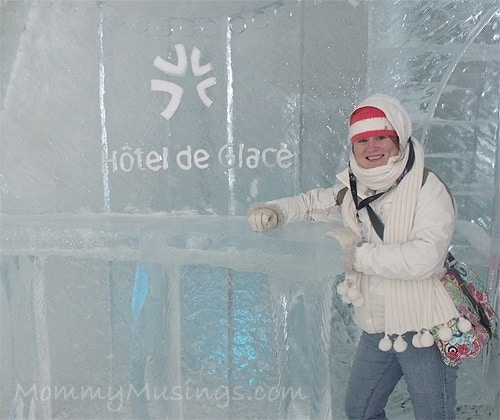 When I found out I was getting the opportunity to visit Quebec City and the Winter Carnival, I knew there was one other place I just had to visit. No surprise here, it was Hotel de Glace, also know as the Ice Hotel.
The whole concept of a hotel made of ice just fascinates me. I was also really intrigued by the Ice Bar in the Ice Hotel. This is where you can have a drink in an ice glass- Isn't that just the coolest thing? Pun intended 😉
Of course, like everything else in Quebec, it did not disappoint.
Hotel de Glace is located about 45 minutes outside of Quebec City. You will either need to rent a car, taxi or take a shuttle to get there. It is worth the extra effort to see this amazing place.
Currently, there are only 2 Ice Hotels in the world, the other is in Sweden.
While I didn't get the opportunity to stay in the Ice Hotel, I did get to tour it.
Guided tours are available on a daily basis from January 4 to April 4, 2010 -- any other time the hotel doesn't exist. 2010 is actually the 10th anniversary of Hotel de Glace and this is the largest configuration yet with 36 rooms. Every year the themes of the rooms change, so it will always be a new experience.
Current pricing for 2010 Ice Hotel Tours: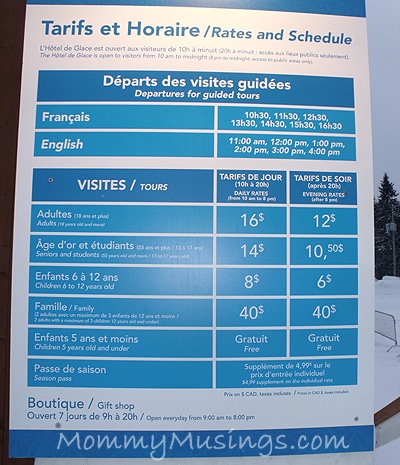 The entrance of the Ice Hotel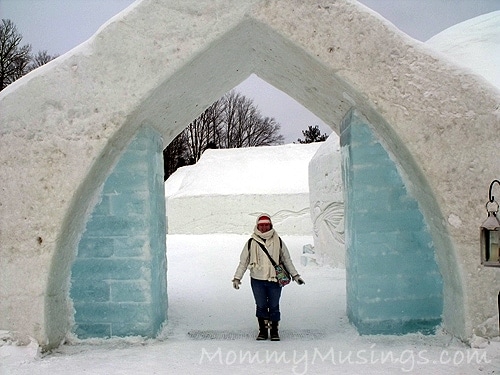 Main Hallway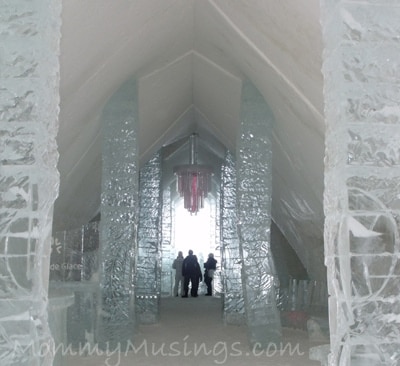 The Ice Slide (fun for all ages)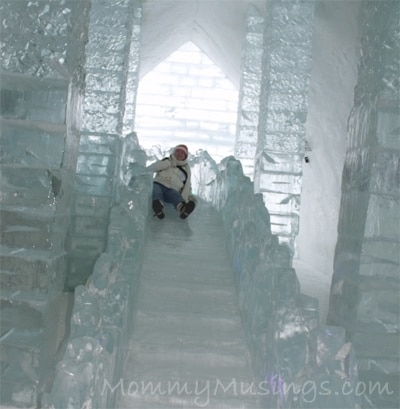 Even the seating is made of ice!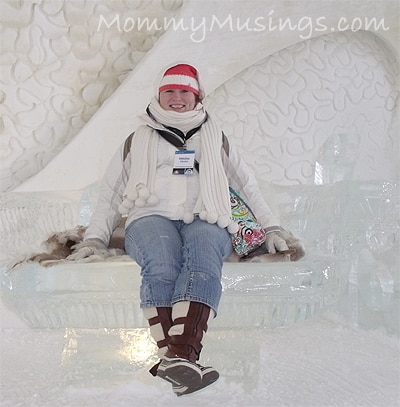 Each of the 36 rooms was more impressive than the next. Practically everything you see is made of ice and snow. The beds have an ice base with a mattress. All walls are carved out of ice.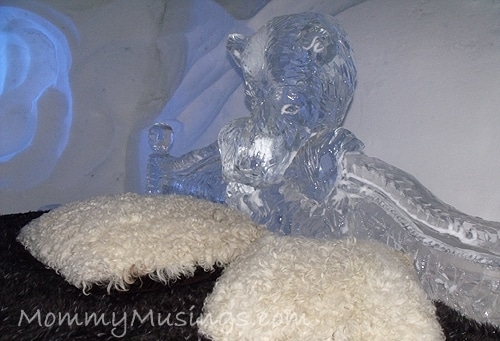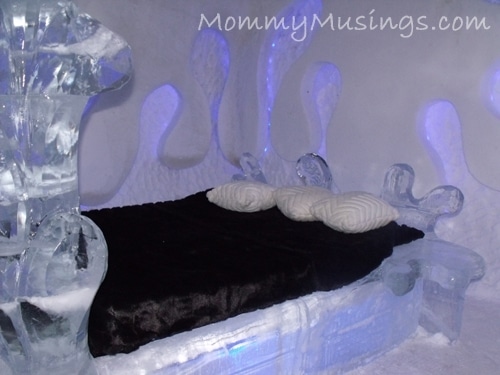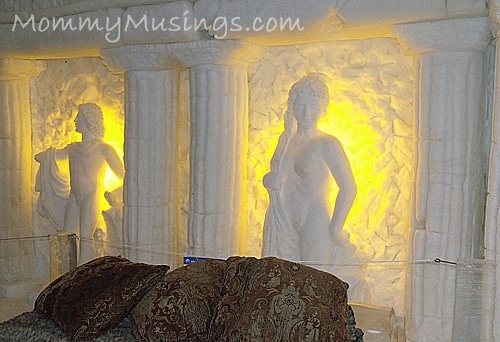 The Family Suite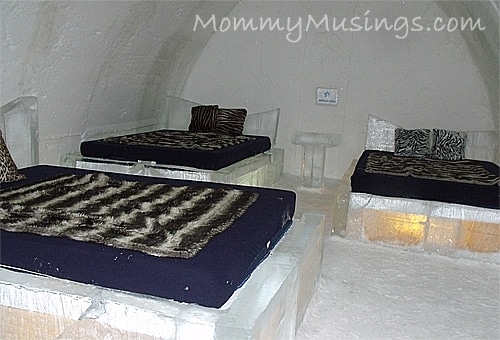 Guests are allowed to take a dip in one of the Arctic Spas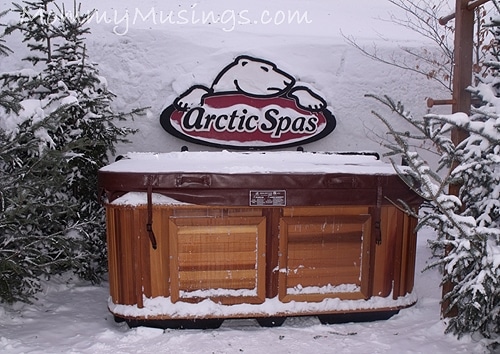 Finally, the Ice Bar!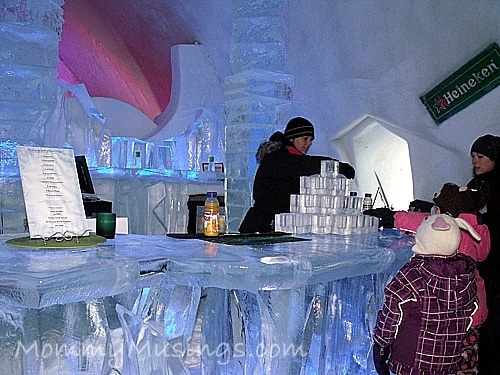 The Ice Bar Menu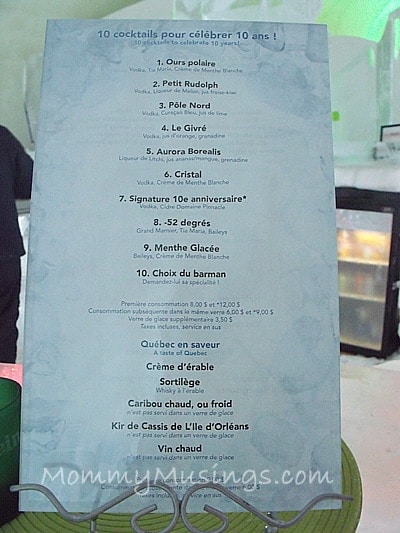 With this being the 10th anniversary of the Ice Hotel, I had to try the 10th Anniversary cocktail. The drink contained Vodka and Domaine Pinnacle Cidre.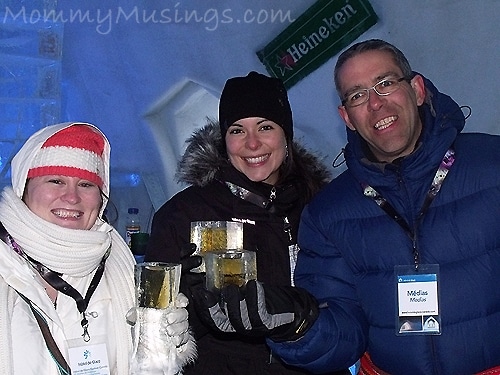 It also came in a special, taller ice glass.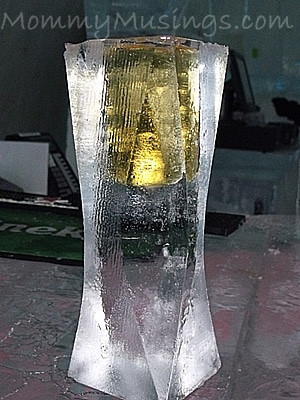 Regular ice glasses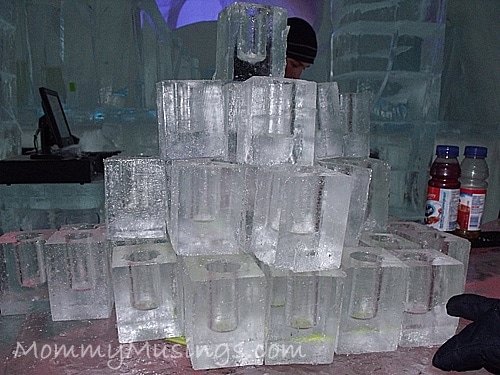 Drinks start at $8 and go up to $12 for the commemorative drink shown above. You can keep the ice glass, but be warned, they melt. My glass lasted only a few hours.
The hotel was amazing!  The Ice Bar was an experience in itself, and if given the opportunity I would stay at Hotel de Glace. I mean, how cool would it be to say you stayed in a hotel made of ice?
Rooms vary in price by size, but all rates are per person.  Note that this isn't budget travel, but more of an "experience".
Up next, the Quebec City Winter Carnival.
Many thanks to Quebec City Tourism & Hotel de Glace for hosting my visit.