As you may know, last month I attended the World Premiere and press day for Disney's newest animated feature, FROZEN. The entire event was more than I could have ever hoped for — from walking the red carpet, to interviewing Kristen Bell and touring Disney Studios. It was beyond magical.
The FROZEN press day gave me a behind the scenes look at the making of the movie and included the chance to get into a recording booth for a quick voice over for Olaf the snowman. It turned out to be the absolute HIGHLIGHT of my day.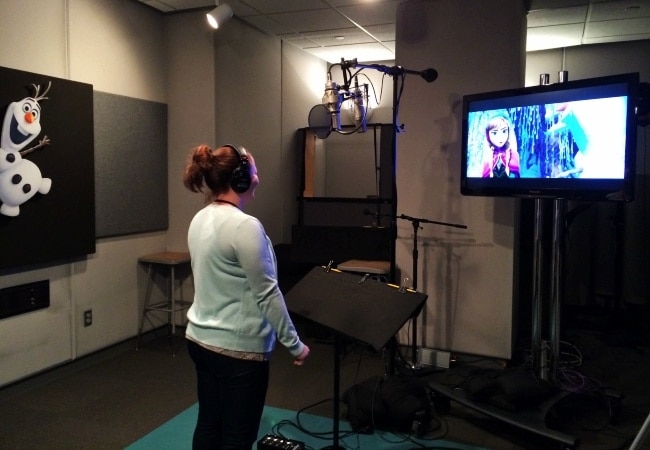 This was my second time in the recording booth, and after watching my first attempt, I can say that I've definitely improved! I don't think Disney will be hiring me anytime soon for voice over work ... but I had a blast for the 60 seconds or so that it took to record this clip from FROZEN.
One thing I noticed was how ANIMATED I became when the lines started to roll out. It totally makes me laugh.
And here's my "After" — a funny scene in FROZEN where Olaf the snowman meets Anna, Kristoff and Sven.
My group had enough time to record a snippet of Olaf's song "In Summer", which is also a scene in the film. I was more nervous about this one ... and this video is proof that I never was, and never will be, a singer. Quite embarrassing, yet hilarious at the same time.
I was so off with my timing that the "After" is pointless to share. I'm sure you get the idea!
I'm still giddy about time in the recording booth all these weeks later. Getting the opportunity to get in the same recording booth as Kristen Bell (Anna), Idina Menzel (Elsa), Jonathan Groff (Kristoff), Josh Gad (Olaf) and Santino Fontana (Hans) from FROZEN is a once-in-a-lifetime experience. I'm just so happy that I was asked to be a part of it!
Special thanks to Walt Disney Pictures for invited me to attend the Disney Frozen Event. All opinions are my own.