I'm not sure there's a bath and body brand that I love as much as L'Occitane. I first discovered their products a few years ago while wasting time before my flight during a layover. On a whim, I purchased a travel sized bottle of Almond Shower Oil from their boutique - and I was hooked instantly! The Almond Oil actually remains to be one of my holy grail skincare products to this day. 
L'Occitane recently released a new limited-edition Shea Butter & Honey Collection. If you're not familiar, Shea Butter is ideal for dry skin; it's one of the most nourishing types of moisturizer available. And, as we know, Honey is sweet and soothing to sensitive skin.  L'Occitane blended these two natural ingredients to create four heavenly new products:
Honey Whipped Body Cream ($22): air has been incorporated into this delicate texture, making it reminiscent of the whipped desserts we loved as children…As light as air and incredibly soft to the touch, it melts onto the skin like a caress.
Honey Foaming Gel ($20): with a glowing golden color and a velvety fluid texture, this shower honey will cleanse the skin with the gentlest touch.
Shea Honey Hand Cream ($10): the famous L'OCCITANE Hand Cream made with 20% Shea Butter is now infused with a subtle honey scent.
Honey Shea Butter ($10): an ultra-nourishing spot treatment to soften even the driest skin. Use on elbows, lips, cuticles, feet, and even hair!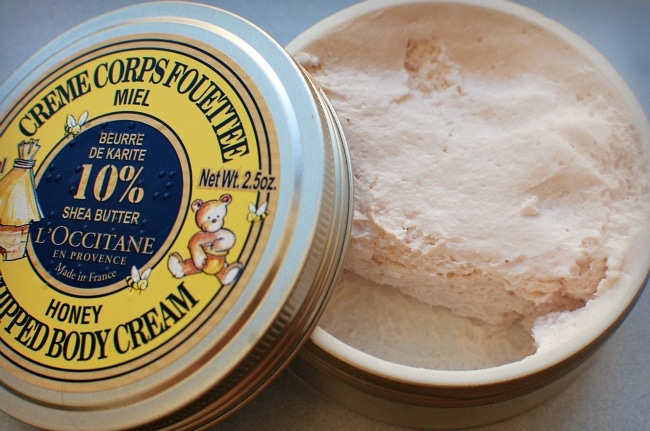 L'Occitane Honey Whipped Body Cream
I was sent a sample of the Honey Whipped Body Cream from L'Occitane and I don't think I can express just how much I LOVE this product. The consistency of the cream is light as air, but it still delivers 100% moisture to my skin. I can't think of another body creme that's quite like it-- it really looks and feels like mousse, à la dessert! The tin is the perfect size for traveling, containing 2.5oz. of luscious whipped creme. I imagine that I will use this product solely for travel. The creme packs a ton of moisture, more than I need for everyday use, and I will tuck this tin in my carry on and use it when I'm on the go -- my skin ALWAYS gets super dry after flying and we won't even go into what the AC/Heat in most hotel rooms does to me.
I only hope L'Occitane adds the whipped body cream to some of their other lines of fragrance ... remember the Shea Butter & Honey Collection is only available for a limited-time!
L'Occitane Pinterest Contest
Throughout the month of January, L'Occitane is running a Pinterest contest -- Every day one lucky winner will receive a full-sized Shea Butter & Honey Body Butter and Shea Butter & Honey Hand Cream.
Here's how to Play:
Follow L'Occitane at 

http://pinterest.com/loccitane

Repin any image from their account with the tags #loccitane and #repinforsweetskin

Return to 

L'Occitane homepage

 and enter your Pinterest username and email address to complete your entry

Repeat daily (as desired!)
I received a sample for review. All opinions are my own.