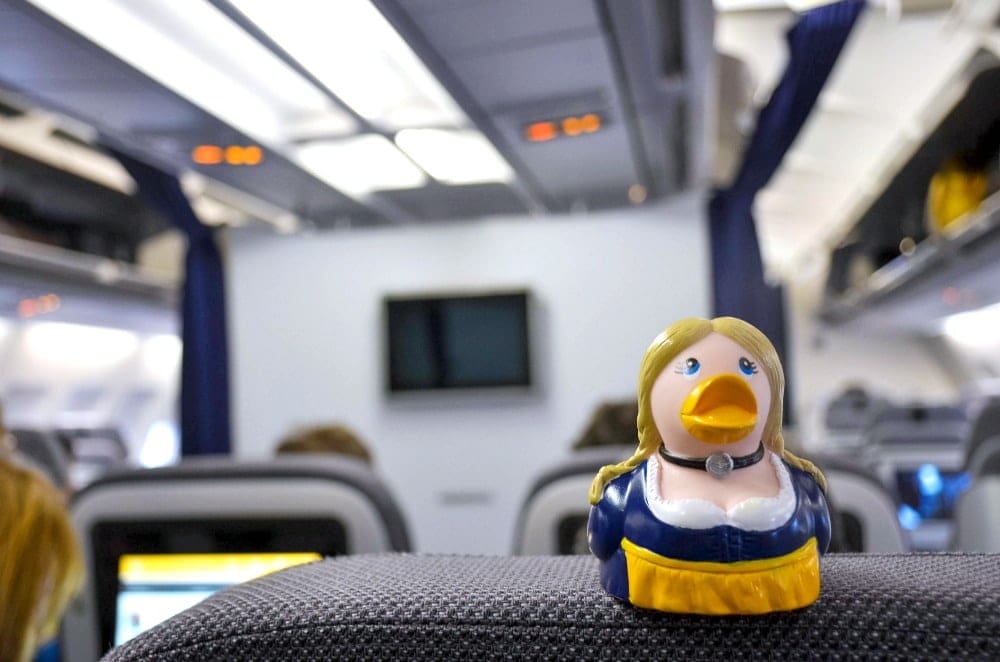 This past winter my family went on an amazing adventure to Germany to see the Christmas Markets. Part of what made the experience so great was a new non-stop flight on Lufthansa from Tampa, Florida, where we reside, to Frankfurt, Germany. The route is a quick 8 ½ hours — a manageable amount of time for our family without any layovers or connections!
When we traveled to Frankfurt from Tampa we were booked in Economy Basic. This is your standard economy class. This was our first-ever flight on Lufthansa, and I still thought it was a great without any upgrades. I would totally take this route again and again. You can read all about our flight experience here.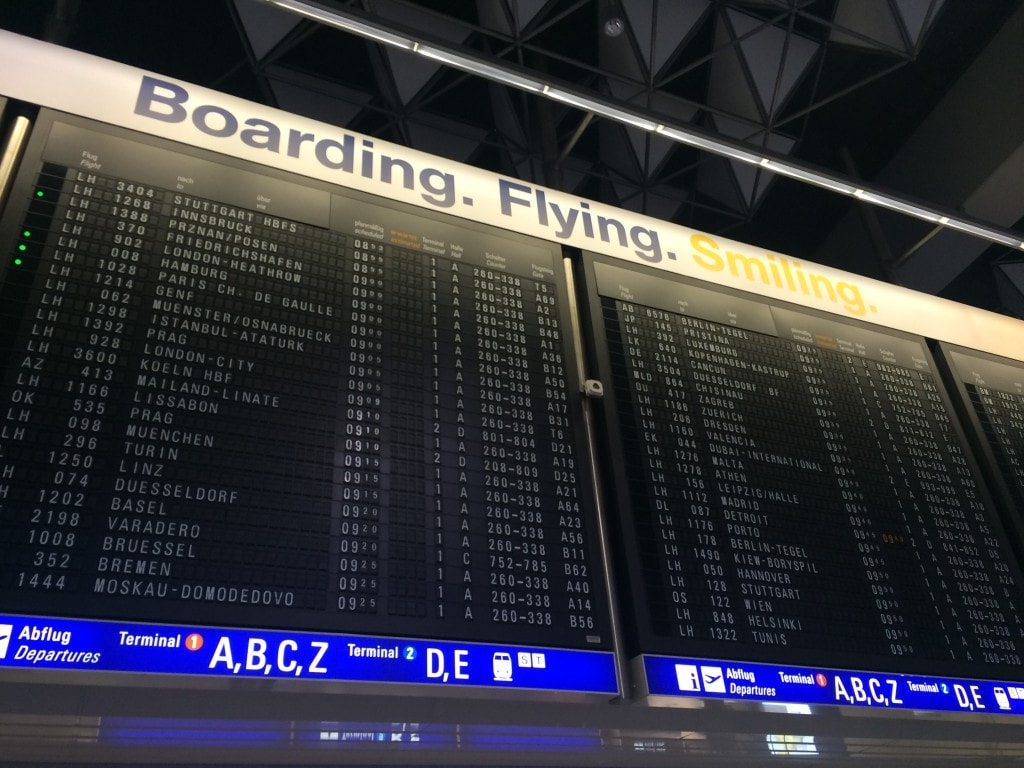 On our flight back from Frankfurt to Tampa we had the good fortune of flying in Lufthansa Premium Economy. I was very excited to try this class as it's in-between business and economy, with more legroom (up to 50% more space on all sides!), extra-large 11" entertainment screens, welcome drinks, menu service and more.
The Tampa-Frankfurt Route is operated by Lufthansa Cityline on a A340-300 — this aircraft currently has 19 seats in premium economy, compared to 18 in business and 261 in economy class. That's not a ton of seats, so if you want this class be sure to book early.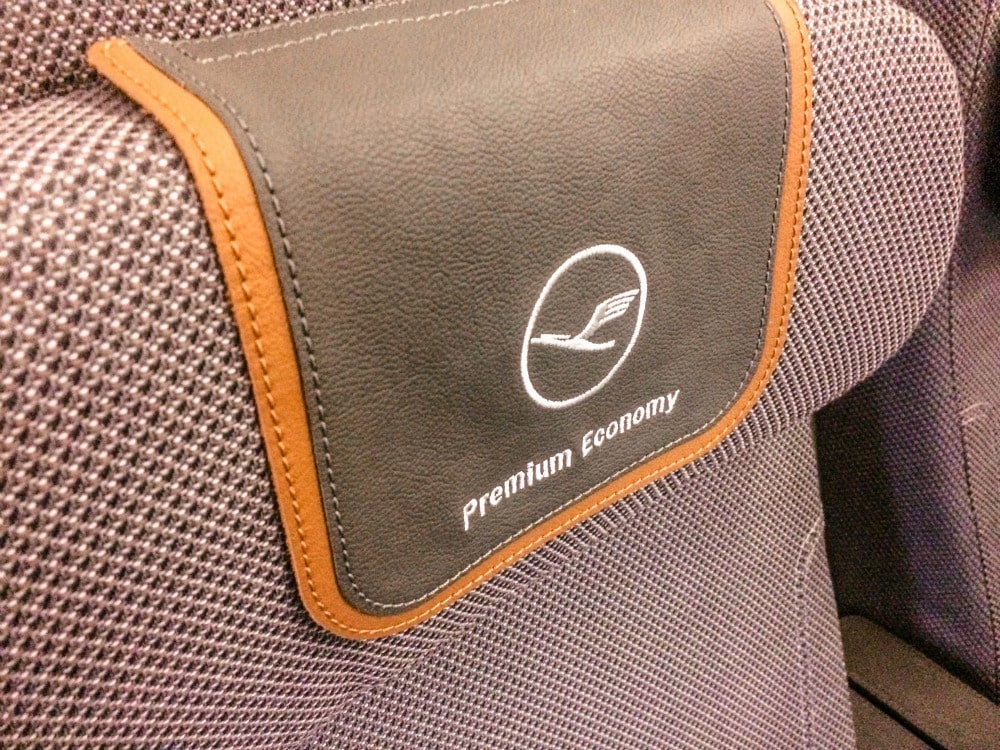 As soon as we boarded the aircraft I knew we were in for an enjoyable flight. I could tell that the seats were much roomier, with a ton more recline, and the entertainment screens were huge. On this aircraft, Premium Economy is separated in its own section and we were lucky enough to have the last three seats in the center row. The seat configuration is 2-3-2. Water bottles were already set out for us and an amenity kit was left on our seats. The kit contained an eye mask, earplugs, socks, refreshment towel and toothbrush with toothpaste.
Immediately after getting situated the flight attendant came around with a non-alcoholic welcome drink of orange juice with mint. Very refreshing — only Champagne could have made it better!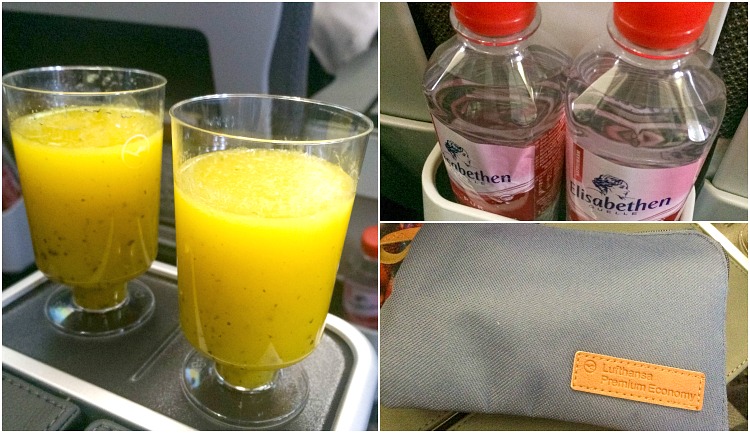 After takeoff, the flight attendants brought menus and the first round of drink service. I didn't check to see if the meals served in Premium Economy were the same as in Basic, but they were served on china tableware versus an aluminum tray. I also had glassware for my wine, which the flight attendants refilled many times throughout the flight.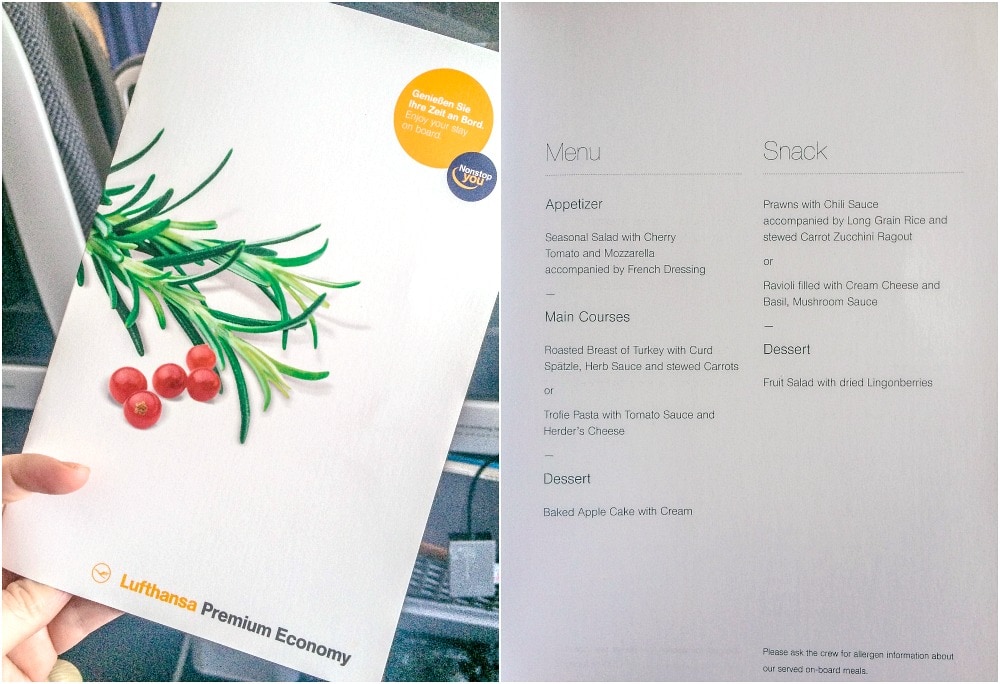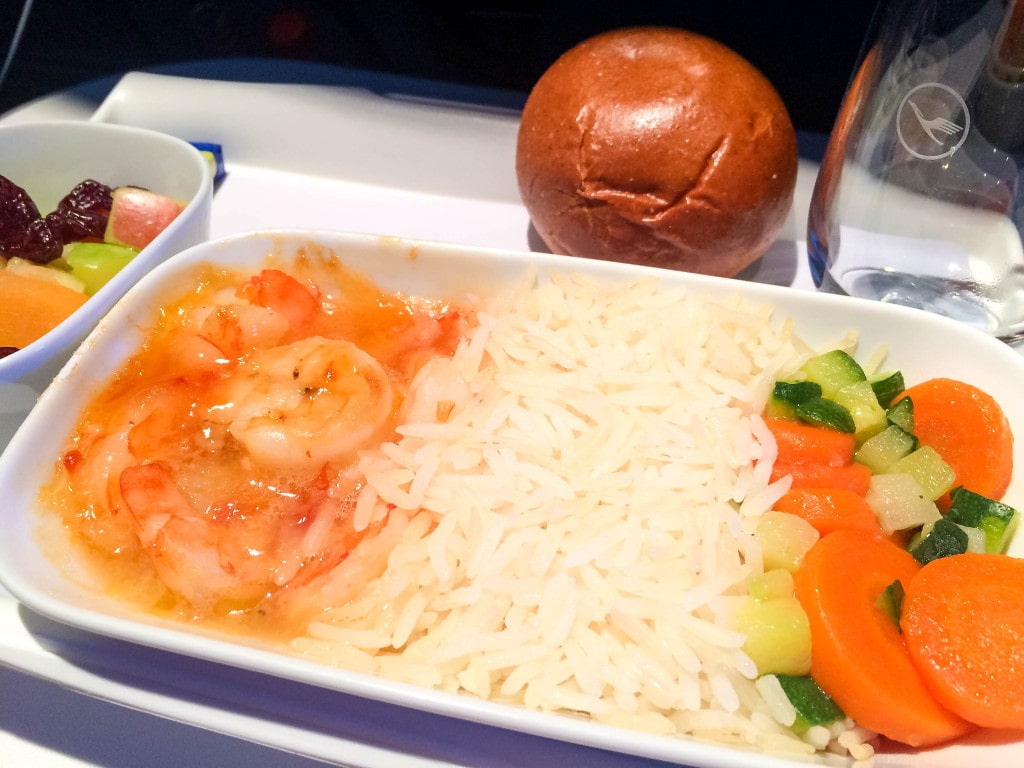 I loved the location of Premium Economy on this aircraft because it felt secluded. No one from economy or business ever came through our space, which was due to the lavatories being located behind our section. I also believe we got more attention from the flight attendants because there are only 19 Premium Economy seats on this route.
Another nice perk was an assortment of hand wipes, mouthwash and razors in the lavatory. A pump of Korres hand cream was also available. It's funny how these simple amenities can enhance your flying experience.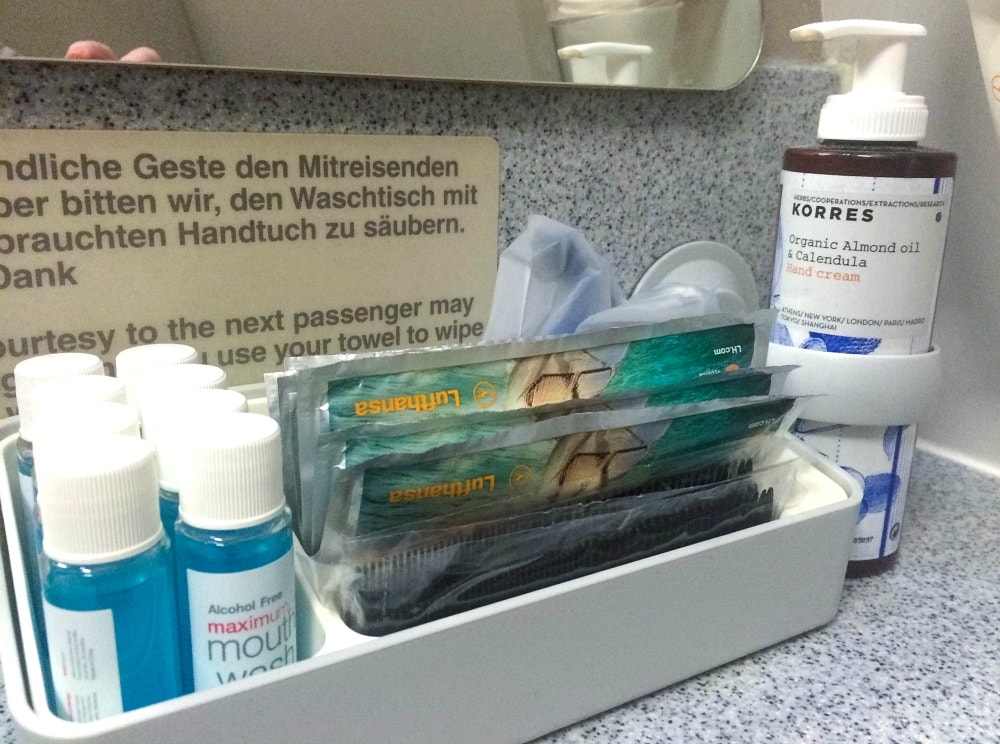 The flight itself was great. I stayed up as much as I could because we were landing in Tampa in the afternoon and I wanted to avoid jet lag. The in-flight entertainment system was full of new releases and TV shows (headphones provided), and in between watching movies I took advantage of FlyNet Wi-Fi, which was incredibly priced at 17.00 euros for the entire flight! Our seats each had an outlet so I didn't have to worry about my laptop dying a few hours in. This was the first time that I ever had Wi-Fi on a transatlantic flight and I was very happy with the service.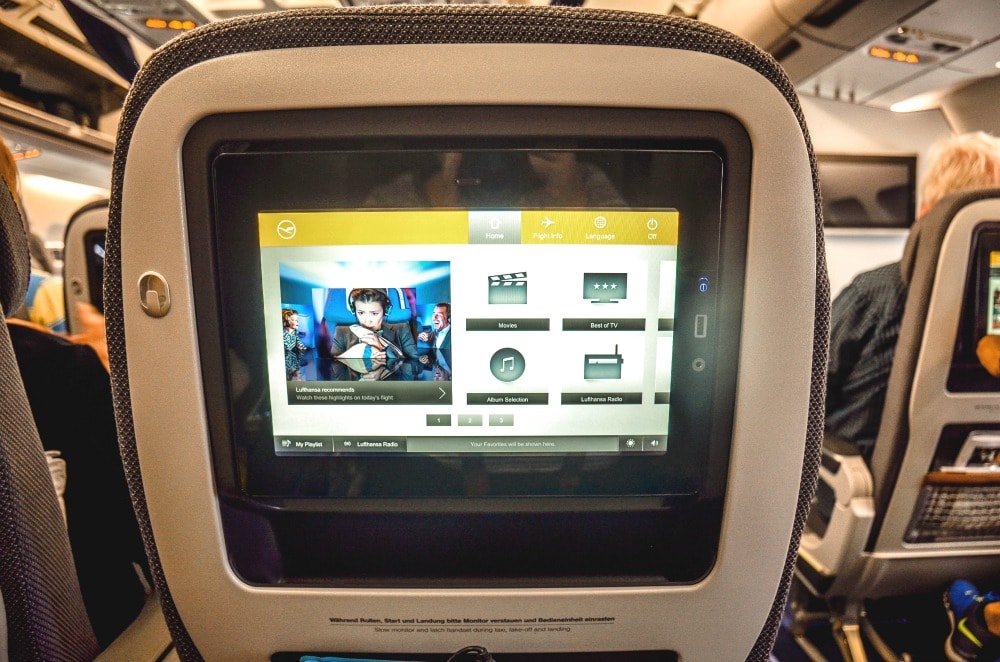 I've flown business class international a couple of times, and with the exception of a little more room and flat bed seats, the service and amenities are nearly identical in Lufthansa Premium Economy. The upgrade is totally worth it, and I love that there's a premium option for families without business class prices.
My family enjoyed our time in Germany so much that we're hoping to do the same trip next year... kind of making it a new tradition. Frankfurt is such a central location in Europe that it makes an ideal home base for traveling in and around the country.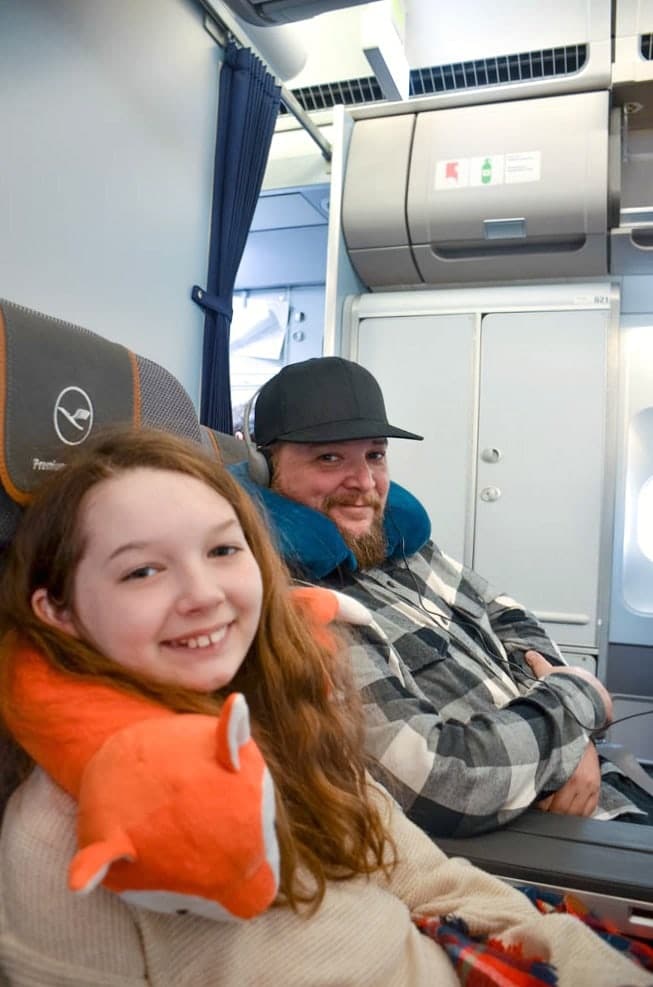 Lufthansa Frankfurt to Tampa Schedule
Currently Lufthansa is operating flight LH 483 from TPA to FRA four days a week— Mondays, Wednesdays, Fridays and Saturdays — with departure at 6:00pm EST and arrival in Frankfurt at 8:50am (the following day).
You can check schedules and book directly Lufthansa.com.
This post is in partnership with Lufthansa USA. All opinions are my own.