This post is in partnership with Lufthansa USA. All opinions are my own.
Visiting Germany during the Christmas Market season has been on my bucket list from the beginning.  As a native Floridian, it's not often that I get to experience cold weather destinations, especially ones that truly encompass a "winter wonderland" feel. From everything I have heard, Germany was breathtaking in the wintertime, and the markets were just icing on the cake.
Needless to say, when I found out that Lufthansa launched a new, non-stop flight from Tampa, Florida – my home base—to Frankfurt, Germany, I was ecstatic.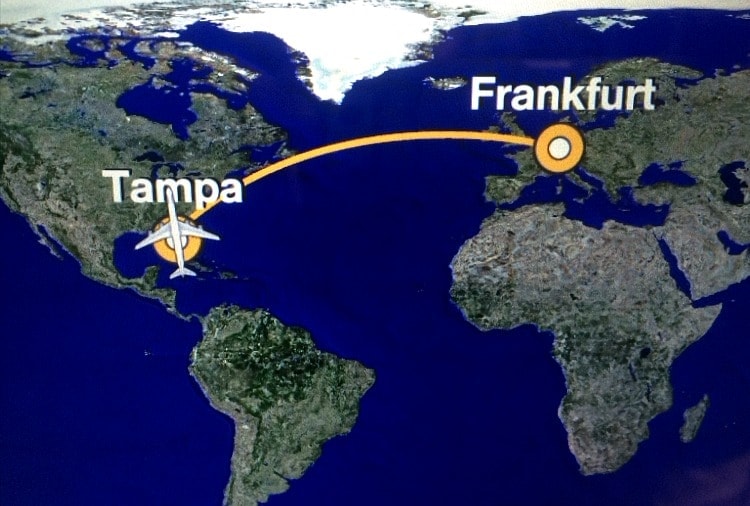 TPA is an international airport, but it's non-stop flights out of the country are limited. Nine times out of ten we have at least one layover when traveling overseas— a non-stop makes leaving the county SO MUCH EASIER when you have a family. I knew Lufthansa's TPA-FRA route would be perfect for us, taking us from Florida to Germany in less than 9 hours. And guess what? I was right!
My family, which includes my husband and our 11-year old daughter, took the new route to Frankfurt during the week of Thanksgiving. Our goal was to visit as many Christmas Markets as we could fit into our 6-night stay. Yes, that meant spending Thanksgiving in Germany— but we all agreed that it would be worth it.
Lufthansa Tampa to Frankfurt
Since this was our first time flying with Lufthansa, I wasn't sure what to expect. I attended a media preview a few months prior, and by all accounts the flight experience looked great— especially compared to other international flights that I've taken.
When we arrived at Tampa International Airport we went straight to the Lufthansa counter to check-in and drop off our bags. I made sure we were at the airport well in advance of our flight, but was still happy that our wait time was less than 5 minutes. Once we had our boarding passes, we breezed through security and had a pre-flight meal before our 6:00pm departure.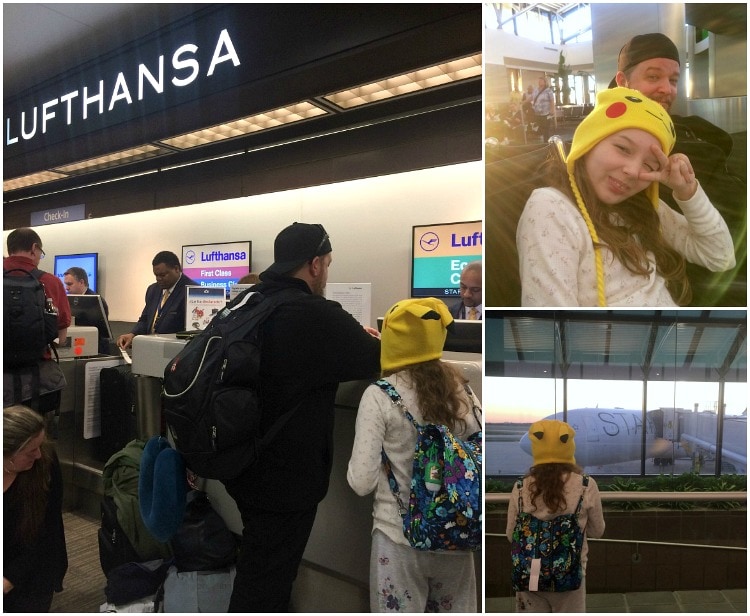 Our flight to Frankfurt was in Economy Basic, which has a 2-4-2 configuration. We flew home in Premium Economy and I will compare that experience in another post. Boarding was as usual, and we selected seats in advance that put my daughter and I side by side at a window with my husband directly across the aisle. I was actually really surprised with the amount of recline for economy, which I tested right away. It was enough room without feeling too cramped for a long haul flight. A pillow and blanket were folded up on each of our seats.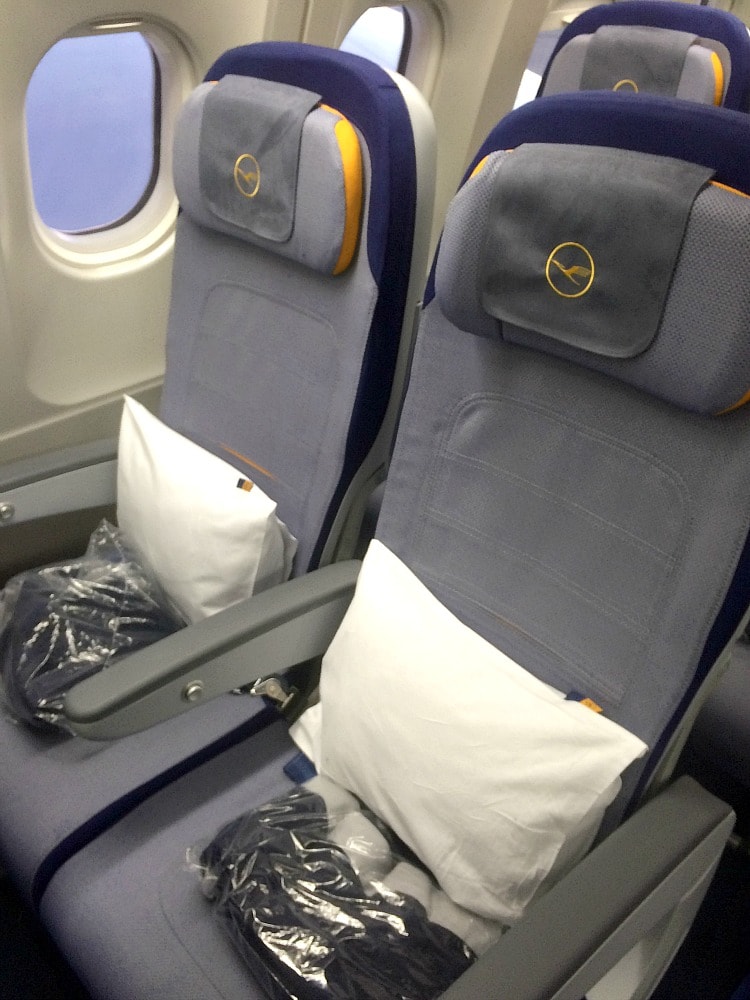 Our flight took off just before 6:30pm without incident. My family and I have a bit of a routine to combat the jet lag that often comes with traveling through six time zones. Step 1 is to set our phones for the new time zone. Step 2 is to wait for drink service and have the in-flight meal. Step 3 is to sleep. Seems easy enough, right? Actually it was. The Lufthansa flight attendants had a great flow going, promptly beginning once we reached cruising altitude.
The personal in-flight entertainment systems had a nice variety of new releases, movies, TV shows and music. My daughter was pleased with the children's offerings, and started on the movie PIXELS right after take-off. Head phones were provided.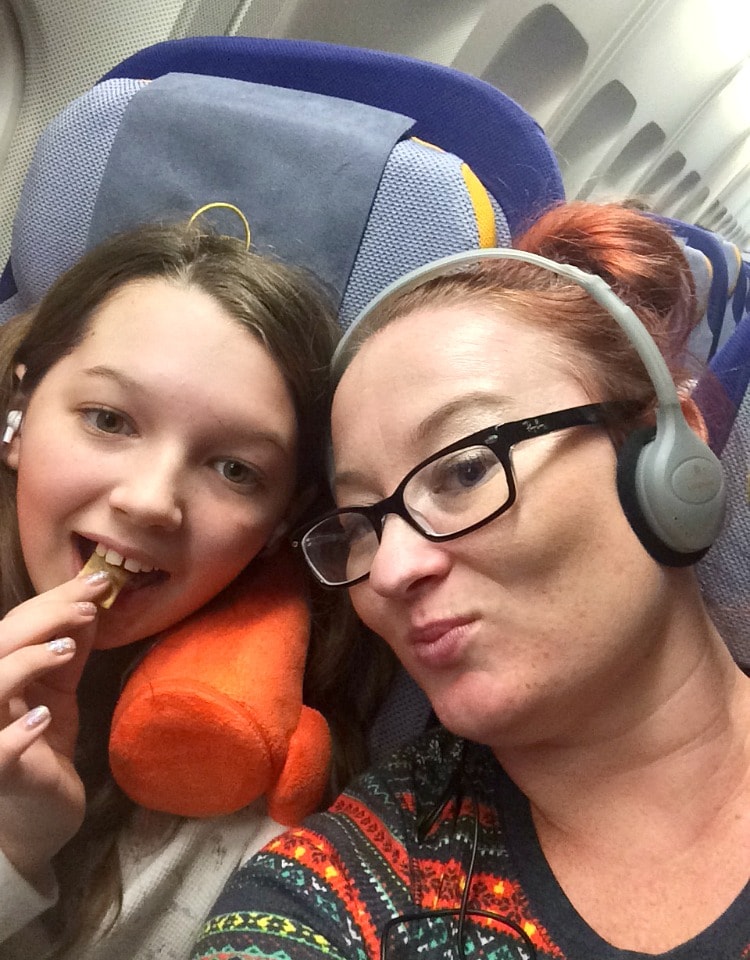 When the first round of drinks and snacks came around I discovered one of the most useful additions to an aircraft that I have ever seen— a cup holder! This may be common on other airlines, but I had never seen a cup holder that opened up separate from the tray table. It's such a simple, and useful feature.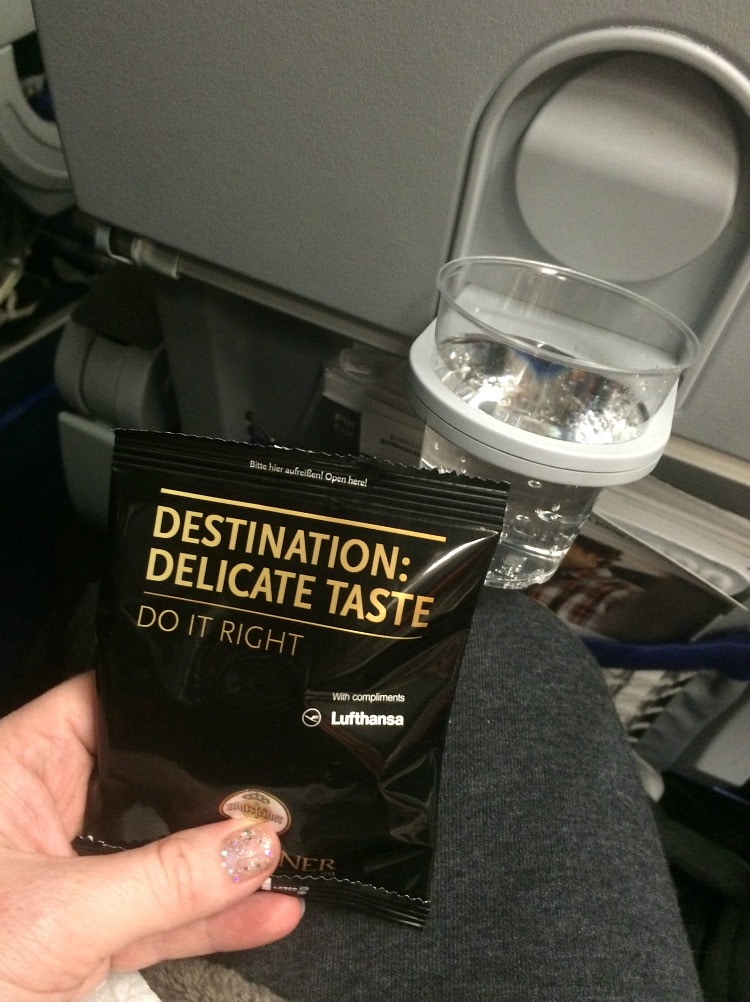 Children were not ignored on our flight and about the same time as drinks were served one of the FA brought around a basket with crayons and other small items for the kids. My daughter received a teen magazine that was all in German. Believe it or not, she thought this was the coolest thing ever, even though she couldn't read a word of it!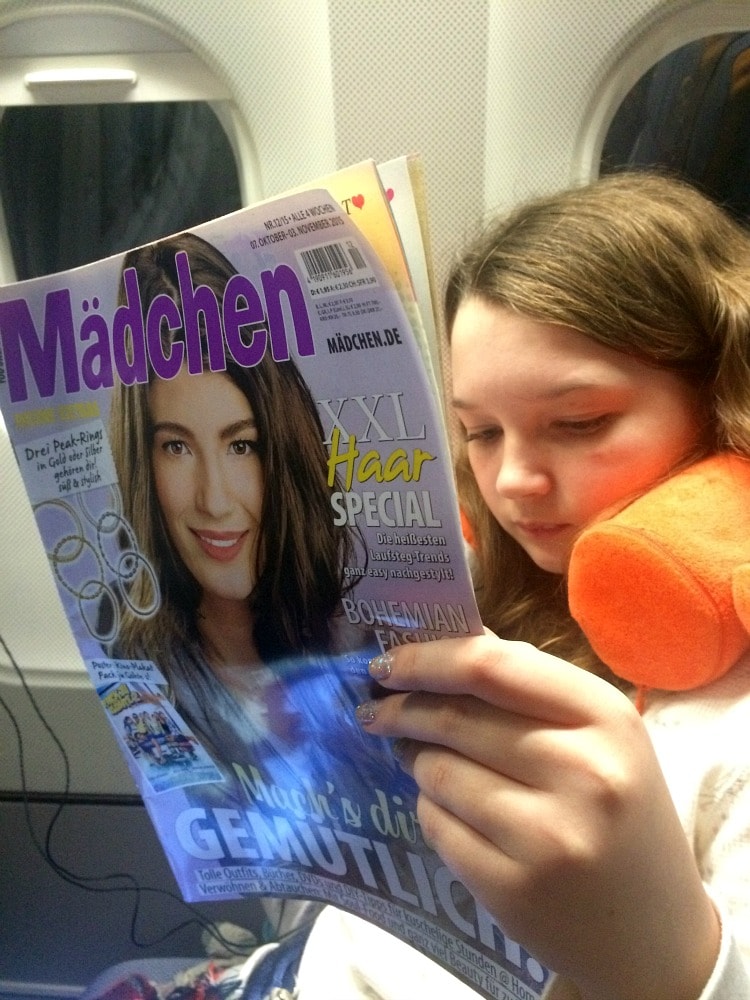 After beverages, the flight attendants came around with hand wipes, a nice touch, and then began dinner service. The food was pretty standard, though I wasn't too hungry because we had a meal at the airport. I enjoyed a complimentary glass of wine and settled on a movie before dozing off for the next few hours.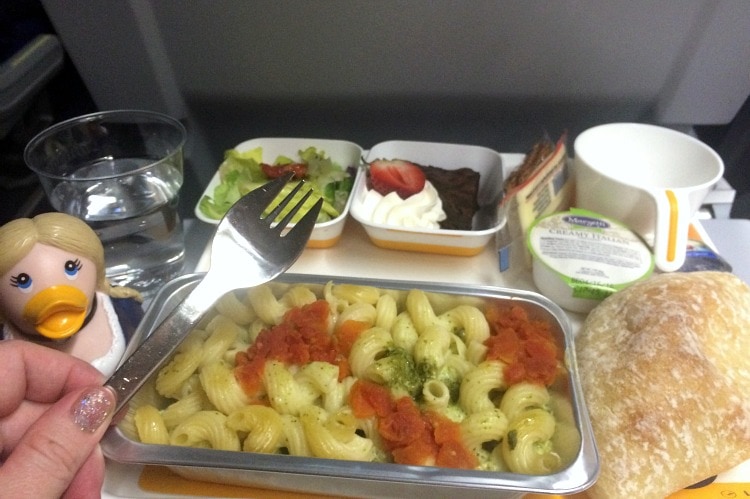 At some point in the flight we each got up to walk around, a necessity on long hauls. I visited the lavatory and was blown away by the little details for the economy cabin. What kind of details could possibly be in an airplane bathroom you make ask? There was a fresh cut flower displayed on the counter. A FLOWER! —What other airline does that in economy!?
We each slept as much as we could because as soon as we arrived in Frankfurt we made plans to take the train to Heidelberg for the night. This meant there was no room for jet lag! I know we each got a few hours of shut-eye, but I'm not sure how much. My daughter and I both slept through breakfast, but the FA was nice enough to leave a portion for my daughter on her tray table.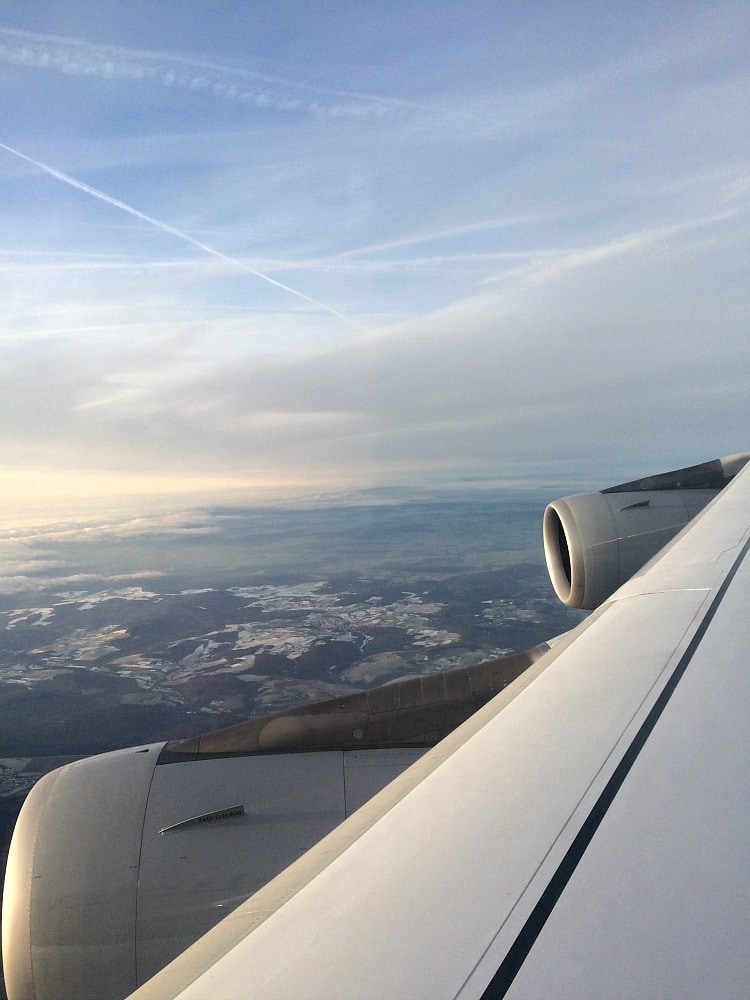 The landing, which was just after 9:00am Frankfurt time, was great— though I didn't expect to have to take a bus to the gate. It seemed as if only the jumbo jets had direct access to a gate; for comparison we were on an A340-300 operated by Lufthansa Cityline. To be honest, this wasn't much of an issue because we were so excited to be in Frankfurt, Germany! Exiting the plane was well organized and it took hardly any time to get through immigration and customs. From there it was an easy walk to the airport train station for  start of of German adventure!
Our first experience with Lufthansa was really wonderful! I can't even tell you how great it felt to have a non-stop from Tampa. Even with 8 hours between the destinations, I still felt more refreshed after landing than on shorter journeys with connections. The flight really flew by 😉
Also See: Lufthansa Premium Economy experience and Christmas Markets in Germany!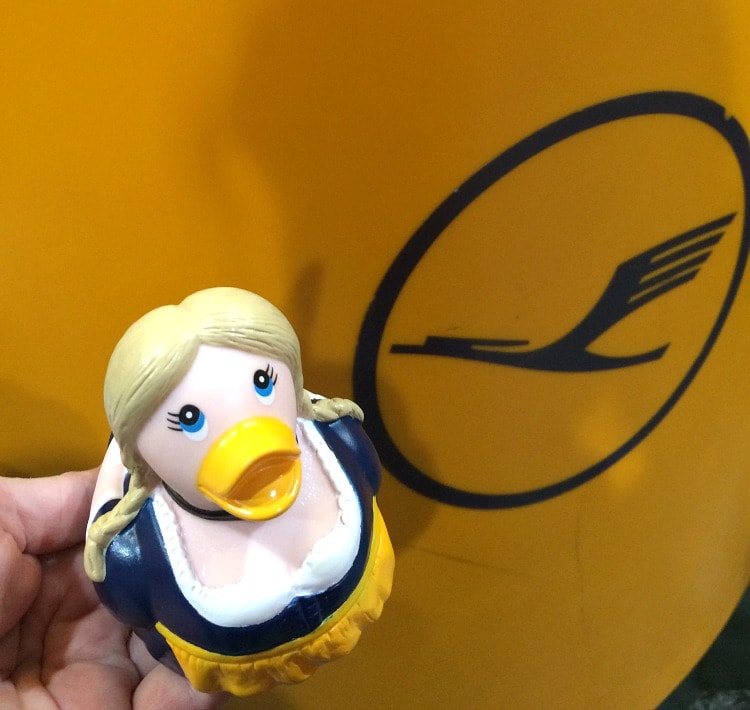 Lufthansa Frankfurt to Tampa Schedule
Currently Lufthansa is operating flight LH 483 from TPA to FRA four days a week— Mondays, Wednesdays, Fridays and Saturdays — with departure at 6:00pm EST and arrival in Frankfurt at 8:50am (the following day).
You can check schedules and book directly Lufthansa.com.