Three Popular Stops on Safari in Namibia.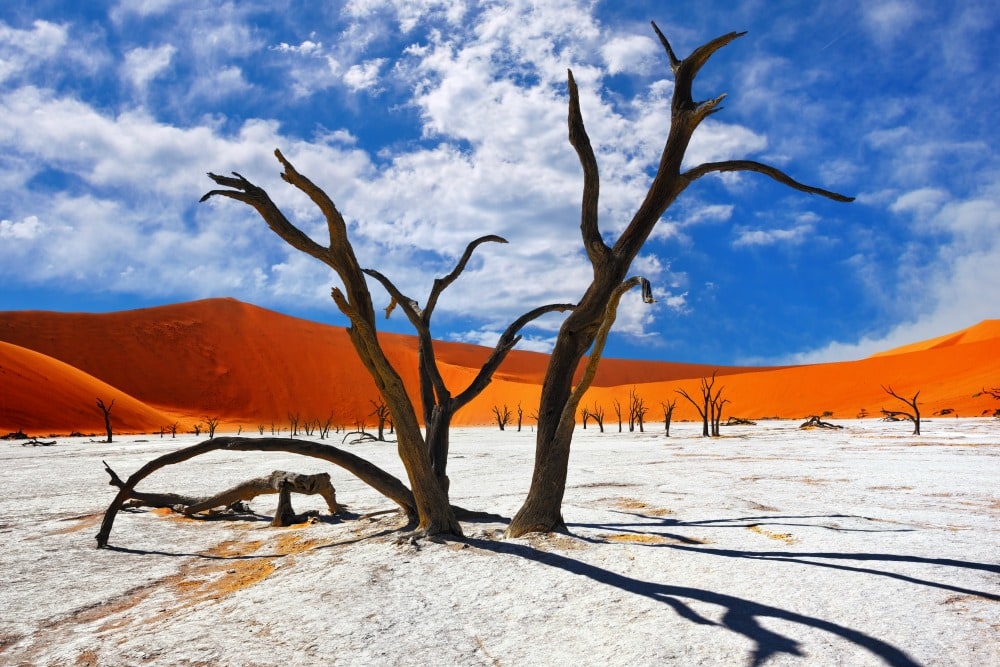 © Oleg Znamenskiy - stock.adobe.com
For many travelers, Africa has always had an exotic and mysterious allure. However, it is one of those places on the globe that still seems inaccessible. If you mention Africa to the casual holiday seeker, they no doubt think of Joseph Conrad's "Heart of Darkness." The "Sheltering Sky," by Paul Bowles, also seems to come up in conversation.
Neither one of these classic novels is a good ad campaign for African tourism. There has always been a danger and inherent darkness associated with Africa, and this is an unfair portrait of a country brimming with beautiful desert landscapes, open blue skies and stunning mountain vistas. Namibia has always been one of Africa's most stable and secure countries. A tailor-made luxury tour of a country known for its ancient Bushmen, colonial grandeur and game viewing is the ideal way to visit Africa, and Bales Worldwide is the perfect field guide.
The Surreal Landscape of Sossusvlei
Sossusvlei is located in Namib Nauklut Park, which is deep in the heart of the Namib Desert. With majestic sand dunes towering over 300 meters, Sossusvlei is one of the strangest and most surreal landscapes in the world. The African sunlight is ethereal and painterly, dancing over the immense dunes in an array of golden hues. This is your chance to snap a National Geographic style photo. Walking along the dunes in Sossusvlei is like visiting another planet.
Game Viewing with Ernest Hemingway
Etosha National Park has more variety of game and birdlife than you could ever possibly document in one holiday. Zebra, gemsbok, elephants and black rhinos all make their home in this 32,000 square kilometers game park. There are over 340 different bird species as well. Etosha National Park consists of salt pans, desert pan and savannahs. If you ever dreamed of taking a Wild Africa Trek with Ernest Hemingway, a trip to Etosha National Park is the closest you will ever get.
That Is One Killer Canyon
If you are looking for one killer canyon, as in spectacular and awe-inspiring, then look no further than Fish River Canyon. Located in southern Namibia, this canyon reaches an astounding 550 meters in depth. There is a spectacular hiking trail that traverses parts of the canyon, and it is a great place for viewing exotic birds and wildlife. Fish River Canyon is the second deepest canyon in the world. It is a geological wonder that should not be missed.
It is time to buy some high-powered binoculars, a pair of khakis and a safari hat and go on an adventure of a lifetime. A luxury safari makes Africa assessable to everyone who has ever dreamed of skyscraper-sized sand dunes and herds of wild elephants.