Looking for Painted Rock Ideas or Painted Rock Crafts for Kids? You've come to the right spot! Here are 20 colorful and fun rock DIY projects to get started.
By now you've probably heard about the painted rock craze, and may even have found some painted rocks hidden in parks or community spaces in your area. The purpose is to spread positivity and joy— it's hard not to smile when you discover a beautiful painted rock!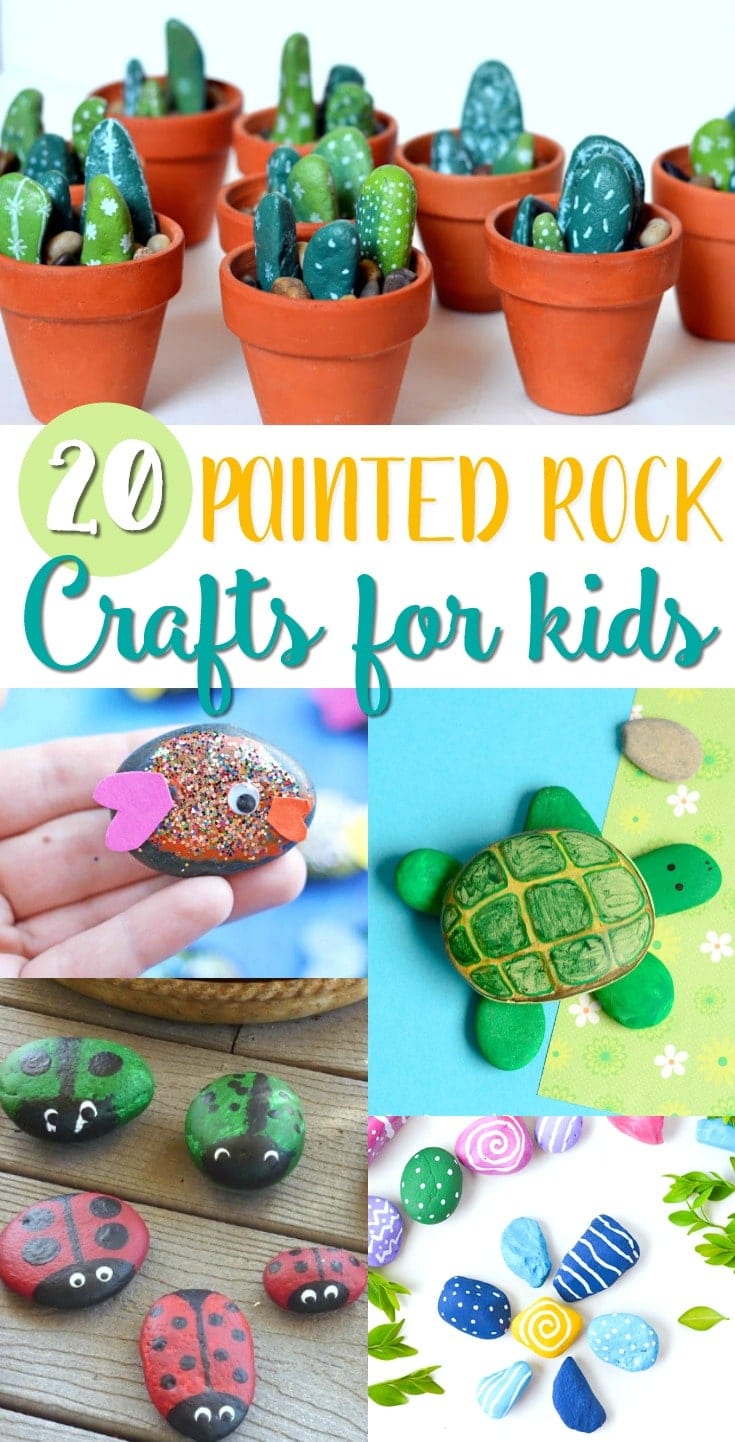 In my neighborhood, there is a Facebook group where members get together and share their latest rock art, and then once hidden, finders post photos of their rock hauls. It's seriously fun for kids and a great family activity that gets everyone of the house. My sister even uses rock hunting at the local park as a bribe for my nephew...it's amazing how well he listens when he know he can go out and hunt for painted rocks!
So what do you do with a painted rock after you find it? You can either keep it for your own collection, or re-hide it for someone else to find. I personally like the idea of redistributing the rocks because it's important to keep the good vibes flowing. If you have children that aren't ready to give up their collection, offer to let them paint their own stones to save or hide. In addition, there are some cute painted rock crafts for kids that are practically works of art on their own (hello, painted rock cactus centerpiece, I'm talking to you!).
Here are 20 easy painted rock ideas that you can make with your family...which is your favorite?
Cute Painted Rock Crafts for Kids
1. Rock Turtle Craft - Easy Peasy and Fun
2. Thankful Rocks - Mom Inspired Life
3. Painted Rock Cactus Centerpieces - Rachel Teodoro
4. Snail Rock Craft - Kids Craft Room
5. Pet Fish Rocks - Glued To My Crafts
6. Mosaic Garden Rocks - Kenarry
7. Stamped Art Rocks - Creative Green Living
8. Paw Print Rocks - Sunny Day Family
9. Glittery Heart Rock Craft - About A Mom
10. Painted Rock Art Tutorial - Somewhat Simple
11. Pet Rocks - Spaceships and Laser Beams
12. Ladybug Rocks - A Mom's Take
13. Troll Painted Rocks - The Keeper of the Cheerios
14. Rock Photo Holders - One Little Project
15. Marbled Rock Paperweights - KiwiCo
16. Owl Painted Rocks - Frugal Fun for Boys and Girls
17. Pet Rock Lion Craft - I Heart Crafty Things
18. Hedgehog Painted Rocks - Easy Peasy and Fun
19. Painted Rock Family - Bellissima Kids
20. DIY Rock Garden Markers - Adventure in a Box
Where to Buy Rocks for Painting
Looking for smooth stones and rocks to paint? Home Depot, Lowe's and even Walmart sell large bags of river rocks in landscaping. If you don't want to pickup in store, Amazon sells smooth rocks for painting for comparative prices.
Want to make Painted Rock Crafts for Kids? You might find these useful:
White River Rocks - Assorted Size and Shape White Stones - assorted sizes
Rainforest 1" to 3" Small Rosa Mexican Beach Pebble, 30 lb
Acrylic paint 12 Set by Crafts 4 All
Apple Barrel Acrylic Paint Set, 18 Piece (2 Ounce)
Virtuoso 15-Piece Fine Paintbrushes, Handmade Detail Paint Brush Set
Paint Pens by Beric 12 pack, Paint Marker, Medium Point
Chalk Markers with Reversible Tip
Design Master Home Decor Finish Aerosol Spray, 11-Ounce, Clear Matte
Other DIY Posts You Might Like: