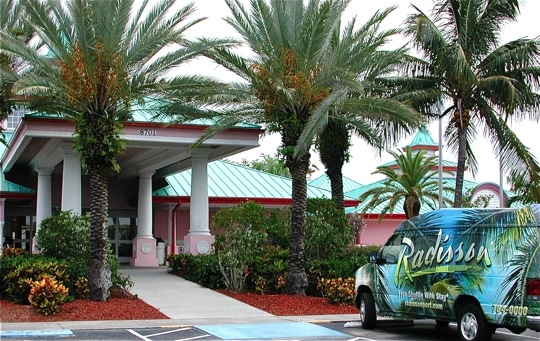 Before our Carnival Cruise from Port Canaveral, I researched our options for parking near the port. Parking at the terminal costs $15 a day, and at $105 for the week, I knew I could do better. I found two great choices for parking off-site, each only $6.99 a day, plus an extra 10% off with an online reservation...A savings of over 50%!
The first option was parking at the Radisson Resort at the Port; the second was remote parking at Park N Cruise.
Ultimately, I decided on parking at the Radisson because I felt more comfortable leaving my car at a hotel. I registered online the night before, and arrived at the hotel at around 10:30am the day of the cruise. As you can imagine, the Radisson was very busy on a Saturday. I waited in line at the front desk for a few minutes before checking in. The process was really easy. I paid for the parking ($50.40) and received a ticket to get on the shuttle. Before parking the car, we dropped off the luggage at the front, as cruise parking is at the very back of the hotel-- it's actually quite a hike!
It took about 45 minutes from the time we arrived to get on the shuttle. The shuttle ride was an easy 5 minutes, and we were left right at the luggage drop off with the porters.
Picking up our car was even easier. We decided to do self debarkation and were one of the last families on the ship (we wanted to sleep in!)....we made our way to the designated spot and waited just a few minutes for a shuttle. Since most of the shuttles were earlier, we rode with only one other family. The driver took us straight to our car.
This should have been the end of out experience with Radisson Parking, but unfortunately it wasn't.
Someone wasn't paying attention to our luggage, and somehow, my bag was left on the shuttle. Since we were the first family off, it went unnoticed. It wasn't until I was home-- 3 ½ hours later -- that I realized my bag was missing. I called the Radisson, and after a little phone tag, my bag was found (thankfully!). I sacrificed my luggage (the actual bag) and paid to have the contents shipped to me for $50. I had my stuff 3 days later. The bag incident was not the fault of the Radisson, it just put a damper on the experience. I would still use the Radisson for Port Canaveral cruise parking-- next time I will keep an extra eye on my luggage!