Today is my 5th wedding anniversary-- though it feels like the 10th! I love to reminisce back to my wedding day. I sometimes feel like I had the perfect wedding as everything seemed to fall into place so easily. I've mentioned it in the past, but for those new to the blog, my husband and I were married on the Carnival Inspiration in the Port of Tampa. I thought this year I would go a little more into my thought process on choosing this type of wedding and how it worked out.
Before the wedding was even planned, we knew we wanted to go on a cruise for our honeymoon. I had originally envisioned a beach wedding, since we live in Florida, and a Disney wedding was completely out of the budget. The budget really comes into play because my husband and I paid for the entire wedding/honeymoon ourselves. I found planning a beach wedding very stressful. Clearly I couldn't afford an event planner, and each little detail was driving me crazy. The reception I wanted was also ridiculously expensive. I quickly learned I needed to look into other options, and one day while searching our cruise I came across Carnival Weddings.
And then it just clicked.
We were already going on a cruise, why not have the wedding in port (on the ship) and then immediately leave for our honeymoon?!
Done.
After I ran it by my husband-to-be and mother, it was a pretty quick decision. I wanted to get married in May, and only had a few months to put it together. We also had to make sure the ship I wanted had availability; at the time, Carnival only did 3 weddings per cruise.
With this wedding came a few restrictions. I could only invite 40 guests based on the type of wedding I had, which was the Deluxe Romance Package.
Package included:
A dedicated Wedding Agent assisting you with every detail from selecting your package to "I do". On the day of your wedding, Priority check-in for the bridal couple and their guests, a local Wedding Officiant, A Wedding Coordinator to work solely with you and your guests, Photographer, Ideal wedding location, Romantic wedding set up, Selection of Wedding Vows and Poems/Readings, Recorded ceremony music, 8-Rose Bridal Bouquet with matching Rose Boutonniere for the groom. One and a half-hour Open bar with selection of hot and cold hors d' oeuvres, Ice Carving, Champagne Toast, (1-set) of etched "Our Wedding" champagne flutes, 2-Tiered Wedding Cake with keepsake topper. Cake Server and Coffee/Tea service provided. A bottle of Sparkling Wine and Chocolate Covered strawberries for the bride and groom's stateroom.
I was sold on the ice sculpture.
Basically, everything was planned for me-- I only had to show up with my dress! The Port of Tampa and the Carnival Inspiration were selected out of convenience for my family and friends. The absolute best part was everyone was off the ship before it left the port, so my husband and I sailed alone on our honeymoon. I did not offer to have anyone sail with us. 🙂
I could go on and on about the wedding, but I will just share some pictures instead. Also, if I recall, the whole wedding and honeymoon only cost about $5000. I think I got a deal.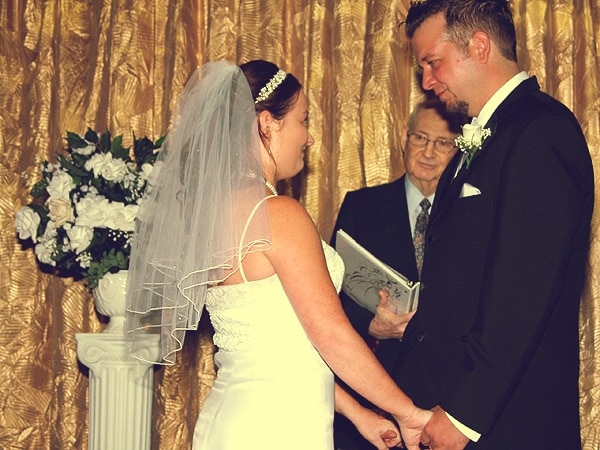 Oh...and the cake was the best ever!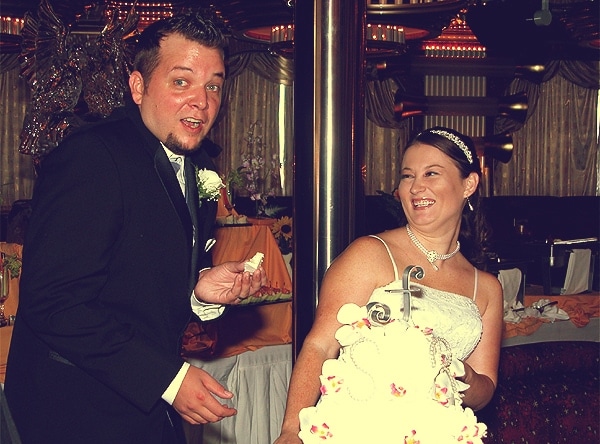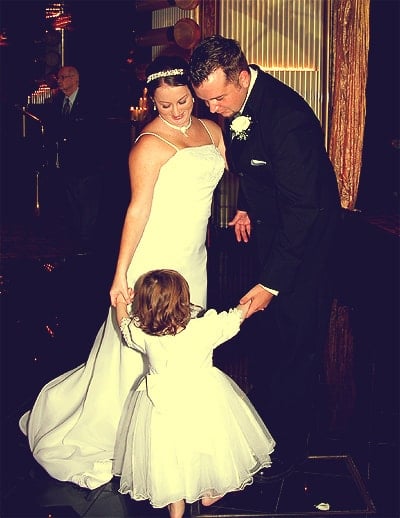 And then the next day...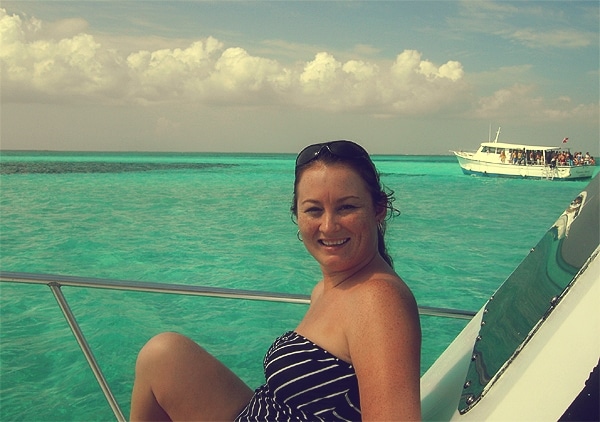 Happily Ever After!