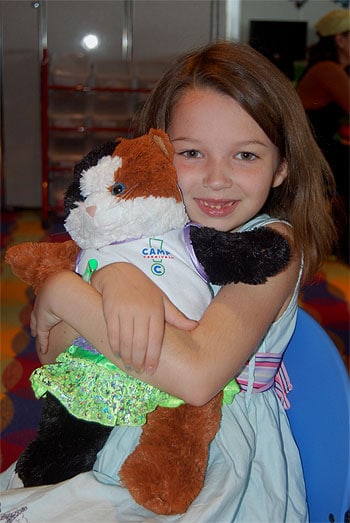 When we asked our daughter what her favorites things were on our last Carnival Cruise, her number one answer was Camp Carnival! Admittedly, it looked like a ton of fun for a kid, and she practically begged us to let her attend nightly. Among the activities that Camp Carnival offered was a Build-a-Bear like session called Beary Cuddly Workshop, also known as Carnival's Teddy Bear Workshop.
This is one of the few activities where a fee is attached and it is set up during an off-time for Camp Carnival, so it is not a surprise to parents. We decided to make this a family event and attended together, as a lot of other families did.
Bears (and other animals) start at just $10 and this includes the animal, its stuffing, birth certificate and box. Outfits start at just $2 each -- a steal if you are used to Build-a-Bear's prices! -- and most are sized to fit other bears you may already have at home!
The pink PJ's were my favorite!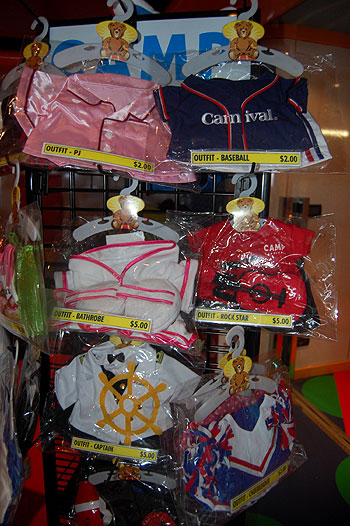 Among the animal choices were Fun Ship Freddy, a Cat, a Dog, a Lion and a few different bears, including a St. Judes Bear with proceeds going to St. Judes Children's Research Hospital.
My daughter chose the cat, which was $20 and we charged it to our sign & sail card. My mother, who was also with us, purchased a few of the outfits and charged them to her card. There is no minimum to buy and you could just purchase an outfit if you already had an animal at home. But, where's the fun in that 😉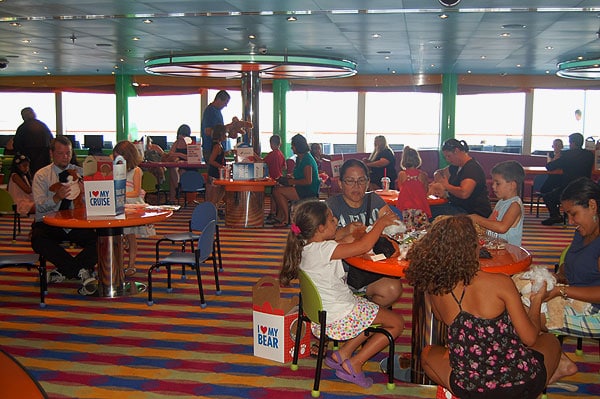 Once the transaction is made, you are free to go and stuff your animal. Likewise, if you wanted to take your animal back to your cabin and stuff him later, you could do that too. Each pet also comes with a "bear angel" which you are supposed to make a wish on and stuff inside the animal. This is similar to the "heart" at Build-a-Bear.
Once your animal is stuffed, there is both a zipper and Velcro to keep it closed. Finally, you can fill out your pet's birth certificate-- my daughter chose to name her cat, "Cookie".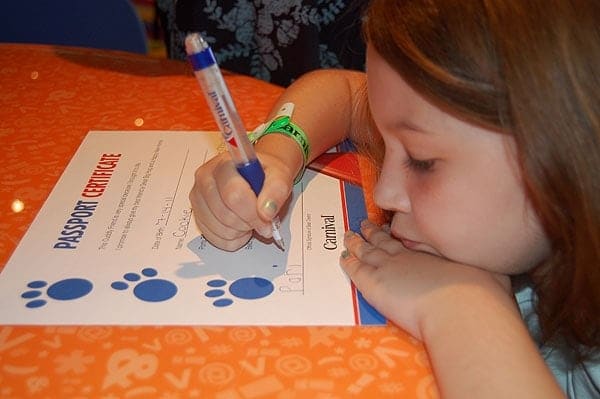 Overall, the Carnival Beary Cuddly Workshop was a fun activity that was well worth the extra money. I loved spending the extra time with my family and my daughter got to take home a cute souviner to remember her cruise.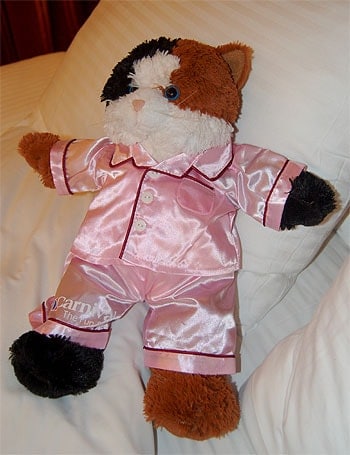 Special thanks to Carnival Cruise Line for hosting our cruise aboard the Carnival Dream. We paid for the Teddy Bear Workshop ourselves. All opinions are my own.