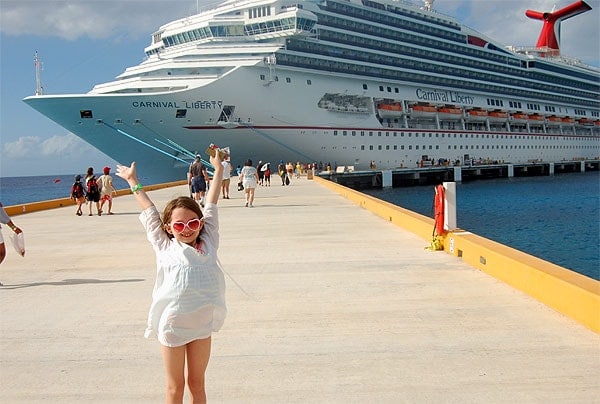 Carnival Liberty was the first ship to receive some major enhancements as part of Carnival Cruise Lines $500 million Fun Ship 2.0 Initiative. Last week, my daughter and I sailed the Western Caribbean on Carnival Liberty, while experiencing all of her new (and fabulous) upgrades.
Carnival Liberty Review
Here's a little taste of the Fun Ship 2.0 enhancements found on Carnival Liberty:
Guy's Burger Joint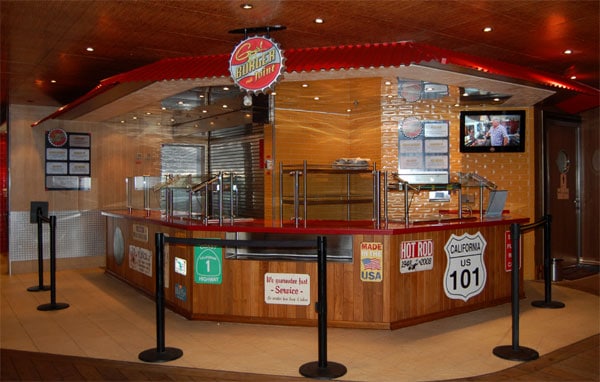 I've already professed my love for Guy's Burger Joint and proclaimed it the best burger at sea. Seriously, these burgers are that good-- I think I gained more weight on Carnival Liberty than any other cruise, thanks to Guy's burgers and hand-cut fries. I dare you to eat just one!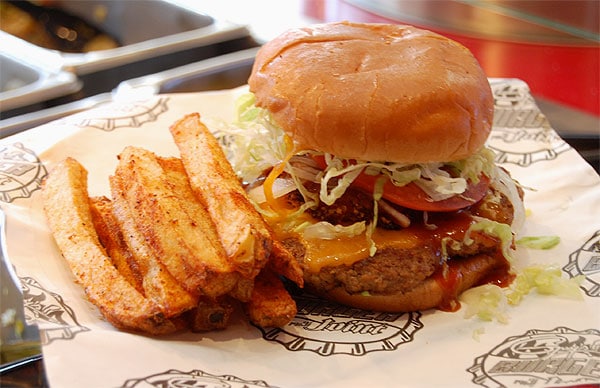 Alchemy Bar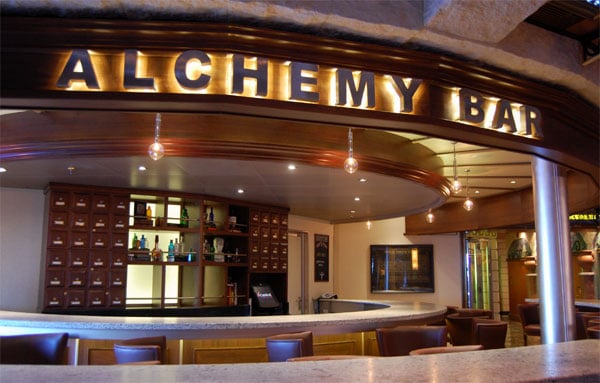 Alchemy Bar was the watering-hole I was most looking forward to. I absolutely adore the concept of a "cocktail pharmacy" where you can create your own libations, or have the mixologist prescribe an elixir to "cure what ails you". Not only that, the bartenders here are some of the best I have seen...anywhere. If you love a good drink before or and after dinner, plan on spending some time at Alchemy Bar!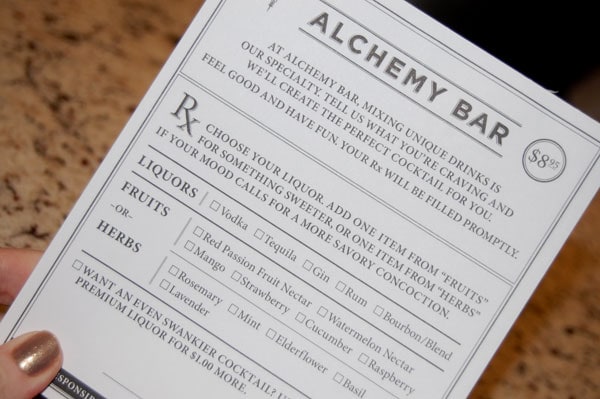 EA Sports Bar

I have to confess, I didn't spend much time at EA Sports Bar... I'm not a huge sports fan. On the other hand, if my husband was cruising with me, I would probably have had to drag him out of there. With a massive video wall made up of 16, 46" TV screens, video games and a live sports ticker, EA Sports Bar is a sports lover's dream!
Cherry on Top

If you have sailed Carnival before, Cherry on Top is the new Formalities. I absolutely loved the change. Cherry on Top is a whimsical little shop where you can order flowers, champagne and special occasion cakes to be delivered to your stateroom, or purchase little goodies to take home, like bulk candy. There's also a fun gumball machine where you can get jawbreakers for a quarter.
Blue Iguana Cantina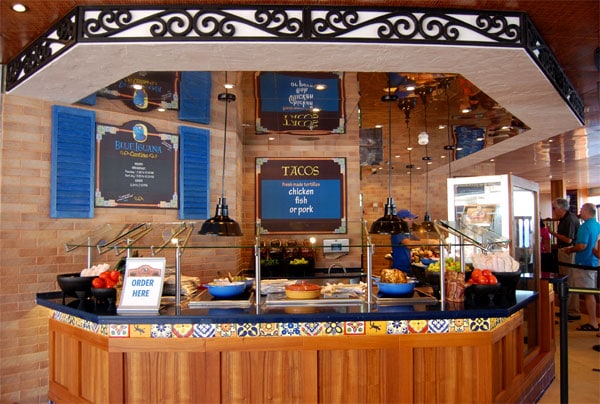 When you're sailing the Caribbean, there is nothing better than a little Mexican fare. Blue Iguana Cantina satisfied my craving of fresh tacos and made to order burritos. The tortillas for the tacos are made right in front of you in the new tortilla maker, and OMG are they good! Add a little chicken, pork or fish and a trip to the salsa & condiments bar, and we are talking some seriously good eats!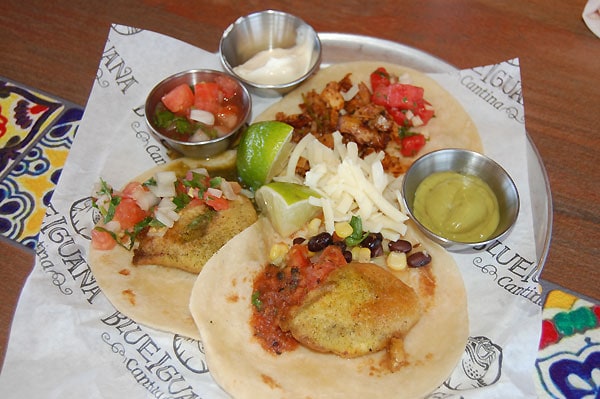 Blue Iquana Tequila Bar

Right across from Blue Iguana Cantina is the Blue Iguana Tequila Bar. Excellent positioning as there is no doubt you will want a refreshing margarita to wash down your grub...at least that was my idea 🙂 In addition to margaritas, Blue Iguana Tequila Bar has a selection of seven brands of tequila, along with a choice of five Mexican bottled brews and a special beer cocktail called a Beer Michelada (spiced-up beer in a salt-rimmed glass).
RedFrog Rum Bar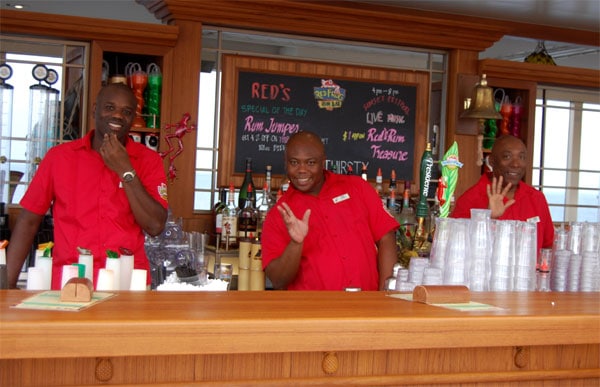 Not to be outdone, Red Frog Rum Bar sits poolside -- across from Blue Iguana Tequila Bar-- serving up Caribbean rum concoctions, frozen coladas, and Carnival's own ThirstyFrog Red draft beer-- which you have to try in the 101 ounce beer tube!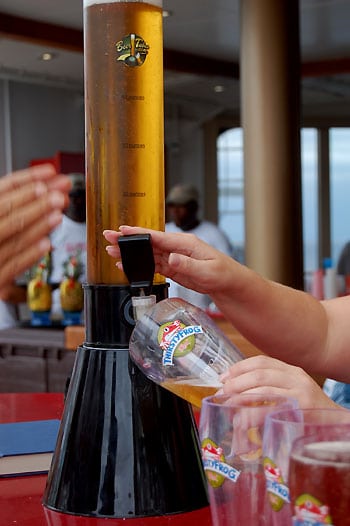 A friendly rivalry exists between Red Frog Rum Bar & Blue Iguana Tequila Bar, as they vie for guests' attention, and each menu features one drink allegedly "stolen" from the other. Both bars have live music at different times throughout the day.
To find out which Carnival ships are getting the 2.0 makeover, check out: Carnival Fun Ship 2.0 Upgrade Schedule
Special thanks to Carnival Cruise Lines for hosting me on Carnival Liberty. All opinions are my own.