New to this post? Check out Disney Resort Showcase Day 1, Day 2 part 1 and Day 2 part 2 first.
Now on to Day 3 - A trips to the spa, Kim Possible World Showcase Adventure, and "What will you Celebrate?" Dinner.
This was the day I was looking forward to the most as I had a 11am appointment booked for a 50 minute massage at the Saratoga Springs Spa.
Unfortunately, our morning didn't go so smoothly as my husband woke me up at 3:00am complaining his eye was in serious pain and swollen.
We waited until 8:00am when the Centra Care (walk in clinic) was open and made a stop there. This was quite an ordeal and took almost 3 hours (I seriously thought I was going to miss my appointment) from waiting to be seen, actually seeing a doctor, and then getting a prescription for some eye drops.
I ended up being only 5 minutes late for my massage, and needed it now more than ever.
The Saratoga Springs Spa is located right on property and offers a variety of services, including: massages, facials, manicures, pedicures, couples packages, and even treatments for children ages 4-12.
You do not need to be staying at this resort to book a treatment.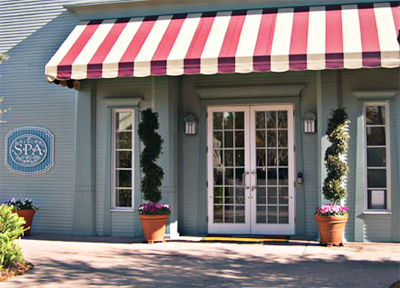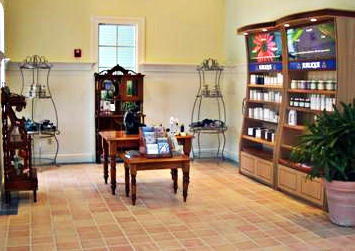 This is where I spent 50 glorious, relaxing minutes...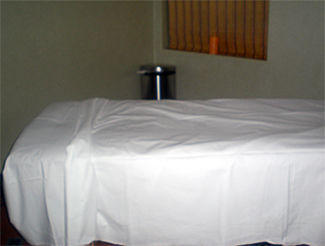 After my massage I went down into the spa area where there is a hot tub, sauna, and steam room. I took advantage of this extra time, got a robe and enjoyed the steam room and took a shower before I was off to my next adventure- the Kim Possible World Showcase Adventure at Epcot.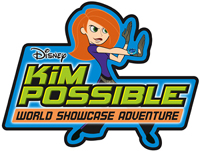 The Kim Possible Adventure is Epcot's newest interactive attraction and is unlike anything you have every seen before. There are 7 different missions to choose from covering the entire World Showcase. Missions include adventures in Mexico, Norway, China, Germany, Japan, France or the United Kingdom Pavilions.
My daughter and I met up with Charles, and Kim Wiley to take part in a mission in Germany called "The Pretzel Predicament" - Where we needed to stop Professor Dementor from using his evil mind-control device to influence world leaders!
Before you start your adventure you must visit one of the recruitment centers located in Innoventions at The Road to Tomorrow or on the Odyssey Bridge. This is where you will actually receive your mission.
The coolest part of the Kim Possible Adventure is the Kimmunicator.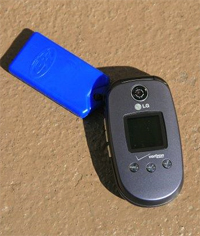 The Kimmunicator is a special cell phone that helps guide you through your missions by connecting you with a variety of Kim Possible characters. These characters (which vary by adventures) give you clues, so you can stop those evil villains!
We traveled throughout the Germany Pavilion to solve our Pretzel Predicament Mission. My daughter, who is 4, got really into the adventure and was so excited to "get those bad guys" and solve the mission.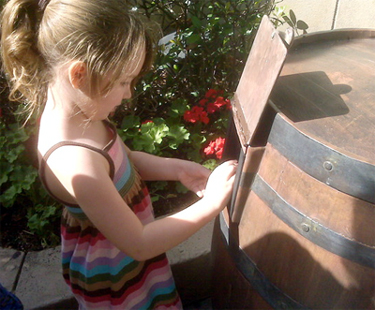 The themeing is awesome and blends so perfectly into each of the countries. You wouldn't even notice some of the clues if you were not playing the game. The technology on this is state of the art and the individual Kimmunicator devices can actually detect where you are located and adjust to your positions if you happen to get off track.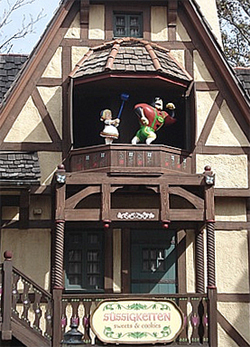 The Kim Possible Adventure is meant for all ages, and each mission lasts anywhere from 45-60 minutes.
After our mission we got the opportunity to hear from some of the Imagineers that created the Kim Possible World Showcase Adventure. Included are Jonathan Ackley (Senior Show Producer, Interactive Director) and Jeanette Lamboy-Russo (Senior Show Producer).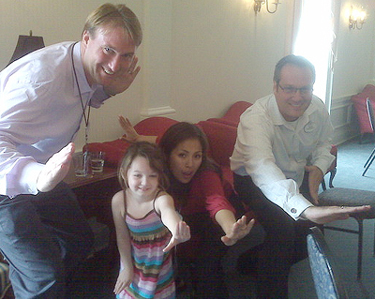 After a fun day at Epcot, we went back to the resort to get ready for the "What will you Celebrate?" Dinner.
This was a special dinner that featured the new theme for 2009, "What will you Celebrate" and the new trend of "Celebration Vacations" - vacations planned around a special event such as an anniversary, birthday, or family reunion.
Walt Disney World (as well as Disneyland) is making it easier than ever for you to celebrate this year by giving FREE admission to the Disney Park of your choice on your birthday!
There are also new ways to celebrate in 2009, some of which include: resort room decorations, my mini-cake surprise, special dinners for 2 and more! I will be writing all about the new options in a separate post coming soon!
Walt Disney World President Meg Crofton was the guest speaker for the evening.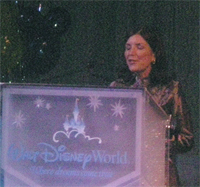 We were also served a delicious dinner, and because I am a foodie, and love food porn, here is what we had-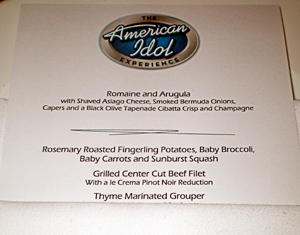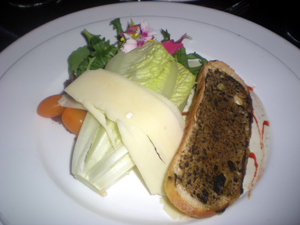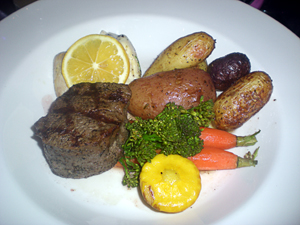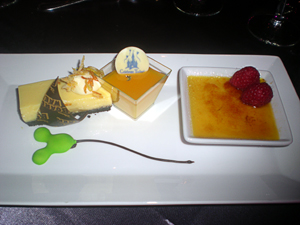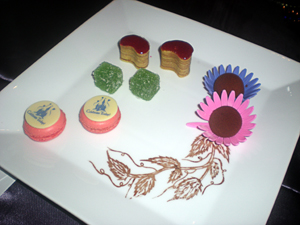 Each of the tables was decorated with a different theme, ours was "Happy Birthday". This is an example of what the Disney World Florist can create for your special celebration.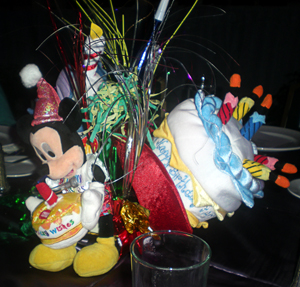 Finally we were given a special gift of note cards (which I absolutely adore) of decorated Mickey's for every holiday.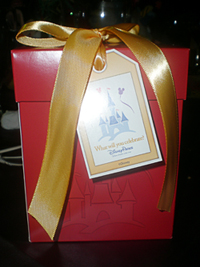 It was a wonderful, informative evening that really showcased just how magical it can be at Disney World.
Up next, Day 4 (final day) - A trip to the Disney World Florist and the Move It! Shake It! Celebrate It! Street Party. My post on the American Idol Experiece Premiere which was also on day 4, can be found here.