Edible Playdough is colorful, fun and easy to make with only two ingredients! Let your kiddos mold, play and taste with this easy homemade playdough recipe.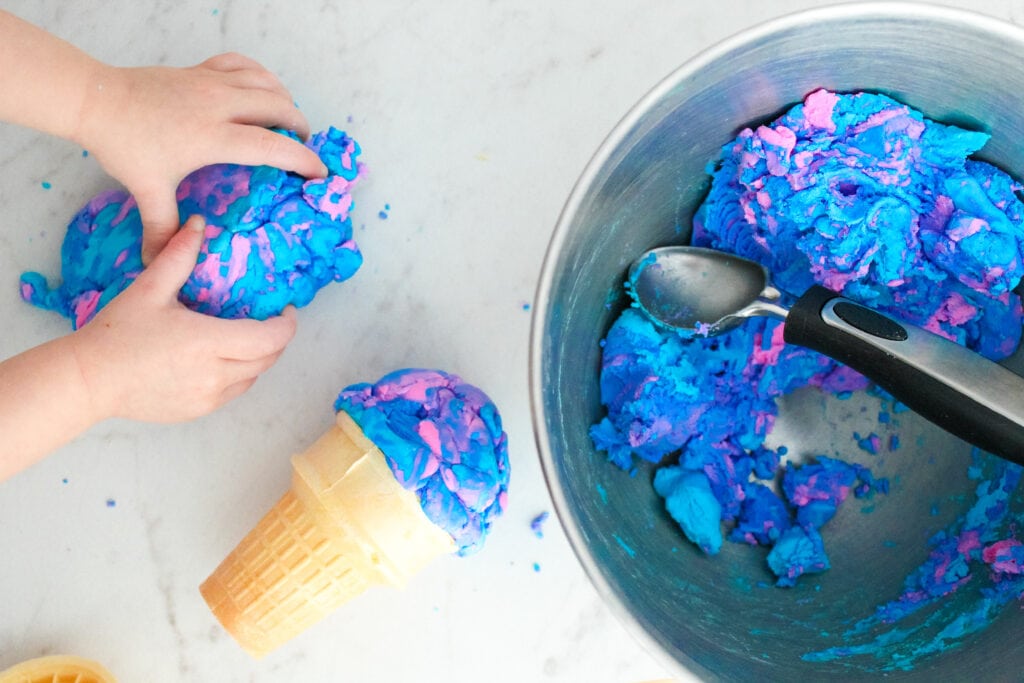 Edible Playdough
What kid doesn't love playdough? I remember playing with it for hours as a kid. The thing was, our playdough was the kind you couldn't eat-- though I clearly recall trying it on more than one occasion (the awful taste is still with me today!).
With the rise of homemade playdough recipes, it shouldn't be a surprise that edible playdough is on trend.
While I wouldn't recommend letting your kids eat a big ball of edible playdough, it's good to know that it's at least taste-safe...which to be honest, is way more comforting to me as a parent than the play dough I was playing with in my youth.
This edible playdough recipe is made with two ingredients, pre-made frosting and confectioners sugar. I love that there is no food coloring in this homemade playdough recipe because it can be messy— and let's be honest, play dough is messy enough as it is!
With vanilla as the base flavor from the frosting, the playdough gives off cotton candy vibes, which is even more fitting when you use pink and blue icing colors for a fun swirl effect.
Homemade Playdough Recipe
Edible Playdough Ingredients:
1 cup pre-made Blue frosting
1 cup pre-made Pink frosting
5 ½ cups powdered sugar, divided
Ice cream cones, optional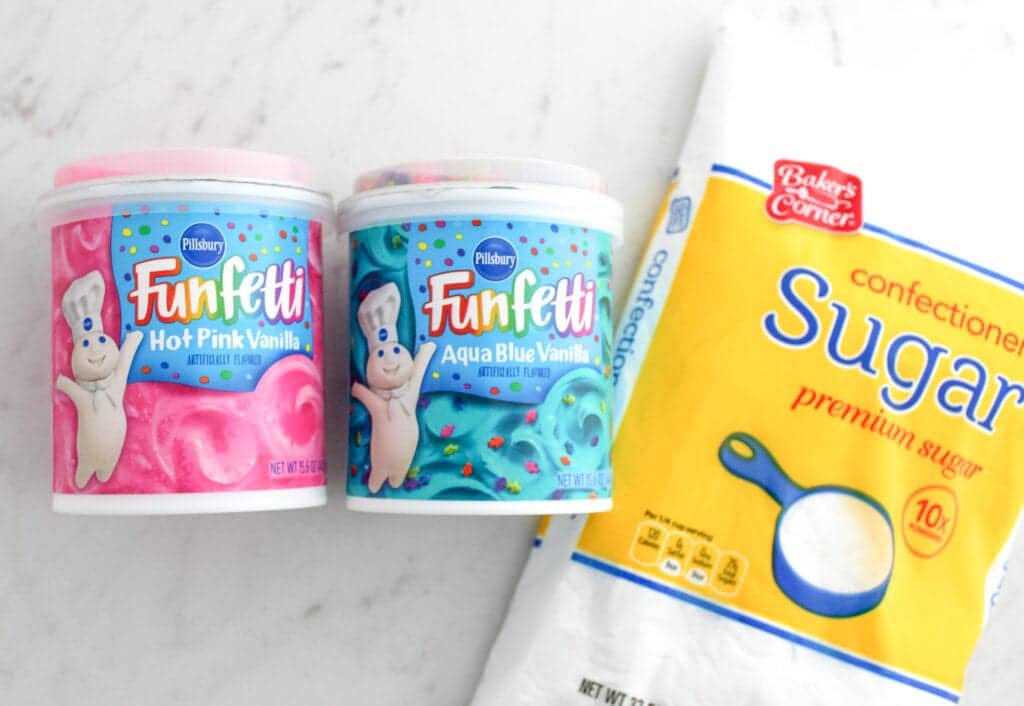 How to Make Edible Play Dough
1. Add 2 ¾ cups of powdered sugar to a stand-up mixer using the paddle attachment. Add 1 cup of blue frosting. Mix on low, scraping sides as needed, until dough balls up into a playdough consistency.
If the mixture is too powdery and is not forming a play dough ball, simply add a teaspoon of frosting and continue to mix.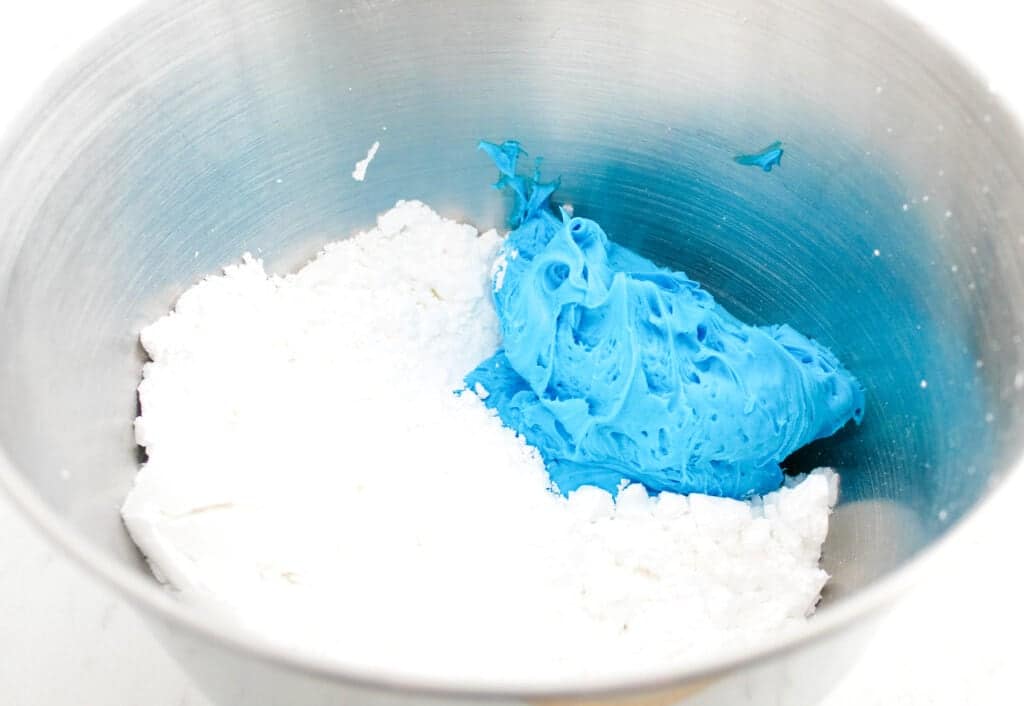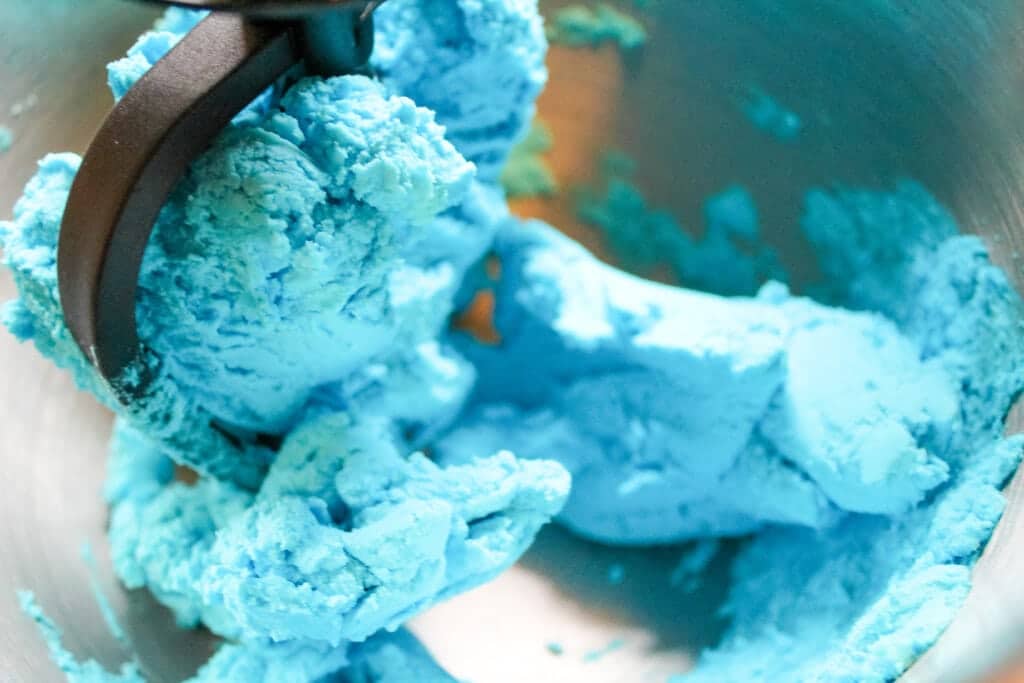 2. Remove the ball of blue play dough and set it aside.
3. Repeat this process by adding 2 ¾ cups of powdered sugar to the now-empty stand up mixer. Add 1 cup of pink frosting and mix on low, scraping sides as needed, until a dough ball forms.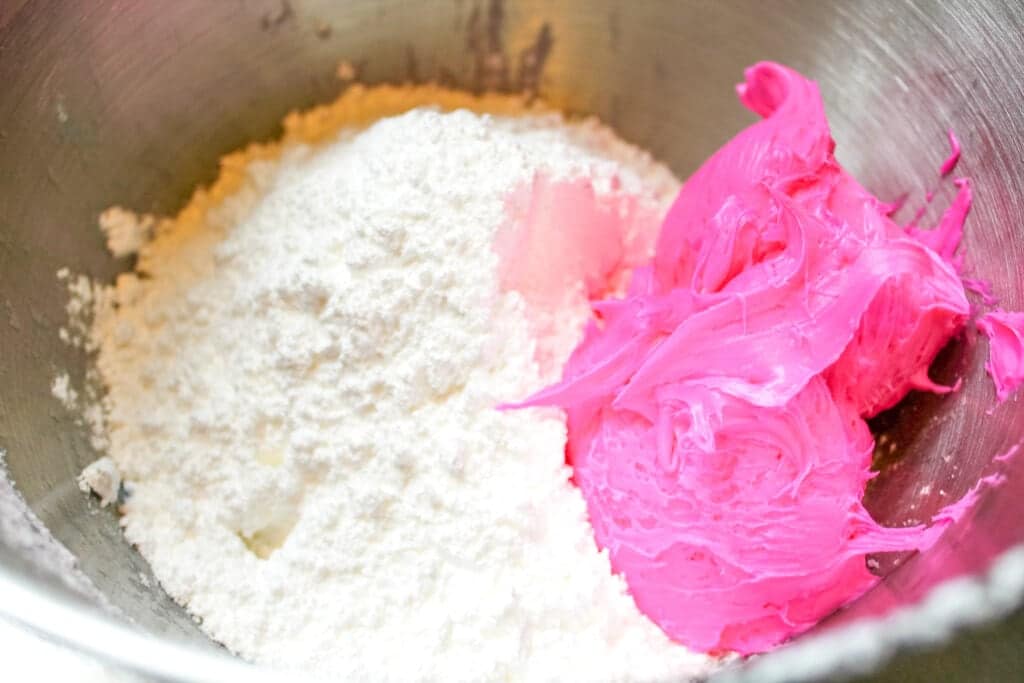 4. Add the blue play dough ball back into the mixer with the pink play dough ball. Set the mixer to low to blend the two colors together. Only mix long enough to mostly incorporate the pink into the blue.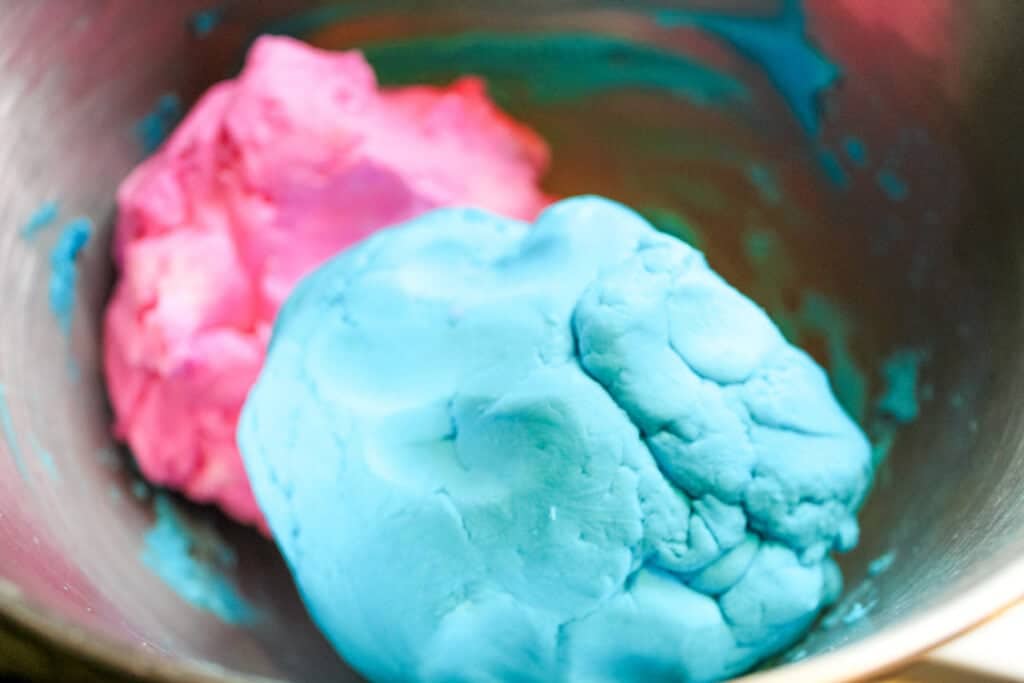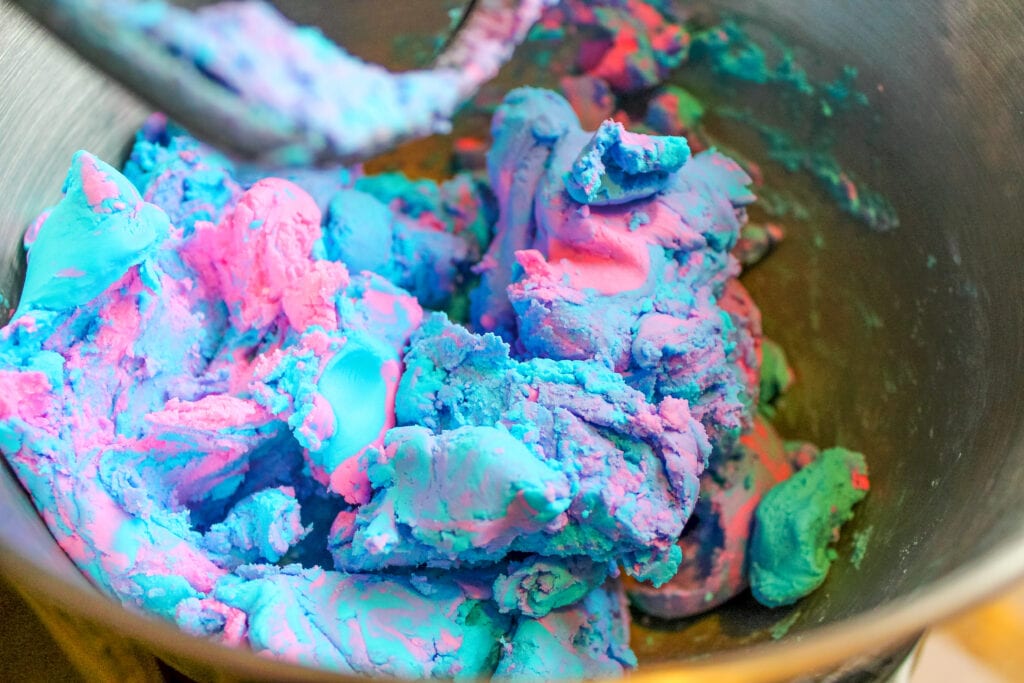 Allow the kiddos to enjoy playing with this play dough with ice cream cones, an ice cream scoop, sundae bowls, maybe even sprinkles!
They can pretend that they work at an ice cream shop and scoop up cones for friends and family -- I totally wish this was a thing when I was a kid!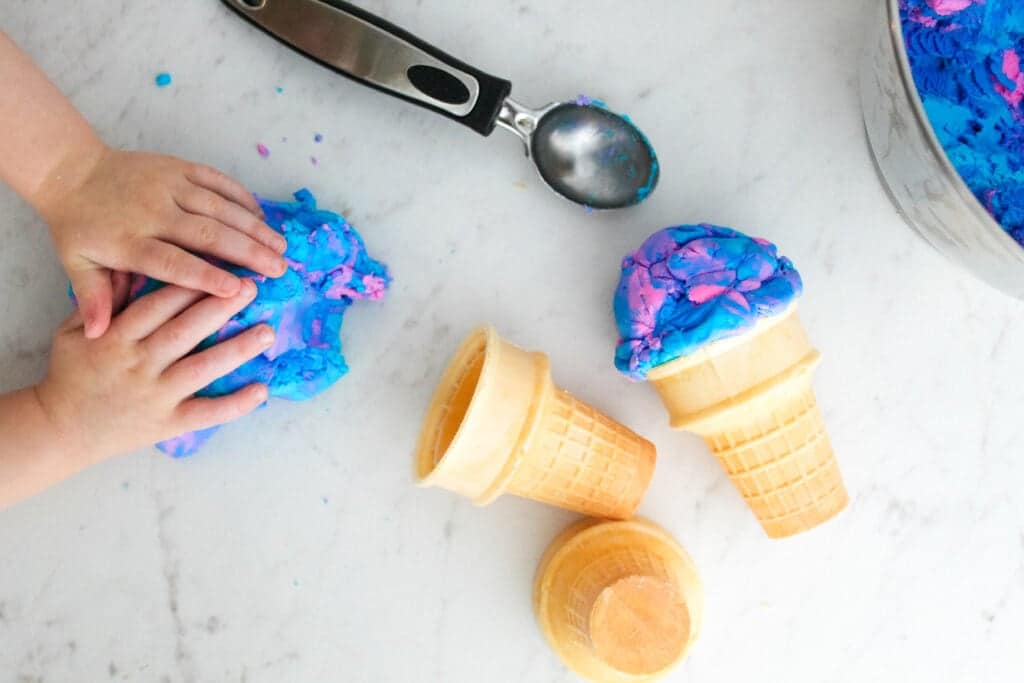 Tip: If your homemade playdough starts to dry up (which it will with the powdered sugar), add a drop or two of olive
oil and work into the dough until soft.
How to Store Edible Playdough
Store playdough in a Ziploc bag in the refrigerator. Remove it and allow to come to room temperature before playtime.
Is Playdough Edible?
Not all playdough is edible, but this homemade playdough recipe is! Anything you buy at the store is not edible unless clearly noted (which is extremely rare).
That's one of the reasons I like making homemade playdough — I know exactly what ingredients go into the play dough, and even though it's not designed to eat in entirety, it's 100% taste safe. Just make sure your children wash their hands before trying the playdough!