Want a seriously cute Halloween dessert that will blow people away? Make these white chocolate covered Mummy Twinkies Pops! 
It amazes me that we're already talking about Halloween, but since it's one of my favorite holidays, I'll happily indulge! Today I made some delicious white chocolate covered Mummy Twinkies as a test for some goodies I'm bringing to a Halloween party next month. I was super pleased with how easy these little guys were to make, and I think they came out pretty cute, too!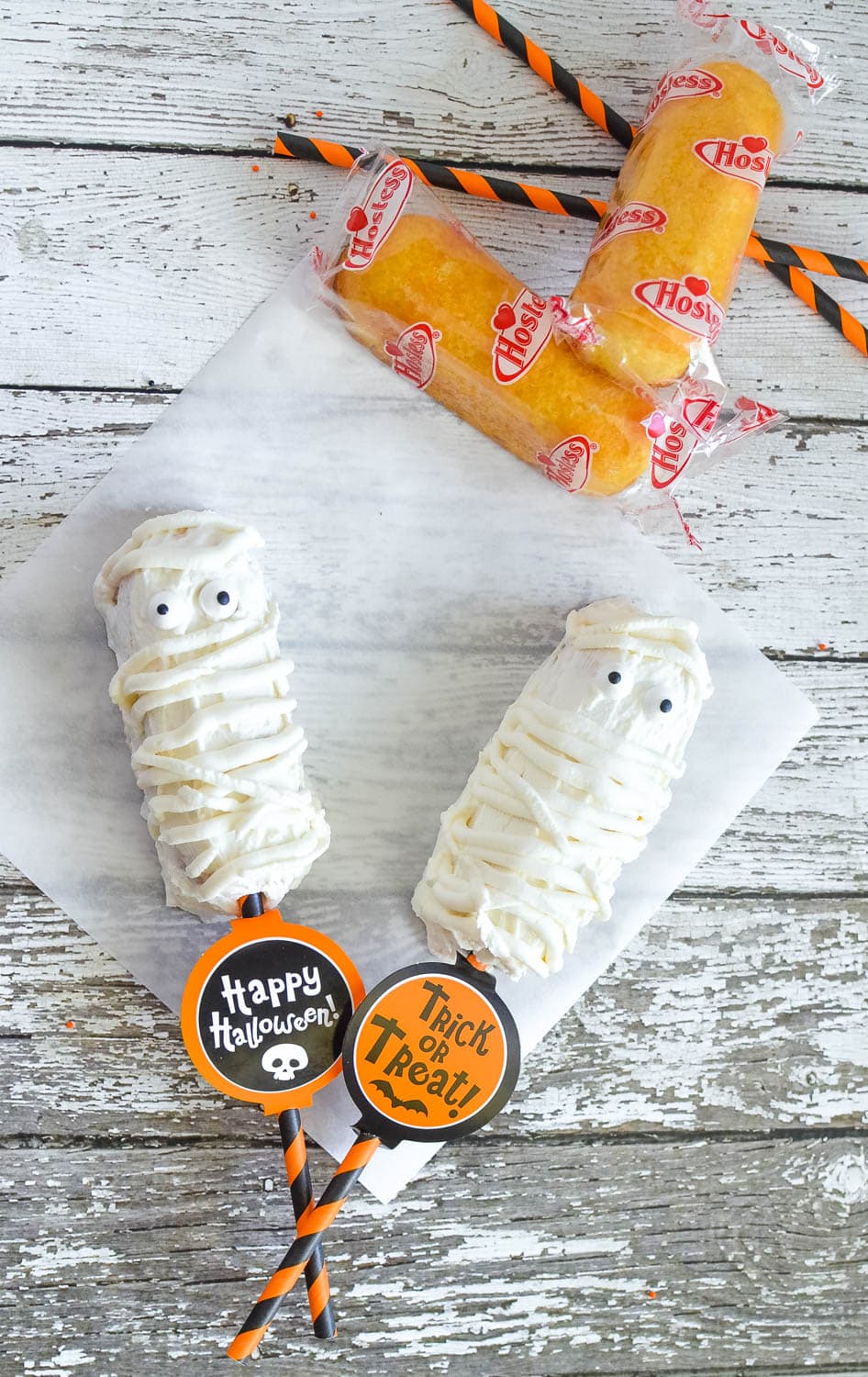 To make these adorable mummies I used Hostess Twinkies, Wilton white chocolate candy melts, and candy eyes. This combo cuts down on a ton of prep work as nothing is made from scratch— though, this Halloween dessert is so unique that your friends and family will think you spent hours in the kitchen rather than the half-hour or so that they actually take to make!
The icing on the cake, so to speak, is the Halloween themed straws that make each Mummy Twinkie look like a "pop". To keep these stable I first inserted a lollipop stick.
Halloween Mummy Twinkies Pops Recipe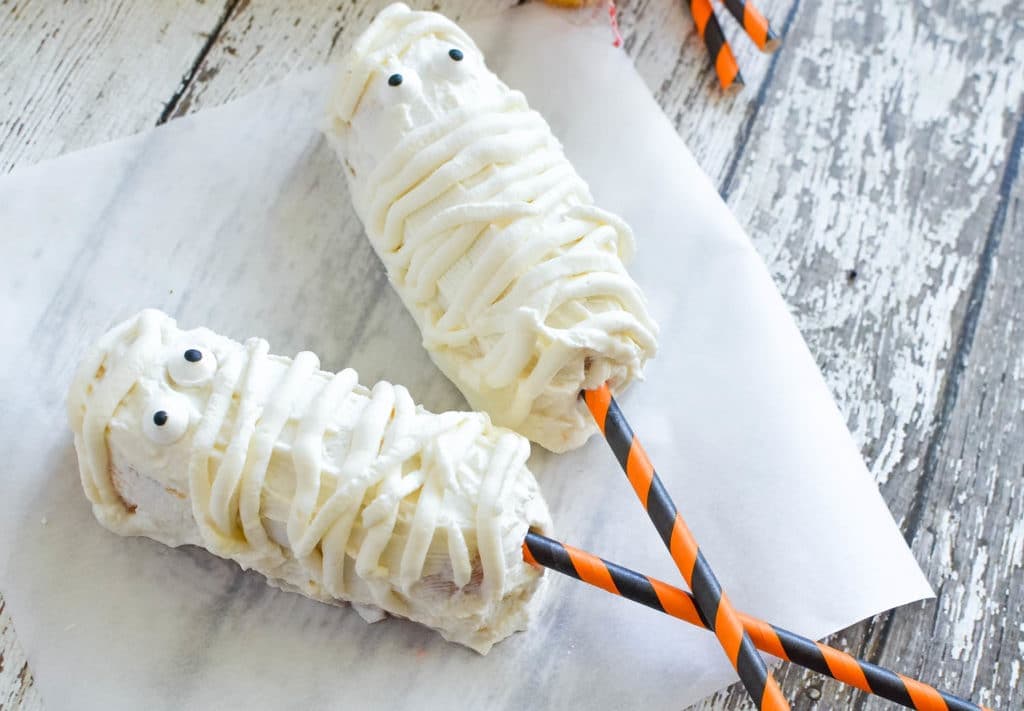 Mummy Twinkies Pops
A quick and easy Halloween pop treat made with Twinkies and white chocolate to look like a mummy. Adorable idea for Halloween parties!
Ingredients
6

Hostess Twinkies

1

bag white Wilton Candy Melts

12

Wilton Candy Eyes

2

tablespoons

coconut oil or Crisco

Ziploc bag

Parchment paper

6

Halloween-themed paper straws or Lollipop Sticks
Instructions
Unwrap Twinkies and place in freezer on a sheet of parchment paper.

Melt one bag of Wilton Candy Melts in a double boiler. If you don't have a double boiler, the microwave method can be used. I tried both and the double boiler is superior. You can easily make your own double boiler with a saucepan and a heatproof bowl (glass, metal, Pyrex). Fill the saucepan with 2 inches of water and bring to a boil. Place heatproof bowl with melting chocolate on top on the saucepan, making sure the bowl fits snugly.

Add 2 tablespoons coconut oil to melted chocolate. Stir. The coconut oil is my secret ingredient for the perfect melting chocolate. The oil adds a slight coconut flavor, which I found to be very yummy! Crisco can also be used in the places of coconut oil.

Dip Twinkies, one by one in melted chocolate. If you have trouble dipping, you can use a pastry brush, or even a spoon to spread chocolate onto Twinkie until covered. Set on parchment paper. Removed any excess chocolate from around the Twinkies.

Add two candy eyes to each Twinkie.

Insert straw or lollipop stick into the bottom of each Twinkie.

Carefully pour remaining chocolate into a Ziploc bag.

Snip a small corner of the Ziploc bag with scissors, and pipe chocolate across the Twinkies to create the mummy bandages.

Transfer to fridge for a quick set.
If you're using these for a class Halloween party, these Mummy Halloween treats would look fantastic wrapped in cellophane bags with a tiny bow.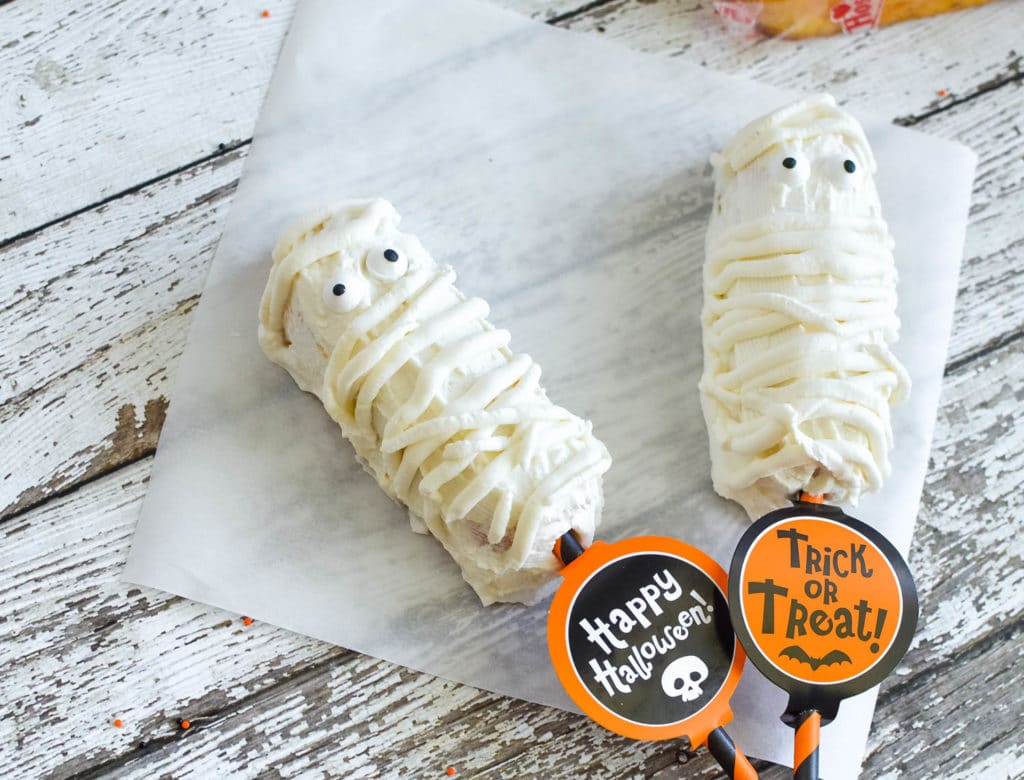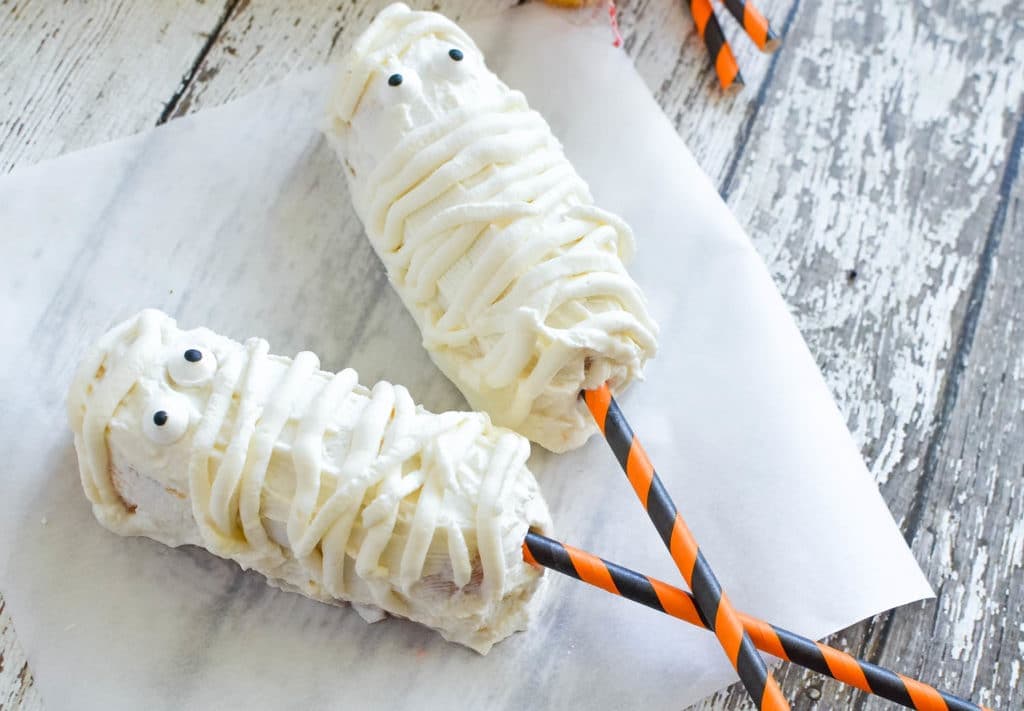 Hostess Twinkies, 10 Count (Pack of 6)
Wilton White Candy Melts, 12-Ounce
Wilton Candy Eyeballs,0.88 oz,Count of 50
Wilton 1912-1001 4-Inch Lollipop Sticks, 150/ Pack
Charmed Halloween paper straw pack of 100
Island Fresh Superior Organic Virgin Coconut Oil
Reynolds Kitchens Cookie Baking Sheets Parchment Paper
100x Clear Flat Cellophane Treat Bag

More Halloween Recipes You Might Like: