If there's one Halloween food that you need to make this year, it's Mummy Hot Dogs! This Halloween themed lunch or dinner is always a hit with kids, plus they're super easy to make with hot dogs and crescent rolls.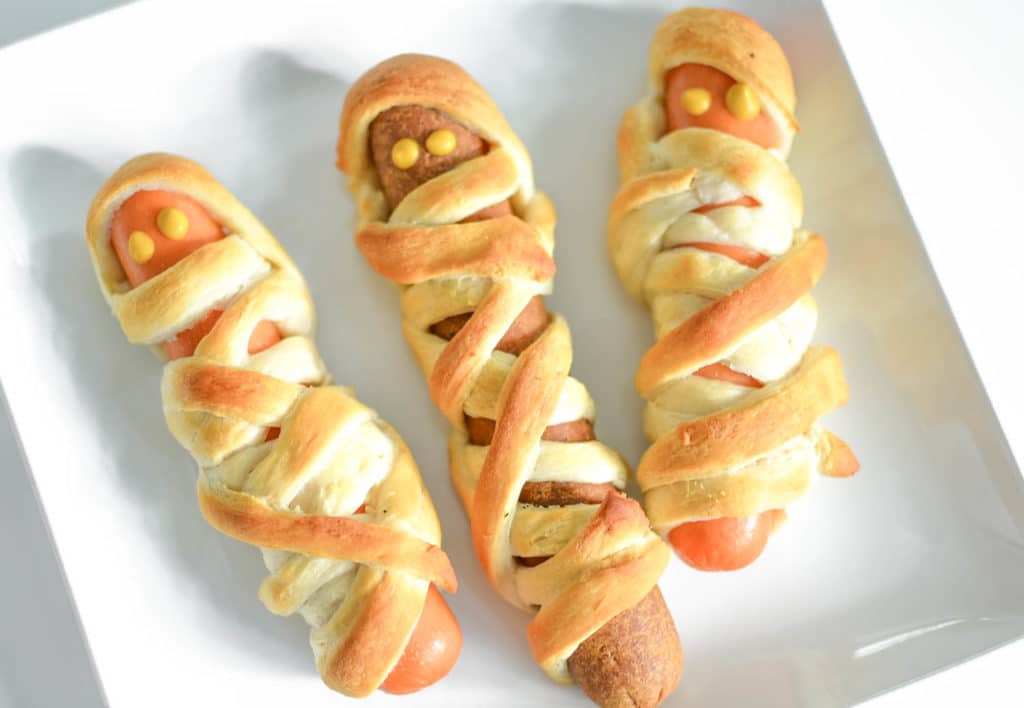 I started making Halloween Mummy Dogs for my daughter in 2011. That's when I came across the recipe for the first time and basically discovered a gold mine for a quick lunch or dinner during the weeks leading up to Halloween. I can't even tell you how many times I've made Mummy hot dogs since then— but they are still a hit in my home today.
To make mummy hot dogs you only need two ingreidents— three if you add cheese. That makes them an incredibly easy Halloween dinner idea.
Halloween Mummy Hot Dogs Recipe
Halloween Mummy Hot Dogs Recipe
Ingredients
1

can

8 oz refrigerated crescent dinner rolls

1

Package hot dogs

Cooking spray

2 1/2

slices

American cheese

optional

Mustard or ketchup

for eyes, if desired
Instructions
Heat oven to 375°F.

Unroll crescent dough; separate at perforations, creating 4 rectangles. Press perforations to seal.

With a knife or kitchen scissors, cut each rectangle lengthwise into 10 pieces, making a total of 40 pieces of dough. If adding cheese, slice cheese into thin strips.

Wrap 4 pieces of dough around each hot dog and 1/4 slice of cheese to look like "bandages," stretching dough slightly to cover hot dog completely. About 1/2 inch from one end of each hot dog, separate "bandages" so hot dog shows through for "face." On ungreased large cookie sheet, place wrapped hot dogs (cheese side down); spray dough lightly with cooking spray.

Bake 13 to 17 minutes or until dough is light golden brown and hot dogs are hot. With mustard or ketchup, dot eyes on the face.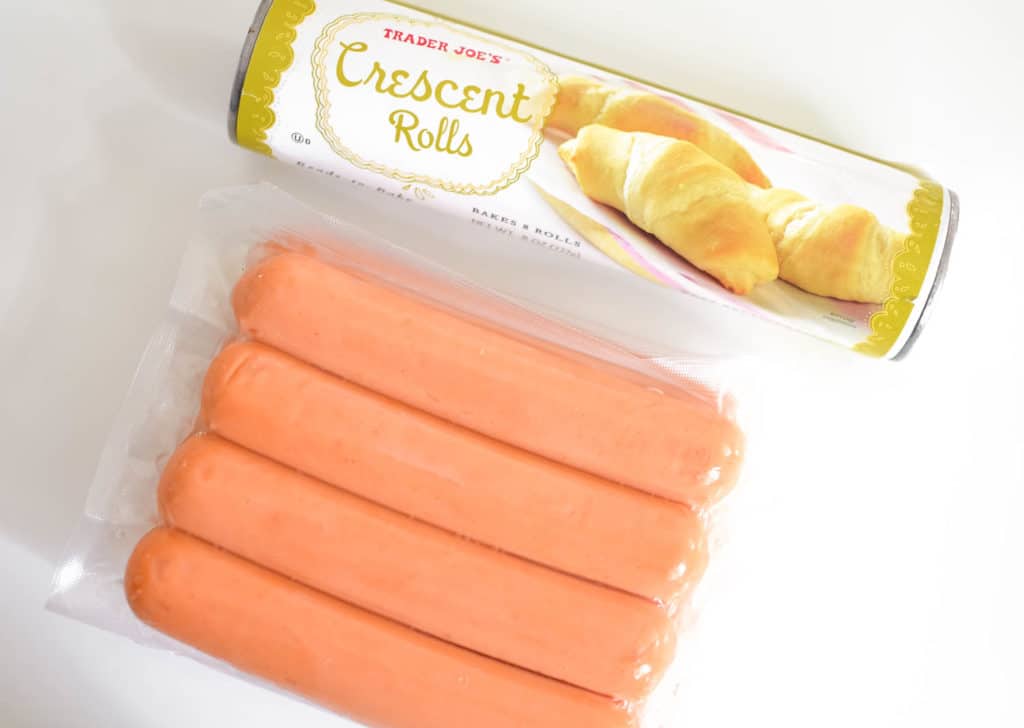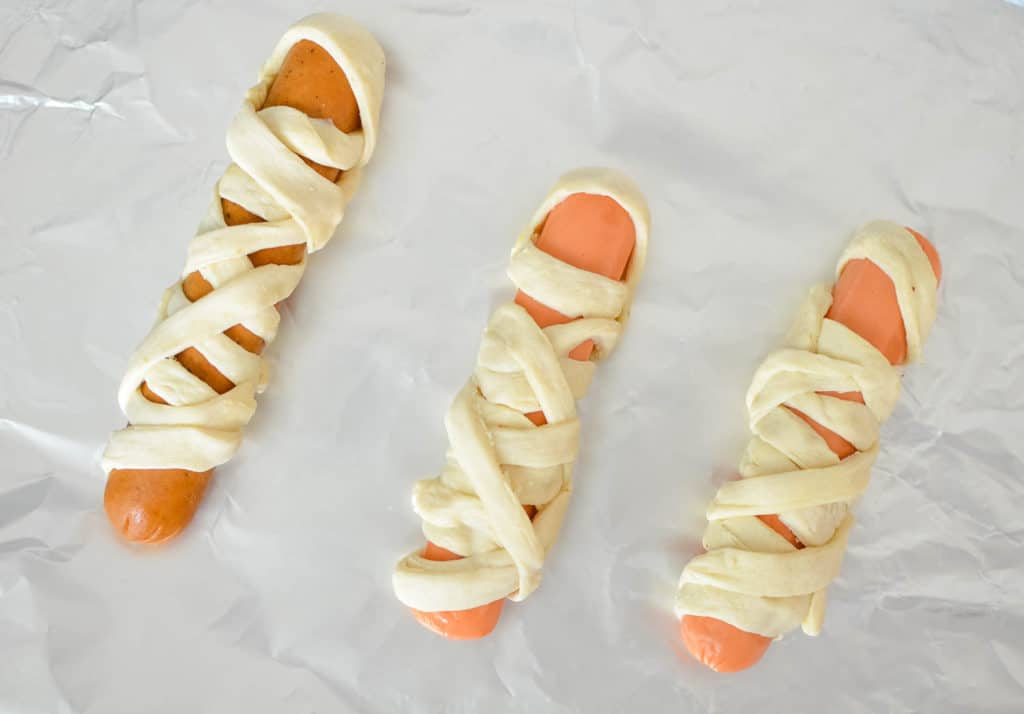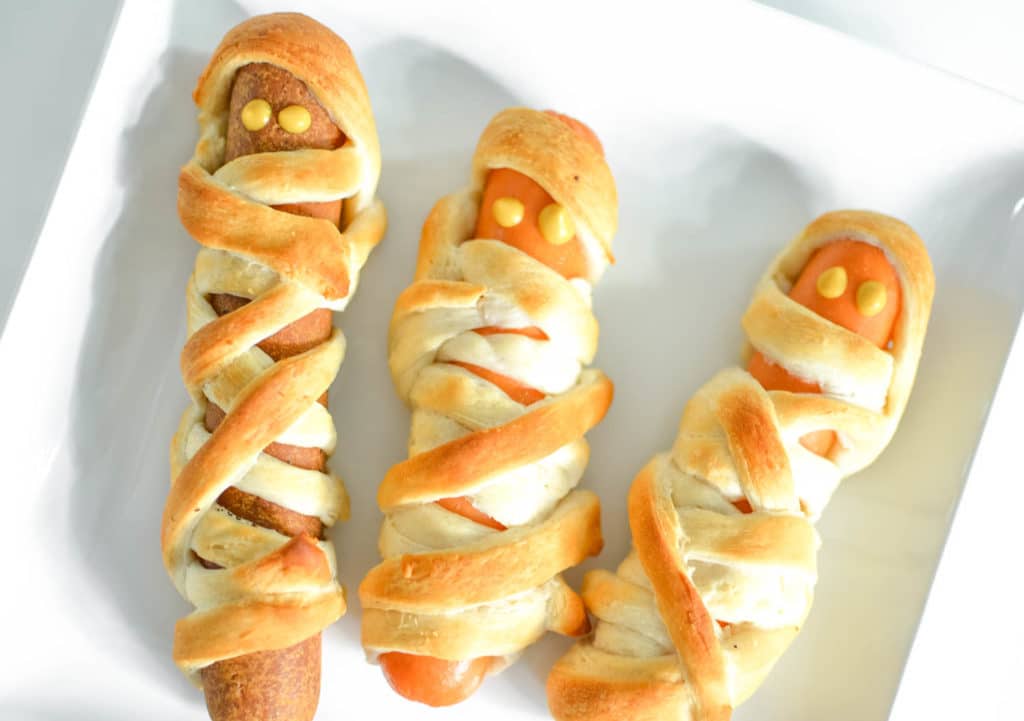 As you can see, I used different types of hot dogs to satisfy the needs of my family. Two of these are regular beef hot dogs, and the third is a veggie dog. This recipe can be made vegetarian or vegan with the use of your favorite brand of veggie dog— believe it or not, the crescent rolls are vegan (who knew!?).
Additionally, turkey dogs and smoked sausage could also be used. Wrap up any hot dog or sausage in crescent rolls to make an adorable Halloween time meal or snack!
Want to make Mummy Hot Dogs? You might find these useful:
Heinz, Tomato Ketchup, 14oz Squeeze Bottle (Pack of 2)
French's Classic 100% Natural Yellow Mustard Pack of 2 30 oz Bottles
Disposable Paper Food Tray for Carnivals, Fairs, Festivals, and Picnics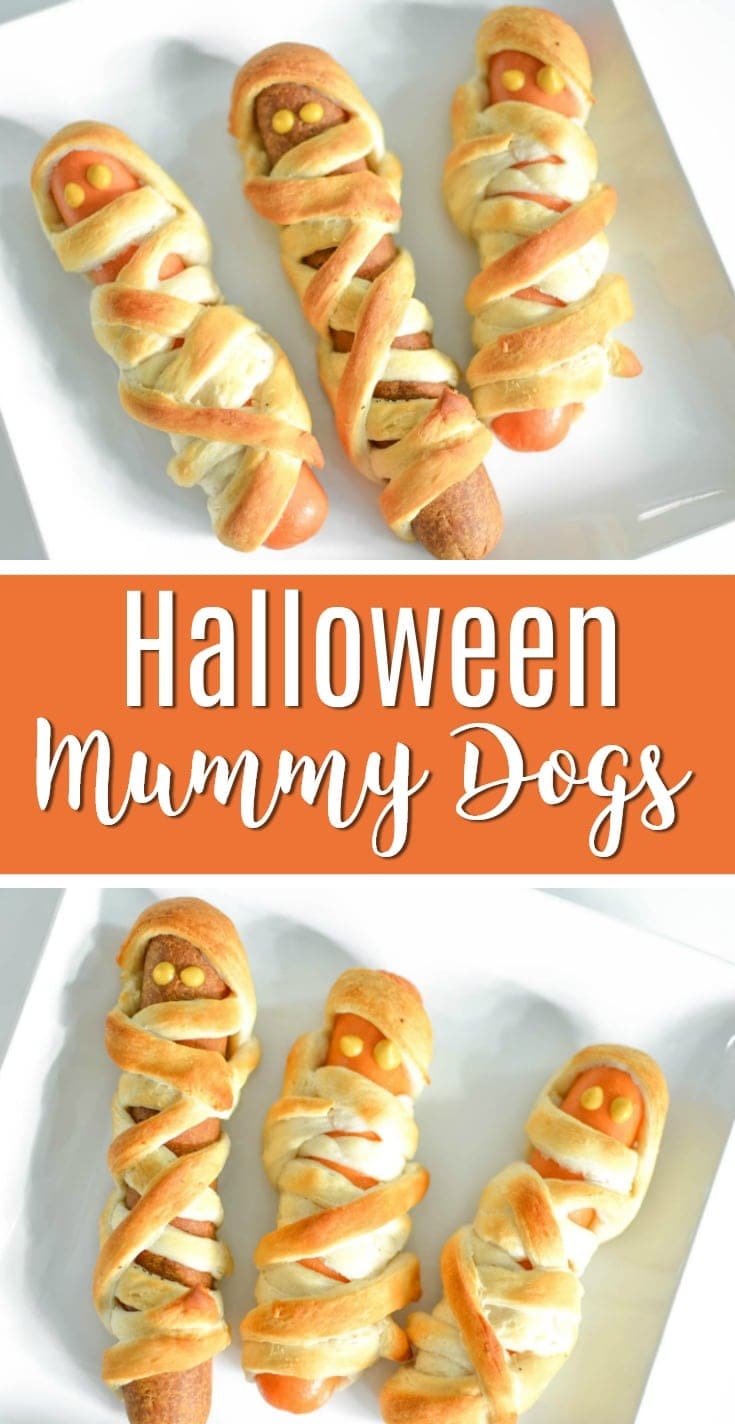 Other Halloween Recipes You Might Like:
More Halloween Posts: